Los Angeles Lakers:

Gary Neal
February, 3, 2011
2/03/11
10:43
AM PT

By Andy Kamenetzky
ESPNLosAngeles.com
Archive
As Brian elaborated, the rivalry between the Lakers and Spurs hasn't just dominated the NBA since 1999.
It's been equal parts competitive and respectful
. Seriously, can you
really
hate
Greg Popovich
,
Tim Duncan
,
Manu Ginobli
or
Tony Parker
? (Okay,
Eva Longoria
might have a few qualms with the fourth guy, but you know what I mean.) But peacefully as these players may interact, they're willing to step on each others' necks (politely, of course) to come out on top of this contest. The marbles at stake, even in a regular season, contain meaning for both sides.
To get a better idea of how the team
Derek Fisher
described as "the best team in basketball right now," I tracked down
Timothy Varner
from the True Hoop network's
48 Minutes of Hell
. Check out his thoughts on tonight's game, plus some videos of Fisher and Kobe talking Spurs:
Andy Kamenetzky:
Talk about the 2011 dynamic between
Tony Parker
,
Manu Ginobli
and
Tim Duncan
. From what I've seen, it appears they're moving at a quicker tempo and not looking to operate so often through Duncan possession to possession. How are all three taking a role in driving the ship?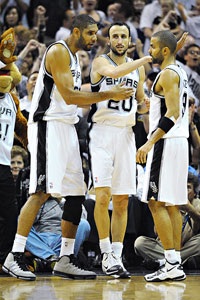 Brendan Maloney/US Presswire
Whatever Timmy is telling Tony and Manu, it's not "give me the ball or I'll throw a fit!"
Timothy Varner
: The pecking order is different, no doubt. Duncan is now San Antonio's third wheel. He is not featured in the offense as much as in the past. And this will make your readers happy: He's not nearly the post defender he once was. Honestly, I think the Lakers have a major opportunity to exploit Duncan in the post, and not just tonight, but for the balance of his career.
Ginobili is at the helm, and he's San Antonio best player. Someone once said he was a bad boy, and they were right.
Tony Parker is still Tony Parker. He likes to score in the paint, as we all know. Parker's assists are up slightly, but that is a function of San Antonio's offensive improvement more than anything else. He's not
Steve Nash
. One thing to watch is Parker in the corner. He's gradually adding the
(Bruce) Bowen
three to his game. The Lakers will have to challenge him when he fills after the entry pass.
How are the Spurs handling their new pecking order? They've slipped into it like
a pair of 3 year old jeans. Great comfort. Good look.
(
AK's
note: Entirely unrelated to the game, but still awesome: If you're a fan of Duncan and the show
Arrested Development
, this is
the best... sight gag... ever
.)