Los Angeles Lakers:

Gary Vitti
January, 16, 2014
Jan 16
12:16
AM PT

By Dave McMenamin
ESPNLosAngeles.com
Archive
PHOENIX --
Jordan Hill
, by all accounts, is the kind of player that defines a "team guy."
He stays ready, even when he's being shuttled in and out of the lineup. He brings energy when he does find court time, his specialty being offensive rebounds, which often times results in him creating wide-open shot opportunities for his teammates through his efforts to secure extra possessions. He has an affable personality, one that lends to building a positive relationship with every player on the
Los Angeles Lakers
' roster.
With that said, it was mighty telling that it was Hill, of all people, who spoke out following the Lakers' 120-118 loss to Cleveland on Tuesday, pointing the finger somewhere other than the big men after the Lakers were outrebounded 48-35 by the Cavaliers, leading to 19 second-chance points.
[+] Enlarge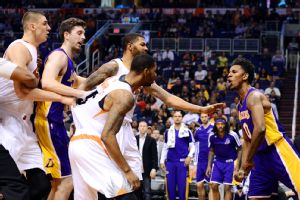 Jennifer Stewart/USA TODAY SportsNick Young took on the Suns to start the Grammy trip. His teammates have responded with two straight wins.
"We have guards that get to the basket so our bigs step up," Hill said. "Sometimes our guards will fall asleep and won't box out."
It was more matter-of-fact than scathing, but there it was -- the first crack in the purple-and-gold facade between teammates this season. The smelling salts moment of realization that this group of likable Laker players -- which back in training camp longtime team trainer Gary Vitti called the closest squad he has ever been a part of in his 30 years with the franchise -- had fallen so far from mounting losses and an incredible number of injuries, that it was now playing the blame game.
It turns out Hill's comment was just the tip of the iceberg. Because one night later, after the Lakers fell 121-114 to Phoenix for their 12th loss in their last 13 games (including six straight while giving up 110-plus points to the opponent), that crack became an all-out fissure as the Lakers' locker room was split over
Nick Young
's ejection.
The quick synopsis: Young took a hard foul in the second quarter and was surrounded by several Suns players without any Lakers teammates intervening. Young was then ejected for shoving his way out of the pack after he was called for a punching foul for making contact with Suns guard
Goran Dragic
. After the game,
Young said he was mad no teammate had come to his defense
.
Lakers coach Mike D'Antoni and point guard
Kendall Marshall
both said Young should have been smarter, and with the Lakers only having nine players in uniform, they couldn't afford to lose their leading scorer. Others, like
Pau Gasol
and
Wesley Johnson
, empathized with how Young felt but also noted NBA rules prevented them from springing from the bench to his defense.
Rookie
Ryan Kelly
was spared criticism from his teammates -- Gasol noted that Kelly "was trying to hold a couple guys up" as the closest Laker to the play -- but was thoroughly criticized by former Laker,
Robert Horry
, on the team's flagship television station.
December, 17, 2013
12/17/13
10:42
PM PT

By Ramona Shelburne
ESPNLosAngeles.com
Archive
MEMPHIS, Tenn. --
Kobe Bryant
might not be all the way back yet, but he's still Kobe Bryant.
For a minute there, it looked as if he might play this comeback cautiously. Remember last week when he was asked if he was fine keeping his minutes in the mid-20s for a little while? He laughed and said, "Hell yeah." Remember when he said over the summer the other young guys would have to carry the
Los Angeles Lakers
offense for a while as he worked back into form?
[+] Enlarge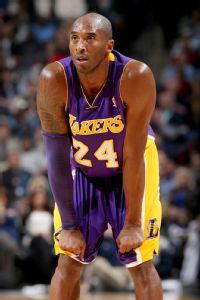 Joe Murphy/NBAE/Getty ImagesKobe Bryant said of his 21-point, 33-minute effort in a victory against the Grizzlies: "You've got to crank it up at some point."
He does, too. And he meant it all at the time.
But come on, we all knew once he got back onto the court, started to feel his legs back under him a little and the competitive juices started flowing, you were going to have to put quote marks around the phrase, "holding him back."
Tuesday night in Memphis was about the furthest Bryant has pushed himself since returning to the court six games ago, and if it hadn't been for a weird knee tweak in the third quarter, he would've pushed it even more.
"You've got to crank it up at some point," Bryant said after scoring 21 points in a season-high 33 minutes in the Lakers' 96-92 win over the
Memphis Grizzlies
. "I have to push it a little bit. This was a big game in terms of being able to tell what my body can do. It's a tough schedule, in terms of the amount of games. Tonight, I really wanted to challenge myself to see what I could do physically."
What he didn't say was that he had to spend all day stretching, icing and doing therapy to shake off the soreness that had built up in his body after logging heavy minutes during this trip.
If it were training camp, this was the kind of game he would've simply skipped to rest and recover, but with the Lakers down to zero healthy point guards -- in danger of slipping further below .500 and behind the pack of teams clustered around it in the Western Conference -- this was the time to push, not pull back.
"It's tough, but I did everything possible to get ready for the game," Bryant said. "As a result, when the game started, I felt pretty good."
June, 26, 2013
6/26/13
10:26
PM PT

By Ian Begley
ESPNNewYork.com
Archive
NEW YORK --
Steve Nash
is not yet 100 percent healthy, but the 39-year-old point guard is confident he will be at full health for the start of training camp with the
Los Angeles Lakers
.
[+] Enlarge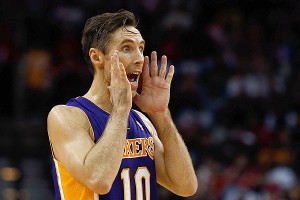 Scott Halleran/Getty ImagesSteve Nash says the Lakers were "just scratching the surface" last season with Dwight Howard after dealing with injuries and coaching changes.
"I'll be fine," Nash said Wednesday after playing in his foundation's annual celebrity soccer game. "It's just going to take me another few weeks to get back to 100 percent and then I'll train like usual for the season."
Nash, who suffered through a fractured fibula and right hamstring and hip injuries last season, says he does not think he will need to play on a minutes limit next season. Lakers trainer Gary Vitti recently suggested in an interview with Lakers.com that Nash could benefit from a minutes limit.
Nash also addressed
Dwight Howard
's future on Wednesday. The Lakers hope to resign the free agent center this summer. They made their intentions clear to the world on Wednesday when they unveiled a billboard in Los Angeles to publicly court Howard.
Nash smiled when a reporter mentioned the Howard billboard.
"We love Dwight," Nash said. "We were just scratching the surface last year with all the injuries (and) we think we can really form something special after having a year under our belt and going through a training camp together."
Nash says he's also confident Howard can thrive under coach Mike D'Antoni. Howard complained at times last season about his role in D'Antoni's offense.
"He played Mike's offense pretty much in Orlando so if he (felt comfortable) in Orlando, I think we can make it work (in Los Angeles)," Nash said. "We need to surround him with some shooters, but I think he'll be great in it."
April, 13, 2013
4/13/13
7:16
PM PT

By Dave McMenamin
ESPNLosAngeles.com
Archive
EL SEGUNDO, Calif. -- Even in the moment in which
Kobe Bryant
appeared as vulnerable as he's ever been and proved to actually be just as human as the rest of us, he showed why he's earned the reputation of indestructibility he's known for.
Bryant suffered a complete rupture of the Achilles tendon in his left leg late in the fourth quarter Friday. But before Bryant exited the game, he walked to the free throw line under his own power, made two free throws on one leg to tie the game and shuffled back off the court with his night -- his season -- over.
Both shots were perfect swishes (just listen to the sound of the net snapping
at 2:22 and 2:41 of this video
), and both shots were every bit as big as the two previous 3-pointers he hit a minute before to turn a six-point deficit back to a tied ballgame.
If you ever need a 30-second clip to sum up who Bryant was as a basketball player, there's your evidence right there.
Those free throws should rank right up there with his most memorable shots, from his
one-handed banker
against Miami to those
two clutch shots
against Phoenix in the 2006 playoffs.
Not just because they personify the grit and determination Bryant plays with, but because they are a representation of Bryant's relationship to the game in the first place. How many hours has Bryant spent in a gym with just the ball and the basket? That's what was at the essence of those shots. It was Bryant immersing himself in his rhythm, his shooting motion, his feel, his follow through. It was Bryant blocking out his injury, the future, his past, the Lakers, the Warriors, the fans chanting "M-V-P," the playoff implications.
"He's remarkable," Lakers coach Mike D'Antoni said. "For him to hit the fouls shots is remarkable. It just didn't end. You have a greater appreciation to what he wills himself to do."
Talking about the free throws brought Lakers trainer Gary Vitti to tears on Saturday.
"Kobe showed tremendous guts out there by hitting the two free throws that kept us in the game and eventually won the game," Vitti said, his voice cracking as he choked up. "The kid went up there with a torn Achilles tendon and buried two free throws. I think it's a great inspiration for our players."
Lakers vice president of player personnel Jim Buss got emotional, too, as he watched the scene play out on his television.
"Made me cry watching him, the Great Warrior, walk to the free throw line and, of course, make both to keep us in the ball game," Buss wrote to ESPNLosAngeles.com late Friday night. "To me, one of the greatest moments in sports."
October, 21, 2012
10/21/12
4:09
PM PT
Per Ramona Shelburne,
the Lakers center could make his preseason debut this evening at Staples Center against the Kings,
assuming Gary "Father" Vitti gives the final thumbs up
. At Sunday's shootaround, coach Mike Brown sounded optimistic about Howard's availability, but reminded how the decision will ultimately come from the medical staff. Like every step throughout this process, caution will be exercised and no unnecessary chances will be taken.
In other words, common sense will prevail.
If Howard's good to go -- and the glimpses I've seen during practices and pregame warmups have been impressive -- by all means, let's rock and roll. But if there are any doubts, play it safe and reevaluate matters Wednesday for the contest against the Clips. While the thought of Superman in a Laker uni is undoubtedly exciting, the practical benefits at this time simply aren't worth risking a setback. We've waited this long, so what's a few extra days in the grand scheme of things?
October, 20, 2012
10/20/12
6:15
PM PT

By Ramona Shelburne
ESPNLosAngeles.com
Archive
EL SEGUNDO, Calif. --
Dwight Howard
is poised to make his
Los Angeles Lakers
debut Sunday night at Staples Center if the team's training staff clears him following the morning shootaround.
Yes, there's still an "if" in this situation. And while Howard said he'd like nothing more than to step on to the court and stop all the endless speculation about when he'll finally don the purple and gold, he's determined to take his cues from the Lakers' longtime trainer, Gary Vitti, whom he's playfully taken to calling "Father Vitti."
"I want to play," Howard said. "But it's all up to Father and the rest of the staff. I don't want to say I'm playing and then not play."
Howard has been able to practice fully with the team for several weeks. It's just a matter of building his conditioning up to a level where he won't get fatigued and risk another injury.
"I'm very excited," he said. "I'm tired of everybody asking me when I'm going to play. But I am excited.
"It's a great honor. I just want to make sure I'm able to sustain everything that I do so I won't have to play one game, the next game sit out."
Howard was a full participant in Saturday's lengthy practice. However, he did sit out of Friday morning's shootaround in Las Vegas before the Lakers' exhibition game against the
Sacramento Kings
.
Forward
Jordan Hill
also was a full participant in practice Saturday, the first time he's been cleared for full contact since herniating a disk in his back Oct. 6.
"I did everything the team did today," Hill said. "Apparently, I can do a lot. But we're still trying to watch out for the back, get my core stronger and see how it goes."
Asked whether he's still optimistic he'll return before the Lakers season opener on Oct. 30, Hill said, "Yeah. It's a possibility that I'll be back way before then."
Lakers coach
Mike Brown
continued to say that Howard would play if Vitti cleared him following Sunday morning's shootaround but that he was in no rush for Howard to make his Lakers debut.
"Everybody's excited about Dwight getting on the court," Brown said. "I'm just built a certain way that GV has a job and when he tells me it's going to happen, it's going to happen.
"I know it's going to be electric because my kids are excited about it. I just tell (his son) Elijah, don't tweet anything that's family business and I hope he listens."
Brown said he's always emphasized to Howard that he should be cautious in his recovery from back surgery in April.
"I told Dwight, before we even practiced, 'Big fella, whenever. Take your time. If you come back in January, great. February, great. I don't want you to rush. You figure it out with the medical people and we'll go from there, ' " Brown said.
"So to see him out on the floor practicing and in a competitive, 5-on-5 environment, it's been fun. Laker fans should be excited."
Asked how Howard's conditioning has looked during practices, Brown smiled and said, "He looks good to me. He looks real good. His conditioning is obviously something that will get better, but he looks real good to me."
Howard admitted that he was a little nervous for his Lakers debut.
"I'll be emotional," Howard said. "I can't wait to just get on the floor. I don't think it's going to be perfect, it's just the first game back. I think they guys will do a good job of getting me some easy shots, getting me going a little bit, getting some confidence and we'll go from there."
Lakers point guard
Steve Nash
smile and laughed a little when told Howard said he was a little nervous to make his debut.
"We've talked a little bit about it. It's like the high diving board at the pool and all your friends have jumped in and you've thought about it too long so now you're nervous. Then when you jump you're like, 'Why the hell was I nervous?' " Nash said.
"Dwight's the best center in the game, he looks great in practice. He needs to get out there, make a few mistakes, make contact with someone, dunk the ball a few times and it'll all be forgotten."
April, 19, 2012
4/19/12
10:48
PM PT
After seven games, a few surprisingly strong wins, and one semi-predictable shellacking,
Kobe Bryant
may finally be donning a Laker uni instead of one of those impeccably tailored, mega-expensive suits. On Friday,
the Lakers will engage in a rubber match against the Spurs
, the previous two contests having resulted in one blowout for each side. Obviously, fans will be paying close attention for, at long last, clues as to how these teams match up at full strength in a potential playoff series. But to some degree, that's the game within the game. The overarching story is how Kobe -- and the Lakers -- look after his hiatus, and what that means with the playoffs just around the corner. Here are five questions to consider as we await the opening tip.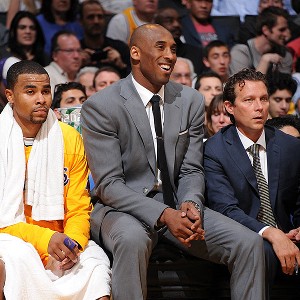 Andrew D. Bernstein/NBAE via Getty Images
The suits were killer, but fans prefer Kobe in purple and gold.
1) Should the Lakers have shut down Kobe until the playoffs, just to be on the safe side?
No. Beyond the fact Kobe knows his body inside-out and treats it like a temple, that he was willing to miss these preceding games speaks to his sensible, long-view approach while treating this injury. Because of this pragmatism, a benefit of the doubt should extended towards his decision to take the floor again. If Bryant says he's ready, then he's ready, and it's important to get everyone back in sync ASAP.
2) What's the key to as seamless a return as possible?
In a nutshell, it's all about balance.
Balancing the desire to reintegrate Kobe as effectively as possible with the importance of not playing him too many minutes at the outset. Balancing Kobe's touches and self-generated shots with the amount of possessions he's set up away from the ball. Balancing his dominance over the offense with possessions revolving around others.
And most importantly, prioritizing a balanced attack, which essentially equals the Lakers playing at their best regardless of Kobe's situation.
The Lakers are always most dangerous with everybody involved and chipping in his two cents. When the offense becomes too top-heavy in any particular direction, the Lakers become more predictable and easier to defend. It doesn't matter whether the specific issue is Kobe-centric iso-ball, tunnel-visioned urges to force-feed Bynum down low, or nobody beyond The Big Three making a dent. Everyone needs to be present and accounted for, even with some shots and touches inevitably returned to Kobe. A championship playoff run requires all hands on deck.
November, 7, 2011
11/07/11
4:41
PM PT

By Brian Kamenetzky
ESPNLosAngeles.com
Archive
There were many standout moments at Monday's Staples Center news conference
commemorating the 20th anniversary of Magic Johnson's retirement
, not the least of which was the check for $1 million presented to his foundation. Johnson spoke of that day two decades ago, when he announced HIV would force him out of the game. He spoke of how he coped and the optimism he felt in the face of what many believed a death sentence. He talked about his health, advancements in treatment and the people to whom he feels indebted for helping him stay healthy. Magic thanked his wife and family, and noted the obligations he feels as the face of HIV not only in this country, but abroad.
But on a day filled with
remembrances
of a
landmark moment
in American culture and sports history, one small moment best defined the magnetism of Magic. After delivering his speech and fielding questions from the assembled media for more than 20 minutes, Magic invited the former Lakers in the crowd to join him on stage for a picture.
Jerry West, Pat Riley, Michael Cooper, James Worthy, Mychal Thompson, Kurt Rambis
and
Mike Dunleavy
. He noticed
Lakers trainer Gary Vitti
in the crowd, and called him up, too.
"I said all Lakers," Magic instructed.
Quietly, Lakers P.R. director
John Black
walked past the stage, and whispered something to Magic. "Of course,
Bill Sharman
," Magic declared, pointing to the legendary former coach and basketball pioneer seated maybe five rows deep. Come on up.
Sharman is 85 years old, and moving from crowd to stage isn't an instant process. It could have been awkward had another man controlled the microphone. Magic, always the floor general, instantly recognized the situation and started into a story about a free-throw shooting competition he once engaged in with Sharman. He hit 15 or 16 in a row, and was summarily dusted when Sharman stepped to the stripe.
It was a quick anecdote, maybe 90 seconds, and I suspect most people won't remember the details. But because Magic so successfully worked the room, they also won't remember the difficulties Sharman had negotiating the steps up to the stage, or the people moving there to help him. Suddenly, he was there in the front row, and the photo op continued.
That's Magic Johnson.
November, 6, 2011
11/06/11
3:03
AM PT
"Listen, I can't tell you what's going on. Just be there. This is gonna change all of our lives."
These were the words of Lakers head athletic trainer
Gary Vitti
as he instructed members of the 1992 Lakers to attend a mandatory meeting at the Forum on November 7, 1991. Among a select few sworn to secrecy, Vitti couldn't reveal the reason:
Magic Johnson
needed to tell his teammates about testing HIV-positive. Shortly after, Johnson would tell the world.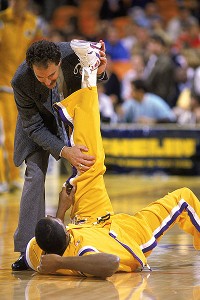 Mike Powell/Getty Images
Vitti and Johnson go back a long time in their working and professional relationship.
The day did change lives, and well beyond those in the Laker family.
With Monday marking the 20th anniversary of Magic's unforgettable press conference, I met with Vitti at the Lakers' training facility in El Segundo for his thoughts on the day and its significance. The two have been close friends since 1984 and despite having talked about this period countless times, Vitti still gets choked up reliving it. The details and emotions shared make this podKast truly worth a listen.
You can hear the entire show here,
and below is a breakdown of talking points:
(:08) - Vitti's and Johnson's relationship was initially distant, then a bit contentious after the trainer felt the point guard gave him a "snotty answer" to a question. Johnson quickly explained via a smile and a bear he was only kidding around. "That was the moment we bonded," explained Vitti of a friendship now grown exceptionally strong.
(3:13) - Vitti actually figured out Magic contracted the HIV virus before being formally told. The Lakers were in Utah for an exhibition game against the Jazz, and Magic, who'd been experiencing fatigue, was told he urgently needed to return to L.A., no questions asked. Everybody was in the dark and the mystery ate at Vitti. "I just couldn't let it go," says the trainer of the undisclosed issue. "All of a sudden Magic has to go home. It can't be good, right?"
After wracking his brain for days, he suddenly remembered during a game against the Jazz that Magic had taken a physical for a life insurance policy. The light bulb went off, and keeping it together while on the job was a nightmare task.
"That game,
Tony Smith
, was a second year guard," recalls Vitti. He was having a great training camp and he severely sprained his ankle. Third degree ankle sprain. And he's laying on the table in the training room at the Delta Center and he's very, very upset. He's in tears. And I grab him by the shirt and I say, 'What are you crying about? Because the injury hurts? Or are you crying because you're depressed?' And he just sort of shakes his head. And I said, 'Well, you're gonna get better. You're gonna get better. Some people aren't.'
"No idea what I'm talking about. He looks at me like I've got three heads."
In many ways, however, knowing was just as bad as not knowing. Vitti could tell
nobody
-- even his wife -- which meant lying to the faces of people like then-head coach
Mike Dunleavy
about Magic having the flu. Thus, he often had to carry this emotional weight alone.
"We thought it was a death sentence," admits Vitti. "At some point, I'm gonna lose one of my close friends. And not just lose him, but he's gonna whither away in a horrible death."
-(10:15) Thankfully, Magic was around to talk Vitti off the ledge. Crazy as it sounds, that's essentially what happened when the two finally discussed Johnson's diagnosis. Vitti was "a wreck" and Magic remained positive, promising his friend he'd be just fine.
"I don't want you to worry about me," Johnson told Vitti. "When God gave me this disease, he gave it to the right person. I'm gonna do something really good with this. I'm gonna beat this."
Vitti collected himself enough to pledge unwavering support.
"I said, 'I'm with you
all the way.
To the end. Whatever it takes. If I have to leave the Lakers or whatever you need me for, I'm your guy.' "
May, 30, 2011
5/30/11
11:00
AM PT

By Brian Kamenetzky
ESPNLosAngeles.com
Archive
At Lakers.com,
Mike Trudell
has a
great interview with Lakers trainer Gary Vitti
-- who could very well be the only member of the support staff returning next season -- covering a wide range of issues. Vitti talks about his relationship with
Phil Jackson
, and by extension, the relationship between a trainer and head coach. In short, the trainer hears things players may not want repeated. He also hears things demanding they be repeated.
Finding the right balance is key to gaining the trust of the general and infantry alike. Interesting stuff, well worth the read. Of course, "interesting" can't necessarily compete with a detailed breakdown of what's happening inside Kobe Bryant's knee.
"His is an articulating cartilage problem. The way I describe that to people is that if you look at the end of chicken bone where it's nice and white, well, that's not bone, it's cartilage. Sort of like a Teflon surface that when two bones come together, that cartilage is there so that bones don't rub on each other. Now, the fact that it's nice and white tells you it doesn't have a good blood flow to it, and that means it cannot heal or regenerate. So, over time, as that cartilage wears away, you end up with osteoarthritis. Kobe doesn't have an arthritic knee, but he has a knee that has some joint degeneration to it. His issues and his age are such that it eliminates some procedures, like microfracture and that type of things. But he is a candidate for certain other things, and we know all the procedures all around the world that are available to him, and the appropriate decisions will be made, he'll have the best care."
At
his exit interview
, Bryant said a long summer combined with better health at the end of this year vs. 2009-10 mean the chance to come back stronger next season. To reach "another level," as he put it. Vitti agreed it's possible, to a point. "I do think he has more progression there, but structurally there are some issues that cannot be reversed, but can be dealt with," he told Trudell. "There are a couple of cards we have up our sleeve that we plan on playing, and he and I have been in daily communication about that."
It's impossible to predict how Bryant will hold up heading forward-- he's as well equipped as anyone to hold off Father Time for as long as possible-- but while simultaneously giving you something totally new to think about after stripping clean a plate of buffalo wings, Vitti illustrates the obstacles Kobe faces in the battle to stave off steep physical decline.
(H/T: TrueHoop)
May, 6, 2010
5/06/10
12:16
PM PT
PODCAST
Andy and Brian discuss Lakers-Jazz, Kobe's refreshed legs, and why some still want to trade Andrew Bynum. Plus, penalties for obscure laws and the danger of combining hats and headbands

Podcast

First, some news...
Kobe Bryant
was
named for the fifth year running as a member of the NBA All-Defensive team
. First string, no less. His cohorts are
Dwight Howard, LeBron James, Rajon Rondo and Gerald Wallace
. Given Mamba was tabbed among these elite lockdown artists and finished third in the MVP voting, it stands to reason he'd make the All-NBA First Team.
Which is exactly how the voting shook out.
Along with Kevin Durant, Howard, James, and Dwyane Wade, Kobe rounds out the top five
. Happy news, but there's even more purple and gold representation.
Pau Gasol
garnered Third Team honors and
Andrew Bynum
received three points' worth of votes. (On the "purely local" front,
Chris Kaman
landed nine points.)