Los Angeles Lakers:

Goran Dragic
November, 16, 2012
11/16/12
12:24
PM PT
Well,
the coach is in place
, but Mike D'Antoni and his crutches won't make their debut until Sunday, meaning the Bernie Bickerstaff era will continue for one more day. And it's pretty important the interim coach go out on a high note. Given the early hole dug by the Lakers, every opportunity to make up lost ground must be seized. The Suns represent nothing if not a beatable opponent. Phoenix may boast a superior record (4-5) than the Lakers, but the Suns have beaten nobody above .500 and don't have a single player who would definitely crack the starting lineup for the purple and gold. Every winnable game L.A. cashes in is another step toward stabilizing the season.
For more insight on the Suns, we sent five questions to Michael Schwartz from
the True Hoop network's Valley of the Suns blog
. Below are his responses.
Land O' Lakers: Stylistically, what does the post-Steve Nash era look like? What are the primary differences and do any similarities remain?
Michael Schwartz
: This season the Suns are running aspects of the "Corner" offense that Timberwolves coach Rick Adelman popularized,
as Fox Sports Arizona's Randy Hill described in further depth.
That has been an easy adjustment for Suns like Goran Dragic, Luis Scola, Michael Beasley and Wesley Johnson, who played for Adelman in recent years. Dragic has been getting everybody involved with dribble penetration and probing for opportunities, and the Suns have run some offense through Scola and Beasley at times in the high post. The Suns still want to play fast, and rank fourth in pace, the highest since 2009-10.
A major difference is the lack of pick-and-roll opportunities. The Suns will still run it at times with Dragic and Gortat, but it's not the staple it used to be. Jared Dudley used to get open looks when defenses collapsed on the Nash pick-and-roll, so this could be one reason his numbers are down to start the year.
April, 6, 2012
4/06/12
8:49
AM PT
After a few weeks of middling and even disinterested looking performances, Wednesday's victory over the Clippers felt like just what the doctor ordered. The Lakers were dialed in for 48 minutes, often executed with precision, and seemed unwilling to accept anything but a win. In theory, that showing should provide fans with a good feeling heading into tonight's contest with the Rockets. In reality, however, it could be meaningless as an indicator of what lies ahead.
As I've maintained all season, the Lakers can only be counted on to perform well against teams they genuinely dislike. In my estimation, those squads are the Clippers, Mavericks, Celtics . . . and disappointingly few else.
Maybe
the Suns qualify, since the Lakers often go as Kobe goes and he admittedly hasn't gotten past Phoenix bouncing his teams in 2006 and 2007. (Or he's just lashing out at anybody who reminds him sharing a backcourt with
Smush Parker
.) And if you're feeling generous,
maybe
a hard-fought win at Staples over the Heat means they've developed a distaste for LeBron and the gang. But to the best of my knowledge, the Lakers have nothing against the Rockets, and without tangible evidence of animosity -- or inherent professionalism -- it remains difficult to bank on the Lakers showing up. However, I'm willing to see my theory disproved, and tonight's as good a time to start as any.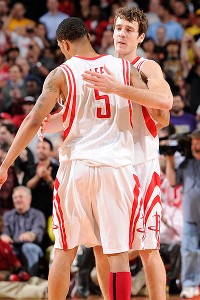 Bill Baptist/NBAE/Getty Images
Dragic and Lee are just two among many keeping the Rox in the playoff hunt.
For more knowledge about the Rockets, we called upon
Rahat Huq
from the True Hoop network's
Red94
blog. Below are his thoughts on four questions about Houston's squad.
LO'L: The Rockets have managed to stay afloat despite prolonged absences from Kyle Lowry and Kevin Martin. Who/what has allowed this to happen?
Rahat Huq:
It's been a collective effort.
Goran Dragic
and
Courtney Lee
have played even better as a duo than the men they replaced.
Chandler Parsons
has evolved into a new-and-improved
Shane Battier
, doing a little bit of everything from defending the opposition's best player to spacing the court on the perimeter.
Luis Scola
has regained his touch and rebounding form.
Chase Budinger
has hit big shots in timely moments.
Marcus Camby
has filled the lineup's previous sole true hole.
Early Boykins
has stood tall. Everyone has chipped in to an outcome in the standings which, from any vantage point, is truly remarkable.
They won't win the title but the fact that the Rockets are alive is a great story.
March, 20, 2012
3/20/12
8:37
AM PT
With the Western Conference tighter than
James Brown's rhythm section back in the day
, every game counts for the Lakers. Which, by definition, made Sunday's debacle against a short-handed Jazz squad an opportunity gone irresponsibly wasted. And which, by further definition, raises the stakes of this two-game road trip even more. The Lakers have been unpredictable all season away from Staples, but could be catching Houston at just the right time. Point guard
Kyle Lowry
, who's been playing at an All-Star-ish level, is out with a bacterial infection. Scorer
Kevin Martin
is day-to-day with a strained shoulder, and hasn't played since March 13. In theory, this sets up nicely for a game the Lakers really need to win.
Then again, the same felt true about a game in L.A. against the Jazz, down
Al Jefferson
and
Earl Watson
. The Lakers played like a team expecting to win, which could explain the lack of focus resulting in 24 turnovers and some rather porous defense. Better to enter the Toyota Center
expecting a bar fight
and being pleasantly surprised.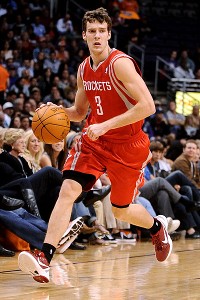 Jennifer Stewart/US Presswire
There's a lot of pressure on Dragic at the moment.
For further insight on the Rockets, we called up
Rahat Huq
from the True Hoop network's
Red94
blog. Below are his thoughts on four questions about Houston's squad, plus one item I'll be curious about.
Land O' Lakers: How does Lowry 's absence affect the way the Rockets operate? Can anybody other than Goran Dragic run an offense?
RH:
The short answer: no. The Rockets lost the game in Phoenix when
Goran Dragic
went to the bench early in the first half with foul trouble.
Courtney Lee
has taken on the bulk of the backup playmaking duties but he isn't a point guard.
Courtney Fortson
--signed to a 10-day contract--has been horrific in limited minutes. When Dragic sits, the Rockets fall apart. They need Lowry back as soon as possible if they want to remain this race.
LO'L: If Martin can't play, where do you expect Houston's points to come from, particularly with Lowry (another scorer) also sidelined?
RH:
Even when in the lineup, Martin wasn't giving the team much in recent weeks, so his loss isn't the issue - it's losing Lowry that has hurt. The Rockets score the same way they have all year: through running the break and misdirection motion sets in the halfcourt. They've looked to
Patrick Patterson
in the post much more of late and I wouldn't be surprised to see that continue against LA.
May, 26, 2010
5/26/10
9:41
PM PT
The wonderful thing about sports is the unpredictable nature. Unless you're talking WWE, crooked boxing (or according to the conspiracy nuts, the NBA), there's no script being followed. The games, as they say, can't be played on paper, and the chance of getting thrown for a loop is what makes everything so fantastic.
PODCAST
Andy and Brian break down L.A.'s Game 4 loss in Phoenix, from the Suns' powerful bench to L.A.'s weak defensive showing. And what about that zone? With the series tied 2-2, should fans be concerned ahead of Thursday's critical Game 5?
Podcast

Unless, of course, the twist ending comes at your team's expense.
After Games 1 and 2 finished so lopsidedly in favor of the Lakers, not to mention the Celtics' 3-0 lead over the Magic, fans began looking ahead to a Finals matchup with Boston. The media began looking ahead to a Finals matchup with Boston. My guess is even Lakers not named "Andrew" or "Bynum" began looking ahead to a Finals matchup with Boston. Sure, everyone conceded Phoenix likely had enough in them to avoid a sweep, but that would be the swan song interrupting a relatively easy road to destiny.
Or, as it turned out, unpredictability would rear its tricky head with elements like a zone defense,
Amare Stoudemire's
pride, and a bench explosion for the ages. Suddenly, the series is knotted at two apiece, Lakers fans are worried about their team solving a defensive riddle, and, by the way, Orlando's won two in a row.
Food for discussion, and ours touched upon...
-The Suns bench exploding for 54 points. Not 53, Brian.
54
. More than double the 20 combined points from
Shannon Brown, Jordan Farmar
and
Lamar Odom
, and nearly 11 times the reserves' total if LO's 15 were removed. Yowzza!
-How big a fly in the Lakers' ointment has the zone been?
Kobe Bryant
and
Phil Jackson
downplayed the effect of Phoenix's zone after the game, citing the triple digit score and 49 percent clip from the field. True Hoop's
Kevin Arnovitz
informed Brian via email how, measured by statistical efficiency, the Lakers actually put forth a historically good piece of postseason offense. This may very well be the case. Arno's a helluva lot smarter with numbers than me or Brian.
Having said that, there's no statistical measure for "labored." Whatever figures you come up after carrying the one, the fact remains L.A. was sweating hard for nearly every basket. The Lakers often looked frustrated and flustered while uniting ball and cord. Plus, the numbers were skewed by Kobe's unconscious second and third quarter. Without Kobe's heroics, things might have looked more grim.
Kobe also expressed an opinion the team was too preoccupied with the zone, between a Monday spent practicing against it and the oodles of media questions. I imagine there's some truth to this. It's like being told not to think about elephants. At some point, you have to just play without thinking.
-Still, we're in unison with Kobe and PJ about the defense leaving much to be desired, whether you're talking inside, outside or just checking Phoenicians without fouling.
But aside from that Mrs. Lincoln, how did you enjoy the play?
Below the jump are some of the more choice quotes
from a practice fairly low on verbage. I guess the players figure they'll be seeing us all again tomorrow and want to pace themselves.
May, 26, 2010
5/26/10
10:02
AM PT
By Andy Kamenetzkty
ESPNLosAngeles.com
Archive
NBA basketball, she is a fickle beast. After two games spent pounding the Phoenix Suns on the Staples Center floor, a completely one-sided affair appeared in the making for the Lakers. You figured Phoenix would steal one on their court, but the combination of size, defense and
Kobe Bryant
seemed way too much for the desert dwellers. Suns Coach
Alvin Gentry
was literally asking the media for suggestions.
That, of course, was before a now infamous zone defense, an
Amare Stoudemire
awakening and a
bench showing for the ages
. Cut to
a Game 5 Phil Jackson labeled "critical" for either squad
.
As I mentioned during our postgame report,
the game felt to me like a showdown between Kobe Bryant and the Suns bench
. The Lakers were a discombobulated bunch, leaving Kobe to attempt saving the day against a crew running on all cylinders. Even worse, his mates didn't pick up any slack on the other side of the ball, which left 24 seriously honked. ESPNLA.com's
Dave McMenamin
explains how Kobe's tired of all this "zone" chatter.
From his perspective, the problem was definitely defense, but rather his own team's
:
Kobe Bryant walked up to the postgame podium after the Los Angeles Lakers' 115-106 loss to the Phoenix Suns on Tuesday and launched into a diatribe, pounding away at his point so often that even the dude from "Memento" wouldn't need a tattoo to remember the gist of it. Bryant didn't care about how well he played. His brilliance was rendered irrelevant by his team's lack of defense.Mention No. 1: "Our defense could have been much better, I think."
That's how the speech started, and really, that's how the Lakers' chances of making the sun set on Phoenix's season with a commanding 3-1 series lead ended. Los Angeles let the Suns shoot 48.8 percent from the field, make 11 3-pointers and get to the foul line for 32 attempts.
The result is a Western Conference finals series tied 2-2, with the series headed back to Los Angeles for Game 5 on Thursday
.
While some may quibble about how well the Lakers are actually negotiating Phoenix's zone (the K Bros would, if nothing else), Kobe's correct in calling for a better lockdown. As ESPNLA.com's
Ramona Shelburne
explains,
this is one seriously potent scoring the Lakers are trying to slow
:
"We're not seven seconds or less anymore," Suns coach Alvin Gentry said after Tuesday's victory. "But in our offense, if you're open and you don't shoot, it's really the same thing as shooting a bad shot. Our offense has a flow to it and that's the way we play."
That flow is hard to describe, but you know it when you see it. Points, shooting percentage and 3-pointers-made tell just part of the story. When Phoenix is flowing, especially at home, the other team can hear it. The ringing in their ears, the pounding in their hearts as they race up and down the court, trying to stop water from running downhill.
One part of the game flows to the next, each part growing louder and more intense the longer it roars. At it's running, gunning, 3-point-loving best, the Suns' offense is like watching Brazil samba its way around a slow, defensive-minded European team on the soccer field. The court is spread, defenders are forced to chase, and there is always and open man."