Los Angeles Lakers:

Gordon Hayward
March, 18, 2012
3/18/12
8:35
AM PT

By Andy Kamenetzky
ESPNLosAngeles.com
Archive
The Utah Jazz began this season regarded by most as a team in flux: Enough talent (
Al Jefferson
,
Paul Millsap
, promising second-year player
Gordon Hayward
) not to be terrible, but not enough to hang with the Western Conference big boys. And a surprisingly strong start to the season notwithstanding, that's basically what they've revealed themselves to be. The Lakers have already beaten the Jazz twice, and Utah's 5-16 road record suggests a third win should be on the docket. The result can't be taken for granted, but a betting man would lay his money on the hosts.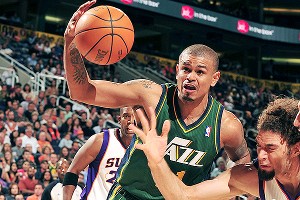 Barry Gossage/NBAE/Getty Images
The Jazz have missed Earl Watson in the lineup.
However, should that theoretical W come, I'm more interested in
how
it's manufactured than simply notching No. 29. The Lakers have a bad habit of getting an opponent on the ropes, then letting them back into the game rather than stepping on their necks. It's occasionally resulted in some horrible losses (at Detroit and Washington), along with wins made more complicated than necessary. Should the Lakers build the lead they're capable of against the Jazz, it would be nice to see the last five or so minutes closed out with
Devin Ebanks
on the floor, rather than
Kobe Bryant
.
For the inside skinny on the Jazz, we consulted
Spencer Ryan Hall
from the True Hoop Network's Salt City Hoops blog. Check out his thoughts on a few Jazz-centric queries.
Land O' Lakers: After initially playing better than most expected, The Jazz have been a .500-ish team. Has something gone wrong, or is this a matter of water seeking its own level?
Spencer Ryan Hall:
Just as Linsanity was built on a premise that required everything to go right to be successful, the Jazz rode a wave of good scheduling (almost a million home games, give or take), surprising chemistry (with
Earl Watson
emerging as the team leader), and breakout performances from Hayward,
Alec Burks
, and others. In limited minutes, young
Derrick Favors
,
Enes Kanter
and
Jeremy Evans
all provided big sparks to lead the second unit.
There was no Melo returning to upset the fragile Jazz ecosystem, but the unfriendly confines of road arenas, injuries to Watson, stagnation of the offense, and a strange shortening of the lineup rotation to feature the underperforming
Raja Bell
and
Josh Howard
all contributed to taking the magic out of a magical start.
While the early success was a product of the whole being greater than the sum of the parts, the parts (namely Al Jefferson and Paul Millsap) have dominated the offense in a way that seems to have removed a lot of the movement and joy that the team had early in the year.
February, 4, 2012
2/04/12
6:20
AM PT

By Andy Kamenetzky
ESPNLosAngeles.com
Archive
So far so good for the Grammy roadie. The Denver Nuggets are arguably the best team the Lakers will face, but
they pulled off an 93-89 win
, despite some late-game scares. But a battle waits less than 24 hours later at Energy Solutions Arena, a venue that treats outsiders like
Bob's Country Bunker treats bands that don't play country and/or western
. Of course, the Lakers have already won in Utah this season, and a three-game series sweep is actually possible.
For further perspective on the Jazz, we called upon
Spencer Ryan Hall
, who runs
Salt City Hoops
for the True Hoop Network. Here are his thoughts on four questions about the Lakers' next opponent.
Land O' Lakers: How has Jamaal Tinsley looked this season, since he may be the starting PG against the Lakers?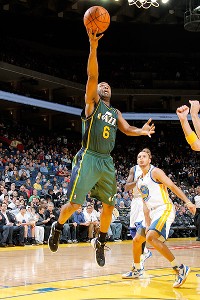 Rocky Widner/Getty Images
Injuries have provided Tinsley's comeback bid a potential boost.
Spencer Ryan Hall:
After only playing 45 minutes all season, it was cool to see Tinsley's hard work pay off on Thursday with his first NBA start since 2009. He had a team season high of 13 assists to go along with 9 points, 6 boards and 2 steals. It's a rare luxury to have a solid third point guard and it looks like Tinsley's contributions will get his contract guaranteed later this month. He makes smart plays, and is the floor general the Jazz look for in a PG. He's not going to put up the points Harris can, but some might argue the Jazz need a pass first PG more than a shoot-first one. For a guy who started the season playing in El Segundo for the D-Fenders, it's nice to see that he can still play.
Also, no one rocks denim on denim better than Tinsley.
LO'L: Andrew Bynum and Pau Gasol vs. Al Jefferson and Paul Millsap. Who gets the best of the frontcourt matchup and why?
SRH:
Pffffffffft. As well as Al and Paul have been playing this season (not only as individuals, but the two have make significant strides in playing to each other's strengths), they always have been, and probably always will be OWNED by Bynum and Gasol. I don't expect this to change.
April, 6, 2011
4/06/11
7:00
AM PT
Arash Markazi sitting in for Andy, following
Tuesday's dud at Staples for the Lakers
. Included among the evening's topics are the potential for the surprise loss to impact the standings, a burly game for
Kobe Bryant
, a career high in rebounds for
Andrew Bynum
, and more...
October, 18, 2010
10/18/10
1:34
AM PT
By The Kamenetzky Brothers
ESPNLosAngeles.com
Archive
There is no joy in Mudville. Someone else is the champion of the Staples Center Shootout.
Try to keep it together.
Click below for video from
Phil Jackson
and
Kobe Bryant
, along with copy from
Pau Gasol
. And, of course, feel free to review tonight's
"Three Up, Three Down,
" and the
Lakers Live!
chat transcript.