Los Angeles Lakers:

Greg Oden
September, 13, 2010
9/13/10
9:35
AM PT

By Brian Kamenetzky
ESPNLosAngeles.com
Archive
With training camp around the corner, we asked a group of local and national roundball experts to weigh in on some of the big Lakers questions heading into the 2010-2011 season. Call it a preseason prognosticationpallooza.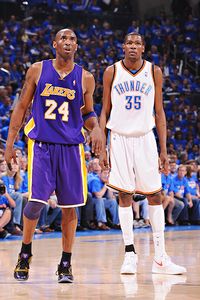 Andrew D. Bernstein/Getty Images
It's a close call, but the majority of our experts panel see Kevin Durant and the Thunder as the team most capable of knocking off the Lakers in a seven-game series.
Our panel:
Andy and Brian Kamenetzky (ESPNLA.com Land O'Lakers Blog),
Elliott Teaford
(L.A. Daily News),
Kevin Ding
(O.C. Register),
Kevin Arnovitz
(ESPN TrueHoop),
Eric Pincus
(Hoopsworld),
Chris Clark
(Silver Screen and Roll), J.A. Adande (ESPN.com),
Darius Soriano
(Forum Blue and Gold),
Kurt Helin
(ProBasketballTalk.com),
Mark Medina
(L.A. Times.com), Arash Markazi (ESPNLA.com), and Dave McMenamin (ESPNLA.com),
Today's question:
Which Western Conference team has the best chance to beat the Lakers in a seven-game series?
The Results:

Oklahoma City
- 5.5 votes
Portland
- 3.5 votes
Dallas
- 2 votes
Houston
- 1 vote, but a lot of love as a serious dark horse

Nobody
- 1 vote
My Take:
Two teams -- Oklahoma City and Portland -- stand out. Both have the ability to make life difficult for the Lakers. A healthy Blazers team has backcourt strength (
Brandon Roy
), a stong wing defender (
Nicolas Batum
) and frontcourt depth (
Greg Oden, LaMarcus Aldridge, Marcus Camby
, plus
Joel Przybilla
, if he recovers from knee surgery). We saw last season what OKC was capable of, and if the Thunder get decent play from
Cole Aldrich
and more development from
Serge Ibaka
(thus beefing up the frontcourt), I'll give them the slightest of edges over Portland, probably because it's hard for me to picture a healthy Portland team.
The wild card? Houston, with
Yao Ming
,
Kevin Martin
,
Aaron Brooks
, and the standard dose of Houston grit, would be no picnic to face.
Other responses:

January, 8, 2010
1/08/10
6:32
PM PT

By Andy Kamenetzky
ESPNLosAngeles.com
Archive
PODCAST
In the wake of Wednesday's loss to the Clippers, Andy and Brian diagnose what ails the sluggish Lakers and look ahead to Portland and Milwaukee this weekend. Plus talk of Gilbert and guns, and a breakdown of Sean Connery's filmography.
Podcast

Some listening pleasure before tonight's brouhaha in the rainy Northwest. Brian and I begin with a large chunk of time off the grid, discussing what the Commodores' sound with
Phil Jackson
as lead singer, plugging
AwkwardFamilyPhotos.com
, and dissecting
Sean Connery's surprisingly unimpressive filmography
. Then some roundball...
-(12:12 mark, because as I said, a decent chunk of time off the grid): We talk about the Lakers' recent malaise, a run of unimpressive games with the blowout victory over Dallas the "blip in an otherwise steady downward trajectory." Is the issue recent injuries and subsequent rotational scrambles? The absence of
Pau Gasol
?
Luke Walton
not there to up the ball movement? The bench? The starters? Seriously, what gives?
-(21:00 mark): A look at tonight's game against Portland, where the Lakers have snakebit since 2005. But the Blazers have injury issues that are absurd. Does something need to give?
-(21:46 mark): We discuss the mess that is
Gilbert Arenas, Javaris Crittenton
, guns, common sense and the timing of suspensions. I wrote more about it this afternoon, comparing how differently Arenas and
Kobe Bryant
circa 2003-2004
handled their respective issues
.