Los Angeles Lakers:

Hakim Warrick
November, 14, 2010
11/14/10
12:53
PM PT

By Andy Kamenetzky
ESPNLosAngeles.com
Archive
The quest for a perfect season now fallen to the wayside, the Lakers will attempt a new winning streak. They're playing host to the Phoenix Suns, a 4-4 team they've already beaten this season and searching for its identity. There are new fellas on board,
some (Hakim Warrick, for example) paying bigger immediate dividends than others (Hedo Turkoglu, for example)
. Phoenix still takes
a lot of threes
, but no longer operate in helter-skelter breakneck style 24/7. (Hard as it may be to wrap ones head around it,
the Lakers are the team playing at a considerably quicker tempo
.)
Steve Nash
will always keep them respectable --
13's play this season has been outstanding
-- but the franchise's uncertain direction has the rumor mill
churning out gossip about potential relocation for the iconic point guard
.
Throw it all together and this seems like a reasonable team to reach 9-1 against. Here are a few items to watch after the ball jumps.
Attacking Phoenix's D
Back in the "Seven Seconds or Less" days, I regularly contended Phoenix's defense, while hardly the second coming of the Bad Boy Pistons, was better than reputed. The high number of points surrendered was in part the result of pace, while opponents' field-goal percentage against them was actually about middle of the pack. These days, however, the Suns are labeled a bad defensive team, and the numbers back the criticisms.
107 points surrendered,
with team sinking
nearly 48 percent of shots fired
. Only the Kings afford them bragging rights over
a 108.1 defensive efficiency clip
. Any way you slice it, the Suns are easy to slice up.
They appear to be exceptionally vulnerable the closer opponents get to their cup.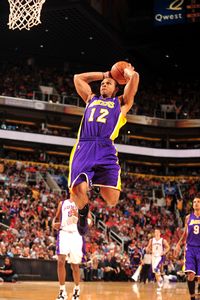 Barry Gossage/NBAE/Getty Images
Shannon's got the right idea about where to look for points against Phoenix.
Opponents are shooting 70.2 percent against the Suns down low, making them the NBA's second worst team at successfully challenging close attempts. (At least the 2-6 Wizards can chant "We're No. 1!" about something.) The lack of basket protection at point-blank range makes sense. Phoenix
doesn't block many shots
, and save
Robin Lopez
(prone to foul trouble), the big man rotation consists of
Hedo Turkoglu
,
Channing Frye
and
Hakim Warrick
, which ain't the most intimidating defensive trio ever assembled to battle fours and fives. (For that matter, they're not who'd I bank on to enforce the "no layups rule.")
Oddly enough, teams tend to take a low amount of point-blank shots against Phoenix. Whether that's because Phoenix does a decent job preventing the ball from moving inside or simply seduces challengers into a long-ball contest, I couldn't tell you for sure. But I do know the Lakers boast a considerable size advantage against the Suns, and I also know they've drifted from this strength away during the last two games. A date against this Pacific division foe seems the perfect opportunity to rediscover an inside-out identity.