Los Angeles Lakers:

Hall of Fame
August, 31, 2011
8/31/11
1:43
PM PT
Tuesday afternoon, I was fortunate to spend some time talking with Lakers great
Michael Cooper
, an integral part of five championships with the Showtime Lakers, and now coach of the
women's basketball team at USC
. Long and lean-- very, very lean-- Cooper was nonetheless a fierce competitor, earning All-Defensive Team honors eight times, and the DOPY Award in 1987.
Larry Bird
called him the toughest defender he ever faced. Praise doesn't come much higher.
PODCAST
Brian welcomes Lakers legend Michael Cooper, now head coach of the USC women's hoops squad. Coop talks about defending Larry Bird, the best of his five title teams, Magic's influence beyond the NBA, and why he wore his socks so high.

Podcast

Over the course of about 30 minutes, we had a chance to touch on a wide range of subjects, from where he developed his intensity to the magic of
Magic
, both on and off the court. Among the highlights:
*Why he developed such a strong defensive mindset in L.A.:
"You had to find a niche [with the Lakers]. When I met coach
[Jack] McKinney
, he said, "Coop, we need a player who is going to play some defense. We need a lock down defender at the 1,2, and 3 positions. That was kind of my calling card. I reverted back to all my fundamentals, and my aggressiveness as far as defense goes ... This was my niche to make it on the Lakers team. Everyone likes to score, but I felt that it was how I was going to be able to not only make that team, but stick around. And lo and behold, that worked out well for me."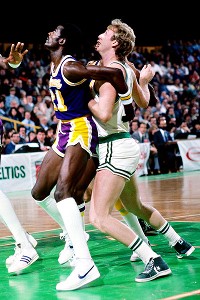 Dick Raphael/NBAE/Getty Images
Larry Bird called Michael Cooper the toughest defender he ever faced.
*On defending Larry Bird:
"I used to study games of his. It would be a month before we would play the Celtics, but I was getting ready for him. Watching him play. What did he do on out of bounds passes? What did he do going around picks? ... Larry was naturally born left-handed, and taught himself how to shoot right handed. He was very ambidextrous so you couldn't force him one way or the other, because he was just as good going to his left as he was to his right. The only tendencies I had [available from film] to pick up with him was how he came off of picks. How he set you up to come off a pick."
*Best of the five title teams on which he played:
I thought our
'84 team
was very good, even though we came up short [against Boston in the Finals]. We had all the necessary parts to win a championship. Of the championships that we won, I'd have to say our
'85 championship
was about as good as we were going to get. Everybody was hitting on all cylinders.
James Worthy
was was just coming into being the type of player he'd eventually become, a Hall of Famer. That team had it all. We had a bench, we could play defense, we could run, we could rebound with you. We could get big, and even became "Riley's Runts," because we could get small. That '85 team was probably our best team, per player, and the camaraderie and the chemistry was very good.
*Coop explained the challenge
of not just beating Boston, but overcoming the mystique they had in big moments.
August, 15, 2011
8/15/11
11:35
AM PT
With the Hall of Fame inductions taking place last Friday, Ramona Shelburne, Dave McMenamin and I debate the Springfield prospects for a few local players. Has Pau Gasol built the foundation for an eventual bid? It's obviously way early, but does Blake Griffin appear to have the stuff? And with a head screwed on better, might Ron Artest have placed himself in the conversation?


August, 12, 2011
8/12/11
12:54
PM PT
Check out my discussion with
Dave McMenamin
and
Ramona Shelburne
about
Tex Winter's
absurdly long wait to enter the Hall of Fame, and the mutual success enjoyed by
Kobe Bryant
and
Michael Jordan
in the triangle.
It's the perfect complement to
a podkast with Roland Lazenby
about Tex's career and legacy.
August, 12, 2011
8/12/11
10:22
AM PT
On Friday, the Basketball Hall of Fame will induct its 2011 class.
Among those honored will be
Tex Winter,
best known as the longtime assistant coach to
Phil Jackson
, and
the architect of what became known as the triangle offense
. In addition to shaping a system at the center of 11 championships for the Bulls and Lakers, Winter also enjoyed success as a head coach
in the college ranks, most notably with Kansas State University
. (Similar to coaches in the era of PJ's Bulls and Lakers, Winter had the unfortunate luck of running into
Wilt Chamberlain
at Kansas and the
John Wooden
dynasties.)
PODCAST
Andy talks with basketball historian Roland Lazenby about newly inducted Hall of Fame member Tex Winter, his relationship with Phil Jackson, Kobe Bryant and Dennis Rodman, and the current state of the Lakers.

Podcast

In the eyes of seemingly everyone -- save the HOF voters, of course -- a spot in Springfield has been a given for
the former USC player
. Nonetheless, Winter has endured a painfully long wait. Thankfully, the honor has arrived in time for Tex, in poor health, to enjoy the ceremony in person.
For more perspective on Winter's career, I spoke with
basketball historian and author Roland Lazenby
. A longtime friend of Winter's, Lazenby shared thoughts on Tex's innovative nature, his relationships with Jackson,
Kobe Bryant
, and fellow 2011 class member
Dennis Rodman
, plus his take on the current state of the Lakers.
The entire interview can be heard by clicking the box to the right, but here are some choice quotes:
On the roots of Tex's and Phil's relationship and why it flourished
:
"It was a series of things. First of all, Phil's great mind. The fact that Tex is everybody's uncle. That he has a tremendous enthusiasm for the game. It's boundless. That may be his greatest gift. And then the third thing, they were brought together to coach the Bulls summer league team. Tex had first become alerted to Phil even before they coached that team when Phil came in as this guy who'd been an NBA player. He'd been in the CBA. Phil had to do the advanced scouting. Tex was blown away and this takes a lot, because Tex is really hard to impress. Phil would come back with these
incredibly
detailed scouting reports. They were immaculate.
"And then as Tex got to know him, they coached together, he began to see that Phil possessed this total recall. I mean, the guy could remember all kinds of things. It was just unbelievable. Tex told me that Phil had total recall virtually on every moment of his career. Playing and coaching.
"They had this symbiotic relationship. Their personalities are very different. Tex is this very willful, excitable person who is just so obsessed with his offense. And Phil was just this very bright guy who could process everything. Tex, having had years in college coaching, had this ability to jump in and confront players and say, 'No, you're not doing this right!' L.A. fans are very aware of Tex's clashes with
Shaq
because Tex wanted everything so precise and that just wasn't Shaq's nature. So they formed this relationship where Tex was the teacher. For years together, Tex was teaching Phil. Breaking down game film for him. Organizing his practices for him. Doing all these things. And then confronting the players when they needed to be corrected. He did a lot of that. More of that in the early years than in the later years, of course."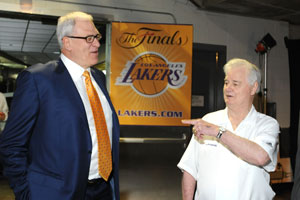 Andrew D. Bernstein/NBAE/Getty Images
No, you da man, Tex.
On the sometimes complicated nature of the relationship
:
"It grew more complicated once Phil got to Los Angeles. He really became a popular culture figure in Los Angeles and a lot of people worshiped him. And Phil changed a bit . . . I think Tex for a while was worried that Phil was trying to sort of mute the influence Tex had on him. I think Phil has been very generous in a lot of ways, but there's no question. It's not like it's all about Tex or it's all about Phil. It was just a perfect meeting of some very special minds and some very special people. This is just about all of them getting their due."
On Kobe Bryant's longstanding admiration for Winter
:
"I was rebounding some free throws for Kobe. He was there with those Lakers teams with
Del Harris
. He was a lost and lonely puppy and he told me he'd always dreamed of having Tex Winter as his coach. Not Phil Jackson. Kobe told me Tex Winter. He knew that he was bound for greatness. As he told me, he didn't know how he was gonna get there, but he knew that having Tex as his Yoda, as Kobe likes to call him, was the key. He wanted Tex's phone number. Tex was an assistant coach for the Bulls.
Tex called Kobe and he said, 'You know, all of your concern about the lack of organization with the Lakers is dead on. Yes, everybody is giving you this grief and you're impulsive, you're a young guy. But you really do have to have a system of play to sort out this modern NBA environment where the defenses are so physical. The defenses clearly for a number of years got the upper hand in the NBA."
August, 13, 2010
8/13/10
9:07
PM PT
On this week's podcast, we spoke with longtime L.A. sportswriter Steve Springer, who covered the Lakers for over two decades, noting the achievements of owner Jerry Buss both in Los Angeles with the Lakers and contributing to the resurrection of the NBA. Friday night, he was officially inducted into the Naismith Memorial Basketball Hall of Fame. Unfortunately, not everyone has NBA TV, so it's possible many fans didn't get a chance to see his induction speech.
No worries. Below is the transcript.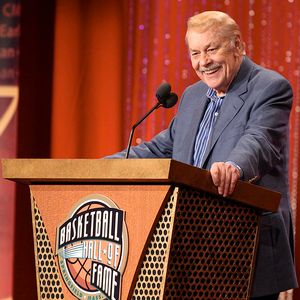 Nathaniel S. Butler/NBAE/Getty Images
Jerry Buss delivers his Hall of Fame induction speech in Springfield Friday night.
"I guess you can tell I'm happy to be here. In fact, I'm probably happier than anyone, because most of the people that come up here have an inkling of the idea that someday they may make the Hall of Fame. Believe me, when I was 21, I never thought I'd be enshrined with
Magic Johnson, Larry Bird, Michael Jordan
. In high school, I was on overly competitive but under-ly endowed player. I turned to heavy studies, and eventually won a scholarship to the University of Wyoming. I worked hard at the books, but I always took time to watch Wyoming play.
A lot of people don't know this, as a matter of fact -- Wyoming won the NCAA basketball championship (in 1943).
After my university graduation at Wyoming, I went to graduate school. I had a lot of offers, but I chose the one with the best athletic program: USC. I became a die-hard basketball fan, with early memories of
Walt Hazzard
kicking the crap out of my beloved Trojans.
August, 13, 2010
8/13/10
12:46
PM PT
The Lakers finally seem to be winding down from the business of summer.
Shannon Brown is back
, the
two second rounders are in the fold
, leaving the to-do list without many empty boxes.Which is nice, because tonight brings a well-deserved, proud moment for the Lakers franchise, as
Dr. Jerry Buss is inducted into the Hall of Fame
.
PODCAST
Andy and Brian welcome longtime L.A. sportswriter Steve Springer to talk about the HOF induction of Jerry Buss. Plus, Trevor Ariza heads to New Orleans and a breakdown of a big summer for the NBA and Judaism!

PODCAST
He owns the crown jewel franchise in a league that has quite literally gone global, but these days he keeps a lower profile and it's easy for fans to think of him (even if only in moments of weakness) as a man with a checkbook, forgetting how transformative a figure he's been in the history of the NBA. By recognizing the value of the game not just as sport but entertainment and changing the way fans experience the product, he helped usher the league out of a very dark, tenuous period. That, combined with paralleled success- 10 championships, 16 Finals appearances, and only two season without postseason play in three decades of ownership- makes the HOF an easy call, long in coming.
To get more insight into Dr. Buss and his influence, we spoke with
Steve Springer
, who covered the Lakers for over two decades for the L.A. Times (and contributed a
couple great pieces
on the
Springfield-bound Buss
during last season for ESPNLA.com.)
Then, after (sort of) lamenting the
death of perennially unfunny "Cathy" comic strip
, it's on to
Trevor Ariza
, the trade sending him to New Orleans,
and how a man's future in the NBA can turn on a dime
. (If by "dime" you mean "botched negotiation." You choose.) After, we dive into one of the summer's more unusual trends: the NBA and Judaism! (Trust us, as a pair of suburban Jewish kids, we
never
thought this would happen.)
Amare Stoudemire
has
explored some familial Jewish roots in Isreal
,
Shaquille O'Neal
is
greeting TMZ cameras in Hebrew
, and now
LeBron James
is
consulting a mysterious orthodox rabbi on major business matters
.
Amazing! Put it all together, and it shouldn't shock when I unveil the
NBA's surprise choice for halftime entertainment
at this year's All-Star Game.
August, 6, 2010
8/06/10
2:46
PM PT
It may be the offseason, but that'll never stop us from yammering. For that matter, we actually found a fair amount of substance to yammer about during our latest session at the mic. Among the talking points:
PODCAST
Andy and Brian talk about Shannon Brown in purple and gold, Shaq in green, and which players belong in the Laker rafters. Can you make an argument for Fisher? What about Slava?

Podcast
- (3:50): After firmly establishing what kind of brothers we are, Brian and I discuss
the implications of Shannon Brown resigning with the Lakers
. From where we sit, it's a nice deal for both sides. Shannon gets a small raise, plus the flexibility to opt out again next summer if he prefers. He's got a solidified role with room for expansion. He gets to stay in a winning environment and purse a place in purple and gold history. The Lakers get a steadily improving backup for
Kobe Bryant
at a reasonable price, a dynamic change of pace, silly athleticism, familiarity with their system and an upgrade over the likeliest alternative (
Sasha Vujacic
). Everybody wins.
- (9:50): With Shannon in the fold, the Laker roster is basically set, save the expected inking of
Derek Caracter
and
Devin Ebanks
, or an unexpected trade. So, how was the Lakers' summer? Pretty flippin' good.
Phil Jackson, Derek Fisher,
and Brown were retained.
Steve Blake, Matt Barnes
and
Theo Ratliff
constitute an upgrade over the players they respectively replaced (
Jordan Farmar
, a hobbled
Luke Walton
,
D.J. Mbenga
). Caracter and Ebanks appear to be exceptional value at their draft spots. And none broke the bank. It would be hard to come up with a realistic criticism of how the Lakers could have fared better.
May, 19, 2010
5/19/10
12:38
PM PT
During 710 ESPN's recent
Lunch with a Legend
, I had some face time with one of the all-time Laker greats, "Big Game"
James Worthy
. Our conversation hit on topics like the Showtime era, the pride of playing with one franchise and the Lakers' current quest to repeat. Many interesting points raised, but one in particular stood out to me.
PODCAST
ESPNLA.com's Andy Kamenetzky sits down with "Lunch with a Legend" honoree James Worthy to discuss Showtime, the end of his career and why it never bothered him playing "third wheel" to Magic and Kareem.
Podcast

Worthy's professional career was without question an unqualified success. Three rings. Seven All-Star bids. Hall of Fame.
"50 Greatest Players"
membership. But he never led a good team as "the guy." Granted, he played with Magic and Kareem, two dudes not just arguably the best ever at their respective positions, but to ever play the game, period. Too many alpha dogs can spoil the stew, so even someone as talented as Worthy sometimes has to take a relative backseat. Still, great players often have great egos, along with great awareness of whatever criticism could taint their legacy, so I asked Worthy if he ever pined to be an elite team's unquestioned alpha dog:
"No, I never really allowed that to enter into my mind, because I knew I wasn't that type of player. I knew that I wasn't the leader that Magic was. I know how to lead by example and hard work, but at the professional level, it takes a little extra and I would have
never
have been the voice of a team. I didn't have the dominant game like Kareem with the sky hook. I never looked at myself as a player that could carry a franchise.
"That was fortunate for me, being the #1 pick, that I didn't go to the Clippers or I didn't go to a team that would expect their #1 pick to turn their whole team around. I was pretty fortunate to go to the Lakers, because coming from Coach
(Dean) Smith
, who's so team-oriented and so collective, I could have never taken that position. I was the captain for a couple of years, but I could never take the role of Magic. Having the role I had was perfect."
Not the answer I expected. I figured Worthy would say he appreciated the luxury and fortune that comes with joining a talented, stacked roster. Or maybe, he initially worried about how his career might be perceived in light of being a third option before coming to appreciate the luxury and fortune that comes with joining such a talented, stacked roster.
Option C: I wasn't that kind of player or leader. Didn't see that coming. In particular, the stuff about leadership was striking.
April, 7, 2010
4/07/10
8:27
AM PT
A few more non-
Andrew Bynum related
nuggets from Tuesday's run in El Segundo...
Derek Fisher
was asked to identify most important thing the team is looking for over the last five games. "Getting and staying healthy," he said. "If you don't have all your guys, it makes things tough."
From there, Fish said, it's a matter of "re-establishing the ability to play longer, better. We've really had very few times when we've played more than one half of good basketball. And I say that in terms of a total of 24 minutes, not like a (continuous) half where we played well... Just totally inconsistent."
So yes, they're watching the same games you are.
Fish suggests (as did some of his teammates) the struggles faced by the group this year will only make a title in June more satisfying, should they again accomplish the feat. Perhaps, but will it have been worth shaving years off the lives of fans supporting them? We've all seen how the Presidency tends to age people quickly. The Lakers have turned the city into one giant purple and gold oval office.
April, 5, 2010
4/05/10
1:47
PM PT
As was reported yesterday by our own Arash Markazi,
Lakers owner Jerry Buss has been elected into Naismith Memorial Basketball Hall of Fame, class of 2010
. The question isn't whether or not he deserves it, but why it's taken so long for the honor to come to a man whose impact on the game has been profound.
Steve Springer
covered Buss and the Lakers for over two decades with the Los Angeles Times,
and recently sat down with him for an interview
. On a recent PodKast, he explained how Dr. Buss transformed the sports landscape in L.A.:
PODCAST
Andy and Brian speak with Steve Springer, who covered the Lakers for over two decades with the Los Angeles Times, about the the impact and legacy of Dr. Jerry Buss.The conversation starts around minute 21 of the PodKast.

Podcast

"You have to remember, when Jerry Buss took over the Lakers, it was unheard of- unheard of- for an L.A. Lakers playoff game to have a higher rating than a Dodgers exhibition game. That just wasn't done. The Rams, when they came here after World War II, they owned this town, and then it became a Dodger town almost the day the Dodgers arrived... If there was basketball here, it was UCLA. It was John Wooden. And Buss just captured this town, and he did it certainly with superlative players, but in an entertainment town he did it with the Laker Girls, he did it with Showtime, he did it by keeping a bevy of stars courtside, and he did it with his own lifestyle. He was certainly the Hugh Hefner of sports. So he just took this town over for a sport that really was a second tier when he bought the team...
...When Buss took the team over in 1979, the NBA was in the toilet. It was falling apart. They were talking about contracting teams, there was a drug scandal, there were racial issues. So not only did he elevate this team to the top of the heap, but did it at a time when the league was falling apart."
Moreover, his concept of treating a visit to an NBA game not simply as a sporting event but as entertainment -- a show for paying customers containing stars and glamor like any Hollywood movie might -- became a marketing strategy for the entire league, and helps explain its enormous popularity today.
On its own, Buss' stewardship of the most successful franchise the NBA and perhaps all of sports over his 30 years would be HOF-worthy. Add in his impact on the league as a whole and it becomes a no-brainer.