Los Angeles Lakers:

Hawthorne
July, 3, 2011
7/03/11
12:43
PM PT

By Andy Kamenetzky
ESPNLosAngeles.com
Archive
As part of a continuing series, NBA players share the various ways growing up in L.A. shaped their games.
Growing up in L.A., University of Michigan point guard
Darius Morris
was exposed to a wide spectrum of the city's culture. The Lakers' second-round draft pick first grew up in Hawthorne, but his family uprooted to Redondo Beach and then Carson in an effort to find better educational opportunities for their children. Darius eventually received a scholarship to
Windward, a small private high school in Mar Vista
, but remained a fixture at various parks across L.A. He led Windward to a state championship while making a name for himself among his local peers.
Andy Kamenetzky
: Which parks did you regularly play at growing up?
Darius Morris:
There was Del Aire in Hawthorne
, when I was a kid. In the South Bay, there was
Marine (Sports) Park
. And
St. Andrew's Park
, that was where I played
a lot
. My dad wanted me to play against tougher competition to make me tougher. Inner-city. So that's where I was.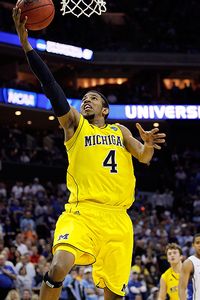 Kevin C. Cox/Getty Images
The road to Ann Arbor began in Los Angeles for Darius Morris.
AK:
What was the atmosphere like at St. Andrew's?
DM:
Similar to Hawthorne, but in a basketball setting, so you knew you had to play well. The parents would get on you if you didn't. Kind of a different setting than over in Redondo Beach, because you knew at the end of the day, they're not gonna do anything. It's just a different crowd. ... Which kind of helped me, because I was able to adapt. I was fortunate to benefit from both the inner-city and a nicer area of basketball.
AK:
Do you remember your first eye-opening experience at St. Andrew's, getting knocked down, elbowed?
DM:
I was probably 11. The dudes would get mad if I was playing really well. I would come to the hole, and a little kid my same size would just foul me and hack me really hard. I was like, "Oh, OK." Whereas in Redondo Beach, somewhere like that, I could probably get [the shot] off. Or if it was organized, like playing in middle school, nobody would do anything like that. But he gave me an intentional foul, so I was like, "OK, I have to be aware."
AK:
Do you remember the first time you realized you were making a name for yourself at these parks?
DM:
Yeah. That definitely started with St. Andrew's, when we won the city championship back-to-back. Everybody was hyped because you get a big banner and stuff like that. You go against all the parks: Rancho Cucamonga, Crenshaw Park, all that. On the park side, that's when I knew I was getting recognition throughout L.A.
AK:
So you went from getting knocked down in this park to actually representing them.
DM:
Yeah. When I came there, I was good. The AAU gave me a head start. I'd been able to play against [good] people. I'd been traveling around. We'd go to Vegas. Vegas was a big thing back in the day. So it was cool to have that name back in L.A., though.
I played with Roundball when I was 9 years old.
Brandon Jennings
played on that same team. He was a year older than me. We was playing together, then he went off and did his own team. I stuck with Roundball a little bit more. Then I went to
Rising Stars of America
,
Baron Davis'
team. Did a couple of Nike teams. I was a Nike kid, before I ultimately ended up
going with Belmont Shores.
AK:
Were there any local players you patterned your game after? Even guys who didn't make it to this level?
DM:
There were some people when I would go to the games. Going to watch Westchester and Compton-Dominguez play,
Gabe Pruitt
was good. My brother
DeWayne
[
who actually worked out for the Lakers years ago
] really is the person I'd always watch. I was the biggest fan of him. He was going against those guys, so it was kind of tough for me.
AK:
If someone asked you to summarize your St. Andrew's experience or what it was about, what would you say?
DM:
I would say tough basketball. On and off the court. You had to bring it every day and you definitely couldn't slouch. Your teammate would let you hear about it. You had to bring your game and you had to be aggressive.
AK:
When you say "off the court," were there confrontations?
DM:
If we weren't playing in our park league and I was just up there. You never know what might happen. So you always had to be looking out because you heard stories about stuff that happened at that park. You just didn't want to be one of those stories.
AK:
Were you particularly nervous after you had beaten someone and there could be bad feelings?
DM
: Yeah, [but] I kind of knew my place, though. I didn't go looking for trouble. I wasn't that type of dude. I would only talk smack if somebody talked to me. But at the same time, I don't do nothing stupid, though.