Los Angeles Lakers:

health
May, 30, 2012
5/30/12
11:51
AM PT
It was an interesting season for
Metta World Peace
. (Is there any other kind?) The campaign began with a visibly/admittedly overweight MWP tapped to pick up where his close friend
Lamar Odom
left off: The bench Kahuna. Having watched Metta spend two triangular seasons doing little more than spot up and wait,
I enthusiastically endorsed Mike Brown's plan for more responsibilities
. With the ball in his hands more often, I was reasonably confident Metta would emerge more consistently engaged and perhaps even an effective scoring and play-making source. For a brief period, that vision seemed doable.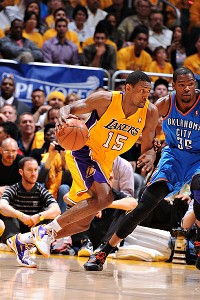 Andrew D. Bernstein/Getty Images
Driving the lane, MWP experienced early success. Further out, not so much.
In his first seven games
, MWP notched 10+ points three times, 3+ assists four times and drew fouls as a point-forward/post-presence. Defensively, he was typically a step (or three) slow and his 3-point shot was staggeringly absent -- through January, 14 percent success,
rounding up
-- but Metta still brought something to the table as an imperfect option. However, as time marched on, so did MWP's distance from the basket. For reasons I never could get explained by Brown or Metta, those post opportunities steadily declined, making MWP once again
a lonely man there on the corner
. Banished from the lane and lagging defensively, MWP's ineffectiveness reached the point where unless a return to the block was orchestrated, I questioned the logic of even playing him.
Shortly after
an unusually strong effort against the Clips
, MWP joined the first five, but consistent production still eluded him. For every game his defense or a timely 3-pointer made a difference, in several others Metta played like a shell of himself. Nobody would reasonably expect a Xerox of "Indiana" Ron-Ron, but something better than this version certainly was fair to request.
Desperately needed signs of life first came in March. Five double-digit showings. His 3-point shot began to fall semi-regularly.
LeBron James
and
Paul Pierce
were forced to work hard for points during Lakers victories. MWP looked more comfortable, and spoke freely about improved health and confidence. Still, his impact wasn't pronounced enough for MWP nor fans to hang their proverbial hat on.

April, however, proved a veritable hat rack.
On both sides of the ball, Metta performed not just like the dude from his debut season in L.A., but better. When a shin injury shelved
Kobe Bryant
for seven games, MWP picked up a big piece of the slack, averaging 16.3 points and reaching double-figures six times. A season-high nine assists against Golden State, was indicative of MWP's hand in shaping wins. Obviously, these numbers were to some degree a byproduct of The Mamba's absence, but 23 points (on a tidy 13 shots) against Houston came with Kobe in uniform. A sustainable high gear had been discovered, and for an underdog team looking to make a deep run, MWP became the roundball equivalent of found money.
Then came bankruptcy in the form of
an elbow to the head of James Harden
.
May, 23, 2012
5/23/12
10:44
AM PT
Never let it be said Metta World Peace isn't an eternal optimist. Despite exiting the second round of the playoffs for the second consecutive season, MWP doesn't consider the Lakers in need of radical change. Heck, he's still struggling to conceptualize the Oklahoma City Thunder as a team superior than his in the first place.

"The best team in the NBA lost in five," insisted MWP. "The best team in the NBA should be up 3-2, playing tomorrow. But the better team that took advantage of the moment, that took advantage of their time, they seized it and they grabbed it. They held onto it. So we gotta find a way to hold onto our moments."

MWP's time with the media was peppered with the phrase "should be up 3-2," and the overarching theme of his comments could be labeled "confidence." He's confidence in the form discovered after several months laboring and working himself back into shape. (The lockout prevented MWP from consulting the training staff to address a nerve issue in his back, and his conditioning in turn suffered.) The process was slow, and MWP was admittedly unsure he'd ever come close to the two-way dominance of his prime. But come April, slimmed down and healthy, Metta finally broke through and has no doubts this version will be the one gracing the hardwood moving forward.

"I just feel like I want to pick up right where I left off, and kind of prove something," proclaimed the former Defensive Player of the Year. "I never like to prove anything, but this time around, I kind of want to prove a little bit."

Metta also emphatically stressed the importance of this self-confidence trickling down to certain teammates. Particularly when it comes to deferring to Kobe Bryant. As far as MWP's concerned, the Mamba may be one of the greatest ever, but during crunch time those alongside him must start viewing themselves as equally worthy of making plays.

"I think at the end of the game, guys gotta trust themselves more," said MWP. "I think sometimes, not myself, but sometimes guys, they look to Kobe too much. I think they gotta understand Mitch (Kupchak) brought you here. Mitch also assembled teams that won championships, so he knows what he's doing. And he brought you here for a reason. Because you're good. So believe in yourself.

"When I first got here, I know Kobe is an amazing player. I know me and Kobe had a lot of conflict when we were on opposite teams, but I still looked up to Kobe because he played like (Michael) Jordan and Jordan is my favorite player. So when I got here, sometimes I would be in awe of Kobe, watching Kobe to see if he would make the shot. Wanting to see him win the game with the game-winner. And every game I'm like, 'He's gonna win! He's gonna win!' But I'm not making an impact on the game. I'm watching Kobe. Guys moving forward have to believe in themselves. I think if guys believe in themselves, you're gonna see a whole different team.

"You're playing with a great player. Five championships. I don't know how many people can say they got five championships in any sport. So no matter who the player is, you come to this team, you will look at Kobe as one of the greatest players ever. You know? But playing with Kobe for a long time, I understand I gotta chip in. I must chip in. So I think the young guys, not the older guys, a lot of young guys went through it this year. And I think coming back next year, they just have to understand, we gotta chip in.

"Chip in. Don't watch... chip in so Kobe can get his sixth ring, so I can get my second, and Pau (Gasol) can get his third, and things like that."


December, 17, 2011
12/17/11
9:16
PM PT
And on Saturday, the Lakers rested.
After Friday's high-energy Galen Center scrimmage,
Mike Brown
decided his guys needed a day spent largely recuperating. Even as someone admittedly big on practice followed by even more practice, there are limits, especially during this compressed training camp.
"I gotta be careful utilizing two-a-days, because they might learn a lot, but I also could end up breaking them down in a short amount of time," said Brown. "They're elite humans, but there is a point to where enough is enough and their bodies need rest."
Thus, they watched a lot of scrimmage video, followed by some light workouts by most players. Brown liked a lot of what he saw during the scrimmage, singling out the performances of
Devin Ebanks
and
Matt Barnes
, and the way big men ran the floor. However, being the serious stickler he is, predictably there were areas where he wasn't satisfied. During the film session, poor transition defense was singled out, and the coach sounded only moderately pleased with pick and roll coverage. Bad possessions were rewound a few times to illustrate fully where the problems lie. And for Sunday, Brown promised at least one transition D drill, and the usual meticulous pursuit of perfection.
Still, all things considered, he's actually happy with what he's seen after barely more than a week of training camp.
"For where we are now, after six, seven days, I feel pretty good about where we are, knowing that this thing is coming up relatively quick."
December, 4, 2011
12/04/11
6:38
PM PT
Kobe Bryant's
health is always a concern to Laker fans, whether you're talking his
finger,
ankle
, back,
neck,
or penchant for catching the flu. There's also his knee, which he claims is
now almost "bone-on-bone" due to deteriorated cartilage
. This offseason, The Mamba traveled to Germany
for platelet-rich plasma therapy
, a relatively new procedure still garnering a divided medical community opinion.
The early returns have been positive
, but how will the rigors of a compressed season, plus his pledge to practice regularly, affect Bryant's knee?
For specialized insight, we brought in
Dr. Robert Klapper
, chief of Orthopedics at Cedar Sinai Medical Group and co-host of
The Weekend Warrior on 710 ESPN
. He, in turn, brought props. Fun!!!
November, 2, 2011
11/02/11
10:37
PM PT
It's unfortunately not an NBA game, but
Matt Barnes
is participating this weekend in a decent facsimile.
"We Believe vs. Dubs"
will feature members of the 2007 Golden State Warriors squad vs. the current crew. Dudes like
Steph Curry
,
Monta Ellis
,
Gilbert Arenas
,
Al Harrington
,
Dorell Wright
and, of course, Barnes will suit up, with a portion of the proceeds benefiting Barnes'
Athletes Vs. Cancer charity
.
Along with raising awareness about the event, Barnes dropped by the podKast to talk lockout, Lakers and and his health.
Listen to the entire interview here
, and the breakdown is below.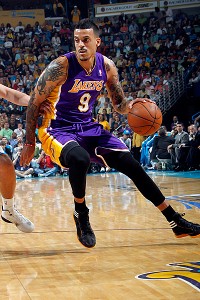 Layne Murdoch/NBAE/Getty Images
Matt Barnes is nearly healthy. Now he's just hoping to have NBA games in which to play.

- (2:50)
Barnes notes how, as a locked out NBA player, you don't truly start getting antsy until November arrives and you're not playing. Thus, this situation is killing him. Still, Barnes is also cognizant of the privileged position enjoyed by members of the Association even during a lockout compared to fans that shell out bucks in a bad economy to see them play. He hopes these exhibitions help ease their pain a bit.
- (3:40)
With his knee now at "90 percent," playing overseas is a more viable option for Barnes if need be. It's definitely not his first or even fifth choice as a guy who clawed and scratched early in his career to avoid destinations like Europe. However, if the writing on the wall looks increasingly negative, Barnes will heavily consider it. At the end of the day, he wants to play basketball somewhere.
- (5:09)
Barnes acknowledges how, since every player's situation is different, they naturally don't all agree with how long they should force the issue for a better deal:
"It's a tough situation. You always have to look out for yourself and your family, so a lot of guys from what I've been hearing, and whispers, a lot of guys think 50/50 is good, and let's get back to work. But I've been consistently talking to Fish, and some of the other guys on the board, and we think it's important to stay together and push for that 52. We're pretty close, hopefully we can get that and get moving.
"But you can't really knock anybody for a move they may have to make for their family, or a move they may have to make for themselves, because financially, this is really our only income."
-(6:18)
Barnes comments on the
Foxsports.com report about Derek Fisher working with David Stern
behind the union's back to curry favor down the road.
The Laker point guard has emphatically denied this
, and Barnes isn't about to question his teammates' integrity:
"I've known Fish for a number of years, and his character is second to none in my eyes. So what he does, I know it's for the good of us. It's almost like he's the president of the country. He's the president of the Player's Association, so all our faith lies in him and I fully trust what he's doing is for us, and for us to get to play again."
- (7:02)
Assuming a shortened season doesn't equal an absurd amount of games piled on top of each other, Barnes feels the Lakers could benefit from this scenario.
- (9:30)
Barnes is as curious about
Mike Brown's
vision for the Lakers as the next guy. He expects bits of the triangle to remain intact, but the rest is a mystery.Barnes is trying to obtain as much video as possible from Brown's days with Cleveland so, assuming there's a season, he can hit the ground running.
- (10:40)
It's a charity game this weekend. However, the small forward has racked up techs left and right during the offseason exhibition games, and even a philanthropic setting won't change that. Why? Because a cost-effective setting is a cost-effective setting:
"If I get a chance to yell at a ref who makes a bad call and not have to pay $2,500 or $5,000 [in fines to the NBA], I'm going to do it all day. These free technicals, I'm going to kind of enjoy until I can't do it anymore."
August, 31, 2011
8/31/11
8:28
PM PT
The European Championship got off to a nice start for
Pau Gasol
and Spain,
as the defending champs posted a 83-78 victory over Poland
. My hunch is the average Laker fan, while certainly not rooting against the good people of Espana, couldn't care less if the trophy remains in their neck of the woods. Still, they'll be watching that squad, eager for glimpses of "Pau Gasol," rather than the impostor who floated through last season's playoff run like a ghost who settles for jumpers and forgot how to rebound. Certainly, 29 points sounds like the fella we've come to know and love.
So is El Spaniard "back?"
Dunno, and we won't know for a while.
My reaction to this performance and other theoretical strong performances throughout this tournament will likely be viewed through this perspective: In a vacuum, fantastic news, but hardly a bellwether when it comes to the larger, burning question with Pau. Not to be a wet blanket, but this tournament, and all the individual successes accrued, is arguably meaningless as a sign of what lies ahead next season.
For starters, while he's hardly competing in a Euro facsimile of a YMCA rec league, the competition doesn't stack up against what Pau faces in the NBA. Talented ballers, to be certain, but nonetheless largely folks unable to carve out careers in the Association. There's also the psychological difference between operating in your wheelhouse -- Gasol traditionally owns Euro basketball -- and returning to the proverbial scene of the crime. Pau bricked the NBA playoffs, and thus must redeem himself at the NBA level. Even as someone confident in Pau's purple and gold track record after disappointing postseasons (see, "the 2009 season"), closure is necessary.
Plus, Pau is chasing a championship after a few months of rest, rather than on the heels of a 82-game regular season. For a player with several consecutive seasons of big minutes, often out position, that toll can't be underestimated. Especially when it comes to last year's inconsistencies, which were on display well before the postseason spun out of control.
Which brings me to the most important factor:
Andrew Bynum
.
September, 17, 2010
9/17/10
9:57
AM PT
With training camp around the corner, we asked a group of local and national roundball experts to weigh in on some of the big Lakers questions heading into the 2010-2011 season. Call it a preseason prognosticationpallooza.

Our panel:
Andy and Brian Kamenetzky (ESPNLA.com Land O'Lakers Blog),
Elliott Teaford
(L.A. Daily News),
Kevin Ding
(O.C. Register),
Kevin Arnovitz
(ESPN TrueHoop),
Eric Pincus
(Hoopsworld),
Chris Clark
(Silver Screen and Roll), J.A. Adande (ESPN.com),
Darius Soriano
(Forum Blue and Gold),
Kurt Helin
(ProBasketballTalk.com),
Mark Medina
(L.A. Times.com), Arash Markazi (ESPNLA.com), and Dave McMenamin (ESPNLA.com):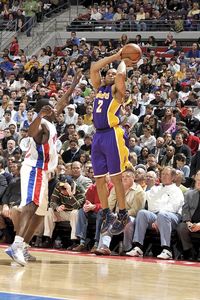 Allen Einstein/Getty Images
Fish was great in the clutch. But like most Lakers, he struggled to consistently make outside shots.
Today's question:

What is the Lakers' greatest weakness?
The Results:
Outside shooting:
5
Complacency:
3
Health:
2
Lack of athleticism:
1
Point guard:
1
New pieces not fitting:
1
My take:
The Lakers have won consecutive titles without consistent outside shooting. Three-peating means overcoming the same issue.
Steve Blake
will help, but the Lakers still aren't rich with reliable three-point shooters. (But fear not. This won't prevent these little scamps from continually ignoring
Pau Gasol
and
Andrew Bynum
down low in favor of bombing from downtown, bless their little hearts!)
Other responses: