Los Angeles Lakers:

image
December, 24, 2009
12/24/09
3:12
PM PT

By Andy Kamenetzky
ESPNLosAngeles.com
Archive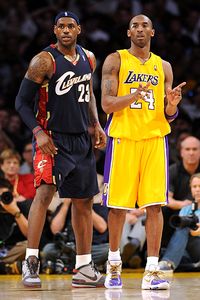 Noah Graham/NBAE via Getty Images
You tell us. Are these guys really rivals?
Love me or hate me
-Kobe Bean Bryant, 2006
To some degree, "
Kobe Bryant
vs.
LeBron James
" doesn't actually matter to Lakers fans. At all. Sure, a large portion don't care for LeBron's ugly mug and don't appreciate when other fans suggest that The King is a better baller than the Mamba. Or when the media suggests he's a better teammate. Or when
David Stern suggests he could go down as G.O.A.T.
Yeah, those things don't sit particularly well with Kobe's faithful. But nonetheless, many don't consider that a "Kobe vs. LeBron" thing, because the issue isn't really "about" James at all. He's just a symbol, the latest embodiment of what appears a staunch effort by haters, media and the NBA itself to prevent Bryant's obvious goal: Being considered the best to ever lace 'em up. And frankly, as comments pulled from
our Facebook Page
show, some fans are plain sick of it.
PODCAST
Andy and Brian discuss Kobe and LeBron's "rivalry" and the approach behind their marketing campaigns with Chris Raih, Managing Director of Zambezi, a creative agency that works with both superstars.

Podcast

Having lived in L.A. since 1990 and passionately followed the Lakers from the mid-90's on (I still consider myself every bit "Laker fan" as "Laker scribe"), I've hardly known a purple and gold world that didn't include and/or center around
Kobe Bryant
. And no matter what world I've been a part of, I can't recall an athlete that's prompted a reaction so polarizing. (Full disclosure: I have no "problems" with Kobe on a personal level, where our relationship has always been cordial if purely professional, but as a player, he's definitely frustrated me as often as he's left me breathless. Over the last few years, however, it's been almost entirely "Column B.") But beyond the divisiveness, what's always struck me is the passion Kobe's believers put forth on his behalf. It's somewhere between worship and flat out zealotry, often defensive at a minute's notice. I've been chided for my deep seated "hatred" of Kobe in response to posts I've written selling his virtues as MVP. Fans are continually on the lookout for backhanded compliments or subtle digs, rarely willing to let a compliment stand. It's truly a protective mindset.