Los Angeles Lakers:

Interview
August, 11, 2012
8/11/12
2:50
PM PT

By Brian Kamenetzky
ESPNLosAngeles.com
Archive
EL SEGUNDO, Calif. -- After months (and months and months and months) of speculation, the trade finally bringing
Dwight Howard
to Los Angeles came together quickly. So, too, did the press conference. Howard and Lakers GM
Mitch Kupchak
met the media Friday afternoon, and to say the least there was a buzz at the team facility in El Segundo.
For what it's worth, Howard seemed
genuinely excited not just about the end of the Dwightmare, but more specifically to be in Los Angeles
. And seated next to him, Kupchak looked equally satisfied. Given the challenges facing them heading into the offseason -- zero cap space, no draft picks of value, only a mini-mid level and veteran's minimum contracts to offer, trade chips difficult to turn into superior talent since they're already very good
(Andrew Bynum, Pau Gasol
) -- this becomes one of the most impressive offseasons in modern league history.
After the big Howard show ended, Kupchak answered more questions for the assembled writerly hordes and delivered some interesting comments on the evolution of the deal, Bynum,
Mike Brown's
reaction to getting Howard while keeping Gasol, and the willingness of the
Buss
family to spend what's required to win.
The transcript is below...
Going forward, having Dwight, your payroll is huge. Any concern about that?
"Absolutely. Sure, it's a concern, and if you're familiar with the collective bargaining agreement, there have been some significant changes made for teams that exceed certain thresholds.
"But once again, over the last year there has been some criticism. When we traded Lamar, that it was just a way to save money, and I think this proves when it comes down to it, and I've always said it, certainly nobody who owns a family owned business doesn't want to make a profit so their business can survive and prosper. But when it comes down to it, Dr. Buss is a very competitive owner, and his family is also very competitive. And when it comes down to making a decision about a couple dollars or a million dollars or 10 million dollars or putting another banner up? He can't help himself. He chooses to go for the banner."
LOL: If ever there was a quote summarizing why Lakers fans should raise a monument to Dr. Buss, that's it. "He can't help himself. He chooses to go for the banner."

Based on your conversations with team Dwight, how much of a risk is it he'll walk?
"You know something, we've had no discussions? The press conference started at four o'clock. They came into my office at about a quarter to four, and I had a little private chat with Dwight that maybe lasted four or five minutes, and that was it."
So no point, you never had anything in there to measure his interest in staying here?
"No, in fact our decision was independent of anything you may have read about what maybe his desires were or weren't. Our feeling was, no matter what anyone says, let's just get him to Los Angeles and we'll take our chances."
Is the thought process that winning takes care of it?
"It's the organization, ownership, the city of Los Angeles, our ability to win games, surrounding Dwight with players that will make it easier for him to play the game and not have to burden a load that's maybe not fair."
June, 17, 2012
6/17/12
4:49
PM PT
By the Kamenetzky Brothers
ESPNLosAngeles.com
Archive
Actor
Donald Faison
broke out with his role in "Clueless" back in 1995, then landed other solid parts before really hitting it big, cast as Dr. Christopher Turk on the long-running (and very funny) sitcom "Scrubs." He now stars on TV Land's "The Exes," kicking off its second season Wednesday night at 10:30 p.m. PT.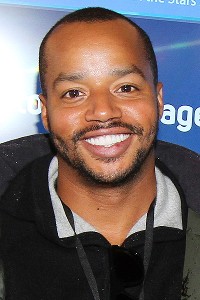 Jerritt Clark/Talent Resources/Getty Images
Donald Faison, best known for his role on "Scrubs," now stars on TV Land's "The Exes."
A huge sports fan, Faison joined us on Saturday's edition of "ESPNLA On Air."
CLICK HERE FOR THE FULL INTERVIEW
We covered a lot of ground, starting with his role as a sports agent on "The Exes." Does he draw any inspiration from current members of the profession? From there...
The mess that (still) is his beloved New York Knicks, and whether he thought Phil Jackson ever might end up there. (2:30)
After playing such a well-known character on "Scrubs," how hard is it for fans to buy him in another role? (5:45)
His role in "Remember the Titans," and what he learned from working with Denzel Washington. (8:10)
What makes for a successful TV comedy? (10:30)
Finals talk, and why he's rooting for OKC. Keep in mind, he's a Knicks fan. Plus, some love for Kobe Bryant. (12:00)