Los Angeles Lakers:

J.R. Smith
July, 20, 2011
7/20/11
11:15
AM PT

By Andy Kamenetzky
ESPNLosAngeles.com
Archive
For those depressed after seeing Brian emphasize
the "thin" options for free-agent point guards
, buck up, campers! The shooting guard crop is better. Granted, it's hardly overflowing with eye-popping candidates, but upgrades, however small, are still better, right? There are definitely some 2's feasibly acquired, if not necessarily the proverbial "missing piece."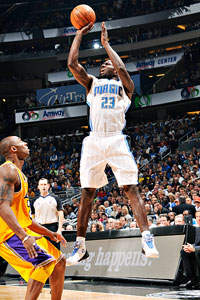 Fernando Medina/NBAE/Getty Images
If Jason Richardson were a pie, he'd be too high in the sky for the Lakers.
The "Unless they're so geeked to become Lakers a bench role and mid-level exception are amenable -- and mid-level exceptions still exist in the new CBA -- don't hold your breath" guys.
Jason Richardson (UFA, Orlando)
Jamal Crawford (UFA, Atlanta)
Even acknowledging both aren't likely to maintain their previous salaries, this wouldn't just be a paycheck below market value. We're talking the monetary haircut equivalent of
Demi Moore in "G.I. Jane."
Their roles could also be reduced along with their cheddar. On the flip side, those sacrifices would allow both to harbor less guilt over deficiencies (defense for Richardson, darn anything outside scoring for Crawford).
Between the two, Richardson is the better player and outside shooter (his three-point percentage hasn't dipped below 38 percent since 2007), but either can fill buckets at will. Hopefully, not at the Lakers' expense, since they're likely to remain opponents.
The "Not quite as expensive, but I still wouldn't hold my breath" guys
J.R. Smith (UFA, Denver)
Nick Young (RFA, Washington)
Arron Afflalo (RFA, Denver)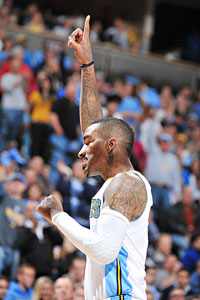 Garrett W. Ellwood/NBAE/Getty Images
J.R. Smith is talented, but like a renegade cop, is also something of a loose cannon.
For Smith and Young, mid-level-ish money is perhaps more realistic. The bigger headache, however, likely comes after inking them. True, there's a desperate need for another wing not named
"Kobe"
or
"Bryant"
who can create for himself, and these guys score in their sleep. However, wild shot selection, erratic decision-making, and porous D are part of Smith's package. And the equally undisciplined Young offers literally no other skill set beyond scoring. Similar to how
Lamar Odom's
is often described as a Swiss Army knife because of his versatility, Young's tunnel vision gunning makes him a spork.
For his part, Afflalo actually qualifies as a legitimate two-way player, not to mention a high character, steadily improving Karl favorite to boot. Thus, I'd be stunned if Denver allowed him to walk under any circumstances other than an astonishingly big offer the Lakers can't pony up in the first place.
Anyhoo ...
February, 28, 2010
2/28/10
9:58
AM PT

By Andy Kamenetzky
ESPNLosAngeles.com
Archive
February, 11, 2010
2/11/10
3:36
PM PT

By Andrew Kamenetzky
ESPNLosAngeles.com
Archive
For all the talk about
Shannon Brown's
hops, springiness making him a YouTube fixture, asking others about him inevitably leads to mention of his hands.
Sam Forencich/NBAE via Getty Images
This has become a familiar sight for Lakers fans.
"He's got big hands. Extremely big hands," marvels former Charlotte Bobcats teammate
Raymond Felton,
who played against Brown in the 2005 Final Four.
"He's blessed with great hands," praises Bobcats assistant coach
Jeff Capel,
who grew close with Brown during the guard's half-season with Charlotte.
"I wish I had those hands," says Nuggets guard
J.R. Smith
, former dunk contestant (and sick athlete in his own right) who's known Brown since their AAU days. "If you get a set of mitts like that, it's hard to stop."
"They're pretty big," admits Brown with a chuckle as he sits on a medicine ball after Lakers practice in El Segundo.
In a nutshell, dude's hands are ginormous.
Combined with elevation capable of making a trampoline jealous, they're a Godsend for dunking a basketball, a skill Brown will be showing off at the Slam Dunk Contest during the All-Star Weekend. But during Brown's time as a professional, those same hands weren't just used to smother a Spalding. They were gripping onto an NBA life, and just barely at times.
February, 5, 2010
2/05/10
11:26
PM PT

By Brian Kamenetzky
ESPNLosAngeles.com
Archive
I spent all afternoon maneuvering around Los Angeles with my rain jacket zipped high and umbrella wide open. It never occurred to me to bring the 'brella with me to my seat in press row. Huge mistake, because Friday night at Staples, the Denver Nuggets rained down three-pointers on the Lakers like
Tlaloc, the Aztec water diety
. An angry, vengeful Tlaloc. So much rain, the USC band floated out of the upper deck two-by-two while courtside patrons were presented plastic sheeting as if they were sitting front row at a
Gallagher
show. It was the only way to stay dry.
Noah Graham/NBAE via Getty Images
A Chauncey Billups 3-pointer. Something he did to the Lakers nine times Friday night. Nine times? Nine. Times.
Because man alive, the Nuggets
shot the lights out in their 126-113 win
. 57.1% overall, and an astonishing 15-22 (68.2%) from beyond the arc.
None of the 15 were more important than four coming in the last four minutes of the third quarter. With the Lakers up by eight,
Chauncey Billups
came down the floor and, off a pass from
J.R. Smith
, ripped a three from 27 feet at 3:47. 43 seconds later, Billups again nailed a triple. And, just for good measure, at the 2:10 mark Billups pulled up at the top of the arc in front of a far too passive
Sasha Vujacic
and again found cord. Eight points up to one point down in 97 seconds. It was like a video game.
He wasn't done, either.