Los Angeles Lakers:

Jabari Parker
January, 27, 2014
Jan 27
9:17
AM PT

By Arash Markazi
ESPNLosAngeles.com
Archive
So, this season hasn't gone the way you thought it would Lakers fans and you're not quite sure what to do. It's understandable. After winning 16 championships and playing in 31 NBA Finals, this team has and will always have championship expectations. They have only missed the postseason five times in a franchise history that dates back to 1948. In all likelihood, this season will mark just the sixth time they've missed the playoffs and we're here to talk you through it.
Tweet your questions, comments or concerns about the Lakers with an #ESPNLAKERS hashtag and we'll do our best to answer as many as we can each Monday the rest of the way.
The Lakers are falling fast south of the border. What needs to be done besides dumping everyone and starting fresh? -- @JackieEllen83
Well, they can't dump everyone and start fresh as much as that might be tempting. Remember, they re-signed
Kobe Bryant
to a two-year $50 million contract.
Steve Nash
is still on the books for almost $10 million next season if he comes back this season and unless
Nick Young
opts out, you're looking at Young,
Robert Sacre
and
Kendall Marshall
coming back as well (for deals around the minimum).
Outside of that, the Lakers are still in position to offer a max contract or perhaps sign a couple of players for less than the max. The problem is this free agent class is top heavy with stars who are all expected to stay with their current teams, such as
LeBron James
,
Carmelo Anthony
, Dwyane Wade,
Chris Bosh
and
Dirk Nowitzki
. That leaves you looking at guys like
Luol Deng
and
Lance Stephenson
, who aren't going to make the Lakers a championship team overnight. Perhaps the Lakers' best chance at getting a star player this offseason will be through the draft, if they end up with a top five pick.
Mike D'Antoni is a great coach for this team going nowhere. Does he need to be canned to attract star free agents? -- @Dmagallon3
I would agree that Mike D'Antoni isn't the problem right now for an injury-riddled team that isn't going anywhere this season. Changing coaches now isn't going to solve anything. The big question is what will they do after this season? If Carmelo Anthony is a target, you'd have to imagine the Lakers would also be open to making a coaching change, given how that relationship ended in New York. However, if they don't realistically think they can land an all-star free agent, don't be surprised if D'Antoni is back. Jim Buss and Mitch Kupchak believe in him and don't seem to be in a rush to pull the plug on his tenure before the end of his three-year, $12 million contract.
If Kevin Love wants out of Minnesota and Carmelo Anthony isn't staying with the Knicks, what [are] Kupchak and Buss waiting for? Make it happen!! -- @stangjz
Kevin Love will be a free agent in 2015 so that's not going to happen this offseason unless the Lakers make a trade for him but the Lakers don't currently have anything that would entice the Wolves to trade their 25-year old franchise player. If Love is a target for the Lakers in 2015, they would probably pass on signing a max player to a long-term deal this offseason with the hopes of getting Love and making a push for one other marquee free agent with the cap room they will have. Players like
Rajon Rondo
,
Arron Afflalo
,
LaMarcus Aldridge
,
Tony Parker
,
Roy Hibbert
and
Tyson Chandler
are all eligible to be free agents in 2015. As far as Anthony goes, the Lakers will likely make a push for him this offseason but chances are he'll stay in New York.
Should the Lakers amnesty Steve Nash after this season? -- @jeffmG35
The Lakers can't amnesty Nash. If Nash decides to retire for medical reasons, even if he returns to play three or fewer games this season, he would receive the balance of his salary but his $9.7 million would not be counted towards the Lakers' salary cap next season. The key is he needs to have played in fewer than 10 games this season for that option to be available and he's already played in six games this season. If Nash returns (and that continues to be something he is working toward) this season and wants to play next season, the Lakers might look to use their stretch provision, allowing them to waive him and stretch his cap number over the following three seasons.
Should Elgin Baylor get a statue outside Staples Center? --@bfred34
Sure. He and
Wilt Chamberlain
would be next on the list if it were up to me. I would have no problem if they had a statue for every player who had their jersey retired. After all, they gave a statue to Oscar De La Hoya, who lost his only fight at Staples Center.
What is the realistic chance Pau re-signs with Lakers without asking for so much? -- @CallMe___Kratos
I think Pau is probably gone after this season but if he doesn't get any crazy offers in free agency and the Lakers fail to land anyone big in free agency, which are both are real possibilities, I could see them coming back together and working on a deal. The important thing to consider is the Lakers' long-term plan. If the Lakers pass on this year's free agents to make a splash in 2015 by going after, for example, Love and Rondo, they can't sign Pau or anyone else to longer than a one-year deal. It would be a similar situation to this season where the Lakers have tried to keep their flexibility for future spending.
If the Lakers get the No. 1 pick, which would be the only thing that makes all of this worthwhile, who do you take? -- @heyjdey
The one big silver lining of the Lakers' struggles this season is they are having their worst season in years at the same time the NBA will have its best draft in years. I think there are five franchise players at the top of this draft in Jabari Parker, Andrew Wiggins, Joel Embiid, Marcus Smart and Julius Randle. I would take Parker with the first pick and would be just as happy to take Wiggins with the second pick, but any pick in the top five would leave the Lakers with a solid player.
July, 7, 2013
7/07/13
7:01
PM PT

By Dave McMenamin
ESPNLosAngeles.com
Archive
Los Angeles Lakers
fans, brace yourselves.
You're about to experience the basketball equivalent of the well-known lyrics of frequent courtside seat holder, Tom Petty:
"The waiting is the hardest part."
[+] Enlarge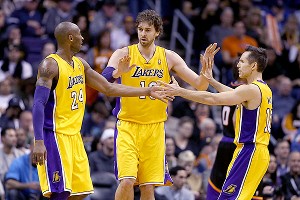 Mark J. Rebilas/USA TODAY Sports
They'll all be in this thing together ... at least for the 2013-14 season. Then Kobe Bryant, Pau Gasol, Steve Nash and the Lakers will be in for big changes next summer.
For a team that has won 16 championships and made it to the NBA Finals 31 times (in a league that's only been around 67 years, meaning that just about one out of every two seasons, L.A. is within four wins or less of the title), giving up on championship aspirations before training camp even opens up seems sacrilege.
But with
Dwight Howard
choosing to go to the
Houston Rockets
and L.A. now sporting an aging roster without the best big man in the game to make up for it, the 2013-14 season is destined to be nothing more than a holding pattern for the Lakers.
All is not lost, however.
The upside is that next summer promises to be a pivotal time in the franchise's history. And if everything goes according to plan, the Lakers should be able to eventually vault themselves right back on a championship trajectory.
Before we get to the summer of 2014, let's look at what the Lakers have in store for themselves in the immediate aftermath of Howard's decision.
Outside of filling out their roster with the limited free-agent tools they have at their disposal (the mini mid-level exception of $3.2 million, as well as veteran minimum deals), the Lakers' front office brass of general manager Mitch Kupchak and vice president of player personnel Jim Buss must figure out what to do with the players they currently have under contract.
A source familiar with the Lakers' thinking told ESPNLosAngeles.com's Ramona Shelburne
they will not use their one-time amnesty provision on
Pau Gasol
during the July 10-16 window when the league allows teams to waive one player they signed prior to December 2011 without that money owed counting against their salary cap.
With Gasol back in the fold to slide over to center in Howard's absence, that means the Lakers will most likely amnesty
Metta World Peace
.
While World Peace enjoyed a resurgent season last year, he is coming off minor knee surgery and waiving him would save the Lakers close to $25 million in salary and luxury tax fees.
With World Peace let go the question is, will a core team of
Kobe Bryant
(coming off Achilles surgery), Gasol,
Steve Nash
,
Steve Blake
,
Jodie Meeks
and
Jordan Hill
even be competitive?
Say Bryant is out until Christmas while his left leg recovers:
Will the Lakers be 10 games under .500 at that point without him? And if they are, would it be better to try to make a run for a low playoff seed at that point or simply join in the "Tank for
Andrew Wiggins
" movement that several teams -- the
Philadelphia 76ers
,
Boston Celtics
and
Toronto Raptors
among them -- already seem to be primed to do in order to increase their odds of drafting the University of Kansas phenom?
The Lakers would never admit it, but bottoming out next season could be the best thing for the franchise in the long run.
As L.A. sent away future first-round draft picks last summer in order to acquire Howard and Nash, they were sure to hang onto their first-rounder in 2014. Wiggins is considered a generational talent along the lines of Shaquille O'Neal and
LeBron James
. But even if L.A. doesn't end up with the No. 1 pick to land Wiggins, Duke's
Jabari Parker
and Oklahoma State's
Marcus Smart
are considered can't-miss prospects, as well.
Maybe the Bryant-Nash-Gasol-led Lakers are still good enough to make the playoffs and maybe Bryant comes back sooner rather than later. That might take them out of the running for Wiggins & Co. But L.A. also has positioned itself to go after the league's marquee free agents next summer, by carefully coordinating when it would have cap space open up.
Every player but Nash comes off the Lakers' books after the 2013-14 season. Which means that should Bryant negotiate an extension at a discounted rate (think $10 million range), L.A. would be able to pursue not one, but two max-level free agents and immediately be in the hunt again.
It might seem like a pipe dream, but would you doubt the Lakers' championship chances if they got Bryant and Gasol to come back on the cheap and were able to lure the likes of James, plus
Carmelo Anthony
or
Dwyane Wade
or
Chris Bosh
or
DeMarcus Cousins
or
Paul George
?
However, just like the Lakers' first-rounder in 2014 won't guarantee them a top-three pick if they miss the playoffs, having all that cap space doesn't guarantee a shot at any of these players. Some of them, most notably James and Anthony, would have to exercise an early termination option on their current contracts to hit the market. Others like Cousins and George (you can throw Washington's
John Wall
into the mix, too) will be restricted free agents, so something would have to go south in their current situations for their respective teams not to match any max offer that came their way.
"Should Dwight leave, we'll have a Plan B," Kupchak said the night of the draft, about a week before L.A. learned Howard would indeed be bolting for the Rockets. "It's not going to be as good as Plan A. But we do have a plan that goes beyond one year."
"It is a system. It's not like there are no rules in the NBA," he said. "There is a system that is in place that provides the team that does the worst [to get] the best picks. If you have good teams with good players, then the players have to be paid well. That puts you into an environment where you don't have free-agent money and you can't use exceptions. It's hard to replenish that team.
"At the same time, the players get older. It's a natural cycle that you have to live with, but you plan the best for opportunities. That's not to say there won't be a two- or three-year [rebuilding] period like there was in the early '90s. But if there was, we feel like it would be short-lived."
It could be as short-lived as one year's championship chances all but forgotten even before the season had tipped off.
Then all of the waiting could pay off big in the summer of 2014.