Los Angeles Lakers:

Jamario Moon
March, 25, 2011
3/25/11
12:38
PM PT

By Andy Kamenetzky
ESPNLosAngeles.com
Archive
Andrew Bynum is back!
Blake Griffin
is in the house! What more could you want, Lakers fan?
Oh, right. A win.
Given the 2-1 series held by the two-time defending champs, plus the way both teams have been playing of late, a victory certainly feels like a reasonable wish. The Clips' 7-4 record in March is certainly solid,
but as discussed in this week's edition of The Triangle
, the Lakers have been nothing short of a freakin' juggernaut since the All-Star Break. "Juggernaut" should best "solid," all things being equal.
For local knowledge about tonight's neighborly opponent, we turned to
Breene Murphy
of ClipperBlog (True Hoop network). Here are a few items to keep an eye on once the ball is jumped.
K Bros:
How have the additions of Mo Williams and Jamario Moon worked out. Conversely, has Baron been addition by subtraction (as I certainly felt would be the case) or has been missed in certain ways? Both, even?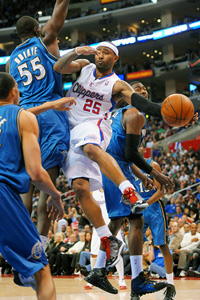 Kirby Lee/Image of Sport/US Presswire
Mo Williams may not be quite passer Baron is, but he's a better fit for the team as a whole.
I'll ignore Jamario, since he'll come up later, and just keep this a simple Mo versus Baron argument. As much as Baron has been a lightning rod for criticism during his tenure with the Clippers, the sentiment on Baron's departure hasn't been as one-sided as you would suspect. There are still many that feel that Baron was/is better for the Clippers than Mo Williams.
Baron did a lot for this team. Even with his early season knee and weight issues, Baron came back to play his best basketball as a Clipper, finding his stardom as
Blake Griffin
and
DeAndre Jordan's
alley-oop muse. As it pertains to passing, I can't imagine that Mo will ever surpass Baron.
But even if Baron continued along that path, a larger problem persisted. As much as I like Baron's beard, he was no longer was no longer the face of the franchise. This team belongs to Blake and
Eric Gordon
. And yet, in pre-game introductions the Clippers continued to announce Baron last, as if he were a star.
Now? No question, the team belongs to Blake and Eric.