Los Angeles Lakers:

James Jones
December, 6, 2011
12/06/11
10:58
AM PT
Sometimes only certain players can adequately answer a team's "Help Wanted" ad.
The Lakers, for example, don't have an amorphous need for someone with good handle and passing skills, but a genuine need to upgrade at point guard, which can only be satisfied with a point guard. Unfortunately for them (but fortunately for me, at least in regards to this post), the free agent rolls at the 1 are so thin and their means of improving the roster so limited, for the Lakers to solve that particular problem through a straight signing is basically impossible.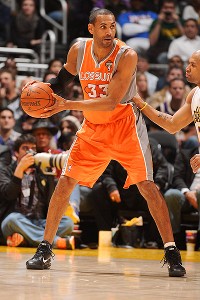 Andrew D. Bernstein/NBAE/Getty Images
On the list of players L.A. has even a reasonable chance to sign, Grant Hill fills a lot of needs. Plus, he plays the piano.

Other needs remain relatively position specific, but it's easy to get bogged down in the classification on a player's bubble gum card and lose something often far more important: Skill set. Much of what the Lakers can use might be provided just as easily from a power forward as a shooting guard.
What follows, then, is the Skill Set Guide to Free Agency. I limited this list to players the Lakers might realistically have a chance to sign with only a mini mid-level (worth just over $9 million for three years) and veterans minimum deals,
all relatively disheartening stuff when pitted against the excitement of Chris Paul/Dwight Howard talk
.
But let's assume for a mundane minute the Lakers have to improve without blockbuster trades. They have a lot of boxes to tick, and in the end the players ticking the most good ones might be best, even if positionally the fit isn't perfect.
SHOOTERS -
Players who can help stretch the floor in one way or another...

•
Grant Hill, F, UFA (Phoenix)-
Not traditionally thought of as a shooter, Hill has in his last two seasons shot 39.5 and 43.8 percent from 3, and is a high end mid-range shooter, both of which would come in handy.
•
Shane Battier, F, UFA (Memphis)-
Big on the corner 3, generally in the mid-to-high 30 percent range from downtown. Not a deadeye, but limits poor shot choices.
•
Mike Dunleavy, G/F, UFA (Indiana)-
In theory, at least. In the last two seasons in which he was (more or less) healthy, Dunleavy was strong from downtown and in long twos.
•
James Jones, SF, UFA (Miami)-
Per John Hollinger, Jones took exactly one shot at the rim in over 1,500 minutes. Why? He's shooting lots and lots of 3's, with a career mark at 40 percent.
•
Peja Stojakovic, SF, UFA (Dallas)-
Certainly showed Lakers fans he can still bomb away. When healthy doesn't dip far below 40 percent from 3, often rises well above.
•
Daequan Cook, SG, RFA (Oklahoma City)
- Hit 42.2 of his 3's last year. Has advantage of youth, as well.
•
DeShawn Stevenson, SG, UFA (Dallas)-
In his last two healthy seasons ('07-'08, '10-'11) was around 38% from beyond the arc.
•
Jason Kapono, F, UFA (Philadelphia)-
Does almost nothing else well, but as a career 43.7 3-point shooter can space the floor.
(NOTE: Kapono has already visited with the Lakers)
•
Reggie Williams, SF, RFA (Golden State)
- Almost surely out of L.A.'s price range, in part because he's 25 and shoots so well from downtown (42.3% last season).
•
Marco Belinelli, SG, UFA (New Orleans)
- Never worse than 38% from 3 during his four year career, and solid with long 2's, as well.
•
Anthony Parker, G, UFA (Cleveland)
- From 3, he's trending down from 44.1 percent in '06-'07 to 37.9 percent last year, but remains a productive performer from distance.
•
Michael Redd, G, UFA (Milwaukee)
- It' almost impossible to predict how the market will treat Redd, who was once a top shooter/scorer but has basically lost the last two seasons due to injury.
•
Other candidates: Vladimir Radmanovic
(seriously),
Mo Peterson
(in theory, though recent shooting numbers are very questionable),
Steve Novak
,
Roger Mason Jr
. (see Peterson, Mo).
FRONTCOURT DEPTH
- Guys who can the burden on Pau Gasol and Andrew Bynum...
July, 22, 2011
7/22/11
10:28
AM PT
If there was a benefit to last year's bottom-of-the-barrel production at the point, it's that it provided a nice distraction from the relative wasteland at small forward.
Purple and gold 3's ranked 23rd in efficiency differential
, 25th in field goal percentage, and 19th in 3-point percentage. This despite that
Kobe Bryant
guy soaking up some minutes there. The main combination of
Ron Artest
and
Matt Barnes
wasn't up to snuff. Some of it was circumstance:
Barnes was playing well
, providing more or less exactly what the Lakers expected (offensive rebounding, off-ball movement, energy, defensive effort) until hurting his knee in January, and never fully bounced back. At least he had an excuse. Artest, healthy enough all season,
fell off at both ends of the floor relative to his first year in L.A..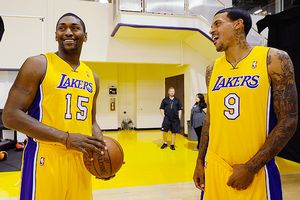 Kevork Djansezian/Getty Images
The combination of Ron Artest and Matt Barnes didn't exactly set the world on fire last season.
It's reasonable both to expect a healthy Barnes to once again look more or less like the perfectly useful player he was starting last season and to wonder if Artest's slide will continue. A new system could benefit Ron Ron, but then again, it isn't the system making it tough to slide a deck of cards under his feet when he jumps. The decline in his explosiveness is worrisome. How the Lakers might juggle things if they're willing and able to add another small forward is an outstanding question, but fair to say from a productivity standpoint, even if Barnes bounces back there's room for improvement.
As it was with the shooting guards
-- some of whom could also slide to the 3- the free agent rolls provide a few
pinkie-to-the-mouth
options.
Here's how it breaks down:
THE YOUNG, INTRIGUING, AND TOTALLY UNREALISTIC
Thaddeus Young (Restricted Free Agent, Philadelphia)
Wilson Chandler (RFA, Denver)
After showing promise in his rookie and sophomore seasons, Young seemed to backslide in his third year. Fair to say he ended that trend in his fourth. As a guy who drafted Young in the late rounds of his fantasy draft, I can attest firsthand how well he played last season. Career highs in field goal percentage (54.1) and points per 40 minutes (19.6) and an improved rebound rate. Only 23, Young is a great athlete who should continue improving. Some might say he's more accurately listed as a power forward. For our purposes here, I say the distinction is irrelevant, because the Lakers can't afford him. Philly has made a $4 million qualifying offer, and would easily match whatever L.A. can present. Chandler, young, athletic, and smooth to the bucket (with an improved outside shot) is also not a viable option, financially.
IF YOU SQUINT HARD ENOUGH, IT'S SORT OF POSSIBLE TO SEE THE POSSIBILITIES
Caron Butler (Unrestricted Free Agent, Dallas)
He's coming off a major knee injury, right? Teams will be scared off, right? And Butler, with good skill offensively and tenacity at the other end, was tight with Bryant during his one year in L.A., right? He'd be a nice fit playing a supporting role for a good team, like he did in Dallas last season, right?
December, 22, 2010
12/22/10
12:05
AM PT
(With the Lakers-Heat Christmas Day showdown still several days away, below is an early peek at one of the big issues shaping Saturday's game.)
Kobe Bryant
,
Pau Gasol
,
Lamar Odom
,
Andrew Bynum
,
LeBron James
,
Chris Bosh
,
Dwyane Wade
. When the Heat and Lakers take the floor Saturday afternoon at Staples Center, these will be the rock stars. The guys most likely to suck up camera time, be the focus of fancy graphics packages, and so on. They're also the guys for whom Christmas comes not just on Dec. 25, but every time a paycheck lands in their bank accounts. (Unless, of course, they insist on being handed a giant sack of cash on payday. Which, at least once, would actually be pretty cool.)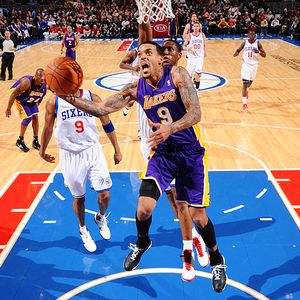 Jesse D. Garrabrandt/NBAE/Getty Images
Matt Barnes has been a monumental success at an even more monumental bargain for the Lakers this season.
Don't confuse money with influence. Each team's roster sports players in, at least by NBA standards, a different category financially, but could still make a major impact on the result of Saturday's game. Below are five guys, each earning $5 million or less, able to make or break all the work done by the headliners:

LAKERS
Matt Barnes ($1,765,000):
When he arrived in Los Angeles
after appearing to land in Toronto with a contract far richer
than the one he signed with the Lakers, I figured Barnes would provide some much-needed depth on the bench. Last season, for all intents and purposes,
Kobe Bryant
was the team's primary backup at small forward, something they couldn't afford to do again this season given the myriad physical problems Bryant fought a year ago. What I didn't have was a feel for how Barnes would fit in, or even how much he'd play.
Shows what I know.
While no player will likely ever step into
Phil Jackson's
offensive system in the way
Pau Gasol
did after arriving from Memphis, on a far smaller scale Barnes has done something similar, even while he learns the ins and outs of the offense. It works for Barnes because he never stops moving. "We don't have things set in stone. We play basketball. The idea is to always take the direct line in basketball which means if you're open you go to the basket," Jackson said after Friday's win in Philadelphia, in which Barnes scored 15 points in 28 minutes. "Matt's very efficient at doing that. There are some times we ask him why he didn't space [out the offense] but you can see why he does it, because his cuts are rewarded."
Miami, despite its struggles through November, remains an elite defensive team, capable of clogging up even the most talented offenses. When shots don't fall and clean looks become harder to create, Barnes' willingness to make hard cuts or crash the offensive glass becomes infinitely more valuable. In the latter category, Barnes has been particularly good,
grabbing the second most ORBs per game among small forwards
despite playing fewer minutes per game than every other SF in the top 20. On a per-minute basis,
no 3 in the league bests him on the glass
.
How he matches up defensively against Miami is a little tricky -- he doesn't have the strength to body up
LeBron James
in the same way
Ron Artest
can, and as far as I can tell the
two haven't played at the same time all season
-- but his activity level could be a boon for the Lakers on Saturday afternoon.