Los Angeles Lakers:

James Worthy
May, 20, 2014
May 20
9:21
PM PT
NEW YORK -- As much optimism as the
Los Angeles Lakers
had coming into Tuesday's NBA draft lottery that they would somehow hit on their 21.5 percent chance to vault up into the top three picks, the reality remained that they had a 34.5 percent chance of moving down from the No. 6 slot they came in with.
And so, like how so many things have gone for the Lakers in recent seasons, the night provided only more disappointment for a franchise that has been riddled by setbacks.
[+] Enlarge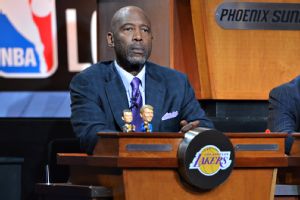 Jesse D. Garrabrant/NBAE/Getty ImagesJames Worthy's presence couldn't bring the Lakers the luck they needed to move up in Tuesday's NBA draft lottery, where they landed with the No. 7 pick.
James Worthy
's good luck troika of bobblehead dolls of Dr. Jerry Buss and Chick Hearn, as well as the memory of a third late Lakers legend, Bill Sharman, "in his heart," failed to bring Magic Johnson's old running mate any magic up on the lottery stage.
The man known as "Big Game" James in his playing days for playing that way in big moments, said he felt "naked" in front of the cameras as it all unfolded.
"When you're sitting over there, you're just a sitting duck waiting," Worthy said. "You're a little nervous. My heart started pounding a little bit when it got to 8. But then when it came up at 7, I was like, 'Damn.'"
Instead of No. 6, they ended up at No. 7. Instead of being bumped up into the top three picks with a chance to either trade the selection for an established veteran (
Kevin Love
, anybody?) or draft a supposed can't-miss superstar (
Andrew Wiggins
,
Jabari Parker
or
Joel Embiid
, anyone?), that dream now belongs to the
Cleveland Cavaliers
, who came into the proceedings with a 1.7 percent chance at the No. 1 pick and ended up getting it.
"We had hoped to get under 6 and get an opportunity, but it's a deep draft," said Worthy, still keeping a smile on his face. "Seven is something I'm sure that Mitch Kupchak and the front office of the Lakers will methodically think about and make the right move. So, even though we didn't get an opportunity to be in the top three, we'll make the best of this situation."
It wasn't just Worthy saving face, either. Although according to most mock drafts, the Lakers will be looking at names such as
Marcus Smart
,
Noah Vonleh
and
Aaron Gordon
instead of Wiggins, Parker and Embiid, there are NBA people who think the Lakers' draft positioning is still enviable.
"They're in a situation where they can take the best available player and not give a s--- about hype," one front-office executive told ESPNLosAngeles.com.
"Also, because they're the Lakers, they could end up getting a player who normally would go higher but will want to force his way to L.A. with the help of his agent."
May, 20, 2014
May 20
9:48
AM PT
NEW YORK -- His No. 42 is hanging up in the rafters at Staples Center, but James Worthy will be rooting for 21.5 on Tuesday at the NBA draft lottery in Times Square.


As in, the Lakers have a 21.5 percent chance of vaulting up to one of the top three spots in next month's draft, and Worthy -- the franchise's last No. 1 overall pick back in 1982 -- will be representing the team when they find out their fate at the lottery.

The Lakers finished with the sixth-worst record in the league last season at 27-55. They have a 43.99 percent chance of ending up with the No. 6 pick and a 30.44 percent chance of getting No. 7. The more remote possibilities are moving up (6.3 percent chance at No. 1, 7.1 percent at No. 2, 8.1 percent at No. 3) or dropping even further (3.96 percent chance at No. 8, 0.1 percent at No. 9).

Worthy caught up with ESPNLosAngeles.com to discuss luck and the state of the franchise, while also offering his endorsement on whom should be the next coach of the Lakers:
What was the genesis behind you being the representative for the team? You were the last No. 1 draft pick by the Lakers, and that is an obvious part of your story, but maybe it could have been Jeanie Buss in that role. Maybe it could have been Jim Buss. How did it come about?
"Well, I got a call. I got a call from [Lakers general manager] Mitch Kupchak and [Lakers vice president of public relations] John Black, and I'm not sure what the process was before that. I don't know whether Jeanie just didn't feel like going, or Jim, or one of the Buss children. I don't even know if they asked
Kobe [Bryant]
. I don't know that.
"But, when I got the call, Mitch kind of joked around and said he had heard me on a telecast saying we were overdue for a really high pick and he asked me if I would represent the Lakers at the lottery. So I felt honored, being an old-time Laker from that '80s era. Hopefully we'll bring some of that magical, mystical luck and get us to a good pick. I'm feeling good about it."
[+] Enlarge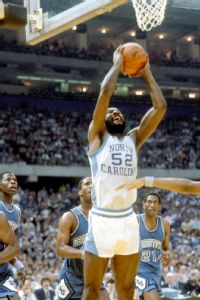 Malcolm Emmons/USA TODAY SportsJames Worthy was the last No. 1 draft pick by the Lakers back in 1982.
I saw on social media that you have a Chick Hearn bobblehead doll with you for the trip. Are there any other knickknacks or lucky items you brought along with you?
"Well, the piece I'm still looking for is Bill Sharman. Bill Sharman was very instrumental in making the trade that brought me to Los Angeles, so I'm looking for [a bobblehead doll of] him. And Chick Hearn was at the draft in 1982 when I was drafted. Chick Hearn was there representing the Lakers. So I'd like to have three bobbleheads up there –- Chick Hearn, if I can get Bill Sharman and then Dr. [Jerry] Buss. Hopefully that will be enough to get us a top-3 pick."
What's your opinion on how important this draft is going to be or how important this pick is going to be for the Lakers, considering where the franchise stands right now?
"I don't think they're looking for a quick fix. I don't think that's what they're looking for. I think most teams kind of look at new-coming rookies as a projection. Something they can grow in the future, two to three years. I think that's what they'll be looking for. There used to be a time when you looked for a certain position, or centers were available back then –- the Ralph Sampson days, those kind of things –- but I think the way the game is evolved is talented players are [defined by] talent, athleticism.
"I haven't talked to Mitch about anything about what they're going to pick, but based on what I've seen in the league the last 10 years, I think that's what they're looking for: The best pick that's going to fit their unit."
Another Laker legend, Jerry West, who we know for his irascible-type personality, once told me at the 2006 draft lottery that he doesn't really like the event because it's a "celebration of losers." Is there any sense of this being below the Lakers' standard to be involved in this?
"[Laughing] You know, I'm certainly not going to argue with Jerry West. He's the king of lottery drafts and precision. But, yeah, it's unfortunate. The Lakers don't like to be in this situation. We'd like to be where we used to be in the past and being a top team, or one of the top three teams. So, it's unfortunate that we've found ourselves here. It's not something we're used to. But I look back over the last three to four years. We thought we had
Chris Paul
and didn't get him. That was very unfortunate. We get
Dwight Howard
and
Steve Nash
, and we only have a plethora of injuries. Then we lose Dwight Howard, when we were thinking of him as the future-of-the-franchise type of player. And now we have only three players coming back under contract [for next season].
"So, it's unfortunate, but this is where we are. There's really no shame. We just have to deal with it and get back the brand that we're accustomed to, and this is part of the process. It's unfortunate, but I think we're happy to be where we are. I don't think we're
happy
to be where we are, but we'll utilize the situation the best we can to get us back where we want to be."
What's your opinion on the various reports out there that the Lakers would be open to trading the pick? Should you bring them luck, you move up into the top 3 and suddenly you could maybe deal it for an established veteran. For instance, Kevin Love. What do you think about going that route?
"For all of my NBA career and for what I've seen since then, that's an option. That's an option that's very feasible, and if you can get the right pick, you can use it for your team or you can use it to get some players or trade that. Knowing Mitch, he's extremely methodical and he's going to weigh all the scenarios and I'm sure if it makes sense to trade the pick, I'm sure that's one of the plays in his playbook. Like I said, I haven't had any conversation with him about it, but just from my experience in what I've seen, it's possible."
December, 28, 2012
12/28/12
10:58
PM PT
LOS ANGELES -- Jamaal Wilkes will be remembered as a part of Laker lore forevermore thanks to the team raising his No. 52 to the rafters Friday night at halftime of their game against the Portland Trail Blazers. But for those who saw "Silk" play, there's one part of his game he'll always be remembered for first: that funky jumpshot that was as deadly accurate as it was awkward to look at.
[+] Enlarge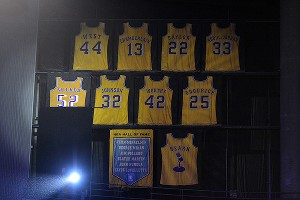 Harry How/Getty ImagesJamaal Wilkes' No. 52 was raised to the rafters Friday night by the Lakers. Wilkes, who retired after the 1985-86 season, jokingly said "I'm glad it happened while I'm still alive."
"It came straight from the playgrounds," Wilkes said Friday before his jersey became the eighth number honored by the franchise. "When I was 11-12, I was a pretty good basketball player in a little town, Ventura, north of here which was real basketball crazy and I began playing with older guys. I was going from the nine-foot to the 10-foot hoops, and of course they wanted to play on the 10-foot hoops and they would block my shot every single time. So, most kids start with that side-winder, I just learned to hold it back there until the last minute and I never realized I was doing anything different until I got to UCLA. Even then, I wasn't sure I was doing anything different."
Wilkes went on to share the story of his second year at UCLA, back when he was still known by his birth name of Jackson Keith Wilkes, when legendary coach John Wooden tested his shot.
"Coach Wooden called me over one day after practice early my sophomore season and said, 'Come here, Keith. Let me see how you shoot that ball. I want you to shoot some shots around key.' I was really confused by that and also terrified because you didn't want the man calling you out about anything, especially around the other guys. So, I did what he said and he said he would rebound for me.
"Well, that really confused me. I thought he was going to call one of the other players to rebound for me. What I remember about that, every pass was just perfect. I said (to myself), I could get used to playing with this guy. And I was drilling it, because you know, my manhood, my credibility, everything was on the line I felt at that moment.
"So he called me back and said, 'OK, how did you shoot that again?' And I was really (thinking) like, 'You just saw me shoot 40-50 shots, right?' So I said, 'OK, I go like this (Wilkes pulled his arms behind his head), I go like that (Wilkes moved his arms in a shooting motion).' Then he said, 'Well, does it leave your finger tips with (backspin)?' And I thought about it and I said, 'Well, yeah, coach.' And he said, 'OK, you're dismissed.'
"Years later we laughed about it. He said he thought about changing it but my setup and my finish, he thought, was textbook and whatever happened in between he decided to leave it alone, and I'm so glad he did."
That funny-looking shot of his led to two NCAA championships with the Bruins, four more titles in the NBA (one with the Golden State Warriors, three with the Lakers), a Hall of Fame induction in 2012 and
an upcoming jersey retirement
at UCLA in January.
Here are a sampling of other quotes from Wilkes on the occasion of the ceremony in his honor:
On what it means to him:
"They're saying no one will ever wear No. 52 again, and not only that, it will be in some lofty company."
On the timing of it, 26 years after he retired from the NBA following the 1985-86 season:
"I'm glad it happened while I'm still alive."
February, 17, 2012
2/17/12
9:21
PM PT

By Arash Markazi
ESPNLosAngeles.com
Archive
LOS ANGELES -- Shaquille O'Neal was always afraid the day would never come.

When he signed with the Los Angeles Lakers in 1996, he always dreamed he would one day see his jersey retired alongside Magic Johnson, Kareem Abdul-Jabbar, James Worthy, Gail Goodrich, Wilt Chamberlain, Jerry West and Elgin Baylor.

As the Lakers continued to get eliminated in the playoffs early during his first three seasons in L.A. he worried it might never happen, and again thought his chance might have been lost when he was traded from the team in 2004 and finished his career with the Boston Celtics.

When the Lakers, however, announced they would retire his jersey next season, O'Neal said it was one of the highlights of his career.

"It means a lot to me," O'Neal said. "I remember when I first signed with the Lakers, Jerry West told me to look up at the retired jerseys. He said either your name is going to be up there or you're going to be a bust so it will mean a lot to have my name up there. That was always with me, especially when we didn't have Phil Jackson and we were always losing in the playoffs, I was nervous I wasn't going to be that good. Then we got Phil and we won championships and I was always hoping and praying my jersey would get retired one day."

O'Neal, who was in Los Angeles this weekend to host the Cartoon Network Hall of Game Awards, says he continues to watch the Lakers regularly after retiring in June and enjoyed watching Kobe Bryant pass him for fifth on the NBA all-time scoring list earlier this season. He did say, however, he should have been much higher on the list but injuries and an inability to hit his free throws held him back.

"Kobe's one of those athletes like Michael Jordan and Karl Malone that doesn't miss a lot of games because of injury," O'Neal said. "I missed 250 games and I averaged 24 points per game so that's 6,000 points and I missed 5,000 free throws so I could have easily been at No. 2. Kobe's never really hurt and he shoots a lot so good for him."

February, 8, 2012
2/08/12
9:38
AM PT
When
Kobe Bryant passed Shaquille O'Neal to become the NBA's fifth all-time leading scorer
, it prompted a flurry of debates about his
place in basketball history
, but also his ranking among great Lakers,
as in this video with ESPN's Tim Legler
.
I don't love his list --
Wilt Chamberlain
(Legler's #4) fits better among the five greatest players in NBA history than the five best greatest Lakers -- and
Jerry West
, excluded by Legler, should be in the top 5. Still, there are two big notables. First, Legler has
Magic Johnson
ahead of
Kobe Bryant
for the top spot, but admits there is subjectivity and historical bias in play. Namely, Magic is elevated not just by his accomplishments but also Legler's respect for the NBA though the 1980's.
Johnson tops my list, too, but I've long thought the G.L.O.A.T debate is generational. For fans, say, 35 and over, it's tough to put anyone ahead of Magic, just as it was likely tough for the previous era to put Magic ahead of West. In time, though, I suspect more often than not Kobe will land at the top, because more "voters" will come the pool of fans who grew up watching him, and only know Magic from highlight reels.
Second, lists like these reinforce the almost absurd levels of success and star power of the Lakers' franchise, historically speaking. Pundits and fans alike routinely assemble Top 5's like this one, and Hall of Famers
James Worthy
and
Gail Goodrich
don't get a sniff. For many -- maybe most -- there's no room to squeeze in
Elgin Baylor
. Elgin Baylor!
Pretty incredible.
August, 31, 2011
8/31/11
1:43
PM PT
Tuesday afternoon, I was fortunate to spend some time talking with Lakers great
Michael Cooper
, an integral part of five championships with the Showtime Lakers, and now coach of the
women's basketball team at USC
. Long and lean-- very, very lean-- Cooper was nonetheless a fierce competitor, earning All-Defensive Team honors eight times, and the DOPY Award in 1987.
Larry Bird
called him the toughest defender he ever faced. Praise doesn't come much higher.
PODCAST
Brian welcomes Lakers legend Michael Cooper, now head coach of the USC women's hoops squad. Coop talks about defending Larry Bird, the best of his five title teams, Magic's influence beyond the NBA, and why he wore his socks so high.

Podcast

Over the course of about 30 minutes, we had a chance to touch on a wide range of subjects, from where he developed his intensity to the magic of
Magic
, both on and off the court. Among the highlights:
*Why he developed such a strong defensive mindset in L.A.:
"You had to find a niche [with the Lakers]. When I met coach
[Jack] McKinney
, he said, "Coop, we need a player who is going to play some defense. We need a lock down defender at the 1,2, and 3 positions. That was kind of my calling card. I reverted back to all my fundamentals, and my aggressiveness as far as defense goes ... This was my niche to make it on the Lakers team. Everyone likes to score, but I felt that it was how I was going to be able to not only make that team, but stick around. And lo and behold, that worked out well for me."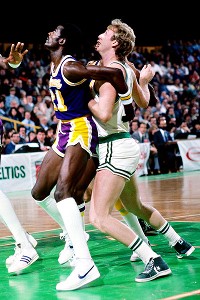 Dick Raphael/NBAE/Getty Images
Larry Bird called Michael Cooper the toughest defender he ever faced.
*On defending Larry Bird:
"I used to study games of his. It would be a month before we would play the Celtics, but I was getting ready for him. Watching him play. What did he do on out of bounds passes? What did he do going around picks? ... Larry was naturally born left-handed, and taught himself how to shoot right handed. He was very ambidextrous so you couldn't force him one way or the other, because he was just as good going to his left as he was to his right. The only tendencies I had [available from film] to pick up with him was how he came off of picks. How he set you up to come off a pick."
*Best of the five title teams on which he played:
I thought our
'84 team
was very good, even though we came up short [against Boston in the Finals]. We had all the necessary parts to win a championship. Of the championships that we won, I'd have to say our
'85 championship
was about as good as we were going to get. Everybody was hitting on all cylinders.
James Worthy
was was just coming into being the type of player he'd eventually become, a Hall of Famer. That team had it all. We had a bench, we could play defense, we could run, we could rebound with you. We could get big, and even became "Riley's Runts," because we could get small. That '85 team was probably our best team, per player, and the camaraderie and the chemistry was very good.
*Coop explained the challenge
of not just beating Boston, but overcoming the mystique they had in big moments.
October, 22, 2010
10/22/10
8:39
AM PT

By Andy Kamenetzky
ESPNLosAngeles.com
Archive
This offseason at a charity poker tournament, Los Angeles Lakers owner
Dr. Jerry Buss
caught the attention of Lakers fans and media alike by pontificating the potential of his current two-time defending champion squad:
"I think that's really called camp spring fever. Every time I've ever gone to camp, everybody starts talking and saying, 'This team could be the best team we've ever had,' and I guess I fall into that same trap because when I look at this team, every single individual on that team seems to me capable of playing a very important role next year and as of now, I feel there's a good chance this could be the best team we've ever had."
That is, no doubt, a comment qualified with admitted giddiness. But this being a quest for a third straight title, pondering the question certainly doesn't feel outrageous.
Could the 2010-2011 Lakers be the best squad bankrolled by the iconic owner?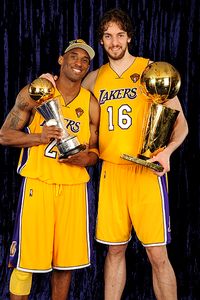 Win McNamee/Getty Images
Would a third straight title and a fourth straight Finals appearance push the Kobe-Pau era to the tops in franchise history?
If you wanna go whole hog, could this be the greatest Lakers team of
all-time
?
Could a third straight title bump the current incarnation of Lakers (2008-present) past
Phil Jackson's
first three-peat era? The 1972 champs with
Jerry West
,
Wilt Chamberlain
and
Gail Goodrich
(plus the previous seasons with
Elgin Baylor
)? The
George Mikan
era, which started it all?
Even Showtime?
It's a question impossible to answer now, with no games in the books and the 2011 title still up for grabs. It's a question arguably impossible to answer at all, since elite greatness is difficult to rank.
"You really can't do that," said long-time Lakers Assistant Coach
Frank Hamblen
of making comparisons. "You can, but it's all hypothetical."
Assistant coach
Jim Cleamons
, whose playing days include a '72 championship ring, agreed.
"It really is [hard] because each generation basketball kind of changes, and the personalities come out that represent a different type and style and play," Cleamons said.
Be that as it may, at the heart of most sports debates is an attempt to count angels on a pin head. With that in mind, the question we plan to address throughout the season is where do the 2011 Lakers appear to stack up, and what are the criteria for defining the best?
August, 13, 2010
8/13/10
9:07
PM PT
On this week's podcast, we spoke with longtime L.A. sportswriter Steve Springer, who covered the Lakers for over two decades, noting the achievements of owner Jerry Buss both in Los Angeles with the Lakers and contributing to the resurrection of the NBA. Friday night, he was officially inducted into the Naismith Memorial Basketball Hall of Fame. Unfortunately, not everyone has NBA TV, so it's possible many fans didn't get a chance to see his induction speech.
No worries. Below is the transcript.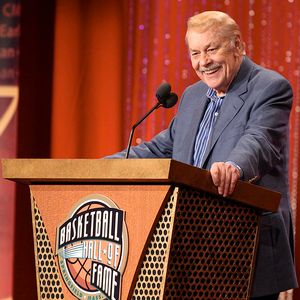 Nathaniel S. Butler/NBAE/Getty Images
Jerry Buss delivers his Hall of Fame induction speech in Springfield Friday night.
"I guess you can tell I'm happy to be here. In fact, I'm probably happier than anyone, because most of the people that come up here have an inkling of the idea that someday they may make the Hall of Fame. Believe me, when I was 21, I never thought I'd be enshrined with
Magic Johnson, Larry Bird, Michael Jordan
. In high school, I was on overly competitive but under-ly endowed player. I turned to heavy studies, and eventually won a scholarship to the University of Wyoming. I worked hard at the books, but I always took time to watch Wyoming play.
A lot of people don't know this, as a matter of fact -- Wyoming won the NCAA basketball championship (in 1943).
After my university graduation at Wyoming, I went to graduate school. I had a lot of offers, but I chose the one with the best athletic program: USC. I became a die-hard basketball fan, with early memories of
Walt Hazzard
kicking the crap out of my beloved Trojans.
May, 19, 2010
5/19/10
12:38
PM PT

By Andy Kamenetzky
ESPNLosAngeles.com
Archive
During 710 ESPN's recent
Lunch with a Legend
, I had some face time with one of the all-time Laker greats, "Big Game"
James Worthy
. Our conversation hit on topics like the Showtime era, the pride of playing with one franchise and the Lakers' current quest to repeat. Many interesting points raised, but one in particular stood out to me.
PODCAST
ESPNLA.com's Andy Kamenetzky sits down with "Lunch with a Legend" honoree James Worthy to discuss Showtime, the end of his career and why it never bothered him playing "third wheel" to Magic and Kareem.
Podcast

Worthy's professional career was without question an unqualified success. Three rings. Seven All-Star bids. Hall of Fame.
"50 Greatest Players"
membership. But he never led a good team as "the guy." Granted, he played with Magic and Kareem, two dudes not just arguably the best ever at their respective positions, but to ever play the game, period. Too many alpha dogs can spoil the stew, so even someone as talented as Worthy sometimes has to take a relative backseat. Still, great players often have great egos, along with great awareness of whatever criticism could taint their legacy, so I asked Worthy if he ever pined to be an elite team's unquestioned alpha dog:
"No, I never really allowed that to enter into my mind, because I knew I wasn't that type of player. I knew that I wasn't the leader that Magic was. I know how to lead by example and hard work, but at the professional level, it takes a little extra and I would have
never
have been the voice of a team. I didn't have the dominant game like Kareem with the sky hook. I never looked at myself as a player that could carry a franchise.
"That was fortunate for me, being the #1 pick, that I didn't go to the Clippers or I didn't go to a team that would expect their #1 pick to turn their whole team around. I was pretty fortunate to go to the Lakers, because coming from Coach
(Dean) Smith
, who's so team-oriented and so collective, I could have never taken that position. I was the captain for a couple of years, but I could never take the role of Magic. Having the role I had was perfect."
Not the answer I expected. I figured Worthy would say he appreciated the luxury and fortune that comes with joining a talented, stacked roster. Or maybe, he initially worried about how his career might be perceived in light of being a third option before coming to appreciate the luxury and fortune that comes with joining such a talented, stacked roster.
Option C: I wasn't that kind of player or leader. Didn't see that coming. In particular, the stuff about leadership was striking.