Los Angeles Lakers:

Jared Dudley
April, 7, 2012
4/07/12
11:02
AM PT
As was made abundantly clear
Friday against the Rockets
, the Lakers have pitched a tent in Strugglesville on the defensive side of the floor. Only twice in their last 11 games have they limited opponents to a points-per-possession figure lower than their season average for defensive efficiency, and those two were against New Orleans and New Jersey, both bottom third NBA offenses. So it's in this context that the Lakers, losers last night, nicked up with injuries,
again fielding questions about the emotional maturity of their All-Star center
, and playing their fourth game in five nights take the floor tonight against the still explosive Phoenix Suns.
One of the better teams in the conference since a 12-19 start, the Suns are fighting tooth and nail for a playoff berth and
botched a huge game against the Nuggets Friday
. A win would be huge, so they won't be doing L.A. any favors. To get a little more insight into the game, we hit up the rock-solid
Michael Schwartz of TrueHoop's Valley of the Suns
with a few Q's . . .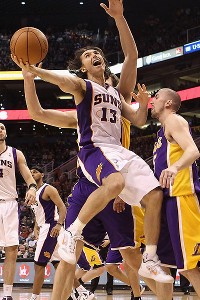 Christian Petersen/Getty Images
Steve Nash is old, and still awesome.
1. The Suns were 12-19 and left for dead a few weeks ago, but now are contending for a playoff spot. What has prompted the improvement?
Schwartz:
Many things, but to me the biggest is that Phoenix once again boasts one of the league's elite offenses. Since the All-Star break (a few games after they dropped to 12-19), the Suns rank sixth in the NBA with a 106.8 offensive rating whereas before the break the offense was perfectly mediocre with a 100.2 offensive rating that ranked 16th. The offense has improved in large part because
Channing Frye
and
Jared Dudley
have scored much more effectively in the second half of the season.
Then there's the bench.
Alvin Gentry
really struggled to find a bench rotation that worked in the first half of the year, but almost to a man all of his reserves have been much better during the team's current16-8 run.
Sebastian Telfair
has solidified the backup point guard position,
Robin Lopez
finally looks healthy,
Michael Redd
has provided some much-needed scoring punch off the pine and
Shannon Brown
just looks much more comfortable now.
2. At age 59 (OK, 38), Steve Nash is averaging almost 54 percent from the floor, and still piling up big assist numbers. Have you seen any change in his game, or is it still a "same as it ever was" type thing?
Schwartz:
It's really a "same as it ever was" type of thing. Occasionally you will see him run off a screen for a spot-up jumper, but for the most part he's doing the same things he's done the past seven years just with a different supporting cast. According to
mySynergySports
, 61 percent of his plays come as the pick-and-roll ball handler, which goes to show how often he's running the same tried and true play that's made him a future Hall of Famer.
I actually think one of the reasons his game has aged so well is because he's essentially doing the same things that worked for him a decade ago, only now he's that much smarter.
May, 28, 2010
5/28/10
11:24
AM PT
Jared Dudley
and
Shannon Brown
aren't carbon copies of each other. Brown boasts considerably more elevation, while Dudley's a steadier threat from behind the arc. But there are obvious commonalities. Both are key reserves for teams vying to make the NBA finals. Both take pride in their defense and rarely take possessions off. Both are described as "energy players." Both have become crowd favorites as a result of their non-stop hustle, and
in the case of Dudley, unique personality
.
And both began making a name for themselves after getting traded out of Charlotte within a two month span of each other during the 2008-2009 season.
Dudley was the least established name among the principles changing squads in his four-player deal. (
Jason Richardson
with Dudley to Phoenix,
Raja Bell
and
Boris Diaw
to Charlotte). Ditto
Shannon Brown
when he and
Adam Morrison
arrived in L.A. for
Vlad Radmanovic
. Brown described himself as a "throw-in" member of a swap making the Lakers his fourth team in three seasons, and had been worried about staying the league. Dudley's time in Charlotte provided more stability (5.8 points per game as a rookie, 14 starts of 73 appearances), but he was still barely on the NBA radar when he was moved to Phoenix during his second season.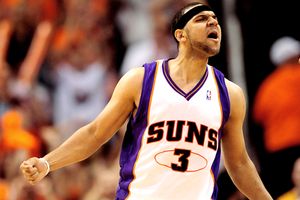 Julianne Varacchi/US Presswire
Jared Dudley's role in Phoenix fits like a glove.
"The trade was definitely for Jason," shrugged Dudley when I asked last week about the swap.
For their part, while the Lakers saw potential in Brown, their deal was primarily to move Radmanovic's longer contract for Morrison's shorter one.
So how did two players considered afterthoughts not just quickly find niches, but with teams better than the ones they left? Because counter-intuitive as it may seen, it's often easier for role players to blossom on a better roster than by competing for time on a lousy team with fewer studs. Obviously, it's not as simple as just landing with a contender. You still have to earn your way on the court. But the setting is often a crucial element, and nobody knows this better than Suns G.M.
Steve Kerr
, whose career was highlighted with five rings as a role player in the right situation and low-lighted with 12th man stints as a role player in the wrong one.
"I don't think there's any such thing as a role player on a bad team," explained Kerr. "Good teams have role players. Bad teams, the role players eventually start because the starters aren't doing very well and nobody has a role."
May, 26, 2010
5/26/10
9:41
PM PT
The wonderful thing about sports is the unpredictable nature. Unless you're talking WWE, crooked boxing (or according to the conspiracy nuts, the NBA), there's no script being followed. The games, as they say, can't be played on paper, and the chance of getting thrown for a loop is what makes everything so fantastic.
PODCAST
Andy and Brian break down L.A.'s Game 4 loss in Phoenix, from the Suns' powerful bench to L.A.'s weak defensive showing. And what about that zone? With the series tied 2-2, should fans be concerned ahead of Thursday's critical Game 5?
Podcast

Unless, of course, the twist ending comes at your team's expense.
After Games 1 and 2 finished so lopsidedly in favor of the Lakers, not to mention the Celtics' 3-0 lead over the Magic, fans began looking ahead to a Finals matchup with Boston. The media began looking ahead to a Finals matchup with Boston. My guess is even Lakers not named "Andrew" or "Bynum" began looking ahead to a Finals matchup with Boston. Sure, everyone conceded Phoenix likely had enough in them to avoid a sweep, but that would be the swan song interrupting a relatively easy road to destiny.
Or, as it turned out, unpredictability would rear its tricky head with elements like a zone defense,
Amare Stoudemire's
pride, and a bench explosion for the ages. Suddenly, the series is knotted at two apiece, Lakers fans are worried about their team solving a defensive riddle, and, by the way, Orlando's won two in a row.
Food for discussion, and ours touched upon...
-The Suns bench exploding for 54 points. Not 53, Brian.
54
. More than double the 20 combined points from
Shannon Brown, Jordan Farmar
and
Lamar Odom
, and nearly 11 times the reserves' total if LO's 15 were removed. Yowzza!
-How big a fly in the Lakers' ointment has the zone been?
Kobe Bryant
and
Phil Jackson
downplayed the effect of Phoenix's zone after the game, citing the triple digit score and 49 percent clip from the field. True Hoop's
Kevin Arnovitz
informed Brian via email how, measured by statistical efficiency, the Lakers actually put forth a historically good piece of postseason offense. This may very well be the case. Arno's a helluva lot smarter with numbers than me or Brian.
Having said that, there's no statistical measure for "labored." Whatever figures you come up after carrying the one, the fact remains L.A. was sweating hard for nearly every basket. The Lakers often looked frustrated and flustered while uniting ball and cord. Plus, the numbers were skewed by Kobe's unconscious second and third quarter. Without Kobe's heroics, things might have looked more grim.
Kobe also expressed an opinion the team was too preoccupied with the zone, between a Monday spent practicing against it and the oodles of media questions. I imagine there's some truth to this. It's like being told not to think about elephants. At some point, you have to just play without thinking.
-Still, we're in unison with Kobe and PJ about the defense leaving much to be desired, whether you're talking inside, outside or just checking Phoenicians without fouling.
But aside from that Mrs. Lincoln, how did you enjoy the play?
Below the jump are some of the more choice quotes
from a practice fairly low on verbage. I guess the players figure they'll be seeing us all again tomorrow and want to pace themselves.
May, 26, 2010
5/26/10
10:02
AM PT
By Andy Kamenetzkty
ESPNLosAngeles.com
Archive
NBA basketball, she is a fickle beast. After two games spent pounding the Phoenix Suns on the Staples Center floor, a completely one-sided affair appeared in the making for the Lakers. You figured Phoenix would steal one on their court, but the combination of size, defense and
Kobe Bryant
seemed way too much for the desert dwellers. Suns Coach
Alvin Gentry
was literally asking the media for suggestions.
That, of course, was before a now infamous zone defense, an
Amare Stoudemire
awakening and a
bench showing for the ages
. Cut to
a Game 5 Phil Jackson labeled "critical" for either squad
.
As I mentioned during our postgame report,
the game felt to me like a showdown between Kobe Bryant and the Suns bench
. The Lakers were a discombobulated bunch, leaving Kobe to attempt saving the day against a crew running on all cylinders. Even worse, his mates didn't pick up any slack on the other side of the ball, which left 24 seriously honked. ESPNLA.com's
Dave McMenamin
explains how Kobe's tired of all this "zone" chatter.
From his perspective, the problem was definitely defense, but rather his own team's
:
Kobe Bryant walked up to the postgame podium after the Los Angeles Lakers' 115-106 loss to the Phoenix Suns on Tuesday and launched into a diatribe, pounding away at his point so often that even the dude from "Memento" wouldn't need a tattoo to remember the gist of it. Bryant didn't care about how well he played. His brilliance was rendered irrelevant by his team's lack of defense.Mention No. 1: "Our defense could have been much better, I think."
That's how the speech started, and really, that's how the Lakers' chances of making the sun set on Phoenix's season with a commanding 3-1 series lead ended. Los Angeles let the Suns shoot 48.8 percent from the field, make 11 3-pointers and get to the foul line for 32 attempts.
The result is a Western Conference finals series tied 2-2, with the series headed back to Los Angeles for Game 5 on Thursday
.
While some may quibble about how well the Lakers are actually negotiating Phoenix's zone (the K Bros would, if nothing else), Kobe's correct in calling for a better lockdown. As ESPNLA.com's
Ramona Shelburne
explains,
this is one seriously potent scoring the Lakers are trying to slow
:
"We're not seven seconds or less anymore," Suns coach Alvin Gentry said after Tuesday's victory. "But in our offense, if you're open and you don't shoot, it's really the same thing as shooting a bad shot. Our offense has a flow to it and that's the way we play."
That flow is hard to describe, but you know it when you see it. Points, shooting percentage and 3-pointers-made tell just part of the story. When Phoenix is flowing, especially at home, the other team can hear it. The ringing in their ears, the pounding in their hearts as they race up and down the court, trying to stop water from running downhill.
One part of the game flows to the next, each part growing louder and more intense the longer it roars. At it's running, gunning, 3-point-loving best, the Suns' offense is like watching Brazil samba its way around a slow, defensive-minded European team on the soccer field. The court is spread, defenders are forced to chase, and there is always and open man."
May, 17, 2010
5/17/10
11:47
AM PT
Finally, it's here.
The Western Conference Finals are upon us.
Lakers vs. Suns. Speed vs. length. Pick-and-roll vs. the triangle.
Jack
vs. the Gorilla. And while only one of these teams was expected to be here back in October when all the pundits made their preseason predictions, the Suns have been among the NBA's best teams for a while now. Their presence is no fluke.
PODCAST
Andy and Brian talk with former Clippers head coach Kim Hughes to preview the Lakers-Suns series, touching on aspects like L.A.'s size, Phoenix's shooting and the difference in basketball philosophy each team presents. Plus, the tricky prospect of pinning down Hughes' current job title.Podcast

Personally, I believe this has the potential to be a monumentally entertaining series. And to get a better feel for how it'll go down, Andy and I roped
Seth Pollack of Bright Side of the Sun
and
Michael Schwartz of Valley of the Suns
-- the
places to go for coverage of Steve Nash and Co. -- for a little Bloggers roundtable discussion.
Though in the world of the web, the table can be made any shape you'd like.
Let's get rolling...
Seth, I'll be honest. At the beginning of the season, I thought the Lakers might see Phoenix in the playoffs, but thought it would more than likely come in the first round, if it came at all. Truth be told, are you surprised the Suns are not only playing in the Western Conference Finals, but enter as one of the NBA's hottest teams? (No Sun pun intended...)
Seth Pollack, Bright Side of the Sun:
Awesome and thanks and lets get it on.
Anyone who is not surprised by the Suns getting to the WCFs is the homer of all homers. As in BIG YELLOW DOUGHNUT EATING HOMER. Doh!
Grant Hill
relayed a story recently when asked why he chose to re-sign with the Suns. It came down to NY if he wanted a "good city", Boston if he "wanted to win" and Phoenix if he wanted to "enjoy going to work everyday". Even he never expected to find all three in Phoenix.
Of course, the Suns only made it this far through a combination of fortunate factors. The Nuggets imploded
when [George] Karl had to leave. The Jazz roster regressed and then had injury issues.
Richard Jefferson
was a bust and the Spurs never had a front court past Timmy anyway. Blazers got hurt. Rockets got hurt. Even
Blake Griffin
got hurt.
Meanwhile, the Suns stayed very healthy this season, outside of
Robin Lopez's
foot and back.
Nash
and Hill both played the entire season and are still going strong.
Amare
recovered from almost losing his vision. Richardson is in tip-top form. The young bench players both improved and stayed fit.
On top of that, this team gelled like a peanut butter and banana sandwich with a side of chips and a glass of milk.
May, 14, 2010
5/14/10
1:13
AM PT
The upside of landing a current NBA player or coach as a PodKast guest is their insight is as good as it gets. Even a former player or coach isn't in the loop quite like an active member of the NBA frat. However, there's a catch-22. These are also the same folks often reluctant to be truly candid out of fear of alienating a future teammate or coach. You get a good "name," but not necessarily as great an interview.
Thankfully, former Clippers head coach
Kim Hughes
is the exception proving the rule. The man is famous for his honesty while taking all questions,
including those about his very odd setup with the red, white and blue.
This quality makes him an ideal candidate to break down the good, bad and the ugly of what to expect between the Lakers and Jazz in the Western Conference Finals. Give it a listen and learn something.
PODCAST
Andy and Brian talk with former Clippers head coach Kim Hughes to preview the Lakers-Suns series, touching on aspects like L.A.'s size, Phoenix's shooting and the difference in basketball philosophy each team presents. Plus, the tricky prospect of pinning down Hughes' current job title.

Podcast

- (2:15): If you were among those failing to peg the Suns as Western Conference Finalists back in November, join the club. "I was stunned," admitted Hughes. So how did it happen? As Hughes explained, the Suns are hardly the Bad Boy Pistons or 2008 Celtics, but there's finally solid enough lockdown mixed in with the high octane O. Thus, he expects better basket protection from this round's opponents than the previous foes.
"(Phoenix has) morphed into a semi-decent defensive team. I would never have expected that. They've got
Amar'e Stoudemire
occasionally playing defense on the weakside, taking a few charges. I've gone on record as saying I thought he's a poor defender. As is
Carlos Boozer
. But at this point he's a much better defender than Boozer. As badly as Boozer got pounded by the lakers inside (in the semi-finals), giving up offensive rebounds, not defending in the post, not helping on the weakside, Stoudemire will be more effective."
Ouch-ke on Boozer. But on the plus side, while Hughes also labeled CB a "selfish player and a player who only cares about offense," it's conceded he's a
good
, if selfish, offensive player.
May, 13, 2010
5/13/10
11:18
AM PT
Before every series, players are given scouting sheets to supplement film and other work done in practice to help prepare them for the opposition. As an assistant to Byron Scott in New Orleans, coach Dave Miller was responsible for producing such reports, and then to help make sure they make it to a player's gray matter. Below, you'll see an example of a typical personnel report, what Miller might have given the Lakers were he on Phil Jackson's staff.

"I would have handed this out at the first practice after winning Game 4 in Utah," he says.

From there, coaches will go over the details and gauge absorption during the days before Game 1. How much guys actually internalize the material varies by player, but the best guys, Miller says, go well beyond what's handed to them. "The guys who get minutes, they pay attention. I've had guys in the NBA who will read it, learn it, and then come to me and say, "Hey coach, this guy does X or Y." And they're right, and I'll add it to the report. Kobe Bryant doesn't need this. This could maybe be a refresher course for him, because he's a student of the game."

Of course, none of us is Kobe, so the information below is quite handy when it comes to understanding the players L.A. will face starting Monday, and it's an interesting peek inside the preparation process for players and coaches in the NBA. Miller describes this sort of report as "meat and potatoes." Coaches try initially to boil things to the most important information, since (particularly against a team like Phoenix), a player will need to know the tendencies for multiple players on the opposition, if not all of them.

As more film is broken down, coaches will hand out DVDs to players, and continue to add chapters to the scouting book as the series goes on.

Click below to see the report...


December, 29, 2009
12/29/09
10:34
AM PT
Christian Petersen/Getty Images
These are the sorts of high percentage looks from the opposition that can hurt a team.

Ain't no real way to sugar coat things: The Lakers looked awful for the majority of this very one-sided defeat in the desert. Horrible. "
Who are you and what have you done with the Lakers
?" bad.
Any momentum potentially built from Saturday's double OT win in Sacramento went straight out the window, as
a Suns team rolled twice by the purple and gold earlier this season at Staples returned that favor on their home floor. In spades.
To be kind, the Lakers delivered an across-the-board failure, in which even the positives weren't enjoyed with a clear conscience. Take, for example,
Kobe Bryant's
34 points, notched on an efficient 14-26 clip from the field. In and of itself, nothing wrong with that.
Just a sign of Bryant rising to the challenge of carrying his team
, right? But a gander at
the box score
reveals how Mamba doubled the shot attempts of next closest Laker (
Lamar Odom,
13). Generally speaking, this team is deadliest when the offense is balanced. Scales tipped so heavily in one direction reflects an effort where weakness was displayed by the bushel. To wit: