Los Angeles Lakers:

Jarrett Jack
November, 9, 2012
11/09/12
1:27
PM PT
After the
early upheaval today
, there's still a game to be played tonight.
For more insight on the Warriors, I sent some questions to J.M. Poulard, who covers the team for the True Hoop network's
Warrior's World
. Below are his responses.
Andy Kamenetzky:
Five games into the season, how would you describe the Warriors' style of play? What type of matchup do you think they present for the Lakers?
J.M. Poulard:
The 20-minute cap on Andrew Bogut's minutes coupled with Stephen Curry's struggles to effectively run the offense make it as such that the Warriors have a small identity crisis. They have been surprisingly good with Jarrett Jack on the court -- even when paired with Curry in the backcourt -- which would have you think that they are a good small-ball team. But they actually stick to traditional positions for the most part. That's essentially a long-winded way of saying they are a selective, fast-breaking team that tries to masquerade itself as a good half-court team … for now.
As for the matchup, it stands to reason the Warriors will attack the trapping Pau Gasol in the pick-and-roll, then try to generate shots from 3-point range as a result of the action. They'll also progressively attack the interior to take advantage of a backpedaling Dwight Howard.
April, 9, 2012
4/09/12
9:44
AM PT
With nine games left before the playoffs begin, the best case scenario would be a Laker squad steadily clicking on all cylinders, a well-oiled machine ready for a utilize a tough stretch of foes (the Nuggets, Thunder and the Spurs... three times!) as a dress rehearsal before the second season. On the other side of the coin, the Lakers may not be currently mired in the worst case scenario, but they're certainly closer to that end of the spectrum.
Back-to-back losses to the Rockets and Suns have come on the heels of middling wins over foes like the Nets, Hornets and Warriors. (twice!) A once-stout defense, along with a collective focus, has slipped badly.
Kobe Bryant
missed a game with a lingering shin injury, and
Pau Gasol
,
Ramon Sessions
, and
Metta World Peace
(among others) are nursing ailments.
Steve Blake
appears to have forgotten how to play basketball.
Andrew Bynum's
obsession with cultivating a persona as the NBA's edgiest player is currently prioritized ahead of helping his team.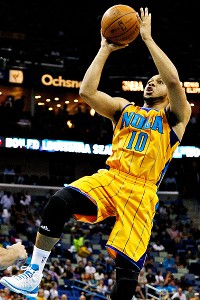 Derick E. Hingle/US Presswire
Gordon's a legitimately tough assignment for any defender.

There's a lot on the Lakers' plate to address in just under three weeks, and the clock is ticking. Thus, the Hornets need to be treated with the utmost respect and focus (particularly since they're suddenly healthy again). For more info on the Hornets, we called upon Michael McNamara from the True Hoop network's
Hornets247
blog. Below are his responses to a few questions, plus a pair of thoughts from yours truly.
Land O' Lakers: 1) How has Eric Gordon looked upon returning and in what ways does he change what the Hornets can do?
Michael McNamara:
You could tell that Gordon was feeling his way around in the first half of his first game back, but over the last six quarters he has been dynamic. He gives the Hornets a guy who can create for himself in the half court and finish at the rim in the open court. More than anything, he allows the other players on the Hornets to fall into their complementary roles, as opposed to trying to do too much.
(
AK's note:
If Kobe remains out, I'm assuming
Devin Ebanks
did enough things well in his place to continue holding down the fort. If that's the case, he'll be matched up against his first 20+ point threat since game 4 against the Knicks. Ebanks was admittedly a little overwhelmed by
Carmelo Anthony,
which immediately led to getting pulled from the starting lineup. Soon enough he was yanked from the rotation altogether. As I've expressed on a few occasions throughout the seasons, I think
Mike Brown
overreacted, and in the process robbed himself of a potentially useful asset. But that's also the past and can't be changed. What's important is that Ebanks makes the most of an opportunity, along with a challenge in front of him. Even working his way into game shape, Gordon is a talented player and a potentially tough cover. Ebanks will need to be on his toes.)
March, 31, 2012
3/31/12
3:16
PM PT
This was ugly. Really ugly. Like, "the offspring of Medusa and Jabba The Hut" ugly. The important thing is the win, but the second most important thing is the way the win was manufactured. And in this game, a photo finish against a lousy Hornets team rolling out
Jarrett Jack
,
Marco Belinelli
, and a bunch of 9th-man/D-League-caliber players constitutes poor manufacturing. Nobody can feel particularly happy about this day.
Here are four takeaways.
1. Something is wrong with Kobe's shot right now.
Yes, Bryant hit the winning 3-pointer and he absolutely deserves credit for maintaining the focus necessary to ride out a brutal afternoon. As the saying goes, that's what makes Kobe the first-ballot Hall of Famer he is. But having acknowledged this, it's a good thing March comes to an end Sunday, because the month has been brutal to The Mamba's percentages from the field. Heading into this game,
Bryant had shot 50 percent from the field only once in his past 10 games, and only three times in the entire month
. (Truth be told, February was pretty rough, too.) This afternoon, his touch turned especially brutal. Fifteen shots were fired before one finally dropped
with 7:30 remaining in the fourth quarter (!)
, and with his frustration on his sleeve, the Staples crowd began chanting "Kobe" late in the third quarter to get him rolling again. Not "MVP," but "Kobe," just like in 2010's Game 7 against Boston, when they rallied behind their struggling star. Even more disturbing than the misses was the variety of shots refusing to fall. Long jumpers. Catch-and-shoot opportunities from between the circles. Bunnies from nearly point blank. The Mamba couldn't toss a pea into the ocean.
The cause for this slump? Perhaps Kobe's heavy minutes are catching up to him. As of Friday, he led the league in total minutes (1968), and at age 33, 16 seasons into a career, that's got to take a toll. Especially during this compressed schedule, in which days to recover are as rare as a yeti sighting. Bryant even admitted after the game he's feeling tired, and he's as reliable a source as any.
Mike Brown
said Friday reducing Kobe's PT is a luxury he doesn't have at the moment, but he may need to bite the bullet and find the guy a few extra minutes on the bench, results be damned. Fatigue may also be exacerbated by Kobe's propensity for launching 3s. As of this writing,
he's seventh in the league for 3-pointers taken
, and has by far the worst percentage among league leaders. Whether that's a matter of too many plays drawn up placing him far from the basket, settling as the result of fatigue, or just Kobe taking advantage of his green light, dialing this back is a must.
Or maybe this is just your garden variety brutal drought.
But whatever the case may be, the Lakers can't continue to survive against mediocre opponents (much less contenders) with Bryant continuing to create so many empty possessions. Hopefully, his touch can be rediscovered, and ASAP.
March, 30, 2012
3/30/12
6:01
PM PT
After being swept up in Sessions-mania and allowing imaginations to envision a deep playoff run, Lakers fans have been slapped hard by the events of this week. Outworked in last Sunday's home loss to the Memphis Grizzlies. Outclassed in Thursday's home loss to the Oklahoma City Thunder. And sandwiched in between, a middling Golden State Warriors squad turned what should have been a blowout into a dogfight, while
Andrew Bynum
was banished to the bench and watched with seemingly mild interest. On and off the court, there have been reasons for concern, and the days left to address issues are dwindling.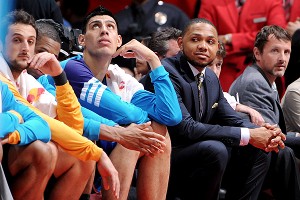 Andrew D. Bernstein/NBAE/Getty Images
Eric Gordon is one among many prominent Hornets who spends too much time in street clothes.
Obviously, success over a 13-38 Western Conference cellar dweller signals absolutely nada in terms of problems being solved. But it would at least provide a sense of normalcy and calm, even fully aware of the victory's relative insignificance. Bad vibes beget even more bad vibes, and the Lakers can't afford to even tiptoe further down that path.
For the scoop on the Hornets, we tracked down
Michael McNamara
of
the True Hoop network's Hornets247 blog
. Below are his responses to a few questions, plus a thought of my own.
Land O' Lakers: As of this writing, the Hornets are missing Trevor Ariza (ankle), Gustavo Ayon (birth of child), Jarrett Jack (ankle) and Chris Kaman (illness). In what ways would these players' absences be felt on Saturday if they're still not able to go?
Michael McNamara:
And don't forget
Eric Gordon
and
Emeka Okafor
, who are arguably the two best players on the roster. The losses of Ariza and Jack are felt the most, as those two are the leaders of the team and the coaches on the floor. Earlier this season, when Kaman and Okafor were in the starting lineup together, the Hornets dominated almost every team they played on the boards, but that is no longer the case with
Carl Landry
and
Jason Smith
forced to start up front.
As crazy as it sounds, a Hornets team with a full roster would give the Lakers a fight in this game, but are playing with a bunch of backups and D-Leaguers at this point. Essentially, the Hornets starting lineup is on the bench, and yet they keep competing night in and night out.
March, 14, 2012
3/14/12
8:33
PM PT
By the Kamenetzky Brothers
ESPNLosAngeles.com
Archive
Once again it required extra basketball -- not exactly ideal against a 10-win team -- but the Lakers overcame a slow first half to
grind out an important win over New Orleans Wednesday night
. Once again,
Kobe Bryant
and
Andrew Bynum
led the way, but
Metta World Peace
came up with a few big plays late as well.
We discuss their work, the incredible endurance of Bryant over the last two nights, the determination shown by the Lakers this week, and of course the trade deadline. What would it mean to add Michael Beasley? Who else might be coming, and who is on his way out?
Plus, vintage 7-Up commercials.
March, 14, 2012
3/14/12
9:45
AM PT
In theory, a matchup against the 10-win New Orleans Hornets shouldn't be much of a challenge. The Hornets no longer have
Chris Paul
(as you may have heard) have lost
Eric Gordon
for most of the season, are missing
Emeka Okafor
, and could be without
Carl Landry
as well. While that leaves a few decent players, they sorely lack any high end talent. In short, New Orleans is awful, evidenced by a 73-71 loss to Charlotte Monday night.
Then again, as a road team the Lakers are a very poor 8-14,
even with Tuesday's hard fought double OT win in Memphis
. They lost last week in Detroit and Washington, and barely scraped by a Minnesota team missing
Kevin Love
.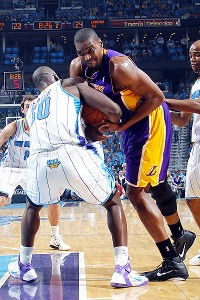 Layne Murdoch/NBAE via Getty Images
A red hot Andrew Bynum will try to wrestle away an upset bid from New Orleans Wednesday.

In short, no game away from Staples Center is ever in the can, particularly given the energy L.A. expended last night. So to get a feel for what the Lakers face against
Monty Williams
' crew, we hit up
Joe Gerrity of Hornets 24/7 with some questions
.
1. Not exactly game related, but a couple months later, Eric Gordon has been hurt all year and is unsigned, Al-Farouq Aminu has a PER of 9.1, and even after the Ricky Rubio injury, the Minnesota pick won't be as good as many thought. What do Hornets fans think of the CP3 transaction now?
For the most part Hornets Nation is remaining optimistic about it. Doubts have certainly started creeping in thanks to Eric Gordon's knee, and there's skepticism about resigning him too, but that's a near certainty since he's restricted. Honestly it will be a few more seasons before we can truly grade the deal fairly, and I think a lot of Hornets fans know that.
2. Gustavo Ayon! Not exactly a household name, but explain his impact for the Hornets, and how he could influence Wednesday's game.
April, 20, 2011
4/20/11
11:42
AM PT
The three-peat chase started on a rather sour note for many reasons.
Start with the pick and roll. The Hornets eviscerated the Lakers in the opener, scoring almost twice as many points on their pick-and-roll sets. As ESPN Stats and Information notes, it wasn't simply a matter of
Chris Paul
's brilliance, brilliant as it was. When the Hornets ran P-and-R sets without Paul, they were almost as successful, meaning the Lakers had problems running deeper than CP3.
The plan for Wednesday is simple
: Do what they were supposed to do in their coverages Sunday. As Lakers assistant coach
Chuck Person
noted Monday, when the Lakers followed their own rules, they successfully contained New Orleans' screen-and-roll sets.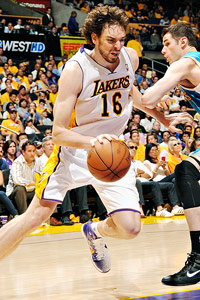 Noah Graham/NBAE/Getty Images
The Lakers need an aggressive Pau Gasol in Game 2.
There are other
adjustments to be made, as well
-- including a commitment to enter the offense faster and a little more ball denial in those moments Paul doesn't have the rock. If he gives it up, make it tough to get it back. Another big move for the Lakers is cranking up the dial on
Pau Gasol
, something two-plus days of "Seriously, how could you be so awful?" questions seems to have accomplished.
Tuesday, Gasol again
took responsibility for his poor performance, and vowed to be better Wednesday
. Odds favor a bounce-back evening,
because as Kobe Bryant noted after Game 1
, Gasol is simply too good to be as bad as he was Sunday. With that out of the way, here are ...
Three More Things Unlikely to Repeat Themselves in Game 2 ...
1. Lamar Odom and Gasol combining for 18 points.
Or eight rebounds, for that matter. Somewhat overshadowed by the wasteland that was Gasol's performance Sunday afternoon was a similarly bad outing from Odom.
The Sixth Man of the Year
was a total non-factor, failing to register a rebound in the first half and finishing with only one. Most of his 10 points came in garbage time. Historically, the Lakers have shown an ability to work around bad games from either Gasol or Odom, but when both have bad nights, it hurts. Particularly on a night
Andrew Bynum
struggles to make a full impact. Fortunately for the Lakers, it doesn't happen all too often.
I'd happily wager the two will combine for more than five field goals Wednesday night.
2. Huge production from New Orleans' bench players.
Their 39-point outburst Sunday was about 10 more than their regular-season average. More surprising was their collective field goal percentage.
Jarrett Jack, Willie Green, Aaron Gray, D.J.
Mbenga
and
Jason Smith
combined to make 16 of their 22 shots, or 73 percent, about
30 points above the team's season average for bench shooting
. Even understanding some of those attempts were layups and dunks as opposed to a full array of mid- and long-range jumpers, there's just no way that group duplicates its Game 1 efficiency, particularly with Gray nursing a sore ankle and being questionable for the game.
The Hornets could very well have a productive night from their reserves, but there's regular productive, and then there's
73 percent
productive.
3. Three turnovers.
Thanks in part to their super slow pace, the Hornets tied for the league lead in fewest turnovers per game with 13, and by percentage were a top-10 team taking care of the ball. There's no reason to suspect they'll start giving things away like it's the tail end of a garage sale, but even if the Hornets stick to season averages, there's a big difference between three turnovers and 13, great as the latter figure may be.
On the flip side ...
April, 19, 2011
4/19/11
10:44
AM PT
Believe it or not, the Lakers' Game 1 issues weren't all about pick-and-roll defense or
Pau Gasol's lack of "Black Swan
." Mind you, those
were
issues. Big ones, even. But after watching a replay of the game, I picked up on a few other adjustments that could pay dividends for the Lakers in Game 2.
Make it harder for Chris Paul to get the ball back
As frustrating as it was to watch Paul carve up the Lakers' D, it's expected to some degree. CP3 is a master at keeping games on a string and his dribble alive, then picking teams apart. The Lakers have proved capable of better work against Paul during the regular season --
and despite popular belief, against the pick-and-roll all season
-- but over (now) 5-7 games, Paul will periodically own them.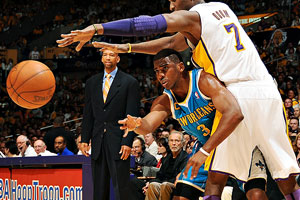 Noah Graham/NBAE/Getty Images
Once CP3 gives up the ball, remain all over him like so.
Having said that, if Paul doesn't have the ball, his ability to wreak havoc drops considerably. Upon a rewind, it was evident how easily Paul typically got the ball back upon passing off. That must stop, and two possessions illustrated how much less effective the Hornets are with somebody else running the show.
Up 14-12 in the first quarter, New Orleans took the ball out after
Andrew Bynum's
made free throw and
Derek Fisher
picked up Paul with full-court pressure. Unable to inbound to the All-Star,
Emeka Okafor
was forced to go in
Marco Belinelli's
direction. From there, Fisher did an outstanding job denying passes back to CP3, which left Belinelli and
Trevor Ariza
touching the ball. Ariza ended up at the line after a fouled missed dunk. I'll take Ariza forced to slash and create -- even with the two freebies -- all day over Paul controlling the action.
Later in the third quarter, as Paul ran a curl off ball, Fisher stuck exceptionally well to his side and nearly came up with a steal after Ariza tried forcing the ball to his quarterback. The ball went out of bounds off Fisher, who continued denying Paul aggressively after the inbound, and the possession ended with an Ariza miss.
It may feel like the rock is
always
in Paul's hands, but his usage rate is surprisingly low,
whether measured within his team
or even against
other point guards
. My point? Other Hornets dribble the ball, and whenever humanly possible, leave them no other choice but to do so. The Hornets took serious pains to prevent feeding the Lakers bigs, through fronting or secondary defenders making continual soft doubles. The Lakers should adopt the backcourt version with Paul.
April, 18, 2011
4/18/11
10:37
AM PT
That
Steve Blake's
inaugural season in L.A. hasn't been a smashing success is hardly a government secret. The reserve point guard hasn't been bad, but rather lacking the impact most folks (particularly yours truly) expected. He hasn't been the shooter -- for percentage or volume -- expected. He hasn't been the play-maker expected. He hasn't been the "dude who severely eats into
Derek Fisher's
minutes" expected. Commendable ability to keep the second unit organized notwithstanding, Blake's individual and overall presence has been too spotty all season.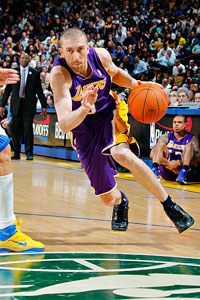 Rocky Widner/NBAE/Getty Images
Steve Blake hasn't been killing it this season, but the Lakers missed him in Game 1.
Still, it's interesting how the absence of a player, even one often underwhelming, creates a butterfly effect. On several tangible and spiritual fronts,
Blake at home "speckled"
was problematic for the Lakers.
From an offensive standpoint, running without Blake severely limits the bench's effectiveness, particularly with
Matt Barnes
hobbled. You're now hugely dependent on just
Shannon Brown
and
Lamar Odom
for production, the latter of whom picked an awful time not to pick up his game. Blake may not be terribly prolific hoisting shots, much less as a points machine, but he often helps manufacture easier looks. In the first half especially, second unit possessions were tentative and disorganized, typified by the very first series of the second quarter.
Eight seconds evaporated before the Lakers even got into their set, then after swinging the ball indecisively around the arc for another nine,
Trey Johnson
forced the ball inside to
Andrew Bynum
with the clock at five. Bynum missed a forced shot after working hard to just collect the ball and prevent a turnover.
Over three minutes passed before the Lakers scored (a Johnson free throw) and it was fitting the reserves didn't actually sink a basket (an 18-footer from Johnson) until
Kobe Bryant
replaced Barnes. All in all, the four reserves who played 5+ minutes combined for just 21 points, six of which came from Odom in the last minute of the fourth quarter with New Orleans running out the clock.
Brown talked after the game about the way Blake's ability to organize was missed.
"As far as that ball handler, that gritty guy that gets after it. Just frustrating their defense and just getting us into offense, man. Knowing a little bit more of the offense."
April, 17, 2011
4/17/11
3:18
PM PT
Heading into the opening round of the Western Conference playoffs, nobody gave the New Orleans Hornets even a puncher's chance in a series against the Lakers.
Apparently, the Hornets didn't get the memo.
In Game 1 Sunday at Staples, Monty Williams and crew did a number on the two-time defending champs, playing stiff defense for most of the game while slicing and dicing the Los Angeles Lakers with an endless series of pick and rolls. In the end, they earned themselves a fairly stunning upset.
I thought the Hornets would win a game in the series, but not Game 1.
"It is dangerous," Kobe Bryant said of losing the opener. "Absolutely. A series can be over quick." Particularly given how the Lakers performed down the stretch.
Here's how it broke down. ...
LOWLIGHTS:
1. Ball Movement.
Like everyone else in creation, the Hornets entered Sunday's game aware of the size advantage held by the Lakers in the block. It's no coincidence Andrew Bynum shot about 65 percent against them in the regular season, while Pau Gasol shot better than 70. So, not unexpectedly, the Hornets started virtually every trip with an extra defender shading toward whichever big man L.A. had on the low block at any given time.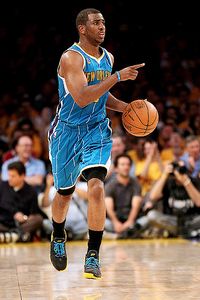 Stephen Dunn/Getty Images
"Hey you, in the front row! Watch me as I destroy the Lakers in Game 1!"
It's not anything the Lakers haven't seen before, and they could have found better looks. But particularly in the first half, too many possessions ended with one, maybe two passes, and then the type of mid-range jumper likely available to them later in a trip, if they wanted it. The Lakers did very little to punish the Hornets for overplaying the post. Didn't make them move, help or recover. It explains, in part the relatively low first-half shooting percentage (42 percent) and the anemic output of Gasol and Bynum in the first half (combined three field goals, including only three attempts in the first quarter).
"There wasn't a lot of direction going towards [Gasol]," Phil Jackson said after. "There wasn't a lot of balls in the post. We didn't get the ball inside, which is one of our strengths."
As a team, the Lakers lost the points in the paint battle over the first 24 minutes by 12, and for the game by 18. Defensive breakdowns leading to penetration contributed to New Orleans' output- it's not like Emeka Okafor dazzled the crowd with post moves- but for the Lakers a total inability to use their length inside was the limiting factor.
Even when the Lakers managed to put points on the board, it was a grind. In the third, they managed to turn aggressive defense into opportunities the other way, but the fourth wasn't a picture of elegance, and overall the Lakers never worked their way into any sort of flow. Credit New Orleans, no question. The Hornets were an ordinary offensive team this season, but by any metric locked down well at the other end. Still, the Lakers didn't suddenly get bottled up Sunday. Their problems were the same down the stretch of the regular season against lesser defensive teams such as Sacramento, Utah and Golden State.
2. Defense, Save the Third Quarter.
Early on, the Lakers surrendered the types of shots you can live with. A long jumper from Trevor Ariza, midrange plays from Carl Landry and Marco Belinelli. That sort of thing. But as the game went along, particularly in the second quarter, the Hornets were offered extremely high-percentage looks, thanks in large part to the efforts of Paul, who consistently broke down the Lakers off the dribble, particularly on the pick and roll. In one second-quarter sequence, New Orleans scored on a dunk inside from Emeka Okafor, earned free throws after Aaron Gray was fouled trying to finish at the rim, a dunk from Landry, a layup in transition from Jarrett Jack following a Bryant turnover, and another layup from Gray off a dish from Paul.
That's eight points in about three minutes, all from no more than two feet out, and it would have been worse had Gray hit his freebies.
One common strategy when playing a dynamic point guard like Paul is to turn him into either a scorer or a distributor. One or the other, but not both. Fair to say the Lakers failed in that regard against CP3, who entered halftime with 11 points and 10 dimes, and finished with 31 points, 14 assists, seven boards and four steals. But it wasn't just Paul who hurt them. Jack was nearly as effective off the screen/roll sets, racking up five assists in 21 minutes of burn to go with 15 points. Something feels tolerable about Paul penetrating and finishing with a slick pass to Landry on the post. I suspect fans aren't quite so charitable when the combo is Jack and Gray.
The Hornets finished the first half by shooting nearly 60 percent, and after the Lakers locked down in the third, came back strong again to start the fourth, breaking down the defense with an endless series of pick and rolls, piling two or three up on each trip. Paul, it should be noted, was absurdly effective down the stretch.
"We didn't do the coverages defensively that we were supposed to do. We just didn't do them. I don't know if we forgot about them, or if it was lack of effort to execute them," Bryant said of the repeated breakdowns, "but we didn't stick to our game plan... We just made mistakes. We didn't do what we were supposed to do. What we talked about doing, we didn't do it."
3. Pau Gasol.
As noted, the Lakers did a poor job moving the ball to get him touches down low, but Gasol didn't help himself, either. The looks he got, he missed, whether on the block or facing up along the perimeter. One field goal through the first 47 minutes of action isn't enough. And the second one, coming late with the game already decided, didn't exactly make up for it.
Bad, bad start to the playoffs for L.A.'s front-court All-Star.
"I was just not very sharp," Gasol said. "I couldn't get into a good rhythm in the first quarter. i didn't get myself going at all, so it's up to me to get some energy out there and be a little more aggressive, and find ways to find that rhythm."
Bryant, speaking both to encourage and challenge, said Gasol is obviously capable of more. "Pau is our guy. He's our guy, he's the next in line. Responsibility and pressure comes along with that. He'll be ready to go next game."
April, 17, 2011
4/17/11
9:13
AM PT
By The Kamenetzky brothers
ESPNLosAngeles.com
Archive
The playoffs are inching closer and closer, which means the analysis grows deeper and deeper. We exchanged emails back and forth with
Michael McNamara
of
Hornets247.com
(TrueHoop network). Tons of issues examined, so kick back and drink it all in.
Brian Kamenetzky:
Michael, is everyone in New Orleans as pessimistic as Lakers fans are optimistic?
Michael McNamara
: Basically, most fans believe two wins would be considered a victory. There is no realistic Hornets fan who believes that New Orleans can win this series, but there are moral victories to be had.
Trevor Ariza
has been a disappointment for most of the season, but a good showing on both ends of the court might give fans hope he could turn that corner next year.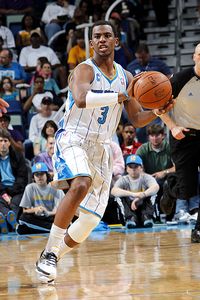 Layne Murdoch/NBAE via Getty Images
Hornets fans are hoping to see "Chris," not "Christopher" in this series
What fans want to see more than anything, however, is the return of
Chris Paul.
We have jokingly referred to him as "Christopher Paul" for much of the season because he simply is not the same guy we recognize as CP3. If he can have a series like
Deron Williams
had against the Lakers last year, and the Hornets can steal a game or two, I think that Hornets fans will be happy.
My question is whether or not you think that an easy first-round matchup might be the worst-case scenario for the Lakers? We see how they tend to get bored when they are not challenged, so is it possible that a tough first-round series would have been better in the long run?
Andy Kamenetzky:
I understand the thought process, but I'd like to think that's overthinking matters. Even acknowledging the Lakers' willingness to, shall we say,
cruise
, they're decidedly built for the postseason. It's what they live for and all they've been thinking about since roughly December. The playoffs finally arriving should kick them into high gear and the 2009 semifinals against Houston aside, there's never been a glaring example of the Lakers sleepwalking through a series.
Besides, the Lakers haven't been good enough lately to poo poo anybody.
As Kobe mentioned Wednesday on Mason and Ireland
, "The way we're playing right now ... if we saw [the Timberwolves] in Round 1, they'd be a tough one."
Michael, how have the Hornets looked since
David West
's injury and how has
Carl Landry
-- who's been known to provide the Lakers fits -- done filling in?
April, 15, 2011
4/15/11
8:57
PM PT
The only thing better than regular-season ear candy? Playoff edition ear candy!
It's the first podkast of 2011 focusing on the NBA's second season. For a look at the New Orleans Hornets, the Lakers' first-round opponent, we spent some time talking with
Michael McNamara
of Hornets247.com (True Hoop network). Among the talking points:
PODCAST
In anticipation of the first round series against New Orleans, Andy and Brian talk with Michael McNamara from Hornets247.com.

Podcast

- The
overwhelming majority
of pundits
aren't giving
New Orleans a snowball's chance in hell of winning this series. Ditto the Laker Nation, from the feedback I'm seeing. And as we learn later in our conversation, even Hornets fans aren't especially optimistic about their odds against the two-time defending champs. But as far as making a legit series out of an inevitable first-round exit, McNamara said the naysayers may help:
"I think they can make games (of it), partly because they're gonna be fired up. The Hornets have played their best when they've had a chip on their shoulder all year. ... You see the way the Hornets started out 8-0. They were the last undefeated team in the NBA. And then once they started getting some national attention, they fell off."
McNamara predicts coach
Monty Williams
, a fiery "nobody believes in us" type himself, will show the Hornets every dismissive article he can find to pour gasoline on a prideful fire. Could this approach lead to the world shocked? Not likely, but it could create the surprisingly challenging series McNamara personally expects.
- By
Chris Paul
standards, he's having a down season and entered the playoffs looking mortal. McNamara considers the issues twofold. The Hornets' roster has been seriously overhauled, and new faces always make a point guard's organizational responsibilities that much tougher. Plus, without the jettisoned
Tyson Chandler
and the recently injured
David West
, the picks set for CP3 haven't been as strong, which doesn't allow him the same ability to operate.
- McNamara talks about the impact ex-Laker
Trevor Ariza
could have making
Kobe Bryant
work for points. Or, more succinctly, Ariza's impact if allowed leeway from the refs.
- McNamara says he thinks
Jarrett Jack
will be paired often with Paul, and the more burn JJ gets, the better he tends to perform. Jack, one of my favorite role players, has enjoyed success against the Lakers, so it's worth keeping an eye on him as a potential "X-factor."
- Brian and I are relieved to learn
DJ Mbenga
is still a fan of the automatic heat check whenever he happens to hit a basket beyond point-blank range. "He'll make a four-foot hook in the lane and he just thinks it's on. He thinks it's
game over
. He's got the hot hand.
...
I think he thinks he's playing a game of
NBA Jam
," jokes McNamara.
- How is the situation with the Sacramento Kings affecting Hornets fans, they of the mutual relocation concerns?
December, 29, 2010
12/29/10
11:35
AM PT
A couple years ago, the New Orleans Hornets were a team on the rise , winning 56 games and reaching the Western Conference Semi-Finals. Behind
Chris Paul
and
David West
,
Byron Scott
seemed to be building a serious contender. Then the wheels turned wobbly before finally coming off the wagon last year, when the win total plummeted to 37. Scott was canned after nine games, Paul got hurt, and it was all downhill from there.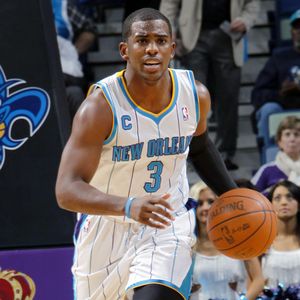 Layne Murdoch/NBAE/Getty Images
Chris Paul is healthy, and has the Hornets back on the playoff ladder.
This season, New Orleans got off to a surprisingly hot start, but have since slipped. With each loss the rumors swirling about Paul's future grow, only enhanced by ownership problems so dire the NBA bought the team to help preserve its value.
Not a good sign for the future of basketball in the Big Easy.
The Hornets remain dangerous, if for no other reason than CP3's incredible skill. While
his numbers
aren't quite as stratospheric this season as they were in his uber-dominant '07-'08 and '08-'09 campaigns, he's still posting 16.5 points and 9.9 assists a night in a modest 34.8 minutes, and leads the league in PER (aided both by a 46.4 percent and 91 percent marks from downtown and the strip, respectively).
At this point, though, would it matter if New Orleans was a rec league team? Losers of three straight, including demoralizing losses to Miami Saturday and
San Antonio Tuesday night
, the Lakers are totally rudderless right now. The defense has been spotty, and- particularly against quality competition-
the offense has fallen off a cliff
. However they can manage it, the Lakers need to finish 48 minutes with more points than the other guys. The process of returning to form won't be instant, but it can start in New Orleans.
For a better handle on what's happening with the Hornets, I reached out to
Hornets 24/7 and Joe Gerrity
for some insight.

1. New Orleans got off to that red hot 11-1 start, but has been a sub-.500 team since. What went wrong, and which stretch is more reflective of where the team really is?
I know this is a tired old cliche, but they what their record says they are. at 18-13 they are on pace to finish with 47.6 wins, just a hair higher than the 47 I predicted preseason. They have quality wins to go along with mind boggling losses. Really, this is what most Hornets fans expected from the team. You have
Chris Paul
,
David West
, and ... and ... Nothing against
Trevor Ariza
, but he's not the player
Peja Stojakovic
was in 2007-2008.
Emeka Okafor
has been solid on both ends of the floor so far, but even on his best day he's far from the game changing defender that
Tyson Chandler
was.
Unless they make a move to bring on a solid third big man to back up Okafor and West, or another star, this team won't be more than first round playoff fodder. Thanks to [new general manager]
Dell Demps
they have the assets (a $ 9.7 million dollar trade exception and a few younger players) so that they could potentially land such a player. Unfortunately the NBA owns the team and it's unlikely the owners will be willing to pay the luxury tax so that the league owned team (already a playoff contender) can improve. It's too bad, because it wouldn't be complicated to drastically better the team.