Los Angeles Lakers:

Jarron Collins
November, 9, 2011
11/09/11
9:29
AM PT
By The Kamenetzky Brothers
ESPNLosAngeles.com
Archive
As part of a continuing series, NBA players share how growing up in L.A. shaped their games.
We bring you the second part of our interview with
Baron Davis
, the NBA player we feel most epitomizes "L.A." Between his upbringing with roots in South Central and Santa Monica, plus an eye fixed on Hollywood and the next generation of ballers, Los Angeles remains a huge part of Davis' identity.
In part I
, he talked about learning the game as a child, the influence of his family and neighborhood and how he arrived at the prestigious Crossroads School. In part II, the L.A. journey continues.
Land O' Lakers
: During your senior year, Crossroads won the state title
by absolutely destroying Sacramento Encina 93-57.
How did such a lopsided win happen?
BD:
In high school, we were
good
. [And] they were a real challenging team. So when we run out for the warm-ups, they were looking at us, like, laughing! Like we were a joke. I think they were a tougher team. I don't know what neighborhood they were from, but they d--- sure acted like it. They were just shaking their heads, like, "C'mon, dude!
This is
Crossroads? Which one is Baron Davis?
Are you serious
?"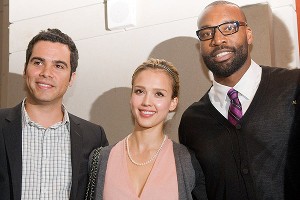 Kris Connor/Getty Images
Before working on movies together, Cash Warren and Baron Davis led Crossroads to a state title.
I was like, "Dude, we're about to beat the s--- out of you. You have no idea what's about to happen." (laughs)
That was the best game we played as a team and that was probably the best all-around game I ever played at the school. I think I was the second- or third-leading scorer of the game. The guys that were seniors, myself,
Cash Warren
,
LeQuan Tolbert
, it was our last time knowing we'll ever play with each other. So it was like, once again, somebody is underestimating us, let's go smack them in the mouth one more time.
And we had lost in the semifinals [the year before]. We were so hungry it was crazy. That's why we beat them by [46]. We were throwing the ball off the backboard by the end of the game. We were so afraid to lose. There was 10 seconds left in the game, we were still pressing and laying the ball up. It was crazy.
Land O' Lakers
: You guys had already beaten
Christ the King
and some other great schools across the country.
BD:
We beat Christ the King. We beat
Simon Gratz
. We beat Inglewood. We lost, I think, to Mount Zion, we lost to Dominguez at Dominguez, Crenshaw at Crenshaw. When we lost to Dominguez, they were No. 1 in the country. When we lost to Mount Zion, they were No. 1 in the country. And going to Crenshaw thinking you were gonna get a victory, you have a whole other thing coming.
We were up 20 going into the fourth at Crenshaw. Then all these [Crips] came in the gym and I just felt real uncomfortable. (laughs) The thing about Crenshaw, they never stopped playing. They were like Golden State -- no lead was too big for them to overcome. And we were playing in their house. And once the Crips walked in, it was like a whole different thing with me. It was like … OK … uh … where are
my
homeboys at? I was a little distracted at the time.
If you put that in the article, the dudes who were standing on that wall, they know what I'm talking about. They'll read that and laugh, I guarantee.
Land O' Lakers:
Is that why the Crips were there? Or were they just there to watch the game?
BD:
I don't know. I just know they came in right in the fourth quarter and that was very uncomfortable. We were up 20 before they walked into that gym … My antennas went up. They had to go up, you know what I mean?