Los Angeles Lakers:

Jason Kidd
February, 23, 2014
Feb 23
8:43
PM PT

By Dave McMenamin
ESPNLosAngeles.com
Archive
LOS ANGELES -- In what was supposed to be a lazy Sunday matchup between two sub .500 teams -- a game that was considered to have such little juice that it was dropped from the national TV broadcast schedule despite featuring teams from the two biggest markets in the country -- suddenly became a landmark event in the history of American pro sports.
The
Brooklyn Nets
signed Jason Collins to a 10-day contract Sunday morning, and when the backup center stepped on to the court against the
Los Angeles Lakers
on Sunday night, he became the first openly gay athlete to play in a game in the history of the four major professional sports in the U.S.
There was a tepid response in Staples Center when Collins entered the game. Better that it was a smattering of cheers than boisterous boos, of course, but the L.A. crowd responded to the substitution the way any crowd might when a 35-year-old with career averages of 3.6 points and 3.8 rebounds checks in.
In that respect, it was a comforting moment of normalcy. Even though many national media outlets descended upon L.A. to document Collins breaking a significant barrier, in the moment it was just about a backup basketball player doing what he has done in the NBA for the past decade plus.
"I don't have time to really think about history right now," Collins said before the game. "I just have to focus on my job tonight."
Which is the same approach the Lakers took, trying to put together only their sixth winning streak of the season despite starting
Kent Bazemore
, who just joined the team three days ago.
Yet for another night, they were overmatched.
How it happened:
The Nets led by as many as 19 in the first quarter, with
Paul Pierce
starting off blistering hot by scoring 14 of his 25 points on 5-for-5 shooting in the opening frame. L.A. trailed by 16 at halftime but used a 13-2 run early in the third quarter to draw to within eight and got it down to six after a 3-pointer from
MarShon Brooks
in the final minute of the third before the Nets got it right back up to 12 with consecutive 3s from
Mirza Teletovic
.
The Lakers stormed back in the fourth.
Nick Young
brought L.A. to within four by making a layup with 7:36 left in the final quarter and
Jodie Meeks
got it back to four again with 10.5 seconds left, but the Nets'
Deron Williams
tacked on two late free throws to give him 30 points and take home the win in a game his team never trailed.
What it means:
Friday night's win against the
Boston Celtics
was a nice moment for Lakers fans looking to stick it to their longtime rivals, but Sunday was a return to reality. There's going to be plenty more losses over the final 26 games of the season.
Hits:
With 10:28 remaining in the second quarter, Collins checked into the game for the Nets, making history.
L.A. outscored Brooklyn 58-36 in the paint.
Pau Gasol
had a solid double-double of 22 points and 11 rebounds.
Bazemore scored 17 points in his first start as a Laker.
Jodie Meeks had 19 points on 7-for-13 shooting.
Misses:
Jordan Farmar
shot just 1-for-6.
L.A. allowed the Nets to shoot 12-for-25 on 3-pointers.
Stat of the game:
29. That's how many turnovers the Nets had, leading to 27 points for the Lakers, but it still wasn't enough to get L.A. the win.
Up next:
L.A. has only a dozen road games left this season and will be down to 10 after its trip this week to play the
Indiana Pacers
and
Memphis Grizzlies
in a back-to-back Tuesday and Wednesday.
November, 29, 2013
11/29/13
5:59
PM PT

By Dave McMenamin
ESPNLosAngeles.com
Archive
AUBURN HILLS, Mich. --
Los Angeles Lakers
coach Mike D'Antoni got a little hot under the collar when asked about
Brooklyn Nets
coach Jason Kidd intentionally spilling his cold drink.
"I knew he was going to get caught," D'Antoni said before the Lakers played the
Detroit Pistons
on Friday when asked about Kidd's being fined $50,000 by the league for the incident. "You can't do that. That's crazy. He can't do that. It's cute for a lot of people, but you can't do that."
With 8.3 seconds left and his team out of timeouts in the Lakers' 99-94 win over the Nets on Wednesday, Kidd, who was holding a cup of soda on ice, appeared to say "hit me" to point guard
Tyshawn Taylor
to delay the game and give him and his team time to draw up a last-second offensive play.
Both Kidd and Taylor initially denied the collision was planned but on Friday Kidd basically admitted it was intentional. "Paul [Pierce] got a great look, but the league fined me for something that I probably shouldn't have done," Kidd said. "We'll move on."
Said D'Antoni of Kidd initially claiming innocence: "I don't buy it."
D'Antoni said he did not notice how the spill happened, but his players picked up on it immediately. Both
Steve Blake
and
Xavier Henry
hovered around the Nets' impromptu huddle to spy on the play being drawn up.
"I'm glad they did," D'Antoni said of Blake's and Henry's bit of gamesmanship in response to Kidd's move. "They should have."
D'Antoni said "you can't do that" or "he can't do that" no less than seven times in the two minutes he discussed the incident Friday, adding that it was "nuts" to try such a stunt.
"That's against the rules," D'Antoni said. "I don't think that's very savvy or cool. I love Jason to death, he's going to be a great coach, but no, you don't do that."
D'Antoni, the NBA's Coach of the Year in 2004-05 with the
Phoenix Suns
, admitted there are tricks that a coach can attempt to try to affect the outcome of a game outside of simply drawing up plays, making substitutions, working the referees and calling timeouts, but that Kidd crossed the boundary of fair game.
"You can catch somebody's eye on the baseline on foul shots and stuff, as long as you stay off the court and in the rules," D'Antoni said. "You can do those things, but you shouldn't get on the court. You shouldn't run into people on the court. You shouldn't drop things on the court, especially when they're not warranted [from an accident]. You can't do that."
September, 30, 2012
9/30/12
6:50
PM PT
With Lakers Media Day approaching Monday, it dawned on me how Oct. 1, 2012, doesn't just mark the official launch of training camp and the 2012-2013 season. It also marks the five-year anniversary of the Media Day following Kobe Bryant's "radio tour." To say the least, Oct. 1, 2007 provided a surreal atmosphere. As Lakers fans remember, after missing the playoffs in 2005, then consecutive first round exits against the Suns, the Mamba appeared on a number of radio shows expressing a desire to be traded --
Pluto was cited as an option
-- and was recorded
blasting the front office for their unwillingness to trade Andrew Bynum for Jason Kidd
. (If we learned one thing from that summer, Kobe Bryant the player is a first ballot Hall of Fame lock, but his credentials as a general manager leave something to be desired.)
Save bringing point guard/Kobe confidant Derek Fisher back into the fold, Mitch Kupchak and Dr. Buss responded to the outburst by presenting Bryant a roster essentially untouched. Thus, speculation swirled as to whether 24 would actually report to camp. Lest anybody assume this was simply the media churning the waters to create drama, think again. After 15-20 minutes with no sign of Kobe, I vividly remember Kwame Brown asking me if I'd seen the superstar, and if I knew whether he was gonna show up. This was truly the $1,000,000 question, and nobody was quite sure how the day would shake out.
Eventually,
Kobe did emerge, palpably unenthusiastic, but committed to remaining professional
. The season turned out considerably better than expected, even before Pau Gasol trade. Since then, Kobe has collected his fourth and fifth rings, and despite
this offseason presenting seemingly few avenues for upgrading a team stuck in good-but-not-great purgatory
, we're now looking at a starting five of Steve Nash, Bryant, Metta World Peace, Gasol and Dwight Howard.
And Oct. 1, 2007 feels about 100 years in the rear view mirror.
It reminds me of this exchange between Glen (Sam McMurray) and H.I. (Nicolas Cage) in
Raising Arizona
:
Glen: It's a crazy world.
H.I.: Someone oughta sell tickets.
Glen: Sure, I'd buy one.
Enjoy the season.
April, 14, 2012
4/14/12
8:10
PM PT
I've said it many times. In a season in which consistency has been as rare as a four-leaf clover discovered on top of a
copy of Superman No. 1
, there's been one solid trend for the Lakers. Opponents regarded with contempt on a personal level receive their best efforts, as evidenced by a 3-0 clip against the defending champs. The players on hand, whether
Derek Fisher
,
Ramon Sessions
,
Brendan Haywood
or
Delonte West
, have changed, but the Lakers' vibe has been metronome-steady.
Kobe Bryant
might not be available Sunday, and
Lamar Odom
absolutely won't, but I expect that intensity to be maintained. Particularly in light of
Friday's rather promising win over the Nuggets
.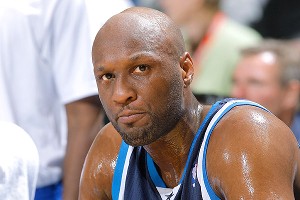 Rocky Widner/Getty Images
This glum face won't be seen on the Mavericks' sideline anymore.
To discuss the matchup, I had an IM conversation with
Jeff Caplan
, who covers the Mavs for ESPN Dallas. Below is the transcript.
Andy Kamenetzky:
From a psychological standpoint, what does Odom's departure do for Dallas?
Jeff Caplan:
The first thing is it removes daily frustration and exasperation from the locker room. His behavior was such that I believe players questioned his commitment, and have for some time.
Mark Cuban
and
Rick Carlisle
were as patient as possible, believing at some point he would turn things around and contribute. Finally, Cuban saw zero desire emanating from Odom and pulled the plug. The Mavs thrived with an all-for-one mentality last season and now can get back to that.
AK:
Even acknowledging Odom's disengagement and poor play, has he been a convenient scapegoat at all for Dallas' underwhelming season?
JC:
Absolutely. For evidence that it wasn't just Lamar, just
look at Thursday night at Golden State
. The Mavs were up 19 in the first half, then allowed the Warriors to cut it to three early in the fourth before turning it on again. That's a staple of this team this year: No lead is safe. That's mostly due to an offense ranking around 20th all year in scoring average and field goal percentage. But I don't think anyone within the organization has said, "It's all Lamar's fault" or "Now that he's gone, we're about to roll." I think there's now just more of a workmanlike mentality, with players going about their business. This is mostly a drama-free locker room led by
Dirk Nowitzki
, who is unlike any superstar I've ever been around.
The big question is will
Shawn Marion
have anyone to defend? What's Kobe's status with the shin and is anybody getting worried?
April, 4, 2012
4/04/12
1:25
PM PT
Four years ago this summer,
Kobe Bryant
and
Chris Paul
were two of 12 NBA players determined to restore America's standing as the worldwide kings of basketball. In a classic game against Spain (featuring none other than
Pau Gasol
), Team USA won the gold and showed fans how a team of elite superstars can push egos to the side for the sake of a larger goal.

With Lakers-Clippers on the docket this evening
, various ESPN scribes (including the K Bros) gathered thoughts from Bryant's and Paul's Olympic teammates and coaches about the experience of working with them.
Click here to make a patriotic trip down Memory Lane
, and below are excerpts with Kobe's and Paul's recollections about one another:
Kobe on Paul: He's tough. He's tough as nails, man; he doesn't back down from anything or anybody. I'd never been as close to him, but when I was [on the Olympic team] I'd try to challenge him, see what he's made of and he's a tough little sucker.
Paul on Kobe: Me and Kob really figured out how much we had in common on that trip. That Olympic experience is when we got a lot closer. Me and my wife send him Christmas cards and his family sends us Christmas cards, and now we talk on a regular basis. We both want to win so badly. It's one of those things where as great a relationship as we have, as long as we're playing on the same court against each other, we're always going to get into it, you know what I mean? That's the respect factor, because you know that he wants it just as bad as I do
.
May, 2, 2011
5/02/11
11:02
PM PT
When the Lakers scored four points over the final .7 seconds of the first half, heading to the locker room with a nine point lead, it's fair to say I thought they'd win. When the lead swelled to 16 2:21 into the third, it's fair to say I really thought they'd win.

Shows what I know. A very disturbing Game 1 loss for the Lakers, who were dominated down the stretch by a Mavericks team appearing to come apart at the seams halfway through the game.

Here's how it broke down...

LOWLIGHTS

1. Second Half Defense. Limited to a very reasonable 43 percent in the first half, Dallas found far more success in the second half, hitting 21 of their 37 attempts from the floor (57 percent). Dirk Nowitzki, handled relatively well in the first half (12 points on 11 attempts) boosted that number to 16 on an equal number of hoists after the break. From beyond the arc, Dallas hit five-of-nine. Credit the Mavs for their excellent ball movement, as they racked up 16 assists on the aforementioned field goals, consistently forcing the Lakers into awkward rotations and patiently using the entire floor to generate clean looks deep into possessions. Chide L.A. for sloppiness on their end.

Mistakes from the home team, as the offense devolved with the Mavs dropping in zone sets and packing the paint no matter the defensive formation, helped fuel the Dallas attack, as well. The Mavs were treated to more long run outs and transition chances, capitalizing on the other end.

Dallas hit five of their final 10 shots over the last four-plus minutes.

2. Second Half Offense. Kobe Bryant provided plenty of third quarter fireworks, scoring 15 points (including 12 straight at one point) on 6-for-10 shooting (3-of-4 from downtown), but around him any offensive structure and ball movement into the paint crumbled. Moreover, Bryant's attack was built entirely off jump shots, many coming in isolation, all along the perimeter. Even when the shots fell, and they generally did, the tenor of the offense changed completely.

The Lakers moved the ball extremely well early, generating eight assists on nine field goals in the first quarter, and adding five more dimes in the second. In the third, they had only two over the last nine minutes of the quarter, and only three in the fourth, two coming while Kobe was on the bench. The Lakers became a jumpshooting, Kobe-centric group, something playing to their worst instincts as a team.

Spectacular as Kobe's shooting performance was through the third, the manner in which the Lakers maintained, then lost, their lead was completely unhealthy. Balance went out the window, as Bryant took 17 of the team's 42 shots following the break (keep in mind, he only played 17 of the 24 minutes following the break, give or take). The point here isn't to blame Kobe for the loss. He didn't shoot the team out of the game, so to speak. Bryant, like his teammates, had some great moments and some lesser ones.

But the bottom line is this: If the Lakers expect to win the series, it cannot happen with Bryant taking seven more shots in the second half than any of his teammates took in the entire game. Particularly when the vast majority come on the perimeter. Even if many go in, and Monday they did, it's unsustainable, and plays away from the team's strengths.

3. Three Point Shooting. The Lakers are not a strong jump shooting team, something noted extensively in the lead up to Game 1. Tonight, it showed. They hit only five of their 19 attempts from beyond the arc, and players not named Kobe missed nine of 10.

4. Ron Artest. He did some good things on the defensive end, but if he's going to shoot eight times, more than one needs to go in. Particularly when he's liberal pulling the trigger with the jumper.

5. Andrew Bynum. Only three field goals and two free throws. After missing some good looks early in the game, Bynum seemed to fade away as a major factor in the game. He'd finish with eight points and five boards in about 30 minutes of burn.


May, 1, 2011
5/01/11
5:12
PM PT
At 38 years old,
Jason Kidd
is the giant panda-rare NBA point guard who, chronologically speaking at least, makes
Derek Fisher
look youthful by comparison. It's been a while since Fish was the kid in a head-to-head playoff matchup.
"Probably since
John Stockton
,
Mark Jackson
in the late 90's, 2000," he said Sunday afternoon, digging deep into the memory bank.
But old as he may be, heading into Monday's Game 1, Fisher and his teammates are showing a healthy respect for Kidd.
"Jason makes them go. He impacts games without scoring the basketball. He's been shooting the ball well from the perimeter, but it's really just his ability to manage the game, get guys in the right spots. He still has very good hands defensively, [and makes] timely steals," Fisher said. "So even though you don't strategize for him offensively, you still have plan for him. You have to play him as an impact player because of how he plays the game."
The numbers speak to Kidd's importance.
In 40 games in which he's won the battle of positional differential,
the Mavericks are 32-8. When he doesn't, they're a far more pedestrian 21-15. In their opening round matchup against Portland, the Mavs were
a much better team with Kidd on the floor
.
But it's not simply on offense where the Lakers will keep an eye on Kidd.
Phil Jackson
suspects he'll spend some time guarding Kobe Bryant late in games, which obviously could make that matchup vital over the course of the series.
Click below the jump for more from Fisher, Jackson, and
Lamar Odom
...
May, 1, 2011
5/01/11
9:40
AM PT
By the Kamenetzky Brothers
ESPNLosAngeles.com
Archive
In our continuing effort to help get you up to speed ahead of Monday's series opener against the Mavs at Staples, we swapped scouting reports with Jeff Caplan, who covers the Mavericks for ESPNDallas.com. (You've already heard from his compadre Tim MacMahon. You can check out our report at ESPNDallas.com and the Mavericks Blog.)
JEFF CAPLAN'S MAVERICKS SCOUTING REPORT
1. Biggest strength:
Without question it's
Dirk Nowitzki
. He has evolved into one of the most strong-willed, clutch players in the game. He emerged as a dominant fourth-quarter performer in the first round against Portland and displayed an arsenal of offensive weaponry, including far more aggressive driving than we've seen. Although he'll be busy on the defensive end against
Pau Gasol
and
Lamar Odom
, the Lakers haven't found a way to stop Dirk, who averaged 22.0 points and 10.3 rebounds against L.A. this season.
PODCAST
Andy and Brian preview the Lakers-Mavericks Western Conference semifinals with ESPNDallas.com's Tim MacMahon.Podcast

On a team that can't tell you who will be the second-leading scorer from night to night, Dirk will have to play at an MVP level every night. His 27.3 scoring average against Portland, despite shooting only 45.2 percent from the floor, suggests he can.
2. Biggest weakness:
The Mavs' small backcourt didn't hurt them as some thought against Portland's bigger guards, especially on the second units, but the Lakers are a whole other story. It all starts with
Kobe Bryant
. The Mavs don't possess a true shooting guard with size who can defend and score.
DeShawn Stevenson
, the team's 12th man who became a starter first because of
Rodrigue Beaubois
' broken foot and then his ineffectiveness, will start out on Bryant; he typically plays only 13-15 minutes. Behind Stevenson is the 6-foot-2
Jason Terry
, an offensive force, and Beaubois, plus under-6-foot backup point guard
J.J. Barea
, who plays the 2 sometimes next to
Jason Kidd
.
The problem with Kobe then becomes an issue with
Ron Artest
, because the Mavs' answer to Kobe will be small forward
Shawn Marion
, which then leaves the 6-4, 210-pound Kidd to wrestle with the 6-7, 260-pound Artest. We saw that movie once, and the Mavs really don't want to see a sequel.
April, 30, 2011
4/30/11
12:03
PM PT
With the Western Conference Semi-Finals kicking off Monday, the
Kamenetzky Brothers
and 710 ESPN basketball analyst
Dave Miller
break down the matchup between the Lakers and Mavs. Sometimes these things just write themselves, you know? Among the subjects covered...
Who has been L.A.'s playoff MVP thus far?
Who is the most important player for each team? In the series, overall?
Does Pau Gasol bounce back from a tough opening series?
Who wins, in how many games, and why?
March, 12, 2011
3/12/11
10:43
AM PT
There's only one way to move forward when
an eight-game winning streak ends
. Start a new streak. And for the Lakers, the desire to get the "W" train rolling again in Dallas isn't simply a matter of pride or competitive spirit. There are practical implications at hand.
Thursday's fall to the Heat coincided with the Mavs beating the Knicks. Thus, the Lakers are now two losses behind Team Cuban in the quest for the Western Conference's second seed. Saturday's result will swing the standings a full game in either direction. Should the Lakers fall three games behind, the race is essentially over in mid-March.
For more insight on the Mavs, we talked with
Jeff Caplan, who covers the team for ESPNDallas
. Here are a few items to keep an eye on once the ball is jumped.
K Bros:
From a matchup perspective, where do you see the strengths and weaknesses for Dallas against the Lakers?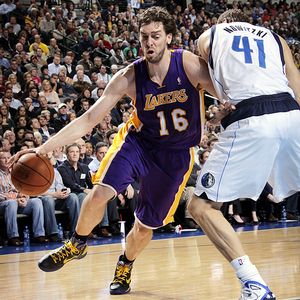 Glenn James/NBAE via Getty Images
Everyone knows Dirk can score? But can he slow Pau and LO?
Jeff Caplan:
When the Mavs play teams such the Spurs, Hornets and previously Utah, they can be exposed at the point guard position simply because
Jason Kidd
just can't keep up with those young, penetrating guards, and it forces the Mavs to put Kidd on the shooting guard. That's not the case with
Derek Fisher
. The matchup allows Kidd to stay on the point and the Mavs can then get creative with covering Kobe. So chalk that up as strength, defensively and offensively as well.
As for weakness, even though the Mavs have stocked up on 7-footers specifically to face the Lakers, L.A.'s big men,
Andrew Bynum
and
Pau Gasol
, are far more skilled inside, and when
Dirk Nowitzki
is on Gasol, I believe he's crafty enough to make it tough on Nowitzki. And when
Lamar Odom
is in as well, I'm not sure the Mavs can effectively match up.
February, 25, 2010
2/25/10
8:35
AM PT
Here was my reaction
to Wednesday's
101-96 loss Wednesday night
to the Mavericks in Dallas. See below for more opinions, reports, and news of the day.
Game Reports:
-Mike Bresnahan, LA Times
-Kevin Ding, OC Register
-Elliott Teaford, LA Daily News
-Eddie Sefko, Dallas Morning News
News and Notes:
-The Lakers
will spend most of March on the road. Kobe Bryant isn't concerned
. (You expected otherwise?)"
-
Ron Artest
is having the defensive impact
the Lakers hoped for.
-Dallas was without
Caron Butler
, who
missed the game because of a reaction to medication
. Meanwhile, former Laker (and lifetime Kamenetzky favorite)
Von Wafer is a Maverick. Still, Dallas wants more size
.
-One guy who shouldn't be blamed for the loss is
Lamar Odom
, who was
strong and aggressive throughout
.
Good Numbers:
-
Hoopdata.com Advanced Box Score
Columns, Opinions, and Other Stuff:
-Ding, OC Register-
Kobe's fate could be in Fish's hands
-ESPN Daily Dime-
Jason Kidd looks rejuvenated, hydrated

-John Ireland, ESPN Los Angeles.com-
Lakers vs. Mavs in the playoffs would be a great series
-Calvin Watkins, ESPN Dallas.com- L.A. is
impressed with Dallas, but aren't concerned about them
-Eddie Sefko, Dallas Morning News-
Kobe missed, but give the Mavs credit
-Charley Rosen, Fox Sports- Win s
hows Dallas can contend in the Western Conference
-Mark Medina, LAT- An interview with
Roland Lazenby
regarding his new book about Jerry West
Around the Blogs:
-JET attack does in L.A.: Silver Screen and Roll
-Dirk and Terry sink the Lakers: Forum Blue and Gold
-Too many letdowns lead to loss: LA Times Lakers Blog
-Plenty of bright spots for the Mavs: MavsMoneyball
-
Lakers.com Basketblog running game diary
February, 24, 2010
2/24/10
9:21
PM PT
The basketball gods can be poked only so long before they get huffy.
I don't know exactly how many pokes are allowed- this sort of information isn't available to earthly bloggers- but whatever the number the Lakers unquestionably used their allotment and more Wednesday night in Dallas,
losing 101-96 to the Mavericks.
About halfway through the fourth quarter, I looked at the box score and wondered how the heck the Lakers were still close. Within two, in fact, after a pair of
Lamar Odom
free throws at the 6:16 mark made the score 84-82 in favor of the home team. Yet the Lakers had more turnovers, were getting walloped on the glass (particularly on the offensive side), and sent the Mavs to the free throw line at a nearly 2-to-1 ratio. Meanwhile,
Kobe Bryant
was off (seven-for-18, I believe, at the time),
Derek Fisher
was three-for-10, and
Pau Gasol
was a non-factor.
Yet they were only down by two. No question, Dallas kept things interesting by liberally returning the favor when L.A. made mistakes, and the Lakers managed to get enough stops.
The gods were being generous, I suppose. But the Lakers couldn't leave well enough alone. They had to take one... last... poke.
January, 3, 2010
1/03/10
12:27
PM PT
By Andy and Brian Kamenetzky
ESPNLosAngeles.com
Archive
Noah Graham/NBAE via Getty Images
The Lakers will be counting on Lamar Odom, among others, to keep Shawn Marion from doing this.
Five Items Of Note:
Lamar Odom, by and large, has outplayed Shawn Marion in numerous battles over the years, particularly while forcing The Matrix to guard him. Dallas' small forward is no slouch when it comes to slowing even elite scorers, but Odom's combination of length, size and southpaw action has consistently neutralized Marion's skills.

Of course, it's easy to wonder if Odom will neutralize himself. In recent victories over Golden State and Sacramento, Lamar rode out very quiet first halves before exploding in the third quarter. He'll tell you it's a matter of keeping with the game's flow and not forcing the action, but between the matchup and the Lakers' shorthanded state, it'd be a pretty big bonus if Odom made his presence felt right off the bat.