Los Angeles Lakers:

Jason Reitman
December, 15, 2011
12/15/11
5:57
PM PT

By Brian Kamenetzky
ESPNLosAngeles.com
Archive
In Hollywood, real fame and name recognition is typically reserved for actors and directors, while for all but the most dedicated film lovers, screenwriters tend to blend into the background. Even the most successful are often equally anonymous.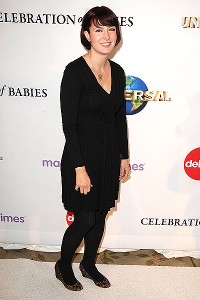 Steve Granitz/WireImage
In a very short period, Diablo Cody has become one of Hollywood's most well known screenwriters.
Diablo Cody
is an exception. Her first crack at the genre --
"Juno
" -- netted an Oscar for Original Screenplay, and fueled by a
catnip-to-media backstory
, Cody quickly became the rare writer
people know
.
Cody's new movie,
"Young Adult,"
opening nationwide Friday, reunites her with "Juno" director
Jason Reitman.
It features an incredible performance from
Charlize Theron
as Mavis Gary, a writer of teen fiction unable to leave her perceived glory years of high school in the rear view mirror. Cody's script fuels a funny, entertaining and often moving film centered on a highly unsympathetic and profoundly unhappy lead character. It's a difficult trick to pull off.
We had a chance to talk with her about "Young Adult," her career, the process of creating her characters, working with Reitman again, and the unrelenting appeal of Diet Coke.
Click here for the full interview
, or use the handy links below to jump around.
2:00: On her early influences in entertainment. It included a lot of sitcoms and old reruns. (In that, she actually has a lot in common with us.)
4:20: On the mixed blessing of winning an Oscar with your first film. "It makes you a name before you've really earned the right," she says.
8:50: On the responsibility she feels to create "tour de force" roles for women in her movies, and the challenges inherent in creating a movie around a character as damaged as Mavis Gary, particularly in a comedy. In so many ways, Theron's character is the anti-Juno. "There's very little about Mavis that's adorable," Cody says. (10:20)
(13:50): Mavis can't shed her high school self. How does Cody feel about our ability as a society to give up our past? Of her own aging process?
(16:50): On how working for three seasons on Showtime's "The United States of Tara" changed her as a writer.
(19:40): On creating voice for her characters, from "Juno" to "Young Adult."
(23:10): What is the role of music in "Young Adult," and films generally?
Finally, we discuss Mavis Gary's addiction to Diet Coke, and the hold the calorie-free cola apparently has on all American women.
October, 8, 2011
10/08/11
4:09
PM PT

By Andy Kamenetzky
ESPNLosAngeles.com
Archive
Everybody who watches TV and movies knows
J.K. Simmons,
because he's been in about a billion different roles, and he's pretty much always awesome. The new face of
Farmers Insurance
is perhaps best known for playing white supremacist Vern Schillinger on "Oz," the father in "Juno," Will Pope on "The Closer" and the eccentric editor J. Jonah Jameson in the "Spiderman" trilogy. He's also a lifetime Detroit Tigers fan, which made watching the Yankee empire crumble on Thursday even more sweet.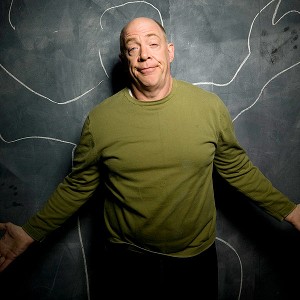 AP Photo/Victoria Will
J.K. Simmons shifts into whatever role with ease.
Friday, Simmons joined us for a fun conversation about baseball and acting.
You can listen to the entire show here
, or if you want to jump around to specific parts listed in the breakdown below, click on the links.
-
(2:25) After sharing the inside story for a running joke on "Oz,"
Simmons celebrates the Tigers' opening round victory over the Yankees. We talk about how he became a lifelong fan of the team, and later the merits of Cy Young lock
Justin Verlander
as AL MVP. Like me, Simmons feels a pitcher having such an exceptional season shouldn't be met with so much resistance.
- (6:55) Life, art and sports met at a wonderful intersection for Simmons
when he was cast as the manager of the Tigers in the 1998 film, "For Love of the Game." Simmons originally read for the smaller role of team trainer, but after shooting the breeze about baseball with director Sam Raimi, he got to try out for the meatier part. They've since worked on four other films together, including the Spiderman trilogy. And beyond the professional benefits, he got to play the manager of his favorite team in sports!!! How awesome is that?
- (11:44) Simmons explains the process of tapping into a reprehensible character like Vern Schillinger, along with his effort to avoid being typecast as Hollywood's go-to racist. Thankfully, he caught a break in quickly getting cast in a recurring role of psychiatrist "Dr. Skoda" on "Law & Order." Thus, audiences and casting agents were constantly seeing him in polar opposite roles.
-
(19:58) We discuss how a show like "Oz" helped pave the way for the explosion of quality basic and pay cable television shows
. Believe it or not, it were efforts, thankfully short-lived, to shoot episodes of "Oz" with language suitable for network syndication. Simmons also talks about the luxury of having strong relationships with directors like Raimi,
Jason Reitman
, and
the Coen Brothers
.

- (28:21) Simmons is commonly described as "a character actor."
What does that label mean? According to us, that he's extremely talented and versatile. According to Simmons, that he's not terribly good looking.