Los Angeles Lakers:

Jason Richardson
July, 20, 2011
7/20/11
11:15
AM PT
For those depressed after seeing Brian emphasize
the "thin" options for free-agent point guards
, buck up, campers! The shooting guard crop is better. Granted, it's hardly overflowing with eye-popping candidates, but upgrades, however small, are still better, right? There are definitely some 2's feasibly acquired, if not necessarily the proverbial "missing piece."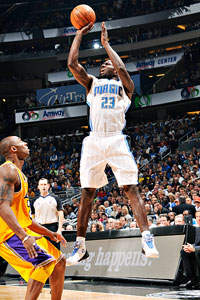 Fernando Medina/NBAE/Getty Images
If Jason Richardson were a pie, he'd be too high in the sky for the Lakers.
The "Unless they're so geeked to become Lakers a bench role and mid-level exception are amenable -- and mid-level exceptions still exist in the new CBA -- don't hold your breath" guys.
Jason Richardson (UFA, Orlando)
Jamal Crawford (UFA, Atlanta)
Even acknowledging both aren't likely to maintain their previous salaries, this wouldn't just be a paycheck below market value. We're talking the monetary haircut equivalent of
Demi Moore in "G.I. Jane."
Their roles could also be reduced along with their cheddar. On the flip side, those sacrifices would allow both to harbor less guilt over deficiencies (defense for Richardson, darn anything outside scoring for Crawford).
Between the two, Richardson is the better player and outside shooter (his three-point percentage hasn't dipped below 38 percent since 2007), but either can fill buckets at will. Hopefully, not at the Lakers' expense, since they're likely to remain opponents.
The "Not quite as expensive, but I still wouldn't hold my breath" guys
J.R. Smith (UFA, Denver)
Nick Young (RFA, Washington)
Arron Afflalo (RFA, Denver)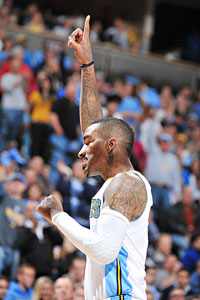 Garrett W. Ellwood/NBAE/Getty Images
J.R. Smith is talented, but like a renegade cop, is also something of a loose cannon.
For Smith and Young, mid-level-ish money is perhaps more realistic. The bigger headache, however, likely comes after inking them. True, there's a desperate need for another wing not named
"Kobe"
or
"Bryant"
who can create for himself, and these guys score in their sleep. However, wild shot selection, erratic decision-making, and porous D are part of Smith's package. And the equally undisciplined Young offers literally no other skill set beyond scoring. Similar to how
Lamar Odom's
is often described as a Swiss Army knife because of his versatility, Young's tunnel vision gunning makes him a spork.
For his part, Afflalo actually qualifies as a legitimate two-way player, not to mention a high character, steadily improving Karl favorite to boot. Thus, I'd be stunned if Denver allowed him to walk under any circumstances other than an astonishingly big offer the Lakers can't pony up in the first place.
Anyhoo ...
January, 5, 2011
1/05/11
12:48
PM PT
Neither BK nor I are totally up with the new look Phoenix Suns, but in fairness, neither are the Lakers. Those players we asked last night hadn't got much of a glimpse of Phoenix in the "
J.Rich/Hedo
out-
V.C./Gortat/Pietrus
in" era. After all, the newbies have only been eligible to play in five games, and Carter missed the first two of them with a bad knee.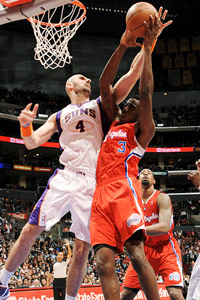 Andrew D. Bernstein/NBAE/Getty Images
Marcin Gortat has done a nice job fitting in on both sides of the ball in Phoenix.
Thus, I thought it was best to get the skinny from someone deep in the know. True Hoop blogger
Michael Schwartz
(
Valley of the Suns
) certainly fits the bill. Check out his take on the newest phase of what feels like a non-stop transition:
Andy Kamenetzky:
What's your impression of the new additions so far?
Michael Schwartz:
Individually they've been about what the Suns expected.
Vince Carter
has largely replaced
Jason Richardson
's scoring by averaging 18.0 points per game, although he's shooting just 42.6 percent from the field and has certainly lost a step or two.
Marcin Gortat
has gotten the bulk of the minutes at the center position coming off the bench and has proved to be the Suns' best big man, averaging 9.6 points and 5.8 boards per game while adding a defensive presence in the middle. He has showcased his athleticism in the pick-and-roll game and played better post defense than we're traditionally used to in Phoenix.
Mickael Pietrus
has contributed quality perimeter defense and his sniper shooting behind the arc (like when he hit five treys and scored 25 points against the Clippers), but he shot the Suns out of Sunday's loss to Sacramento by taking some bad attempts late.
They are fitting in just fine as individuals, but that chemistry just isn't there yet as a team. We have seen cutters zig when the passer think they will zag, which leads to turnovers. We have seen some forced shots from the newcomers that seem to be out of their comfort zone as they adjust to the new-found freedom in
Alvin Gentry
's system. And we have seen an overall lack of cohesiveness that's a stark contrast to the Suns team from a year ago.
May, 28, 2010
5/28/10
11:24
AM PT
Jared Dudley
and
Shannon Brown
aren't carbon copies of each other. Brown boasts considerably more elevation, while Dudley's a steadier threat from behind the arc. But there are obvious commonalities. Both are key reserves for teams vying to make the NBA finals. Both take pride in their defense and rarely take possessions off. Both are described as "energy players." Both have become crowd favorites as a result of their non-stop hustle, and
in the case of Dudley, unique personality
.
And both began making a name for themselves after getting traded out of Charlotte within a two month span of each other during the 2008-2009 season.
Dudley was the least established name among the principles changing squads in his four-player deal. (
Jason Richardson
with Dudley to Phoenix,
Raja Bell
and
Boris Diaw
to Charlotte). Ditto
Shannon Brown
when he and
Adam Morrison
arrived in L.A. for
Vlad Radmanovic
. Brown described himself as a "throw-in" member of a swap making the Lakers his fourth team in three seasons, and had been worried about staying the league. Dudley's time in Charlotte provided more stability (5.8 points per game as a rookie, 14 starts of 73 appearances), but he was still barely on the NBA radar when he was moved to Phoenix during his second season.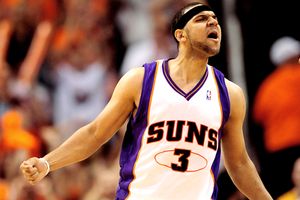 Julianne Varacchi/US Presswire
Jared Dudley's role in Phoenix fits like a glove.
"The trade was definitely for Jason," shrugged Dudley when I asked last week about the swap.
For their part, while the Lakers saw potential in Brown, their deal was primarily to move Radmanovic's longer contract for Morrison's shorter one.
So how did two players considered afterthoughts not just quickly find niches, but with teams better than the ones they left? Because counter-intuitive as it may seen, it's often easier for role players to blossom on a better roster than by competing for time on a lousy team with fewer studs. Obviously, it's not as simple as just landing with a contender. You still have to earn your way on the court. But the setting is often a crucial element, and nobody knows this better than Suns G.M.
Steve Kerr
, whose career was highlighted with five rings as a role player in the right situation and low-lighted with 12th man stints as a role player in the wrong one.
"I don't think there's any such thing as a role player on a bad team," explained Kerr. "Good teams have role players. Bad teams, the role players eventually start because the starters aren't doing very well and nobody has a role."
May, 19, 2010
5/19/10
12:17
AM PT
Given the Lakers scored
128 points in Monday night's Game 1 matchup with the Phoenix Suns
, this may be the wrong time to talk about how
Alvin Gentry's
crew has, in fact, improved on that end of the floor. But clearly they're not the Celtics, and the largest reason is due to a fundamental problem of personnel.
Their two best players-
Steve Nash
and
Amare Stoudemire
- are two of their worst defenders.
Obviously both need to be on the floor for Phoenix to be successful, but while solid teamwork or clever manipulation of matchups and schemes can often hide one weak link, it's hard to protect two players, particularly against a team like the Lakers.
Nash is what he is, a 36-year old point guard with All World offensive skills and average ability on the other side of the ball. Stoudemire, on the other hand, is supremely athletic but only recently seemed to take any interest in his defense. They- meaning people who watch him on a day in, day out basis- say he's improved, but "better" is a relative concept. I, for example, am better at basketball than my brother. In a pickup game, you want me, not him.
But you don't want me, either.
Offensively, the Lakers did myriad things right Monday night, and chief among them was taking advantage of Stoudemire's defensive deficiencies in a variety of ways.
Here are five examples:
HELP AND RECOVERY (or lack thereof...)


1) 9:00, first quarter:
The Lakers aren't exploiting Stoudemire in isolation, but exploiting what they know he won't do with consistency and effectiveness, namely help and recover.
Ron Artest
takes
Jason Richardson
left off the dribble from the right wing, putting Richardson on his hip. Artest is so big there's not much a defender can do once placed in that position except hope for the help to come. It should come from Stoudemire, guarding
Andrew Bynum
on the left block, except he makes virtually no move to stop Artest save appearing to put a forearm in his back as Artest lays it in with the left hand.
1a) 7:00, first quarter:
Artest again penetrates. This time, Stoudemire does help. Artest makes the right play, dishing to Bynum. Drew hesitates, giving Amar'e a chance to recover. Stoudemire takes a quick jump out, but it's more posturing than a real attempt to close on Bynum. Stoudemire doesn't contest in the slightest as Bynum finally makes his move, putting the ball on the floor and rising for the dunk. Ineffectual work at best from Amar'e.
Both examples show how Stoudemire doesn't frighten people inside. And perhaps why he finished
33rd in blocks per 48 minutes this season.
May, 17, 2010
5/17/10
11:47
AM PT
Finally, it's here.
The Western Conference Finals are upon us.
Lakers vs. Suns. Speed vs. length. Pick-and-roll vs. the triangle.
Jack
vs. the Gorilla. And while only one of these teams was expected to be here back in October when all the pundits made their preseason predictions, the Suns have been among the NBA's best teams for a while now. Their presence is no fluke.
PODCAST
Andy and Brian talk with former Clippers head coach Kim Hughes to preview the Lakers-Suns series, touching on aspects like L.A.'s size, Phoenix's shooting and the difference in basketball philosophy each team presents. Plus, the tricky prospect of pinning down Hughes' current job title.Podcast

Personally, I believe this has the potential to be a monumentally entertaining series. And to get a better feel for how it'll go down, Andy and I roped
Seth Pollack of Bright Side of the Sun
and
Michael Schwartz of Valley of the Suns
-- the
places to go for coverage of Steve Nash and Co. -- for a little Bloggers roundtable discussion.
Though in the world of the web, the table can be made any shape you'd like.
Let's get rolling...
Seth, I'll be honest. At the beginning of the season, I thought the Lakers might see Phoenix in the playoffs, but thought it would more than likely come in the first round, if it came at all. Truth be told, are you surprised the Suns are not only playing in the Western Conference Finals, but enter as one of the NBA's hottest teams? (No Sun pun intended...)
Seth Pollack, Bright Side of the Sun:
Awesome and thanks and lets get it on.
Anyone who is not surprised by the Suns getting to the WCFs is the homer of all homers. As in BIG YELLOW DOUGHNUT EATING HOMER. Doh!
Grant Hill
relayed a story recently when asked why he chose to re-sign with the Suns. It came down to NY if he wanted a "good city", Boston if he "wanted to win" and Phoenix if he wanted to "enjoy going to work everyday". Even he never expected to find all three in Phoenix.
Of course, the Suns only made it this far through a combination of fortunate factors. The Nuggets imploded
when [George] Karl had to leave. The Jazz roster regressed and then had injury issues.
Richard Jefferson
was a bust and the Spurs never had a front court past Timmy anyway. Blazers got hurt. Rockets got hurt. Even
Blake Griffin
got hurt.
Meanwhile, the Suns stayed very healthy this season, outside of
Robin Lopez's
foot and back.
Nash
and Hill both played the entire season and are still going strong.
Amare
recovered from almost losing his vision. Richardson is in tip-top form. The young bench players both improved and stayed fit.
On top of that, this team gelled like a peanut butter and banana sandwich with a side of chips and a glass of milk.
May, 13, 2010
5/13/10
11:18
AM PT
Before every series, players are given scouting sheets to supplement film and other work done in practice to help prepare them for the opposition. As an assistant to Byron Scott in New Orleans, coach Dave Miller was responsible for producing such reports, and then to help make sure they make it to a player's gray matter. Below, you'll see an example of a typical personnel report, what Miller might have given the Lakers were he on Phil Jackson's staff.

"I would have handed this out at the first practice after winning Game 4 in Utah," he says.

From there, coaches will go over the details and gauge absorption during the days before Game 1. How much guys actually internalize the material varies by player, but the best guys, Miller says, go well beyond what's handed to them. "The guys who get minutes, they pay attention. I've had guys in the NBA who will read it, learn it, and then come to me and say, "Hey coach, this guy does X or Y." And they're right, and I'll add it to the report. Kobe Bryant doesn't need this. This could maybe be a refresher course for him, because he's a student of the game."

Of course, none of us is Kobe, so the information below is quite handy when it comes to understanding the players L.A. will face starting Monday, and it's an interesting peek inside the preparation process for players and coaches in the NBA. Miller describes this sort of report as "meat and potatoes." Coaches try initially to boil things to the most important information, since (particularly against a team like Phoenix), a player will need to know the tendencies for multiple players on the opposition, if not all of them.

As more film is broken down, coaches will hand out DVDs to players, and continue to add chapters to the scouting book as the series goes on.

Click below to see the report...


May, 11, 2010
5/11/10
3:16
PM PT
With last night's 111-96 beatdown of the Utah Jazz,
the Lakers put to bed any concerns about extreme vulnerability created by a tough first round against Oklahoma City. A sweep will do that for a team's image. But if brooming an opponent reinforces a defending champion squad's credentials, it's only fair the same respect be accorded to
a challenger following suit.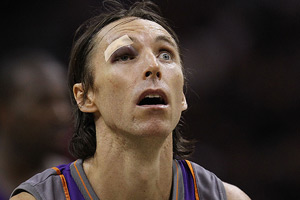 Eric Gay/AP Photo
You only need one good eye to see how well the
Suns are playing right now.
Last Sunday, the Phoenix Suns shocked the basketball world by making mincemeat of a San Antonio squad on a surprise roll of its own after dispatching the two-seed Dallas Mavericks. A black and silver crew once written off as too old and too unhealthy appeared to have reclaimed their bounce, making seemingly inevitable yet another showdown against the Lakers for Western Conference pink slips. San Antonio's proverbial window may be shutting, but there was still enough air separating glass and the sill to mount a surge.
Or... the window was on the verge of getting slammed shut with enough force to send shards flying everywhere.
To put it mildly, the Phoenix Suns controlled their series outright.
Steve Nash's
Game 1 was a masterpiece and his bloodied Game 4 iconic.
Amar'e Stoudemire
scored 20+ in three games.
Jason Richardson
drained a whopping 52.2 percent of his treys as the leader of a squad killing it from downtown. Between the constant hustle and energy of
Jared Dudley
and
Louis Admundson
, plus
Goran Dragic's
23 fourth quarter points in Game 3, Phoenix's bench made an impact. The defense, led by
Grant Hill
, has been scrappy. Every Spurs postgame presser featured a frustrated player with no answers.
Factor in how both of Phoenix's series were closed out on the road, and these desert dwellers don't appear a team to trifle with.
Of course, lest we forget, the Lakers are still in ownership of the O'Brien, a trophy being protected with home court advantage. In
Andrew Bynum, Pau Gasol
and
Lamar Odom
, they still boast a serious size advantage over Phoenix. In
Ron Artest
, they still have one of the NBA's best and most versatile defenders. And they still have a certain 2-guard known to fill up a bucket every now and then. For that matter, I'd still take the Lakers in a series. But I'd be stunned if they got it done in less than six, and I'd probably put my money on seven.
But that's just my take. I'm curious about yours. We'll obviously be talking about the series from every which angle but sideways, but I wanted to get some initial feedback from the Land O' Lakers blogosphere. Vote early. Vote often. Use your voice. These polls are what make America the greatest nation on earth.
May, 11, 2010
5/11/10
12:23
PM PT
Perhaps the toughest thing for players, fans, and media alike during the playoffs is to avoid becoming a prisoner of the moment. Teams can fluctuate wildly, strengths and weaknesses often masked by matchups and the sort of performance blips able to alter the course of a series. They can look incredibly vulnerable one moment, then hoist a Larry O'Brien the next (see Celtics, Boston 2007-08), or look totally dominant but then fall short (see Lakers, Los Angeles 2007-08). All the while, infinite definitive and declarative statements are made crowning or burying a squad.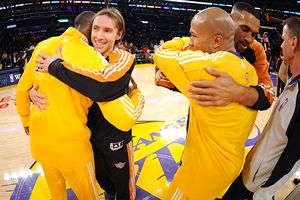 Noah Graham/NBAE via Getty Images
With a week to go before the games actually start, there's plenty of time for hugging.
It's particularly true of a team like the Lakers, for whom "the now" is parsed and dissected like no other team in basketball. Forget game-to-game- the Lakers are often tagged as champions, fakers, pretenders, world-beaters, too-thin, too-deep, complacent and focused within any 48 minute stretch. Sometimes within the same quarter.
They were undoubtedly on shaky ground heading into the playoffs, and I warned it would be a tough slog for the Lakers en route to what I still believed was a Finals appearance. I figured they would get better as they went along, but there would be some extremely rocky points along the way in a brutal Western Conference. Any missteps could cost them a third straight trip to the Finals. Then things, as they often will, started happening: Denver fell apart, Portland effectively lost Brandon Roy, and the Jazz were left without
Mehmet Okur
and a rusty
Andrei Kirilenko
.
Suddenly a pothole-laden road got a fresh paving.