Los Angeles Lakers:

Jason Thompson
November, 21, 2012
11/21/12
9:47
AM PT
With the Lakers now north of the .500 mark, the early-season chaos has increasingly given way to an atmosphere of normalcy. However, the skeptic would note how, Tuesday's win over Brooklyn the noted exception, each win has come at the expense of nobody terribly impressive. However, the Lakers' early schedule ease is an element they can't control. They can only control the results, and an opponent like Sacramento is a gift horse than can't be looked in the mouth, especially given how the team is still playing catch up from a 1-4 start. It's important the Lakers capitalize on this momentum, because games will soon consistently offer more legitimate challenges.
With that in mind, here are a few items to be mindful of once the ball is jumped.
1) The DeMarcus effect
In the first meeting of these teams,
the Lakers controlled what eventually became a 13-point victory from start to finish
. However, the Kings were also competing without the services of DeMarcus Cousins,
who'd been suspended for a post-game confrontation with Spurs analyst Sean Elliott
. (Is it even possible for an infraction to feel more "DeMarcus?") That's not to say Sacto would have won with Cousins available, but he certainly changes the complexion of the game. Easily the best player on the Kings, he's their most reliable source of inside scoring, not to mention the most intimidating interior defender. (As our friend James Ham noted in our first preview,
Cousins is still prone to lapses, but his effort and effectiveness have notably picked up this season
.)
With Cousins on hand, the lives of Pau Gasol and Dwight Howard, who combined for 41, instantly turn more difficult. That's hardly the same thing as insurmountable, of course. Both represent quite a handful for Cousins as well, and over the many battles between he and Gasol, the Spaniard has typically come out on top. (On a side note, a seemingly mutual disdain between Gasol and Cousins creates a fun battle within the battle. I'll set the over-under for the amount of times they get tangled up, exchange dirty looks, and generally tussle at "10," then bet the over.) The Kings lose more often than not with Cousins against anybody, much less a squad with the Lakers' absurdly talented frontline.
Still, the task at hand for Gasol and Howard is considerably loftier when Cousins, rather than James Johnson, flanks Jason Thompson.
November, 11, 2012
11/11/12
4:36
PM PT
With so much tension swirling around the
Los Angeles Lakers
since their poor start, it wasn't shocking to see a lot of energy channeled into
a walloping Friday win over Golden State
.
This was a team clearly in need of a cathartic release, and
Mike Brown
's dismissal, whether consciously or not, provided the outlet
. Collectively, the roster exhaled.
But with those circumstances no longer providing fresh adrenaline, it will be interesting to see how the Lakers conduct themselves.
The Kings are dealing with their own struggles, but they have enough talented -- if likely mismatched -- players to potentially keep their hosts busy. With a serious test against San Antonio looming on Tuesday, it would be great if the Lakers capitalized on the chance to continue building momentum.
For perspective on Sacto, I conducted an IM exchange with James Ham from the TrueHoop network's
Cowbell Kingdom
. (It should also be noted our conversation took place before
the NBA suspended DeMarcus Cousins two games for a confrontation Friday with Spurs commentator Sean Elliott
.) Below is the transcript.
Andy Kamenetzky
: Like the Lakers, the Kings have come out of the gate 2-4. What's been your general impression of the team?
James Ham:
The Kings are a young team and while they are much improved, they still make a lot of mistakes. Like the Lakers, they have a lot of new rotational pieces and they are still searching for the right mix on the floor. At 2-4, the Kings shouldn't be down on themselves. They very well could be 3-3 or even 4-2. They have been extremely competitive in almost every game so far.
AK:
Sacto's defensive numbers have been pretty good, despite coming off a season in which they were among the league's worst in most categories. Byproduct of a sample size, or has this team legitimately improved the lockdown?
JH:
They have improved greatly on the defensive and it's only going to get better as they continue to build chemistry, especially on rotations.
DeMarcus Cousins
is developing into a very high-quality post defender, but he has had issues with foul trouble. The addition of
James Johnson
was huge, but the biggest difference so far this season has been the effort of
Tyreke Evans
. He is developing into an elite perimeter defender in the mold of
Andre Iguodala
.
AK:
The Lakers have trouble hanging onto the ball and aren't the world's greatest team defending in transition. The Kings have done a good job inducing steals this season, but how successful are they at converting turnovers into points?
JH:
The Kings should eat the Lakers alive in transition. Both Evans and
Marcus Thornton
are great finishers on the break.
Isaiah Thomas
and
Aaron Brooks
are lightning quick, and
Jason Thompson
is a very underrated big who can really get up and down the floor. The Kings like to push the tempo. They are much better in transition than they are in the half court. Defense and rebounding sets up the transition, so they need the defense to work to make the offense work in many cases.
Who will be coaching the Lakers tomorrow against the Kings? It sounds like Phil Jackson is ready to come back into the fold.
AK:
Save an unexpectedly fast resolution, it will Bernie Bickerstaff ... who, by the way,
boasts the greatest winning percentage in franchise history
!
April, 26, 2012
4/26/12
8:26
AM PT

By Brian Kamenetzky
ESPNLosAngeles.com
Archive
Kobe Bryant needs 38 points in Thursday's regular season finale against the Kings to capture this year's scoring title over Oklahoma City's
Kevin Durant
.
Bryant has said repeatedly over the last few days he doesn't particularly care if he wins. The Lakers are expected to sit at least some of their starters for most, and perhaps all, of tonight's game -- totally meaningless as far as the standings are concerned -- but
Mike Brown
said Wednesday
he'll give each player the option to suit up or not
. Meaning if he chooses, Bryant can lace up his Kobe VII's and see what comes of it.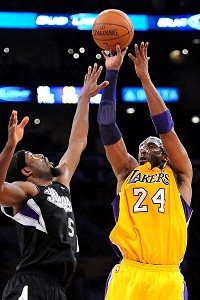 Jayne Kamin-Oncea/US Presswire
If Kobe Bryant wants to get the scoring title, he's absolutely entitled to try.
Should he?
With the playoffs starting Sunday, plenty of Lakers fans would prefer Kobe kick up his feet and relax. Having spent seven games in street clothes with tenosynovitis in his left shin and only now getting back into the lineup, why risk injury in a game that doesn't matter? The better safe than sorry logic is pretty clear. Some might even consider playing just to get a scoring title selfish, putting personal glory ahead of the team's best interests.
They'd be wrong. If Bryant decides to sit, or play a quarter or a half, that's fine. I'd love to see him in street clothes, where nothing can go wrong, but if he wants to go as long as it takes to get that 38th point, more power to him. No player in the NBA works harder on his game or his body, both requiring more will with each passing year, or tries harder to win. At 33 years old, with 16 seasons under his belt and the equivalent of about 2.5 more in playoff games, to lead the NBA in scoring would be a remarkable accomplishment, particularly given Kobe's position on the floor.
I believe Bryant when he says it's not very important and resting would certainly prove his point, but if he changes his mind nobody should hold it against him. There is room in team sports for individual honors and accomplishment, particularly for players who have put in the hours Kobe has. It's not the ultimate prize, but still a pretty good one.
As for the rest of the game ... well, there's just not that much to watch. There could be significant burn available for
Andrew Goudelock
and
Darius Morris
, and eyes will be on
Devin Ebanks
, suddenly thrust into a potentially prominent role this postseason. Plus, Lakers fans (at least those who haven't been hanging at D-Fenders games) will get their first look at
Christian Eyenga
, acquired in the
Ramon Sessions
deal on deadline day. With
Metta World Peace
suspended and
Matt Barnes
out with an ankle injury, the Lakers are thin at small forward. If you ran out and bought an "88" jersey right after the trade, Thursday is your day.
Jordan Hill
gets a chance to follow up on his outstanding game Sunday against the Thunder, as well.
That's about it.
As for the other team, our man Jonathan Santiago at TrueHoop's
Cowbell Kingdom
(Tweet him
here
, Tweet them
there
) was kind enough to answer a few questions for us, looking back at another lottery run in Sacramento ...
December, 26, 2009
12/26/09
5:20
PM PT
Entering last night's loss to Cleveland, the knock on the Lakers was how few tests they'd encountered while forging a 23-4 record.
Only nine games on the road.
Only ten games (at the time) against teams above .500 and as ESPN Los Angeles'
Dave McMenamin
points out,
the Lakers are now barely above .500 themselves in those matches
. Sure, the opening 11 games featured no
Pau Gasol,
and
Luke Walton's
absence definitely has impacted the second unit, who aren't playing up to snuff. But all in all, those crying a river for the Lakers were a decided minority. It's hard to argue the waters have been particularly choppy.
Perhaps that changes a bit tonight, and I wonder if that's necessarily a bad thing.
It's been a pretty whirlwind 24 hours for the purple and gold. The fall to the Cavs was absolutely embarrassing. Embarrassing because it was on national TV. Embarrassing because the Lakers were clearly outworked, outsmarted and out-executed by Cleveland. Embarrassing because of the histrionic-heavy reactions to the way the game was being called and their own ineptitude, lowlighted by
Lamar Odom
getting tossed for two technicals. Embarrassing because the Staples patrons behaved in equally unflattering fashion, littering the court with foam fingers and the occasional stray water bottle in response to lackluster play or refereeing (or both). As if that's not enough,
Ron Artest
reportedly took a tumble down a flight of stairs and
definitely suffered a concussion
. He's definitely out for tonight's game against Sacto, and day-to-day from there. And lest we forget, there's the actual game itself. The back end of a back-to-back, and the Kings are performing well beyond expectations (especially without K
evin Martin and Francisco Garcia
) and particularly at home, where they're 10-4.
Am I the only person curious to see how the Lakers come out?