Los Angeles Lakers:

Jeff Foster
December, 6, 2011
12/06/11
10:58
AM PT
Sometimes only certain players can adequately answer a team's "Help Wanted" ad.
The Lakers, for example, don't have an amorphous need for someone with good handle and passing skills, but a genuine need to upgrade at point guard, which can only be satisfied with a point guard. Unfortunately for them (but fortunately for me, at least in regards to this post), the free agent rolls at the 1 are so thin and their means of improving the roster so limited, for the Lakers to solve that particular problem through a straight signing is basically impossible.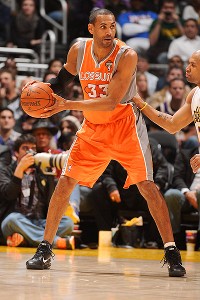 Andrew D. Bernstein/NBAE/Getty Images
On the list of players L.A. has even a reasonable chance to sign, Grant Hill fills a lot of needs. Plus, he plays the piano.

Other needs remain relatively position specific, but it's easy to get bogged down in the classification on a player's bubble gum card and lose something often far more important: Skill set. Much of what the Lakers can use might be provided just as easily from a power forward as a shooting guard.
What follows, then, is the Skill Set Guide to Free Agency. I limited this list to players the Lakers might realistically have a chance to sign with only a mini mid-level (worth just over $9 million for three years) and veterans minimum deals,
all relatively disheartening stuff when pitted against the excitement of Chris Paul/Dwight Howard talk
.
But let's assume for a mundane minute the Lakers have to improve without blockbuster trades. They have a lot of boxes to tick, and in the end the players ticking the most good ones might be best, even if positionally the fit isn't perfect.
SHOOTERS -
Players who can help stretch the floor in one way or another...

•
Grant Hill, F, UFA (Phoenix)-
Not traditionally thought of as a shooter, Hill has in his last two seasons shot 39.5 and 43.8 percent from 3, and is a high end mid-range shooter, both of which would come in handy.
•
Shane Battier, F, UFA (Memphis)-
Big on the corner 3, generally in the mid-to-high 30 percent range from downtown. Not a deadeye, but limits poor shot choices.
•
Mike Dunleavy, G/F, UFA (Indiana)-
In theory, at least. In the last two seasons in which he was (more or less) healthy, Dunleavy was strong from downtown and in long twos.
•
James Jones, SF, UFA (Miami)-
Per John Hollinger, Jones took exactly one shot at the rim in over 1,500 minutes. Why? He's shooting lots and lots of 3's, with a career mark at 40 percent.
•
Peja Stojakovic, SF, UFA (Dallas)-
Certainly showed Lakers fans he can still bomb away. When healthy doesn't dip far below 40 percent from 3, often rises well above.
•
Daequan Cook, SG, RFA (Oklahoma City)
- Hit 42.2 of his 3's last year. Has advantage of youth, as well.
•
DeShawn Stevenson, SG, UFA (Dallas)-
In his last two healthy seasons ('07-'08, '10-'11) was around 38% from beyond the arc.
•
Jason Kapono, F, UFA (Philadelphia)-
Does almost nothing else well, but as a career 43.7 3-point shooter can space the floor.
(NOTE: Kapono has already visited with the Lakers)
•
Reggie Williams, SF, RFA (Golden State)
- Almost surely out of L.A.'s price range, in part because he's 25 and shoots so well from downtown (42.3% last season).
•
Marco Belinelli, SG, UFA (New Orleans)
- Never worse than 38% from 3 during his four year career, and solid with long 2's, as well.
•
Anthony Parker, G, UFA (Cleveland)
- From 3, he's trending down from 44.1 percent in '06-'07 to 37.9 percent last year, but remains a productive performer from distance.
•
Michael Redd, G, UFA (Milwaukee)
- It' almost impossible to predict how the market will treat Redd, who was once a top shooter/scorer but has basically lost the last two seasons due to injury.
•
Other candidates: Vladimir Radmanovic
(seriously),
Mo Peterson
(in theory, though recent shooting numbers are very questionable),
Steve Novak
,
Roger Mason Jr
. (see Peterson, Mo).
FRONTCOURT DEPTH
- Guys who can the burden on Pau Gasol and Andrew Bynum...
November, 26, 2011
11/26/11
7:28
AM PT
While everyone is
excited players and owners have reached a tentative deal to play ball again
, the reality is a season starting on December 25 doesn't leave
Jim Buss
and
Mitch Kupchak
much time to tweak a roster that, while not in need of a major overhaul, definitely needs some tweaking. A few after market upgrades to match a still-solid engine and transmission, so to speak.
No matter how the fine print of the CBA reads, the Lakers, well over the cap and into the luxury tax, will not only have a small window, but also won't have a ton of options available to make those changes. Meaning they'll need to shop quickly and wisely.
Below are five big areas of need,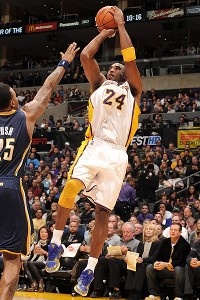 Evan Gole/NBAE/Getty Images
The Lakers need a knock down 3-point shooter to space the floor for Kobe Bryant and their bigs.

1. Outside Shooting:
If there was a single issue dogging the Lakers offensively last season, it was an inability to force opposing defenses to respect them from the perimeter.
Derek Fisher
, who took just under two 3's a game, was the only
Laker shooting 40 percent
(39.6, technically, but we'll round up) from downtown. From there,
Lamar Odom
and
Steve Blake
were around 38 percent,
Metta World Peace
was a tick over 35, and
Kobe Bryant
, who led the team with 4.3 triple attempts per game, hit only 32.3 percent of them. In the playoffs, things were even worse. 28.9 percent as a team, and only one guy (Fish) converted more than one of three.
Blake
had performed at a much higher level
in the seasons leading up to signing with the Lakers, and it's reasonable to expect he'll improve (I say this not only because I advocated so strongly for him last offseason, and would like to be proven correct). Unfortunately, Odom's mark was a career high, meaning regression wouldn't shock anyone, and Kobe has never been an efficient shooter from downtown.
Andrew Goudelock
arrives from the College of Charleston with the pedigree of a shooter, but even if he makes the team-- big if-- playing time will likely be scarce. Meaning if the Lakers want a pure 3-point specialist to stretch the floor, they'll have to do some shopping.
Lest you think the Lakers were lacking from 3, but gangbusters everywhere else, via Hoopdata.com,
the Lakers were 26th in the NBA from 16-23 feet.
Generally speaking long 2's are the worst shot in basketball, but they'll happen and it would be nice for the Lakers to convert at a higher rate.
As a team, the Lakers can absolutely abuse the opposition in the paint, whether with
Andrew Bynum
,
Pau Gasol
, and Odom doing what big guys do down on the block, or with Kobe operating in the high, mid, or low posts, making life miserable for defenses. Inside play will remain their calling card under Brown, but without the ability to knock down jumpers with consistency, as they did in last season's early run of dominance, the offense will never operate with the efficiency suggested by their talent.
2. Point Guard Productivity:
Ask
John Q. Lakers Fan
where the team most needs improvement and he'll likely say point guard. And with cause!
As laid out on Hoopsstats.com
, the Fisher/Blake tandem scored the fewest points per game with the fewest assists than any other group in the NBA. They had the lowest combined field goal percentage, and, had the lowest efficiency and efficiency differential.
All appropriate caveats (
Phil Jackson's
offense didn't feature the PG, Fish and Blake are low level offensive options for the Lakers, etc.) aside, that ain't good. Unfortunately, the prospects for improvement are limited. Particularly after a grueling offseason of marathon CBA negotiations, it's hard to picture a 37-year old Fisher elevating his numbers all that much. Blake has real potential for improvement in a more traditional system, but even then it's important to remember he'll then be playing like Steve Blake should. He won't suddenly morph into
Russell Westbrook
.
Unfortunately, whereas the Lakers have some flexibility in how they address the shooting issue -- new blood can come in the backcourt, on the wing, as a stretch four, and so on -- only a point guard can improve the depth at point guard. It's a serious reach expecting contributions from
Darius Morris
,
the free agency rolls at the position are extremely thin
, and given their dearth of appealing trade chips beyond team cornerstones Bynum and Odom, cobbling together a solid deal in a tiny preseason while everyone is still digesting the new CBA feels like a reach.
Is the point a weakness? Yep, but more likely than not, the Lakers will have to make do, and look to compensate by strengthening the team somewhere else.
3. Center Depth:
The roots of Gasol's postseason meltdown could very well be found in
Theo Ratliff's
bum knee.
July, 28, 2011
7/28/11
11:31
AM PT
The Lakers entered last season with, at least in theory, a decent plan of attack in regards to center depth.
Theo Ratliff
had all the trappings of a perfect third center: A ring-seeking veteran who would be happy with his role (unlike
D.J. Mbenga
), a long track record as a shot blocking defensive presence, and just enough skill at the other end to serve as a reasonable stopgap should he be pressed into extended minutes for a game here or there.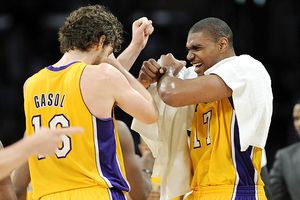 AP Photo/Gus Ruelas
What exactly are Pau Gasol and Andrew Bynum doing? Not sure, but I'm guessing it means, "Don't get hurt, Andrew, and see if you can get Mitch to sign a real backup just to be safe."
Plus, he was cheap, an important consideration given the team's cap constraints.
Oh, the best laid plans. Turned out Ratliff was a disaster, not because he played poorly but because for all intents and purposes, he didn't play at all. 71 minutes spread over 10 games. His absence, combined with
Andrew Bynum's
slower-than-expected recovery from knee surgery following the 2010 playoffs forced
Pau Gasol
into far more time on the floor than the Lakers wanted. A season that started with Pau in the (very) early conversation for MVP ended with a mental and physical postseason disaster, leaving a huge swath of fans across L.A. wondering if he's cooked for good.
It lets Gasol off the hook too easily to pin all his late season instability to the minutes piled up while Bynum and Ratliff were sidelined, but it likely laid the foundation. All the spry from a summer of rest was sucked out of his legs, and he never had a chance to nurse his own hammy and knee tweaks.
In short, the Lakers season was scuttled in part because a player who wasn't supposed to play anyway, couldn't. Erosion from the bottom, not the top.
Even with Bynum expected to start next year healthy, leaving the Lakers a robust twosome on the block, they'd be insane not to bolster the center position this offseason. It's not their only need, but is higher on the list than most would suspect. The good news is, in contrast to say point guard, where the
list of available free agents
is more depressing than a
Morrissey
anthology, there are actually a relative glut of solid 5's on the market, meaning the Lakers could very well get a higher quality solution at a cut rate price.
So without further ado, here are some of the really, really tall people the Lakers can shop this summer/fall...
THE "PLEASE DON'T LEAVE US LETTERS IN OUR INBOX ABOUT THESE GUYS" GUYS:
Tyson Chandler (Unrestricted Free Agent, Dallas)
Nene (UFA, Denver)
Samuel Dalembert (UFA, Sacramento)
Greg Oden (Restricted Free Agent, Portland)
Spencer Hawes (RFA, Philadelphia)
Life is too short-- for me and for you-- to explain why Chandler and Nene, both coming off top shelf campaigns, probably wouldn't be happy serving as Bynum's backup at a reduced salary. While you may have spent the last year or so thinking Dalembert's first name was actually "The Expiring Contract Of," he's still grossly overqualified for the gig, and even at a major reduction from the $13.5 million he earned last year, likely too expensive. The $8.8 million qualifying offer extended to Oden by Portland already puts him out of L.A.'s price range, and call me crazy, I wonder if as an insurance policy on Bynum, could be viewed as a shaky choice. Maybe it's just me. The Sixers aren't letting Hawes, at 23, a decent shooter who improved his rebound rate last season, go. Not for what the Lakers can offer.
YES, THEY'RE OLDER, BUT WITH AGE COMES WISDOM, RIGHT? WISDOM, WITH A SIDE OF "WILLING TO PLAY 10 MINUTES A NIGHT":
Jeff Foster (UFA, Indiana)
Joel Przybilla (UFA, Portland)
Kurt Thomas (UFA, Chicago)
In a perfect world, the Lakers could acquire a young, athletic, highly durable center with great potential, one they could groom for what might be a bigger role down the road. In this one, such a player isn't as realistic an option. Instead, most neatly fitting the job description are older vets seeking a chance to contribute on a championship caliber team.
July, 11, 2011
7/11/11
6:56
PM PT

By Andy Kamenetzky
ESPNLosAngeles.com
Archive
At some point, the owners and players will land on a mutually acceptable Collective Bargaining Agreement and put an end to the lockout. When that happens, teams will begin chasing free agents. Who should the Lakers pursue? Or rather, who can the Lakers pursue, given their salary cap constraints?

The K Bros and 710 ESPN basketball analyst Dave Miller offer suggestions.