Los Angeles Lakers:

Jerry Sloan
November, 9, 2012
11/09/12
11:23
AM PT
The Vote of Confidence strikes again.
About a day after Lakers executive vice president Jim Buss
expressed support for head coach Mike Brown
, the
Lakers have fired him
.
Not going to lie -- I'm a little surprised the Lakers moved this fast, but
as I wrote last night
the most compelling reason to make a quick change is time. The Lakers don't have much of it to work with, and if management thought in holding off they'd likely be having the same internal conversations about Brown's viability six weeks from now -- and clearly they did -- today's move is the correct one. Without a doubt, even if the Lakers turned things around on the upcoming homestand, Brown would be a focus of attention throughout the year, and into the playoffs. Could he build the sort of credibility with his team required to win a title, as Erik Spoelstra did in Miami?
They decided not to find out.
ESPNLA's Ramona Shelburne reports either Bernie Bickerstaff or Chuck Person will coach the team tonight against Golden State, and going forward on an interim basis.
(UPDATE: It will be Bickerstaff.)
The big question now is obvious: Who is the team's next head coach?
Because it's the Lakers, the names most likely thrown around will have the highest Q-ratings on the list of available coaches. It'll start with speculation about Phil Jackson, and move through Jerry Sloan, Nate McMillan, and Mike D'Antoni. Even Jeff Van Gundy's name will be tossed around, despite the way things ended between Dwight Howard and Jeff's brother Stan. But as this afternoon, all indications are there is nobody lined up for the job. Given how much a lack of gravitas hurt Brown both with his team and the media, it would be surprising to see the Lakers go with an unproven guy. (The possible exception being Person, a very well regarded assistant seen around the league as an up-and-comer.)
They'll try to go big, and generally speaking when the Lakers try to go big, they succeed.
The important thing for the Lakers is to properly diagnose the problem. For all the consternation over the Princeton offense, it was the defense repeatedly failing the Lakers this season. For that matter, the Lakers regressed on that end last season, too. So while a guy like D'Antoni would certainly generate incredible excitement, is he the guy who will fix them defensively? Is Sloan's personality the right fit? Is Phil willing to come back, and if he's willing are the batteries fully recharged? Because in his last season, Jackson didn't seem to be all there. A return for Brian Shaw seems highly unlikely, given how much acrimony surrounded his interview process following Phil's departure.
The move will certainly shake up the team, and drive home the urgency of the season. The Lakers aren't screwing around, and will do whatever it takes to preserve the first of what appears to be a two-year window with this group. It started today with the firing of Brown, and if things don't get better could extend to changes in the roster.
Nor will they wait too long to find Brown's replacement. Again, time is of the essence, as demonstrated by today's events.
November, 8, 2012
11/08/12
6:32
PM PT
Approach me on the street and accuse me of being an alcoholic, and I'll deny it.
"Of course," you might say. "Denial is the first sign of being an alcoholic."
True enough (according to the literature, at least), but it's also the first sign of
not
being an alcoholic.
In many ways, that's the dynamic at play whenever management is asked for a vote of confidence on the head coach. The answer is almost never "I hope he's renting" and encouraging words no matter how flowery are often followed by the axe. The powers that be express support because doing anything else is counterproductive. Denial plays like denial, even if it's genuine.
In Los Angeles, the hot seat questions have already arrived in earnest. Judging by our
Twitter feed
and comments left on the blog after Wednesday's
96-85 loss in Utah
dropped the Lakers to 1-4, a healthy dose of purple-and-gold faithful are ready to cut ties with coach Mike Brown.
They hope, then, the (vote of) confidence and patience shown him by Lakers executive vice president
Jim Buss, via ESPNLA's Ramona Shelburne
, is merely a misdirection designed to distract while he dusts off his coaching Rolodex. It doesn't sound that way:
"I have no problems with Mike Brown at all," Buss said. "He just works too hard and he's too knowledgeable for this to be happening.

"So either the system is flawed or something's going on. Or, like the Triangle, it's very hard to pick up and understand. I'm not a basketball mind like he is or the players are, and the players are fine with it, so I just have to be patient."

Buss says he has been gauging player reaction to the Lakers' new Princeton offense, Brown and how they're dealing with the slow start by reading their public comments and talking to them directly. On Tuesday afternoon, he went down from his office to the court during practice to take their temperature, and he said he found things to be rather calm.

"Kobe [Bryant] and I have a relationship where he can just look at me and say, 'Everything's cool,' " Buss said. "So yesterday during practice, I gave Kobe a quick glance, and everything was cool." ...

... In Buss' own words, "this team was built to win now." So just how patient can he be?

"You have to give it time to understand [what's going on]," Buss said. "I don't know if there's an actual game total that would make me impatient. I know if we're 1-15, I don't think that would be very good. I'm sure that would be a panic button. But at this time, I'm fine with what's going on. It's a learning process for the players. As long as everybody is on the same page, I think we're fine."
For the record, Brown won't survive a 1-15 start, but the reality is a) should it happen I won't be around to report the news for I will already have taken the family into the K-Bros Blog Bunker (or "Blonker"), and b) the Lakers won't be 1-15 after 16 games. They won't be 12-4, either, but somewhere in the middle. By every indication, Jim Buss likes Brown and believes he's a good coach. Moreover, philosophically, the Lakers aren't a knee-jerk group. They don't make reactionary choices. Should something catastrophic occur -- the horrible record extends near Thanksgiving or clear indications Brown has totally lost the team -- any decision on Brown becomes easy.
More likely, though, it won't be that cut and dried. In a season with so much on the line, Buss and Mitch Kupchak could face some extremely tough decisions.
April, 1, 2011
4/01/11
10:52
AM PT
A game against a potential second-round opponent with playoff seed implications is a tough act to follow, much less a game against a potential second-round opponent with playoff seed implications and six ejections (
five players
and a half-naked weirdo), fights in the stands,
Mark Cuban eating crow about Ron Artest's decision-making skills
and a 28-point margin of victory.
Thursday's win over the Dallas Mavericks was certainly one for the books, making the second game of a back-to-back in Utah feel even more inevitably anticlimactic. After all, the Jazz have been in a free fall since
Jerry Sloan
resigned and
Deron Williams
was dealt. The Jazz are 2-8 in their past 10 games and losers of six straight heading into Friday,
paced for just their second losing season since 1983
(despite being
14 games above .500 as recently as Jan. 14
). They also are down several players due to injury and just
signed fringe NBA player/D-League mainstay Kyle Weaver out of necessity
.
In other words, it's a game with odds just lopsided enough to make Lakers fans feel simultaneously cocky and nervous.
For more perspective on the Jazz, we spoke with
Spencer Ryan Hall
from
Salt City Hoops
(TrueHoop network). Here are a few items to be mindful of once the ball is jumped.
K Bros: Is there anything notably different about the Jazz in the
Ty Corbin
era (beyond the tailspin)? Has the style of play or rotation changed significantly? Are players still working hard for him?
Spencer Ryan Hall
:
Besides the obviously terrible play, the most surprising has been the way comments from players now include a lot of excuses. One of my favorite things about a Jerry Sloan press conference was listening to him bristle and respond to questions that included possible explanations for mistakes or losses. This season has provided some legitimate excuses for poor play, but I miss the fighting spirit from the players and coaches.
From a rotation standpoint, Corbin seems prepared to play out the string with the rookie trio of Derrick Favors, Gordon Hayward and Jeremy Evans getting a lot of minutes. I don't think any players have quit, but with injuries and confusion and inexperience, the product on the floor hasn't been close to what Jazz fans expected at the start of the year.


February, 12, 2011
2/12/11
9:34
AM PT
It's time for fresh audio!
In the newest installment of the show, Andy and I hit the studio Friday morning in the wake of L.A.'s
big win Thursday night against the Celtics in Boston
. It was an important evening, building on two other solid efforts kicking off the trip (and made even better with Friday's dusting of the Knicks at the Garden). Does finally getting that "signature victory" this season end all the trade talk? Should it? We dive into all the reasons the Lakers might have to make a deal, and sort the good from the bad.
PODCAST
Andy and Brian talk about the Lakers' improved play, blockbuster trade philosophies and Pau Gasol's black swan transformation. Oh, and Sasha says he can put up 20-30 points a night easily, but he's just not interested.

Podcast

One thing is certain: Fear of a starless future after
Kobe
eventually declines is a horrible reason to make a potentially franchise altering move right now. The expiration date on 24,
as evidenced by Bryant's performance last night
, is still far enough away to allow a little flexibility.
From there, it's on to improvement from
Pau Gasol
in the wake of Kobe's "black swan" pep talk, now playing much more like the November edition of himself, the one some considered an MVP candidate.
In six games this month
, Pau is shooting over 62 percent, scoring 22 points, hauling down nearly 10 boards, and delivering 1.5 blocks a night. He's not the team's best player, but often it's the second and third guys in a team's hierarchy determining who wins in June. This is the Gasol the Lakers need going forward.
From there (around the 18 minute mark), Andy and I get into the quote of the year, from former Laker
Sasha Vujacic,
who set a career high this week with 25 points as the Nets beat New Orleans 103-101.
To say the least, his performance left him feeling... emboldened
: "I know I can score 20 or 30 points anytime I want," Vujacic said to the New Jersey Star-Ledger. "But I'm not that kind of a guy. I want to win. I want to play the right way. Some games I'm going to get 10 shots, some games 15 shots; sometimes, especially coming off the bench, you're going to feel cold, and you need time to get in the rhythm. But right now, what I care the most is for us to become a better team. And we are really capable of doing that."
We're both happy Sasha has found success with the Nets, but really, dude? Really? The amount of places upon which a person could call horsepucky regarding that statement is nearly infinite. 20 or 30 anytime you want? Slow down, Sasha.
Finally, we cap it with a few thoughts on
Jerry Sloan's departure from Utah
.
January, 25, 2011
1/25/11
1:30
PM PT
As I mentioned in Monday's practice report, awareness was expressed about the commonality between
the Mavericks' desperate situation last week, when a six-game losing streak was snapped against the champs, and the Jazz's this evening
. Whether this proves mere lip service against a visitor on a four-game skid (all on the road, no less) with 16 consecutive losses at Staples remains to be seen, but at the very least, the issue has been acknowledged. No give-backs allowed.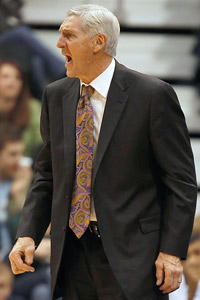 AP Photo/George Frey
Jerry Sloan is not happy these days with his team.
Pau Gasol
also noted the importance of this game as a table-setter. It's the kick off for five consecutive home contests, three of which are the Jazz, Celtics and Spurs. From there, it's a seven-game roadie leading into the All-Star break, and only Cleveland qualifies as a bonafide cupcake stop. Tonight marks the start of an undoubtedly challenging stretch, and the Lakerscan't afford to drop a game against a reeling team because they either relaxed (as was the case against Dallas) or never showed up to begin with.
With that in mind, I called upon
Spencer Ryan Hall
from True Hoop's
Salt City Hoops
for his take
on the Jazz's malaise
. Hall expresses optimism at the team's eventual ability to weather the storm, but admits the lack of inspiration prompted by Utah's recent play.

Andy Kamenetzky:
The Jazz enter this game on a four-game losing streak. What's been the cause of the skid and how can they fix it?
Spencer Ryan Hall:
Any time a team has to face a murderers' row like the Wizards, Nets and 76ers, things are going to be tough, right? I kid because the Jazz just finished what should have been the easiest stretch of the season over the last few weeks. But it just wouldn't be this year's style to do anything the easy way. It looks like the Jazz forgot to pack their second half-game on the recent road trip. I'm just hoping the tendency to fall behind big and roar back late will be a description of the season and not just a few games.
As for a fix, it isn't in
Jerry Sloan's
nature to tinker with the lineup, but could it get any worse? There have been several games this season when
I've
had the same number of points and rebounds as some starters after multiple quarters.
January, 24, 2011
1/24/11
9:12
PM PT
When Jerry West talks about the Lakers, people tend to listen
. Thus, his recent comments about the two-time defending champs
being too told to D up
certainly prompted the media for responses today in El Segundo. As expected, nobody in their right (purple and gold) mind would refer to The Logo as a "crazy ol' coot who's a couple of tacos short of a combo platter." Thus, any disagreement was presented in the most respectful of tones.
But there was indeed disagreement.
"You probably won't get me to respond in anyway negatively towards Jerry West. I probably wouldn't be here if it wasn't for him," smiled
Derek Fisher
of the icon who drafted him and
Kobe Bryant
back in '96. "I won't respond specifically to him, but anybody else that has anything to say about the way we've been playing defensively is just unfounded and not true. Statistically the numbers are there. In the last 10 or 11 games, we've seen the difference."
Pau Gasol
concurred with Fisher's assessment of the recently improved, and addressed the notion of being too long in the tooth. "I don't think we're old enough not to be able to play defensively efficiently," insisted Gasol. "We're gonna get it done and we're getting it done at times. We're not a group old enough not to be able to stop guys and collectively support each other."
For his part, Kobe sees successful defense as dependent more on teamwork and playing to strengths than youth:
"For us, it's about playing as a unit defensively. It's not necessarily, you know, individually, your athleticism or everything like that. It's really guys being on the same page.
"It's great coaching as well. It's going over it every day. And guys being committed to it. We have that here and I think as a consequence, we're a great defensive team."
For what it's worth, I totally agree with those downplaying West's comments. Not that more speed or youthful legs would be a
detriment
. But more often than not, I think the Lakers' defensive lapses are the result of a lack of focus or execution on either side of the ball, rather than relatively advanced years causing the inability to keep up.
November, 16, 2010
11/16/10
12:21
PM PT
Before
losing at home to Oklahoma City Monday night
, the Utah Jazz put together a remarkable streak of five consecutive double-digit, second half comebacks, the final four coming on the road. Ahead of Sunday's loss to Phoenix, I asked
Phil Jackson
how a team can be so bad in one half and so dominant on the next, particularly away from home.
His response: "When Utah goes on the road, they play flip-flop of every other team. They play offense on the far end of their court, and when they come back in the second half, they're playing offense in front of their bench, and they generate a lot of points in front of their bench because of that. For whatever reason, teams a lot of times play better when the coach is yelling at the guys to make the right moves and the right passes and whatever. They're more comfortable... It's been in front of their bench that they've been able to do it, but I think they're the only team in the NBA that does that."
The visiting team has the option to choose the direction in which they play, something I didn't know. Jackson said he's pulled the proverbial
Jerry Sloan
at points in his career, but only back in his Chicago days. He certainly has no intention of doing so as the Lakers kick off their first multiple game roadie of the season. But why not do it more?
"It's what you trust. Do you trust the fact that your team can go and operate in the offensive end with confidence and with assuredness. If you have a system, like Jerry has a system, like we have a system, you hope that the guys would be able to, whatever happens they can still organize themselves and play out of the system and under duress or pressure," he said. "Defensively, a lot of coaches like to be in front of the bench because they can call out stuff. People can call what's going on, or the tendencies you can see behind you. Give eyes to the players that have their back to the basket."
May, 2, 2010
5/02/10
11:01
AM PT
We all know the big, important names for the series: Kobe Bryant, Deron Williams, Carlos Boozer, Pau Gasol, Andrew Bynum, and so on. Lakers fans have seen so much of the Jazz over the last few postseasons there's a possibility five of them selected at random could come together and work through Utah's offense. But this year, there are a few variables making the series starting today a little different than the last two versions.
Here are a few on which to chew before the tip:
1. Kyrylo Fesenko
: As a rule, anyone able to cram two y's into a six-letter first name is all good in my book, but for the first three years of his NBA career, Fesenko hasn't done much other than confuse people trying to pronounce his name. But with
Mehmet Okur
out for the series and the Jazz already undersized against the Lakers, Fesenko (or Really-that-guy?-doppelganger
Kosta Koufos
) will have an opportunity to make an impact. Utah fans just hope it's not a totally negative one.
Early returns are mixed. Pressed into service against Denver, Fesenko didn't exactly light the world on fire, at least away from Salt Lake City. In Game 3, Fesenko shocked the world with nine points, five boards, and three dimes before adding five more boards and two blocks in Game 4. Over the final two games of the series, though, Fesenko had more turnovers (seven) and personal fouls (six) than points (three) and swats (zero).
He is also not fond of the Staples Center lighting
.
Carlos Boozer
and
Paul Millsap
will get the bulk of the work up front for Utah, and don't necessarily match up well with the Lakers. But at least those guys are effective and productive players. If Fesenko (or, should he falter, Koufos) can't give
Jerry Sloan
passable minutes, the Jazz will have problems. (And for the record, I think the Jazz will have problems.)
May, 1, 2010
5/01/10
5:07
PM PT
Well, given his history it could have been worse, but the injury suffered by
Andrew Bynum
to his right knee in
Friday's series clinching win over the Oklahoma City Thunder
definitely left a mark, reports ESPNLA.com's Dave McMenamin.
An MRI Saturday revealed a small tear of his anterior horn
(i.e. the front)
of his lateral meniscus in his right knee. Say it five times fast. I'll wait...
Bynum is officially listed as day-to-day, and he's questionable for tomorrow's Game 1 against Utah at Staples.
Interestingly, the injury isn't necessarily new.
Writes McMenamin
:
"The Lakers said they became aware of the tear last June when Bynum came in for his end-of-season exit interview, but Bynum was able to play with the injury without it bothering him during the 2009-10 season. When Bynum hyperextended his right knee... (Friday), the tear went from "very small" to "small."
Obviously the tenor of the series changes from the start if Bynum can't go. In combination with
Pau Gasol
, his presence gives the Lakers more size than the relatively small Jazz can comfortably handle. If Bynum were to miss time,
Jerry Sloan's
defensive game plan gets a lot less complicated.
More on this as it develops...