Los Angeles Lakers:

Jim McMillian
April, 7, 2012
4/07/12
1:40
PM PT

By Andy Kamenetzky
ESPNLosAngeles.com
Archive
The 1972 Lakers will be remembered for:
a) Ripping off 33 straight wins, about as safe as any record in sports, much less the NBA.
b) Providing
Jerry West
with his first championship.
c) Providing the franchise its first NBA title since moving to L.A.
d) All of the above... and even more.
The answer, by the way, is "d."
It's been 40 years since the 1972 Lakers, featuring West,
Wilt Chamberlain
,
Gail Goodrich
, etc., etched an indelible identity as one of the best teams in league history. At halftime of Friday's game against the Rockets,
that squad was formally honored for its greatness
. Several members --
Jerry West
,
Goodrich
,
Jim McMillian
,
Pat Riley
,
Jim Cleamons
, among others -- were on hand, along with people like
Marge Hearn,
widow of the late, great
Chick Hearn
.
Before the game, the media was given face time with several men of the hour. Below are some videos, plus the full transcript of our time with The Logo.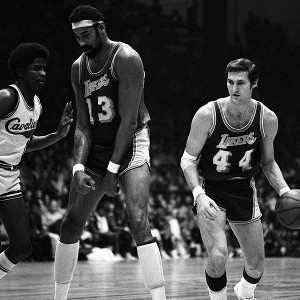 Ron Kuntz Collection/Getty Images
Jerry West, together with Wilt Chamberlain and Gail Goodrich, headlined arguably a team some believe the best in NBA history.
Q: What stands out most from that season?
Jerry West:
Obviously, winning 33 games in a row stands out more than anything. It's just something in your wildest imagination, you could not imagine that happening. I think that, the kind of ironic thing, we always seemed to have a bunch of little injuries along the way that wouldn't keep you from playing, but wouldn't let you play at your very best. For the most part, that team stayed really healthy. It was just a magical year. That's all it was. Everything worked. The games weren't close. A lot of players contributed and a lot of people got rest. We won games, they were all laughers, most of them. But that was really a unique team and everything went great for us that year. Nothing ugly happened at all.
Q: You've spoken before publicly about your difficulties enjoying the game. But when you look back to that year is it pure joy?
JW:
Well, you know something? I loved to play the game. That's not what I didn't like. Playing the game was great, but I thin being involved in the management part of it, that's the most difficult thing to do. Somebody asked me one time, do [I] need a coach to motivate me? And the answer is "hell no." I didn't need anybody to motivate me. I think the difference is that you're trying to deal with 10 people that you go to war with every night. And also not to have a coach to try to get you to play. We had a lot of guys you didn't have to say very much to. They were gonna play. They played every night.
Q: How much did it hurt you personally that Elgin Baylor was forced to retire early in the season
JW:
Well, for me, it was probably like a stake in my heart, frankly, when I heard he was going to retire.