Los Angeles Lakers:

Jimi Hendrix
July, 3, 2012
7/03/12
9:53
PM PT
Henry Diltz
is a name you might not immediately recognize, but if you're a fan of rock music, you likely know his work. Diltz is among the most famous and successful of rock photographers,
whose stunning portfolio includes iconic images
of, among others,
Crosby, Stills
and
Nash
,
Neil Young,
Keith Richards,
and
Michael Jackson
. His work is prominently featured in
"Who Shot Rock and Roll?"
, an exhibition of music photography at the Annenberg Space for Photography in Century City, which opened on June 23 and runs through October 7. We were excited to have Diltz in studio to talk about his career, the artists he's worked with, and the way Los Angeles has changed from the 60's to the present day.
The entire show can be heard by clicking on the module, and below is a breakdown of talking points:



- (2:38):
Diltz explains how his background as a folk musician influenced his approach and style as a photographer, but also helped him meet so many of the people he shot. His first picture sold? A group shot of
Buffalo Springfield
, which he shot on a lark. 100 bucks in his hot little hand, Diltz had officially discovered his calling.
- (6:58):
By mastering the art of "hanging out," Diltz was able to maintain a relaxed atmosphere and capture the unguarded personalities of these musicians.
- (10:00):
Diltz shares the backstories for his the instantly recognizable covers for the
Crosby, Still and Nash
and
Morrison Hotel
albums. He also recounts memories of working with
Jim Morrison
, and how the singer acted on and and offstage.
- (18:45)
: More memories of working with the likes of
Paul McCartney
, Neil Young, the Monkees,
Ron Wood
, and Keith Richards (whose face made for incredible pictures).
- (27:30):
As the official photographer for Woodstock, Diltz had no clue the festival would grow so huge.
- (31:44):
Richard Pryor
provided a change of pace from the musicians Diltz is most associated with shooting. The two collaborated to create
the cover for Pryor's debut comedy album
, and the comedian grew into a much more political, controversial artist than Diltz recognized at the time.
- (36:00):
Diltz shot
Michael Jackson
as an 11 year-old
for the cover of Rolling Stone
.
- (39:20):
Diltz's success has come without any formal training whatsoever, an element he believes played a deep role in discovering his style.
- (45:00):
Download technology like iTunes has made accessing music easier, but created a casualty in the art form of album covers.
January, 27, 2012
1/27/12
10:55
PM PT
It's always fun when friend-of-the-podKast, two-time Grammy winner and die hard Laker fan
Ben Harper
visits the studio. We sat down for an extended conversation about the state of the Los Angeles Lakers (Ben's a little worried) and, of course, music. The show was broken into two sections
-- Part I and Part II can be heard in the entirety here
-- and the breakdowns can be found below, with specific links to certain sections.
Part I
- (3:10): Ben expresses concerns about this team
. For starters, Harper has concerns about the championship viability of a team featuring two seven foot players. As he notes,
Mike Brown
has talked about using
Pau Gasol
and
Andrew Bynum
the way
Tim Duncan
and
David Robinson
were used in during the Spurs' title runs, but that's also the last time we've seen that work. Playing the averages, is this really a winning formula?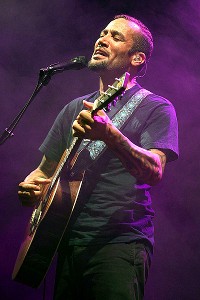 Mark Metcalfe/Getty Images
The Lakers and music are Ben Harper's passions.
- (7:25): Ben's also concerned Brown's emphasis on hellbent-for-leather defense 48 minutes a game
is inspirational in theory, but too draining in practice. Having said that, he's actually confident
Kobe Bryant
can maintain this pace and production over the next 47 games, despite this season's wrist injury and last season's knee/ankle problems. Watching him play like the dude wearing the #8 jersey has made the stretches of ugly offense a kick to watch.
- (15:13):
Kobe walks a high-wire act each game as the Lakers' scorer and primary play-maker
, and Ben feels for the superstar as he carries that burden. "He's brought us five rings, and to this day, the city can't decide if they him to shoot or pass," laughs Harper. In the meantime, Ben wants to see the German doc for his own knees. There's nothing wrong with knees, but seeing Kobe bounce up and down the court this season, why not?
- (18:25)
: We recorded this show hours before Wednesday Lakers-Clippers game, a contest that featured some animosity between the teams. Mention of the Clips also got a rise of out "Ben Harper the Laker fan." Between a dynamic he describes as "Yankees-Mets" and the local reminder
Chris Paul
should have been a Laker, let's just say the Clips won't be receiving complimentary copies of
"Fight for your Mind"
anytime soon.
PART II,
where we talk music, and specifically, the art of recording a cover song:
- (1:15):
"Covers have a way of finding you," Ben explains. Sometimes you'll hear them from friends or randomly on the radio. Other times, you'll be asked to take part in a soundtrack, as was the case when Ben recorded the Beatles' "Strawberry Fields Forever." It was requested he keep it very close to the original, which provided the challenge of remaining faithful to the employer while adding his own stamp.
February, 19, 2011
2/19/11
6:35
PM PT
With the L.A. All-Star weekend in full swing, it's fitting to recall
Marvin Gaye's
iconic, controversial rendition of the national anthem from the 1983 ASG at the Forum. The performance has since become accepted and admired, but at the time it represented
the latest example of art and patriotism in disharmony
. Before Gaye,
Jose Feliciano
entered
a firestorm
after his
acoustic rendition at the 1968 World Series
. Like Feliciano,
Jimi Hendrix
wasn't intentionally thumbing his nose
with his electric version at Woodstock
, but
had to defend himself against those accusations
.
PODCAST
With NBA All-Star 2011 upon us, Andy and Brian take a look back at the iconic- and controversial- performance of the national anthem by Marvin Gaye at 1983 ASG in L.A. with Grammy winning artist Ben Harper.

Podcast

For more perspective, we tapped two-time Grammy Award winning musician
Ben Harper
, a Lakers fanatic and no stranger to anthem performances. (His was on a lap steel guitar during the 2007 NBA Finals.) Brian asked Harper if a song as sacred as the anthem should be allowed artistic interpretation:
"It has to be. It has to be. Because as defining of a song as it is, that's what makes America beautiful. That freedom of interpretation. That's what makes us not only who we are, but who we can become. Or freedom to interpret even the most strict of guidelines, whether it's musical or social or political or spiritual."
Among the talking points of our conversation:
- Ben vividly recalls watching Gaye's rendition of the anthem, which sparked debate in his house. He also recognized immediately this was a moment he'd never forget. In particular, how the arrangement resembled (perhaps too closely) Gaye's most recent hit,
"Sexual Healing."
As Ben said, this was "
so
risky." But as he also noted, "it's so much who (Gaye) was. How else could he have done it?"
- The crowd's reaction to Gaye's performance. For much of the song, it feels like everyone wasn't even sure how they were supposed to react. Were they allowed to enjoy something so different and, to some, inappropriate?
- How race can perhaps make a performance like Gaye's, Hendrix's or Feliciano's seem more politicized than intended.
- Should the national anthem even be a staple at sporting events in the first place? It's a tradition, but does the song really mesh well with the venue?
As Ben asked, how did God, country and sports become so intertwined? At times, like after 9/11, this union helped our country heal during difficult times. At other times, it has been messy.
- Even as an artist with the guts to create an absurdly eclectic resume, Ben admits actually singing the anthem would be seriously intimidating. What could prompt him to actually take the plunge, much less with his own spin? An invitation to belt it out before his beloved Lakers play.
- And finally, for those curious, the class was in fact Lamaze, not Bradley.