Los Angeles Lakers:

JJ Barea
July, 19, 2011
7/19/11
9:26
AM PT
"A slice of paper . . . A crepe . . . The walls of a cheap motel . . .
Shia LaBeouf's
on-screen appeal . . . The 2011 class of free agent point guards."
"I know, I know! Things that are thin!"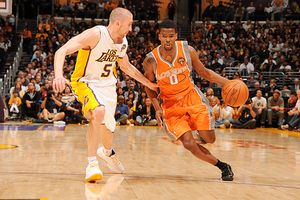 Andrew D. Bernstein/NBAE/Getty Images
Want to see Aaron Brooks in a Lakers uni next year? Buy NBA2K and make a trade with the Suns.
Such is the landscape as we begin our look at potential additions for the Lakers available on the off-season market.
That the point is their greatest positional need
as measured by on-court production last season doesn't change the reality: It's highly unlikely free agency will do much for the Lakers other than maybe --
maybe
-- improving their depth. There are some potentially serviceable players available, but few who elevate the position substantially or add clarity to the current
Derek Fisher/Steve Blake
rotation.
Here's how it breaks down:
THE CREAM OF THE CROP
Rodney Stuckey (restricted free agent, Detroit)
Aaron Brooks (restricted free agent, Phoenix)
The Pistons have already made a qualifying offer of nearly $4 million for Stuckey. While he's a
bad perimeter shooter
, he's a big (6'5") combo guard who loves attacking the basket, can defend, and improved his assist rates last year. Is he really a point guard? Probably not, but at 25 years old he's rich with youth and talent. Lakers fans hyperventilate at the site of Brooks, whose career scoring average in 11 games against the purple and gold (17.1)
is about five points higher than his numbers against everyone else
. Brooks isn't a great outside shooter and his distribution skills are still improving, but man alive the guy is quick, and clearly talented. Just as Detroit did with Stuckey, Phoenix has extended Brooks a qualifying offer, meaning both can match any offer made by another team.
Would either fit well with the Lakers? Doesn't matter. Put these players out of your mind. Neither is likely going anywhere, certainly not for what the Lakers will be able to offer (a mid-level exception, assuming in the new CBA it exists in some form). Short of Jedi mind tricks -- "These aren't the point guards you're looking for,
Joe Dumars
and
Lon Babby
..." -- there's very little
Mitch Kupchak
can do to "make it happen."
So as
Obi-Wan
told those storm troopers, "Move along."
PLAYERS WHO IN ANY OTHER SUMMER WOULD BE MIDDLE ROAD OPTIONS BUT THIS YEAR ARE ALMOST CERTAIN TO BE OVERPAID THANKS TO SCARCITY AND HIGH PROFILE POSTSEASON SUCCESSES

J.J. Barea (unrestricted free agent, Dallas)
Mario Chalmers (restricted free agent, Miami)
May, 20, 2011
5/20/11
9:10
AM PT
By Ryan Gomes, special to ESPNLosAngeles.com
ESPNLosAngeles.com

With a highly entertaining Western Conference Finals between Dallas and Oklahoma City now in full swing, we asked Clippers forward
Ryan Gomes
, a six-year vet who has matched up with both
Dirk Nowitzki
and
Kevin Durant
, to break down the action for ESPNLA.com.
He looks at
Thursday's win in Game 2 for Oklahoma City
, and ahead towards Game 3. Here's an excerpt:
"...After Dirk Nowitzki's incredible Game 1, the Thunder did a nice job with their adjustments in Game 2, giving Dirk different looks compared to what they did in the other night. In Game 1 he was fouled a lot, but on the shots where he wasn't, Dirk had his areas down. He was catching, jabbing, and shooting over guys. He was comfortable. In Game 2, the Thunder ran a few double teams at him, and made him get rid of the ball. Dirk finished with five assists, but in the third quarter the Thunder were forcing turnovers because he and his teammates couldn't time when that double team was coming.

Oklahoma City did a nice job putting it in Dirk's mind that help could be coming at any point, and from different places. As a player, that makes you just a little less sure in your moves. Then as they built the lead, they didn't really want or need to double any more. The Thunder could play Dirk as straight and solid as possible, keeping other defenders on their shooters, knowing if he scored the Mavs still needed two or three more possessions in order to tie.

Dirk still had a great game, with 29 points on only 17 shots from the floor, but over the course of the night Oklahoma City did a nice job changing his rhythm.

Offensively, I thought Oklahoma City did a good job against Dallas' zone, putting Durant on the wing, but moving him around to the middle of the free throw line area. The Thunder tried to get him isolated right there against the guards at the top, so he could take those little mid-range shots or draw attention and kick to the opposite side of the floor. One time, he shot a pull up and missed it, but the Thunder earned the offensive rebound, and were able to capitalize with a nice lefty putback from Nick Collison. That's the thing about a zone- if you don't get that first defensive rebound, the opportunities for the offense to go in there and find holes are big.

That's what they'll need to keep doing in Game 3. Keep finding ways to get Durant to the middle, and have him make plays.
But even though Dirk and Durant were both good, the big key Thursday was with the other guys on the court..."
For the rest of Gomes' breakdown, including some great stuff on
James Harden
and the fourth quarter benching of
Russell Westbrook
,
click here
.
May, 10, 2011
5/10/11
12:40
PM PT
Before he took questions from the media Monday morning following his exit interview in El Segundo,
Andrew Bynum
felt compelled to make a statement:
"Number one, I want to apologize
for my actions at the start of the fourth quarter
in Dallas on Game 4. They don't represent me, my upbringing, this franchise, or any of the Lakers fans out there that want to watch us and want us to succeed. Furthermore, and more importantly, I want to actually apologize to
J.J. Barea
for doing that. I'm just glad that he wasn't seriously injured in the event. All I can say is that I've looked at it, it's terrible, and definitely won't be happening again."
Following Sunday's loss, Bynum was hardly the face of repentance, something a little time and video fixed.
"I saw it. I went and I watched it, and it was terrible," he said. "The whole sequence, taking off the shirt and everything. Sometimes you have to man up and own it. That's what happened."
He's right, of course. The play was among the more dangerous and totally bush league moves I've seen in sports. Given the frustration felt by the team over the course of the playoffs and certainly following the Mother's Day Mauling (I'm open to other nicknames), I'm willing to excuse his postgame comments. Had he come today, with time and space to think about it, and said the same thing? Yikes.
Bynum expects to hear from the league office. "I believe I will be suspended," he said. "I don't want to be suspended."
He will, and the punishment could be very, very stiff.
May, 8, 2011
5/08/11
6:21
PM PT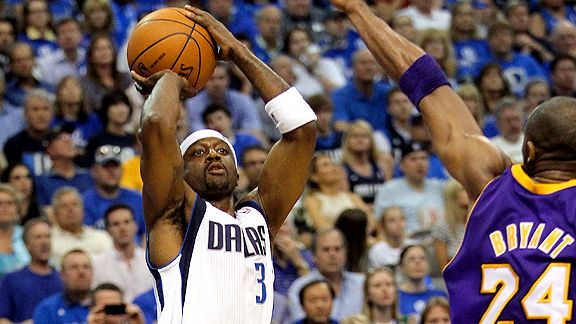 Ronald Martinez/Getty Images
Jason Terry and the Mavs shot Kobe Bryant and the Lakers straight into the offseason.
DALLAS -- Japanese monster movies are filled with scenarios in which otherwise manageable creatures are irradiated, mutate, and develop enough destructive power to take out a few cities. Godzilla, for example. Something similar happened to the Lakers on Sunday afternoon, as the Mavs unleashed a monster wiping out L.A.'s three-peat chase.
Call him Threezilla.
We saw glimpses in the fourth quarter of Game 3, when Dallas canned five of eight tries from beyond the arc, swallowing an eight-point lead for the Lakers and, for all intents and purposes, ending the series. Sunday, however, he finished the job. In the first quarter of Game 4, Dallas hit four of seven from downtown, enough to create four points of separation from L.A. despite putting the Lakers at the line eight times and giving up 13 to
Kobe Bryant
. In the second, the Mavericks poured it on, overwhelming the increasingly confused visitors. Seven makes in eight tries, including five from
Jason Terry
, as part of a 36-16 quarter. By halftime, the Mavs had only three fewer triples (11) than the Lakers had field goals and a 24-point lead.
If this were boxing, the ref would have stopped the fight. Game -- and season -- over.
"They just hit three after three after three," Bryant said after the Mavs made 20 in all.
In total, Game 4 was a supersized version of everything plaguing the Lakers throughout the series, save an opportunity to blow a late lead. They lacked any sense of continuity defensively, missing assignments and rotations helping spring the Mavs for open looks. The Lakers, meanwhile, hit only five of 24 from distance Sunday, and 19.7 percent for the series.
J.J. Barea
, with 22 points and eight assists, again sliced-and-diced the Lakers, combining with Terry (32 points) and
Peja Stojakovic
(21 points) for 20 makes on 28 tries, part of an 86-point bench performance for Dallas, a painful reminder of their superiority over the Lakers' reserves. And, of course, it was the Mavs keeping their composure while the Lakers shamefully lost theirs. Sunday offered no opportunity to blow a late lead, but the Lakers did pick up a pair of Flagrant-2 fouls in the space of 45 seconds, the most egregious and inexcusable belonging to
Andrew Bynum
and his cheap shot of a driving Barea.
"They executed extremely well, their spacing was excellent, they shot the ball extremely well. Their depth hurt us. Every night it was another player stepping up and performing, and making big plays. The credit belongs [with them]," Bryant said.
What they had was what the Lakers lacked all season.
April, 30, 2011
4/30/11
12:30
PM PT
For
this week's edition of The Triangle
, as is always the hope we put out the call for questions from readers. Unfortunately, a mixup with the script left us unable to use any of them. But we had some great responses, worthy of a public airing.
Here are a few, touching on some of the more common themes as everyone gears up for Monday's Game 1 against the Mavericks:
Q, from @RamiSoufi: Will #Lakers avoid mistakes of #Hornets Game 1 when playing Mavs? Who will mostly guard Dirk? Lakers bench vs Mavs Bench?
A:
Kudos to Rami for squeezing three questions into 140 characters. Going in order...
1. If the mistake in Round 1 was a lack of adequate energy and respect for the opponent- it's certainly a common hypothesis- then no. I don't see the Lakers coming out Monday night with too casual an attitude. Doesn't mean they can't lose, but if L.A. goes down, it'll be for different reasons. Dallas is a good team, after all, capable of beating even an engaged Lakers squad.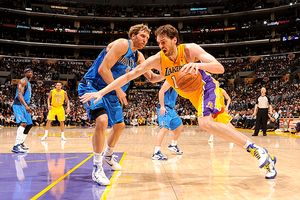 Andrew D. Bernstein/NBAE/Getty Images
Pau Gasol vs. Dirk Nowitzki: A key matchup on both ends of the floor.
Game 1's are always critical, but particularly so in this series. Should the Mavs steal the opener at Staples, many of the intangibles connected to questions about the mental makeup of
Mark Cuban's
squad lighten considerably, an advantage for Dallas because it would eliminate (at least temporarily) all the "So... when are you guys gonna blow it?" questions.
2. Dirk duty falls, more often than not, to a combination of
Pau Gasol
and
Lamar Odom
, with
Ron Artest
likely taking a turn here and there. Both Odom and Gasol have had (relative) success against Nowitzki in the past, though like
Kobe Bryant
, Dirk is a guy very difficult to truly shut down for an extended period. As our friends at ESPN Stats and Information point out, Dirk is incredibly effective in isolation, ranking at the top of the league in field goal percentage (56.8 percent) and points per play (1.10) on iso's. Against the Lakers, he's finished on seven-of-eight chances in isolation.
Against Gasol, S & I note the success Dirk has had on the perimeter, hitting 11-of-19 shots for 27 points (five of those buckets coming off screens), but only 1-for-7 in the post.
As a counter, the Lakers will need to force Dirk to work at the other end. Over the course of seven games, having to carry the Mavs offensively while playing a key role on defense could be enough to wear him down, and Dallas can't afford a less-than-outstanding Nowitzki if they expect to win the series.
3. Advantage Mavs. Odom is the best talent coming off either bench, but
Jason Terry
, while not my favorite player (too one-dimensional, too streaky) is still an asset.
Jose Juan Barea
, while not a great finisher at the rim, is a dynamic reserve guard, while
Peja Stojakovic
is a reliable source of perimeter shooting. The Lakers reserves were supposed to be better this season, adding
Steve Blake
and
Matt Barnes
while keeping
Shannon Brown
, but as a group have been extremely inconsistent.
Q, from @InfiniteHighway: @ESPNLandOLakers @ESPNLA K-Bros, how will the Lakers stay disciplined against the zone and not take those hard to make jumpers?
A:
The Lakers, at least in theory, are tailor made to attack a zone. Every member of their starting lineup is a solid passer or better, all but one (
Derek Fisher
) is comfortable working out of the post. Plus, they play in a motion offense that encourages cutting to open spaces, moving without the ball, and hurting teams with the pass. Then again, zones also present the Lakers problems, namely because they're an adequate-at-best jump shooting team easily seduced in to hoisting them.
The zone D is a major part of Dallas' identity.
They use it not with shame, but pride
. If the Lakers are patient and stick to their offensive principles, they could force the Mavs into more man-t0-man than they might otherwise prefer.