Los Angeles Lakers:

Joe Johnson
November, 20, 2012
11/20/12
10:09
AM PT
A historical footnote is in the making, as tonight marks the first meeting between the
Los Angeles Lakers
and the newly face-lifted
Brooklyn Nets
. These ain't your daddy's Nets anymore, with the presence of Russian billionaire Mikhail Prokhorov and rap icon/multi-hyphenate Jay-Z, the Barclays Center and a hipster locale to call home. Oh, and the roster isn't half bad, either. Maybe not worth the price tag, but certainly formidable, and definitive proof of the commitment to make the Knicks paranoid about a sea change in New York.
It remains to be seen who'll be on the sideline coaching the Lakers tonight, but whether its Mike D'Antoni or Bernie Bickerstaff, the Lakers will look to maintain their momentum and tighten up the execution on both sides of the ball. Here are three things to be mindful of once the ball is jumped.
1. Will the Lakers' high-octane offense continue to explode?
Take a cursory glance at the numbers and you'll see 92.5 points a night surrendered by Brooklyn, the sixth-lowest in the NBA. On the surface, they would appear quite the defensive juggernaut. However, a little more digging shows an opponent field goal percentage of 45.3 percent, tumbling the Nets well into the bottom third of the league when it comes to protecting the basket. How are these intertwined, yet polar opposite findings possible? Well, tonight's visitors play like their offense is being quarterbacked by a snail. The NBA's fourth-slowest pace means fewer possessions, which means fewer opportunities for the enemy to score. In other words, the Nets are plodding their way to smaller point totals for the opposition, rather than achieving through maximum lockdown.
Looking at the Nets' roster, this isn't surprising. Save
Gerald Wallace
, no member of the starting five will likely gun for any Defensive Player of the Year votes.
Joe Johnson
's best days sticking a wing scorer are behind him.
Deron Williams
and
Kris Humphries
are somewhere between "average" and "decent enough not to kill you." And
Brook Lopez
has been a train wreck defensively his entire career. Off the bench, rebounding savant
Reggie Evans
is more of an energetic defender than a truly effective one,
MarShon Brooks
is inexperienced and
Andray Blatche
's indifference to lockdown is in part what prompted the Wizards' decision to use the amnesty clause on him.
Thus, the Nets' best approach for keeping points low is manufacturing a crawl, and for the first time in eons, the Lakers won't play along. During this D'Bickerstaff era, the Lakers haven't necessarily become a fast-break factory, but they're no longer the methodically slow squad Brooklyn would prefer to face. Removed from a comfort zone, I don't expect the Nets to keep an opponent in the low 90s. For that matter, it'll be interesting to see if they can simply remain effective at keeping the Lakers off the line, a spot where Kobe and Company have taken frequent residence this season.
2. Who defends Deron Williams?
By his standards, the Nets' franchise face is off to a slow start. Whether gauged through points, field goal percentages from the field or the arc, assists or rebounds, D-Will is putting up numbers below his career clips, figures that aren't necessarily indicative of playing for a team with more talent and more statistical wealth spread about. However, he's still Deron Freakin' Williams, meaning the odds favor him remaining a handful even if he's still in the process of feeling out a new roster. With that in mind, it'll be interesting to see who spends the majority of minutes checking the three-time All-Star.
As I noted in Sunday's Rapid Reaction,
Darius Morris
' rapid improvement hasn't just been notable while running the offense. The kid's demonstrating fine defensive instincts, in particular his understanding of how to use his big body. But Williams is the rare point guard who doesn't surrender size to Morris and has a vast edge in veteran smarts. If Morris struggles, could
Chris Duhon
, who's played solid-if-unspectacular minutes with the Steves out, handle extended minutes against D-Will? And can the Lakers handle Duhon in extended minutes? He may be a credible enough defender, but his presence limits the overall dynamism of the offense. Does the answer perhaps lie within the starting lineup?
Metta World Peace
can certainly bully Williams physically, and those vice-grip hands can induce turnovers from even the most elite point guards. But will his feet cooperate? If he's not fast enough to stay with Williams, the challenge could fall on Kobe.
In the past, the Lakers have looked to avoid extended periods latching Kobe to such a difficult assignment, given the scoring burden additionally shouldered. But given how judiciously Kobe's letting shots fly this season, that energy may not require as much preservation. Maybe we'll see the Mamba go at Williams throughout the closing minutes, which would obviously be fun.
3. Dwight Howard vs. Brook Lopez
Yeah, that Brook Lopez. The one
Shaquille O'Neal
famously/ridiculously presented as better than Howard. The Diesel's analysis clearly wasn't appreciated by Dwight, but he responded by reminding Shaq that he's currently out to pasture, rather than taking any shots at Lopez. No need to drag the twin any further into this mess. Still, Howard's willingness to take the verbal high road needn't necessarily bleed onto the hardwood. I wouldn't be surprised if Howard looks to prove the inanity of O'Neal's comments by launching a full-blown assault at Lopez's expense.
February, 14, 2012
2/14/12
10:01
PM PT

By Brian Kamenetzky
ESPNLosAngeles.com
Archive
The middle two quarters may have been the ugliest I've ever seen, as the Hawks and Lakers combined -- combined! -- for 59 points.
Kobe Bryant
and
Pau Gasol
couldn't buy a bucket, and collectively the teams seemed determined to punish fans for shelling out their hard earned money for something as frivilous as basketball tickets.
But in the end, the Lakers got it together, going on a run to finish the third and pulling away down the stretch. Here are five takeaways...
1. Matt Barnes had some hop.
The Lakers are not a swift, dynamic bunch. Barnes is one of the few guys on the roster who makes things happen with movement, and Tuesday he absolutely energized the team (to whatever degree this game had energy) doing the stuff he does best. Slicing through the lane, he converted a nice pass from Bryant into points, then later got up the floor and, like the standout wide receiver he once was, hauled in a long bomb from
Steve Blake
for an easy deuce. Even on the ball, not generally his strength, Barnes found ways to produce. In the first half, with the shot clock running down, he put the ball on the floor from the top of the key, then wrapped a nice pass to
Troy Murphy
for a corner 3.
Throughout the game, Barnes was constantly moving towards the rim, running the wing, and aggressively closing on perimeter shooters. He finished with seven points and five rebounds, plus one assist, steal, and block each.
2. So did Metta World Peace.
Maybe he should pop off at the coach more often
?
Whatever the cause, MWP was very active tonight, not just defensively, where he spent a lot of time against
Joe Johnson
with very positive effects, but also on the other end. He closed the first half with a 3-pointer from the right corner that the Hawks, to put it mildly, let him take. (Had they simply left the floor before the horn, World Peace wouldn't have been more open.) The second half brought another triple, and even a thunderous drive through the paint, capped by a dunk. Then he dunked again! One-dunk MWP games are a rarity these days. Double dunk games generally arrive at the arena saddled up on a unicorn.
He finished with 10 points and four rebounds.
World Peace's days as a premier player are gone, but it makes a significant difference for the Lakers when he's not a liability. When he's actually a positive influence, it's even better.
POSTGAME UPDATE: Apparently, World Peace switched from high tops to low tops at halftime. Perhaps that explains his burst in the third and fourth quarters. Less weight keeping him down.
February, 14, 2012
2/14/12
8:49
AM PT
Among the surprises this season has been the strong record of the Atlanta Hawks. Despite a first round upset of the Orlando Magic in the first round of the 2011 playoffs, most folks (myself included) seemed to think this core, which had been together a while, had likely maximized its potential. Regression is usually inevitable for teams that run in place long inevitable, and rising squads like the Pacers and Sixers appeared ready to push Atlanta down the standings. After
Al Horford
injured his shoulder, this felt even more inevitable.
Instead, the Hawks have emerged one of the more consistently strong Eastern Conference teams as the All-Star break approaches. In retrospect, this actually makes sense. A truncated season rewards continuity and this team hasn't experienced much significant roster turnover. Throw in some improved defense, and the Hawks still may not be a true "contender," but they're looking like a team the real deal would just as soon avoid in the playoffs.
For the skinny on the Hawks, I threw a few questions at
Bret LaGree
, who runs
Hoopinion for the True Hoop network
. Below are his responses to four questions, plus a couple thoughts of my own.

Land O' Lakers: I didn't expect the Hawks to play this well, especially with Horford out this long. What are the main factors for the strong start?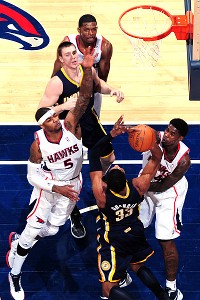 Scott Cunningham/NBAE/Getty Images
Was Smith a victim of not "playing the game?"
Bret LaGree:
Unlike last season,
Joe Johnson
and
Marvin Williams
are healthy, while
Jeff Teague
and
Zaza Pachulia
are getting regular minutes. That's not enough to make up for Horford's absence completely but it is enough to keep them comfortably in the Eastern Conference's middle-class, beating up on the lower third and competitive with their peers.
LO'L: Josh Smith hasn't been shy in letting folks know he should have been selected as an All-Star? How valid is his complaint?
BL:
It's valid but it's not like he makes it easy on himself. I completely understand the difficulty people who don't watch
Josh Smith
every night have in accurately evaluating him. He is very productive without consistently playing to his strengths. His weaknesses (shot selection, one-on-one defense) are as obvious as his strengths (finishing at the rim, help defense). The way he expresses his valid complaint, "It's all about politics," exemplifies why he plays the way he plays and why he's not on the All-Star team. It's like he diminishes his own agency in how he plays basketball.
March, 8, 2011
3/08/11
6:17
PM PT
For the first time since
Pau Gasol's
arrival, the Lakers get a win in Philips Arena. Which is nice, because judging by the buzz, it was all Laker fans anyway.

The Good
Defense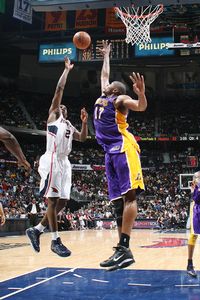 Scott Cunningham/NBAE/Getty Images
Not much doing in the lane against Bynum.
On several counts, it was another outstanding effort from the Lakers. Individually, several players brought their A-game.
Andrew Bynum
continued his reign of terror, blocking three shots, altering several other shots he couldn't get his paws on, and snagging 12 defensive rebounds (16 in all).
Derek Fisher
drew a pair of charges (one against
Joe Johnson
away from the ball), deflected a pass to create a turnover and got a steal while backpedaling in transition to prevent the kind of buckets Atlanta's offense desperately requires.
Ron Artest
hounded Johnson into a miserable 11 point/14 shot performance. Allowing barely an inch to operate, Ron-Ron's pressure also helped induce the Atlanta wing into three turnovers.
And so on and so forth.
Fruit was also harvested through group effort. The Hawks were held to just 16 third quarter points and the Lakers forced a few 24-second violations. And specifically, two possessions heavy on teamwork grabbed my attention.
First, when the combination of Artest crowding his hip and Gasol cutting off the lane (while still tracking his own man via peripheral vision) forced Johnson to awkwardly give up the ball. Fisher deflected the errant pass, creating a Hawks turnover. Later in the game, Smith got Bynum in the air on a fake, but Kobe came out of nowhere to provide the weak-side block. With little time left on the clock, Gasol provided an outstanding challenge to bother Johnson into an air-balled trey and a 24-second violation.
Time and time again, the Lakers kept the Hawks on their heels and out of rhythm.
Andrew Bynum
Drew patrolling the lane like a possessed watchdog has grown into a commonplace occurrence these days, and it's becoming increasingly evident when he's in this zone, the Lakers become darn near impossible to beat. Over the last few seasons, Drew has "understood" this concept, but perhaps for the first time ever, he truly
understands
the impact he's capable of offering without touches. Still, the big dog needs to get fed every now and then as a reward for protecting the porch, to borrow the parlance of the last great Laker center.
After preceding games with four and two shot attempts, Drew launched ten, and made the most of the increased touches. 80 percent from the field and 16 points. It's not mandatory for Drew to be this prolific on both ends of the court, but ain't much to hate when it happens.
February, 22, 2011
2/22/11
11:50
AM PT
Like I mentioned in our
Week in Preview, this game against the Hawks is important
. Beyond providing reassurances to fans and even to themselves of an improved path, the window to get in gear is slowly shutting. Even as someone who remains a believer in the ability to keep the O'Brien in L.A., there's no denying the urgency at hand. The proverbial "play time" ended a while ago. Now it's a matter of proving this team isn't living on borrowed time.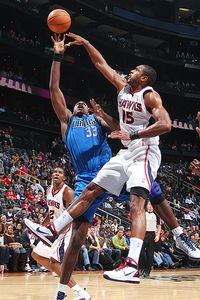 Scott Cunningham/NBAE/Getty Images
Al Horford does his best to help on D, but the backcourt doesn't hold up its end of the bargain.
To get a better idea of how the Hawks operate, we reached to
Bret LaGree
of the True Hoop Network
Hoopinion blog
. Here are a few items to keep an eye on once the ball is jumped:
Q: The Hawks were playing .500 ball in the last 10 games heading into the break. How would you assess their current state as they head into the home stretch? What are the strengths and weaknesses?
Bret LaGree:
The Hawks are coming to terms with how difficult it is to send the same team out on the court and get different results. Given a possibly impossible task (improve on 53 wins without an improved roster),
Larry Drew
hasn't really settled on a rotation and tinkers with the starting lineup depending on the opponent.
The crux of the problem is
Mike Bibby
and
Jamal Crawford
are poor defenders and
Joe Johnson
, when pressed into duty against opposing point guards, isn't much better.
Josh Smith
and
Al Horford
do tremendous work on the defensive end to keep the Hawks an average defensive team but when either big man is out of the game, the Hawks are pretty porous defensively.
April, 1, 2010
4/01/10
9:16
AM PT

By Brian Kamenetzky
ESPNLosAngeles.com
Archive
Wednesday, the Hawks laid wood on L.A. to the tune of a
109-92 final score
, an ugly end to L.A.'s five game road trip but ultimately appropriate. It was the Lakers' third loss on the swing, and all three would have been by double digits if not for an ultimately pointless fourth quarter quasi-rally Monday in New Orleans.
In the wake of yet another disappointing show,
Andy noted the lack of execution on both ends
, something Fox Sports'
Charley Rosen does here in detail
, lambasting L.A.'s efforts on both sides of the ball. We've reached a point where even
Khloe Kardashian
- more love-invested cheerleader than hardened Lakers/hoops critic-
is wondering what's up
.
That can't be good.
More responses from around the web below...
March, 31, 2010
3/31/10
8:15
PM PT
With 5:27 remaining in the third quarter, Pau Gasol, who'd been running pick and roll along the sideline with Lamar Odom, got doubled. The response was an over-the-shoulder pass to Odom, now underneath the bucket and quickly fouled by Marvin Williams just before he could get a shot up. Still, the Lakers had 14 seconds on the shot clock, a chance to set up a score.

Unfortunately, it was a score for Atlanta, as Kobe Bryant either faked a backdoor cut to the basket or was held up by Joe Johnson. Either way, LO lobbed an alley-oop pass like somebody was en route to receive it. The ball bounced off the backboard into Al Horford's hands and was transferred into Johnson's. A high screen from Horford freed up space between Kobe and the downtown stripe for All-Star swingman. Swish. Johnson hit a triple, the Hawks went up 14 and the Lakers' losing battle just grew more uphill.

The sequence felt like a microcosm of their night in general. The Lakers are just completely out of sorts right now, a reality surfacing on both sides of the ball.

March, 31, 2010
3/31/10
11:54
AM PT
It's not often we land a guest good enough to keep around for 40-ish minutes. Or, more accurately, a guest that good and actually
willing
to tolerate Brian and me for such an interminable period of time. Thus, we jumped all over such generosity from
Lang Whitake
r, executive editor of Slam and SlamOnline.com. He also happens to be a die-hard Hawks fan, which made him even more ideal for a chat leading into tonight's contest.
PODCAST
Andy and Brian welcome Lang Whitaker, executive editor of Slam and SlamOnline.com, to the show, talking Western Conference supremacy and Wednesday's game in Atlanta. Plus, we talk about how and why athletes seem slow to recognize today's media culture, and how it can burn them.


Podcast

-(2:00): Whitaker picked the Lakers to win it all before the season began and sees no reason to jump off the "Repeat" bandwagon, despite what many consider recent slippage and a generally inconsistent season for the purple and gold.
-(4:45): Brian recently posted
thoughts about the impact of more time without Andrew Bynum
.
Whitaker shares his thoughts, noting how the Lakers' second string center happens to
Pau Gasol,
hardly a chopped liver fallback. Thus, he'd be fine if Drew took as much time as needed to heal up and reminds fans how lucky they are to be in this unique position.
"As a Hawks fan, I wish we had that luxury," laments Whitaker.