Los Angeles Lakers:

Joe Smith
February, 16, 2011
2/16/11
9:59
AM PT
Honestly? Nothing.
As far as this game goes, breaking down the matchups is a laughably pointless exercise. The Cavs have won twice since November 27, and just barely avoided the longest losing streak in professional sports history. Their best players are either
Antawn Jamison
(a great guy, but past his prime and a defensive sieve) or
Mo Williams
(my vote for the most egregious All-Star since
Jamal Magloire
). From there, it's a bunch of unremarkable role players and somebody named
"Samardo."
Plus,
the Lakers beat them by a double freakin' nickel in January
.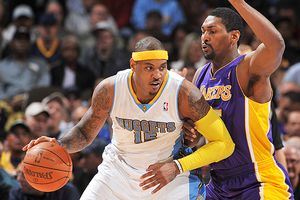 Garrett W. Ellwood/NBAE/Getty Images
If the Lakers lost this game, you better believe Carmelo's name will pop up again. And again. And again. And...
Given these circumstances, the only thing worth discussing would be a Laker loss. Is this scenario the equivalent of the earth spinning backwards? Without question. But considering
the uneasiness swirling in the wake of double digit losses in Orlando and Charlotte,
I guarantee the thought has crossed the mind of Joe P. Lakerfan. (The "P" stands for "pessimistic.") Thus, I'll play along and lay out of a few things to watch for should the logically impossible happen.
Trade chatter in overdrive
This recurring talking point died after two wins in Boston and New York, but as Tuesday's chat transcript demonstrates, all it takes is two bad losses for a purple and gold world to turn 180 degrees. A loss to Cleveland, however, will result in nothing short of Armageddon. It will be every man for themselves. Women and children won't be spared, much less the Laker roster.
Forget the typical
Bynum for Carmelo/Ron Artest for Jax or Gerald Wallace/Luke Walton for any breathing player and/or a set of steak knives
cries. Change will be demanded, along with heads rolling. Everybody would be deemed expendable save perhaps
Kobe Bryant
-- although I wouldn't bet my life a handful of fans wouldn't suggest blowing everything up and starting over young.
ESPN's Trade Machine
will go crazy
like WOPR at the end of War Games
.
For a team that's already expressed disdain for a hysterical rumor mill, even flirting with a loss would be a dangerous game. As War Games' militaristic computer said about thermonuclear war, the only winning move is not to play.
January, 3, 2011
1/03/11
1:27
AM PT

By Brian Kamenetzky
ESPNLosAngeles.com
Archive
When the dust settled after what can rightly be called the worst of the Lakers' 11 losses this season,
an embarrassing 104-85 debacle on their home floor vs. Memphis
,
Andrew Bynum
summed things up well:
"We kind of get into these situations, and put ourselves into these situations where there's a snowball effect. We're not playing for each other right now. We're not playing to set the next man up, and consequently, that's definitely causing us faults on defense," he said. "Right now, we've got to be concerned. We have to be. Teams coming in here, three straight times we get dropped by 20 at home, good teams are looking at us like, "Oh, they're soft." We're letting everybody come in here and get comfortable. Guys like
Darrell Arthur
just catching the ball, almost at the three point line, turning around and shooting it like he does it every day. We've got to stop that."
Technically, the Lakers only lost by 19 (Milwaukee), 16 (Miami) and 19 (Memphis) at home- three of the team's four worst home losses since acquiring
Pau Gasol
, it should be noted- but I think we'll all forgive Bynum his minor numerical inaccuracy, instead focusing on his larger point.
Kobe Bryant
agreed with Bynum's assessment of teammates not "playing for each other," but believes the cause is a natural extension of the team's poor play. "That happens a lot when guys are out of rhythm. Out of rhythm, out of sync with each other. You don't know really what is the right play to make, because you're thinking too much as opposed to just making the play that's there. That just comes from rhythm," he said.
Click below for more from Bynum, plus Bryant,
Phil Jackson
,
Matt Barnes
,
Pau Gasol
, and
Joe Smith
...
December, 21, 2010
12/21/10
9:00
AM PT
Factoids learned at Monday's practice about the newest Laker:
Smith is enjoying his 16th season in the NBA, long enough to have been included in a 1998 trade with Brian Shaw, now his assistant coach. (In a more recent development, he was also included in a three-way 2008 trade involving Shannon Brown.)
He's a well traveled athlete. It's been 12 teams for Smith, six alone since 2006. He even managed to get traded to, from, and be reacquired by the Cleveland Cavaliers between February 2008 and March 2009. But incredibly, save half a season in Philly with Theo Ratliff, Smith has somehow managed to

never

have played with any of his current teammates. This feels mathematically impossible, between his tenure and the amount of times Ratliff, Steve Blake and Matt Barnes have also changed squads. Apparently not.
A career as an NBA vagabond has made the big man a renter just like the rest of us. Save a place in Arizona, he has no permanent residence. Sensible man, that Joe Smith.
Because work has uprooted Smith so many times, he's a pro at the art of moving. The art of "making small spaces bigger than they appear," as he phrased it. However, constant relocation hasn't turned him into a bitter, bossy crab. He brought 12 suitcases (non-matching) with him for the road trip and eventual arrival in L.A., which turned problematic in Toronto where players have to lug their own bags. Um, hello! Wasn't he aware of Derrick Caracter and Devin Ebanks, who are on the team in large part to schlep his stuff around?"I know, but I'm new, so I didn't want to put them to work," smiled Smith.
Smith was a huge Lakers fan growing up, and Magic Johnson was his "idol." Thus, even as a bona fide journeyman, landing here doesn't feel like just place to drop his luggage. "This is a little more special than all the other stops I've been," confirmed Smith. "I'm not saying those stops weren't special. This has just a little more edge to it."
You can follow Smith on twitter at @JoeBeast95. And prepare to get in line, because the dude's tweeps have multiplied like rabbits the second he was traded to the Lakers. 3,000 followers and counting, he noted proudly.
As for his role with the Lakers, Smith isn't putting cart ahead of horse. First, he needs to learn the triangle, then worry about how he's being used. (Credentials, however, include the ability to stretch the floor from mid-range, plus solid rebounding and defense.) Along those same lines, Smith is a famously good locker room guy, but with a team like this one, veteran-laden and possessing a clear hierarchy, he'll likely ease back before making his presence felt. Mostly, he just wants a shot at a championship and relishes being in what he considers the best position of his entire career of getting one. Whatever is asked of him while in L.A., I'm guessing the answer will be "yes."
Check out the videos below from Smith's first meeting with the L.A. media.
December, 15, 2010
12/15/10
9:11
AM PT
From the outset of this season, it's been obvious if the Lakers were going to trade anybody, it would be
Sasha Vujacic
. He's in the last year of a moderately priced contract. An injury or a severe slump from a Killer Bee would be required to crack the rotation. And the lack of future as a Laker beyond 2011 is plainly evident. The problem was finding a workable deal. The Lakers understandably have no desire to take on additional salary, which means facilitating a deal with a team under the cap or bringing in a third team, which can be complicated.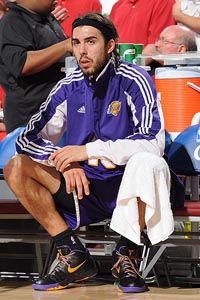 Andrew D. Bernstein/NBAE/Getty Image
Sasha was every bit as happy about his situation this season as he looks here.
To paraphrase Han Solo as he's about to enter an asteroid field
, never tell
Mitch Kupchak
the odds. He took the latter route, and managed to find the right formula.
According to ESPN.com, Sasha will head to the New Jersey Nets
along with a future first round pick in exchange for veteran big man
Joe Smith
. They'll also receive
second round picks from Golden State (2011) and Chicago (2012)
, plus the rights to
Ukrainian big man Sergei Lishouk, originally drafted by Memphis in 2004
. (As part of the deal, the troubled
Terence Williams
heads from Jersey to Houston in exchange for another first round pick, fueling speculation the Nets are stockpiling draft assets to entice a trade for
Carmelo Anthony
. )
So how did the Lakers and Vujacic make out? In my mind, both parties come out ahead in the wash.
I'll start with the Laker haul. Smith makes the veteran's minimum and his arrival is as much -- more, really -- about saving approximately nine million bucks (counting the luxury tax hit). This cash off Dr. Buss' books can only enhance the odds of resigning
Shannon Brown
and/or
Matt Barnes
, should they opt out as anticipated if their strong seasons continue. Or make quality replacements more feasibly inked, should both bolt. Either way, money was a driving element.
From a basketball perspective, I pegged Smith during the summer as
a sensible acquisition to play the D.J. Mbenga/Josh Powell role
. Recent campaigns in
New Jersey and Atlanta hint he's no longer the player he was a few seasons ago
, much less the guy the Wolves risked their entire franchise to pay under the table. But assuming
Andrew Bynum
,
Pau Gasol
and
Lamar Odom
stay healthy, Smith won't be asked to do much besides enhance practices and provide his famously good locker room presence. Should periodic frontcourt injuries surface, Smith will be asked to provide what
Theo Ratliff
offered before getting hurt: A breather for the bigs in the rotation, veteran smarts and a willingness to do what he's told.
If more is asked for over long stretches, the Lakers are likely in deep trouble, but that's more about the A-list talent lost than Smith's inadequacies. But in a pinch, he can probably get by and I doubt a better option would have been available within the same cost-effective parameters.