Los Angeles Lakers:

Joel Anthony
December, 22, 2010
12/22/10
12:05
AM PT

By Brian Kamenetzky
ESPNLosAngeles.com
Archive
(With the Lakers-Heat Christmas Day showdown still several days away, below is an early peek at one of the big issues shaping Saturday's game.)
Kobe Bryant
,
Pau Gasol
,
Lamar Odom
,
Andrew Bynum
,
LeBron James
,
Chris Bosh
,
Dwyane Wade
. When the Heat and Lakers take the floor Saturday afternoon at Staples Center, these will be the rock stars. The guys most likely to suck up camera time, be the focus of fancy graphics packages, and so on. They're also the guys for whom Christmas comes not just on Dec. 25, but every time a paycheck lands in their bank accounts. (Unless, of course, they insist on being handed a giant sack of cash on payday. Which, at least once, would actually be pretty cool.)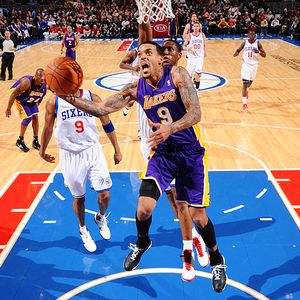 Jesse D. Garrabrandt/NBAE/Getty Images
Matt Barnes has been a monumental success at an even more monumental bargain for the Lakers this season.
Don't confuse money with influence. Each team's roster sports players in, at least by NBA standards, a different category financially, but could still make a major impact on the result of Saturday's game. Below are five guys, each earning $5 million or less, able to make or break all the work done by the headliners:

LAKERS
Matt Barnes ($1,765,000):
When he arrived in Los Angeles
after appearing to land in Toronto with a contract far richer
than the one he signed with the Lakers, I figured Barnes would provide some much-needed depth on the bench. Last season, for all intents and purposes,
Kobe Bryant
was the team's primary backup at small forward, something they couldn't afford to do again this season given the myriad physical problems Bryant fought a year ago. What I didn't have was a feel for how Barnes would fit in, or even how much he'd play.
Shows what I know.
While no player will likely ever step into
Phil Jackson's
offensive system in the way
Pau Gasol
did after arriving from Memphis, on a far smaller scale Barnes has done something similar, even while he learns the ins and outs of the offense. It works for Barnes because he never stops moving. "We don't have things set in stone. We play basketball. The idea is to always take the direct line in basketball which means if you're open you go to the basket," Jackson said after Friday's win in Philadelphia, in which Barnes scored 15 points in 28 minutes. "Matt's very efficient at doing that. There are some times we ask him why he didn't space [out the offense] but you can see why he does it, because his cuts are rewarded."
Miami, despite its struggles through November, remains an elite defensive team, capable of clogging up even the most talented offenses. When shots don't fall and clean looks become harder to create, Barnes' willingness to make hard cuts or crash the offensive glass becomes infinitely more valuable. In the latter category, Barnes has been particularly good,
grabbing the second most ORBs per game among small forwards
despite playing fewer minutes per game than every other SF in the top 20. On a per-minute basis,
no 3 in the league bests him on the glass
.
How he matches up defensively against Miami is a little tricky -- he doesn't have the strength to body up
LeBron James
in the same way
Ron Artest
can, and as far as I can tell the
two haven't played at the same time all season
-- but his activity level could be a boon for the Lakers on Saturday afternoon.