Los Angeles Lakers:

Joel Embiid
June, 25, 2014
Jun 25
8:33
PM PT

By Dave McMenamin
ESPNLosAngeles.com
Archive
When considering the
Los Angeles Lakers
' legacy of success, a long line of dominant big men comes to mind. From George Mikan to
Wilt Chamberlain
, Chamberlain to
Kareem Abdul-Jabbar
, Abdul-Jabbar to Shaquille O'Neal and O'Neal to
Pau Gasol
, the Lakers have always been able to rely on some of the league's premier pivot men.
While the league has transformed into a more open-floor game full of players capable of manning multiple positions, the fact remains that the basket is still 10 feet from the floor and having talented bigs on your team is a natural advantage.
The pool of forwards that the Lakers either brought in for workouts or eyed from afar during the pre-draft process is extremely varied.
There are one-and-done players and a four-year college vet. There are health question marks for some, skill question marks for others. There is the promise of upside for some and the sense that others are already bumping their heads against the ceiling of their potential.
Here's a look at seven frontcourt prospects whom the Lakers could end up targeting with the No. 7 pick in the draft:
Julius Randle
6-9, 234 pounds | 19 years old| Kentucky
[+] Enlarge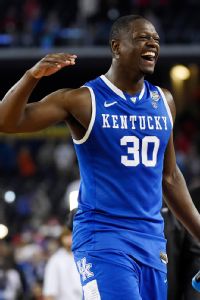 Robert Deutsch/USA TODAY SportsJulius Randle could be a major star in L.A., but some are worried about a previous foot injury.
From his 10,000-megawatt smile to the confident way in which he carries himself, there's just something about Randle that screams "future star." In a town like L.A., it's always a bonus to be a player who can master the media as well as you can take care of business on the court.
The Lakers are more concerned with what Randle can do to help them win games, of course. In his lone season at Kentucky, Randle proved he was plenty capable in that category, helping the Wildcats reach the NCAA title game thanks to averaging 15.0 points on 50 percent shooting and 10.4 rebounds as a freshman.
"I will say this," said ESPN college basketball analyst Fran Fraschilla on a conference call with reporters Wednesday. "It's very rare that you see Julius Randle take a night off, and I think it's going to serve him well in the league. He's been knocked down a few pegs on these mock drafts, and I do think that, while I thought he was overrated coming into college -- and only slightly, by the way -- I think he's underrated coming into the league."
Based on Randle's production and NBA-ready physique, he would seem like a no-brainer if he were still on the board when it's the Lakers' turn to select. Not so fast. Randle suffered a broken right foot in high school and there is a pin inside his foot that may need adjusting with an additional procedure this summer.
Randle shrugged off the story as merely a plant by another team to have his stock drop so he would be available for it to draft him. He added that in the professional opinion of the specialist he recently visited to have his foot checked out, there is nothing that needs to be done.
There was some speculation that Randle had been given a guarantee by the Lakers at No. 7 because he turned down a second workout with Boston at No. 6 after he had visited with L.A., but Randle's agent, George Bass, told ESPNLosAngeles.com that is not the case.
Regardless, Randle will be tough for L.A. to pass on if he is around when it's the Lakers' turn to draft.
Chance he'll be available:
Possible. ESPN's Chad Ford has the Lakers taking Randle in his Mock Draft 10. However, there is still the pesky issue of whether a team actually leaked the news about his foot or not. Say, hypothetically, the Celtics were the culprit. They could end up snagging him right before the Lakers are to pick.
June, 20, 2014
Jun 20
7:43
PM PT

By Dave McMenamin
ESPNLosAngeles.com
Archive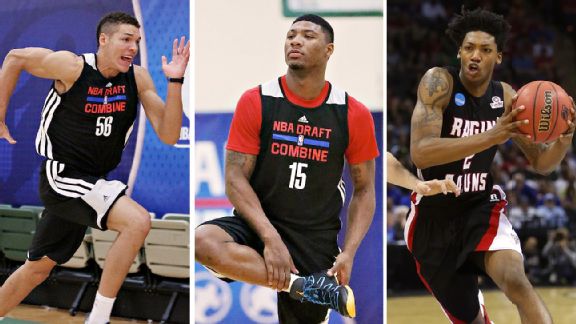 Getty ImagesThe Lakers will have extra homework now that the uncertainty of Joel Embiid's health status might improve the draft positioning of prospects Aaron Gordon, from left, Marcus Smart and Elfrid Payton.
EL SEGUNDO, Calif. -- The
Los Angeles Lakers
held another predraft workout with six prospects on Friday, but it was the health of a seventh prospect -- Kansas center
Joel Embiid
-- that had everybody talking.
Embiid, presumed to be the No. 1 pick for weeks after successfully recovering from a stress fracture in his back that cut his freshman season short, underwent surgery for another stress fracture in his right foot on Friday. Now the
Cleveland Cavaliers
' plan at the top of the draft is anybody's guess.
"I think it makes it a little bit less predictable," said Arizona's
Aaron Gordon
, brought in for a second workout with the Lakers, along with Oklahoma State's
Marcus Smart
and Louisiana-Lafayette's
Elfrid Payton
.
The trickle-down process already had begun, with Smart rushing out of the Lakers' practice facility after the workout to catch a flight to Philadelphia to show his stuff for the
76ers
. The Sixers have the No. 3 pick and seemingly had been high on
Andrew Wiggins
at that spot. But now that Wiggins could go No. 1 to Cleveland with Embiid's injury potentially scaring the Cavs off, a whole host of possibilities are in play.
Smart isn't the only one who could see his draft stock skyrocket with Embiid falling because of his foot. Gordon said there was "speculation" he could be heading to Philly to work out prior to next Thursday's draft, as well.
Regardless of what happens with the six picks prior to L.A.'s selection on draft night, there's a reason the Lakers brought in the group they did on Friday, which also included Michigan guard
Nik Stauskas
, former North Carolina turned D-League prospect
P.J. Hairston
and South Carolina State big man
Matthew Hezekiah
.
"Another great group of guys. So, the competitive level was at a high," Smart said. He only has gone through two workouts with one other team, the
Orlando Magic
, which have the No. 4 pick.
While Gordon and Smart were considered to be top-10 talents ever since the lottery order was revealed last month, Payton has shot up the charts because of strong predraft workouts. He even secured an invite to the green room at the draft next week, which the league usually only extends to prospects it expects will go in the first 10 to 15 picks.