Los Angeles Lakers:

John Lennon
May, 20, 2012
5/20/12
11:35
PM PT

By Andy Kamenetzky
ESPNLosAngeles.com
Archive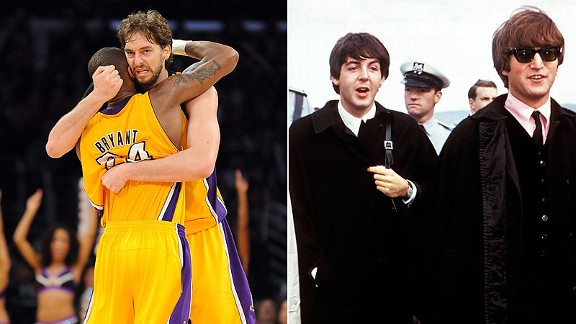 Getty Images
Kobe and Pau haven't created the same basketball "music" this season.
"Pau's got to be more assertive. He's the guy out there that we need. When he's getting the ball he's looking to pass. He's got to be aggressive. He's got to shoot the ball. He's got to drive the ball to the basket and he will in the next game ... He's just looking to swing the ball too much, he's just got to shoot it. We played pretty much the same way the entire game. The second half what they did was front Andrew (Bynum), so when they front Andrew and in the fourth quarter they crowd me, the other guys have to be more aggressive, simple as that." -
Kobe Bryant
"It's hard to say. Obviously we want the ball in Kobe's hands, but it doesn't necessarily need to be so early in the shot clock. I think it should get there later in the shot clock when the ball has moved and changed sides of the floor. Instead of being there from the beginning and then they kind of collapse and everybody's kind of sitting and it makes it hard for us, sometimes." -
Pau Gasol
Above are two very different thoughts expressed by the Lakers' stars when asked about the stagnant fourth quarter offense that, along with simultaneously porous defense, eventually resulted in a blown lead and 3-1 deficit heading to Oklahoma City. Upon hearing these remarks, fans and media are typically inclined to debate "who's right" in an effort to determine which Laker was most "at fault" for the loss. But for me, what was most compelling about these comments was the stark reality exposed.
Kobe and Pau aren't on the same page. At all.