Los Angeles Lakers:

John McClain
January, 15, 2010
1/15/10
3:47
PM PT

By Andy Kamenetzky
ESPNLosAngeles.com
Archive
There's been a lot of talk these days, and rightfully so, about
Kobe Bryant
toughing out severe back spasms during a win over the Dallas Mavericks
. It's just one of countless times over his career where Kobe triumphed in a showdown with pain. He's generally regarded as the NBA's toughest player and maybe even the toughest athlete in sports. Hell, some might even consider Mamba our planet's toughest
human being
. The living definition of "macho." Which reminded me of an old SNL sketch where
Bill Murray
played the host of a Spanish language game show where people would decide Quien es Mas Macho? --who is more macho?-- between various people (with
Ricardo Montalban
a recurrent winner). With Kobe's macho-ness getting everyone in a tizzy, I thought it only appropriate to revisit this question, and ask the Land O' Lakers readership for their two cents.
Quien es Mas Macho? Kobe Bryant or...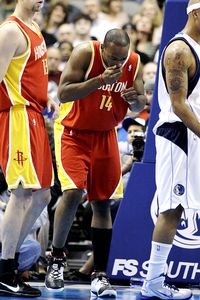 Tony Gutierrez/AP Photo
Carl Landry's missing a few teeth.
Carl Landry
: Clearly, Kobe is willing to play through gritted teeth, but is he willing to lose choppers in the process? Landry certainly is, because every time he steps on the court, he's apparently at risk to lose a tooth. The collision embedding a few choppers in
Dirk Nowitzki's
elbow got the most hooplah, but Houston's reserve forward has made
a history of shedding pearlies while balling
. Try to grin and bear that particular lot in life. Plus, he only
missed eight games after getting SHOT IN THE LEG
. This is one macho hombre we're talking about.