Los Angeles Lakers:

Jordan Clarkson
October, 10, 2014
Oct 10
12:32
PM PT
EL SEGUNDO, Calif. --
Los Angeles Lakers
guard
Jordan Clarkson
will be out for at least one week with a strained left calf muscle.
The Lakers announced the rookie's diagnosis Friday.
Clarkson was hurt during the second quarter of the Lakers' preseason game against the
Golden State Warriors
on Thursday night.
The Lakers drafted Clarkson in the second round last June. He played two seasons at Tulsa before finishing his college career with one season at Missouri.
He is hoping to catch on as a point guard with the Lakers behind
Steve Nash
and
Jeremy Lin
.
July, 15, 2014
Jul 15
9:39
PM PT
LAS VEGAS -- The NBA summer league will shift to its tournament stage starting Wednesday, with all of the participating teams having played their three preliminary games to determine seeding.
The
Los Angeles Lakers
went 1-2, beating the
Golden State Warriors
after losing to the
Toronto Raptors
and
New Orleans Pelicans
. Beyond teams' records, seeds are doled out based on how many quarters a team wins in those games. L.A. won four of the 12 quarters it played, tied another and also won an overtime period.
The saying goes that basketball players' games are made in the summer, but at the same time wins and losses don't really matter. Developing winning habits? Sure, that matters. But the fact that the
Philadelphia 76ers
won the Orlando summer league before the Vegas slate tipped off will have little bearing on how the Sixers perform in the regular season next year. Half of the players won't even be on the team.
Regardless, with no real basketball to come for the next three months, the summer league at least gives us hoop heads something to talk about and analyze in the mean time.
Here are a few observations after spending a couple of days watching the Lakers in Vegas:
[+] Enlarge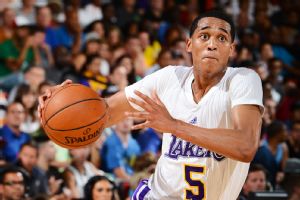 Garrett Ellwood/NBAE/Getty ImagesJordan Clarkson has been impressive during summer league for the Lakers, averaging 18.7 points.
1. Jordan Clarkson looks like a steal
Clarkson's 18.7 points-per-game average is tied for 11th among all scorers in Vegas. Not bad for the No. 46 pick in the draft. A sampling of some of the names ahead of him? Otto Porter (selected No. 3 by Washington last year),
Doug McDermott
(picked No. 11 by Denver this year before being traded to Chicago) and
Gary Harris
(selected No. 19 this year by Chicago). And it's not just that he's scoring, he's shooting a respectable 44.4 percent from the field, a more than respectable 50 percent on 3-pointers (7-for-14) and perfect from the free throw line (9-for-9). Add in the tip-in game winner he had in overtime against Golden State and he's having a pretty special week.
2. When the Lakers finally hire a coach, he better keep the staff that's already in place
The days continue to tick by without the Lakers hiring a coach, but in the meantime members of Mike D'Antoni's staff continue to shepherd the Lakers' summer league efforts.
Mark Madsen
and Larry Lewis are the associate head coaches, upgrading from their normal player development coach titles, with Tom Bialaszewski and J.J. Outlaw, normally video coordinators, and Clay Moser, a team scout, serving as assistant coaches. It would be wrong for the new coach to clear out those guys this late in the summer to bring in his own staff.
3. Julius Randle vs. Nerlens Noel should be fun
The Lakers' next game will be Wednesday night against Philadelphia, featuring a great big man matchup in Randle vs. Noel. Brawn vs. length. Kentucky vs. Kentucky. Averages of 12.0 points and 3.0 rebounds for Randle vs. Noel who capped off his run in Orlando with nine rebounds and five blocks against Brooklyn. I can't wait to see Randle try to take Noel off the dribble. I can't wait to see Noel get beat and try to recover by going for the block at the rim.
4. It helps when you don't miss
Trey Thompkins, a former second-round pick for the Clippers, is 14-for-24 so far (58.3 percent). Trevor Mbakwe, who played in Italy last season, is 8-for-10 (80 percent). When you're trying to make a team, there's no better way to impress the coaches than to convert when you number is called.
July, 15, 2014
Jul 15
12:10
AM PT
LAS VEGAS -- It wasn't quite Magic Johnson jumping into Kareem Abdul-Jabbar's arms when The Captain made a buzzer-beating skyhook to lead the
Los Angeles Lakers
to a win in Johnson's first game as a pro. But there certainly was some unbridled enthusiasm on display after L.A. beat the
Golden State Warriors
89-88 in overtime at the Las Vegas summer league Monday.
Only this time it was the big man,
Julius Randle
, missing the potential game-winner and the guard,
Jordan Clarkson
, flying to the rim to tip in the go-ahead shot as time expired.
The Lakers' bench stormed the court to celebrate and surrounded Clarkson -- the No. 46 pick in the second round of this year's draft whom L.A. believed so much in that it paid Washington $1.8 million for his rights on draft night.
Clarkson finished with a team-high 19 points on the night, keeping right on pace with his 18.5 points per game average through the Lakers' previous two summer league games. But this was his finest performance.
"I think Clarkson has great explosiveness going to the basket. He has a tremendous pull-up jumper," said
Mark Madsen
, the Lakers' associate head coach in Las Vegas, along with Larry Lewis. "But the thing about Jordan Clarkson is he's always at the right place at the right time. And we saw that on the tip-in.
"With 0.5 seconds left, he was there. He tipped it in. It was a soft-touch tip-in, and that got us the win."
Clarkson said it was just his second winning shot of his basketball career, the first coming back in high school.
It capped a great night for him, as he added seven rebounds, shot 2-for-4 from the 3-point line (he's shooting 50 percent overall on 3s through three games) and limited his turnovers to just two after averaging double that in his first two games.
"I'm really just playing my game," Clarkson said. "Just being comfortable with myself, getting to know my teammates and just learning to play with them. I feel like we got room to grow and it's just going to keep getting better."
July, 7, 2014
Jul 7
2:18
PM PT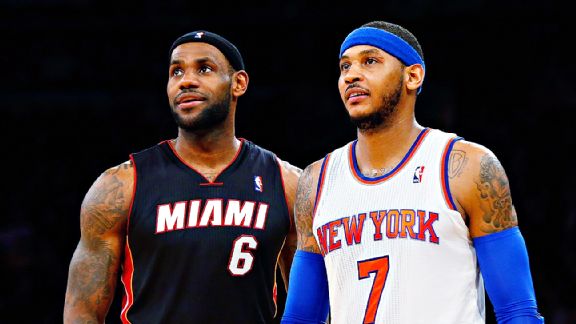 Jim McIsaac/Getty Images
EL SEGUNDO, Calif. -- While the
Los Angeles Lakers
tried to move forward with actual basketball Monday, gathering their group of summer league invitees for the first of a handful of practices before summer league tips off in Las Vegas on Friday, there's still a lot of waiting going on.
Rookie
Julius Randle
, medically cleared by a foot specialist last week to play on his right foot without any further surgical procedures, is waiting to sign his contract before he can participate in the summer league games.
"We'll see," Randle said when asked if he would be suiting up for the Lakers first game against the
Toronto Raptors
on Friday. "It's kind of really out of my hands right now. I'm ready to play whenever, but it's not really in my hands right now."
The Lakers, of course, are waiting to actually ink Randle to his rookie deal as long as they are pursuing
Carmelo Anthony
and
LeBron James
, because they want to keep as much cap space open as possible to facilitate the deals.
ESPN writer and salary cap expert Larry Coon explained the Lakers' reasoning in an email to ESPNLosAngles.com:
"Free agents, first round draft picks and exceptions have 'cap holds' which are used to account for the money that is expected to be spent, reducing the amount the team can spend on other teams' free agents. As the Lakers' first round draft pick (and number seven overall), Julius Randle has a cap hold on the Lakers' books for $2.497,800. If the Lakers were to make a free agent offer to, say, Carmelo Anthony, they can't offer him any of the money that's in Randle's cap hold -- it's set aside for Randle.

"The amount of Randle's cap hold is determined by the league salary scale, however teams can sign their first round picks for up to 120 percent of the scale amount, which means Randle will be eligible to sign for up to $2,997,360. High draft picks almost always sign for the full amount for which they are eligible. As soon as Randle signs his contract, his cap hold goes away and is replaced with his actual salary -- so instead of counting approximately $2.5 million on the Lakers' books, he will count nearly $3 million.

"So when a team like the Lakers is chasing free agents, it makes sense to delay the signing of their first round draft picks. If the Lakers were to sign Randle first (assuming he will get the full 120%, which is a near certainty), they would have approximately $500,000 less to offer a free agent."
Lakers point guard
Kendall Marshall
has also had his patience tested. He's on a non-guaranteed contract for next season worth approximately $915,000. Despite starting 45 games last season for L.A. after being plucked from the D-League, he will be playing on the Lakers' summer league team.
"I feel like I still have a lot to prove," Marshall said of the summer league assignment. "For some reason, there's always a reason why I'm successful or why I'm not successful. So I kind of need to put that doubt to rest and just go out there and prove I can play."
June, 27, 2014
Jun 27
12:04
PM PT
The
Los Angeles Lakers
have signed undrafted free agent
DeAndre Kane
to a summer league contract, a league source confirmed to ESPNLosAngeles.com on Friday.
Kane, 25, averaged 17.1 points, 6.8 rebounds, 5.9 assists and 1.2 steals per game in his senior season at Iowa State.
The Lakers have also signed former Ohio State forward
LaQuinton Ross
to a summer league deal, according to the Columbus Dispatch.
The 6-foot-8, 220-pound Ross averaged 15.2 points and 5.9 rebounds in his junior season with the Buckeyes.
L.A. kicks off its summer league slate in Las Vegas on July 11. Lakers general manager Mitch Kupchak said he expects
Jordan Clarkson
, acquired by the team on draft night after he was selected by Washington with the No. 46 pick, to also play on the summer league squad. Kupchak was noncommittal about the team's first round selection,
Julius Randle
, playing in the summer league, however.
June, 26, 2014
Jun 26
9:23
PM PT
EL SEGUNDO, Calif. -- The
Los Angeles Lakers
came into draft night Thursday determined to acquire another pick to pair with their No. 7 selection in the first round.
Mission accomplished.
The Lakers were able to buy the
Washington Wizards
' No. 46 pick in the second round, according to general manager Mitch Kupchak. The Wizards selected Missouri point guard
Jordan Clarkson
on behalf of the Lakers. The Lakers spent $1.8 million on the pick, according to a team source. NBA teams are allowed to spend up to $3 million per season on cash deals to buy a pick, sweeten a trade, buy a player out of a foreign contract, etc.
"A ball-handling guard that we're excited about drafting," Kupchak said. "We're looking forward to getting him in Los Angeles as soon as possible. Hopefully he'll participate in summer league, which starts in Las Vegas in about two weeks."
Clarkson averaged 17.5 points, 3.8 rebounds and 3.4 assists per game in his lone season with the Tigers after transferring from Tulsa after his sophomore season.
"It's a blessing, man," Clarkson told reporters on a conference call, reacting to being acquired by L.A. "I feel like I'm in a good situation. It was a long process, a long draft process. I worked real hard. And I feel like I'm in the right situation. I just have to make the best out of my opportunity."
Clarkson, 22, is a big guard, measuring 6-foot-5, 186 pounds.
"He's got great size," Kupchak said. "Good athlete. Really good size. Good defender. Excels probably at attacking the rim. Maybe not as good of a shooter, probably, as he will be when he works on it. He left school a year early. He transferred. So, I'm sure he was thinking that maybe he would get drafted higher and maybe he has a chip on his shoulder -- an expression you've heard today -- to come out and prove something. But we liked his size and we liked his skill at that position."
He was rated as a late first-round pick on several draft boards and was rated even higher before struggling with his shot for Missouri, shooting just 28.1 percent from 3-point range last season. Kupchak said the Lakers believed Clarkson could have gone as high as the middle of the first round.
"To get a guy like that at 46, we're pleased," Kupchak said.
Clarkson described what it was like to drop on draft night.
"My agent was telling me early on that I may go in the late first round but be prepared for anything to happen," Clarkson said. "So I was, and I just took it in stride. Now all I can do is use it as motivation to really push me in this next level."