Los Angeles Lakers:

Kevin Martin
November, 10, 2013
11/10/13
9:00
PM PT

By Dave McMenamin
ESPNLosAngeles.com
Archive
LOS ANGELES -- Before Sunday's game,
Los Angeles Lakers
coach Mike D'Antoni was asked to reflect on the franchise's 22-game winning streak against the night's opponent, the
Minnesota Timberwolves
.
"It doesn't mean anything," D'Antoni said.
The coach's correct call was about the only thing that went right for the Lakers against Minnesota.
How it happened:
Minnesota blitzed the Lakers in the first quarter, and the home team never recovered, falling down by as many as 29 in the second half.
What it means:
Even though the Lakers split the final two games of their road trip last week, there was reason for optimism on the defensive end after they held the
New Orleans Pelicans
to 43.7 percent shooting even in a loss and the
Houston Rockets
to just 37.7 percent in a win.
Perhaps buoyed by the performance, D'Antoni chose to focus on the other side of the ball before the game.
"[The Timberwolves are] going to find a way to score some points, so our offense needs to be good," D'Antoni said.
Then the Wolves went out and dropped 113 points on 48.9 percent shooting while going 10-for-20 on 3s.
L.A. has a ton of work to do on D.
Hits:
Steve Blake
scored a season-high 19 points on 7-for-11 shooting, including a 5-for-7 mark from downtown. He also had eight assists.
Jodie Meeks
, who came into the game ranked No. 10 in the league in true shooting percentage (.651), had another accurate game from the field, finishing with 16 points on 6-for-10 shooting.
After losing his starting spot to
Chris Kaman
and not playing at all the past two games,
Shawne Williams
chipped in eight points and four assists off the bench.
Jordan Hill
had seven points and nine rebounds in 19 minutes.
Misses:
Steve Nash
left the game at halftime and did not return because his back was bothering him. He will see a back specialist Monday for further evaluation.
Pau Gasol
started the game 3-for-5 but ended it 5-for-12, bringing his three-game slump to 9-for-34.
After going 3-for-18 on the Lakers' road trip,
Xavier Henry
had another rough night, shooting just 1-for-8. He did collect eight rebounds, however.
Stat of the game:
Minnesota built a 24-point lead after the first quarter, with
Kevin Martin
scoring 16 of his 27 points and
Kevin Love
scoring 18 of his 25 points in the opening period. Minny's 47 first-quarter points were the most by any team since the
Denver Nuggets
scored 48 against the Seattle SuperSonics in 2008.
Up next:
The Lakers continue the week with the back end of a home-and-home against New Orleans on Tuesday and go on the road against Denver on Wednesday.
December, 7, 2012
12/07/12
9:22
AM PT
When the Oklahoma City Thunder shocked the world by trading James Harden just days before the season opener, many wondered whether the franchise was prioritizing the bottom line ahead of winning. On and off the court, Harden's been a critical factor in the Thunder's steady rise since 2010, and his do-it-all skill set was
often the grease for the dual engines of Kevin Durant and Russell Westbrook
. Kevin Martin may be a talented scorer, but he's not the same player, and a shorter financial commitment doesn't change that. Clearly, OKC couldn't be written off without Harden, but last season's Western Conference champions appeared poised for a slow start while adjusting to a new dynamic.
That lull lasted precisely three games.
After a 1-2 start, the 15-4 Thunder have lost just two games. They're riding a six-game winning streak, and have put up 100-plus in 10 consecutive contests. Fourth quarters still present times when the reigning sixth man of the year might come in handy, but overall, OKC has moved forward in strong fashion. A game in Oklahoma City always represents a tough challenge, and this one doesn't figure to buck any trends.
For more perspective on OKC, I conducted an IM conversation with Royce Young, who covers the team for
the True Hoop network's Daily Thunder blog
. Below is the transcript.
Andy Kamenetzky:
On the surface, it appears the post-Harden era has commenced without a hitch. Has it been that smooth?
Royce Young:
Honestly, it has. I recently looked over the schedule and the only game I thought the Thunder probably would've won with Harden around was the opener against the Spurs. They clearly hadn't adjusted to not having him -- that was only about four days after the trade -- and they didn't close well. Otherwise, by pretty much any metric, not only are the Thunder winning, they're winning better this season. Bigger margin of victory. Better offensive efficiency. Better assist rate. Better defensive efficiency. I guess that's not all that difficult when Russell Westbrook and Kevin Durant are still on your team.
AK:
We've seen Harden serve as an important bridge between Durant and Westbrook in the fourth quarter. How do they operate down the stretch of close games without him?
RY:
Basically it's all Westbrook and Durant, all the time. Like you said, Harden was an extremely valuable late-game player. When "Bad Russell" was in the building and playing wild and reckless, the Thunder could just take the ball away from him and let Harden run point and create. And don't get me wrong. There's still a very real fear about crunch-time situations in the postseason. Kevin Martin has fit in extremely well, except during late-game situations. Serge Ibaka is a bit more involved, but it's mostly all Durant and Westbrook. So far, it's worked pretty well. But that doesn't mean it's a lock to work smoothly in May.
This is off the wall, but I'd love to hear your thoughts. In OKC recently, there's been a discussion over who's better: Serge Ibaka or Pau Gasol. Who would you rather have?
AK:
Ibaka. He's got two good knees (to the best of my knowledge) which makes him more immediately valuable than Pau. He's also nearly 10 years younger, a huge plus for the long term. And while Ibaka may not be as versatile, he seems like an incredibly hard worker intent on improving weaknesses. (Witness the improved jumper.) Plus, he and Howard would form an absolute wrecking-crew defensive frontcourt. Pau certainly has a better understanding of the game, and is light-years ahead at running an offense. But were Sam Presti to offer a straight swap, I'd say yes in a heartbeat.
You mentioned Martin's snug fit with the second unit, but how has Eric Maynor performed since returning from injury? I thought his absence flew under the radar last season.
October, 28, 2012
10/28/12
4:23
PM PT
Well,
this was unexpected.
Not because I thought moving
James Harden
would be unfathomable for the Oklahoma City Thunder. I actually expected OKC to explore trade options if contract extension terms weren't agreed upon come Oct. 31.
I've heard people saying the Thunder should have just played out the season, then traded Harden in the offseason if need be, because you don't break up a young, ever-improving core fresh off a NBA Finals appearance. I understand that rationale but, at the same time, you don't want a potentially acrimonious situation hanging over the campaign -- and perhaps bleeding into the locker room and onto the court. I'm also a firm believer that if it's a foregone conclusion your star player will eventually be dealt, better to do it sooner than later. The haul is typically better --
Kevin Martin
,
Jeremy Lamb
and some draft picks ain't peanuts -- and you've cut off any drama at the knees.
Ultimately, I just thought "Team Harden" and Thunder GM Sam Presti would discover common ground. I was wrong. As to whether Harden would have been better served taking OKC's offer and remaining part of a perennial juggernaut or the Thunder bricked the negotiations, I'll reserve judgment until I see the inevitable extension from the
Houston Rockets
. Those particulars provide critical information and, in the meantime, what really matters in this neck of the woods is how this affects the Los Angeles Lakers.
In the long run, I'm guessing OKC didn't dramatically hurt itself. Martin can either be flipped for a more desired piece or becomes more than $12 million in cap relief, either of which allows the Thunder to keep building on a good thing. Lamb is a lottery pick guard who could slide into the role Harden once played. There's no such thing as too many draft picks, whether to fortify your own house or entice a trade partner. Plus, a trio of
Kevin Durant
,
Russell Westbrook
and
Serge Ibaka
, all in their early 20s, remains quite the enviable core. Even as a big admirer of what Harden brings to the table -- if he's not a true "max" player, he's certainly close -- I'm not convinced this will become an incontrovertible turning point in franchise history.
In the short run, however, it could weaken OKC during the 2013 season, particularly when it comes to matching up against the Lakers.
April, 6, 2012
4/06/12
8:49
AM PT
After a few weeks of middling and even disinterested looking performances, Wednesday's victory over the Clippers felt like just what the doctor ordered. The Lakers were dialed in for 48 minutes, often executed with precision, and seemed unwilling to accept anything but a win. In theory, that showing should provide fans with a good feeling heading into tonight's contest with the Rockets. In reality, however, it could be meaningless as an indicator of what lies ahead.
As I've maintained all season, the Lakers can only be counted on to perform well against teams they genuinely dislike. In my estimation, those squads are the Clippers, Mavericks, Celtics . . . and disappointingly few else.
Maybe
the Suns qualify, since the Lakers often go as Kobe goes and he admittedly hasn't gotten past Phoenix bouncing his teams in 2006 and 2007. (Or he's just lashing out at anybody who reminds him sharing a backcourt with
Smush Parker
.) And if you're feeling generous,
maybe
a hard-fought win at Staples over the Heat means they've developed a distaste for LeBron and the gang. But to the best of my knowledge, the Lakers have nothing against the Rockets, and without tangible evidence of animosity -- or inherent professionalism -- it remains difficult to bank on the Lakers showing up. However, I'm willing to see my theory disproved, and tonight's as good a time to start as any.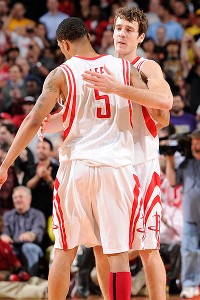 Bill Baptist/NBAE/Getty Images
Dragic and Lee are just two among many keeping the Rox in the playoff hunt.
For more knowledge about the Rockets, we called upon
Rahat Huq
from the True Hoop network's
Red94
blog. Below are his thoughts on four questions about Houston's squad.
LO'L: The Rockets have managed to stay afloat despite prolonged absences from Kyle Lowry and Kevin Martin. Who/what has allowed this to happen?
Rahat Huq:
It's been a collective effort.
Goran Dragic
and
Courtney Lee
have played even better as a duo than the men they replaced.
Chandler Parsons
has evolved into a new-and-improved
Shane Battier
, doing a little bit of everything from defending the opposition's best player to spacing the court on the perimeter.
Luis Scola
has regained his touch and rebounding form.
Chase Budinger
has hit big shots in timely moments.
Marcus Camby
has filled the lineup's previous sole true hole.
Early Boykins
has stood tall. Everyone has chipped in to an outcome in the standings which, from any vantage point, is truly remarkable.
They won't win the title but the fact that the Rockets are alive is a great story.
March, 20, 2012
3/20/12
8:37
AM PT
With the Western Conference tighter than
James Brown's rhythm section back in the day
, every game counts for the Lakers. Which, by definition, made Sunday's debacle against a short-handed Jazz squad an opportunity gone irresponsibly wasted. And which, by further definition, raises the stakes of this two-game road trip even more. The Lakers have been unpredictable all season away from Staples, but could be catching Houston at just the right time. Point guard
Kyle Lowry
, who's been playing at an All-Star-ish level, is out with a bacterial infection. Scorer
Kevin Martin
is day-to-day with a strained shoulder, and hasn't played since March 13. In theory, this sets up nicely for a game the Lakers really need to win.
Then again, the same felt true about a game in L.A. against the Jazz, down
Al Jefferson
and
Earl Watson
. The Lakers played like a team expecting to win, which could explain the lack of focus resulting in 24 turnovers and some rather porous defense. Better to enter the Toyota Center
expecting a bar fight
and being pleasantly surprised.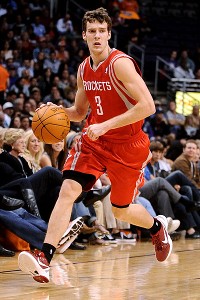 Jennifer Stewart/US Presswire
There's a lot of pressure on Dragic at the moment.
For further insight on the Rockets, we called up
Rahat Huq
from the True Hoop network's
Red94
blog. Below are his thoughts on four questions about Houston's squad, plus one item I'll be curious about.
Land O' Lakers: How does Lowry 's absence affect the way the Rockets operate? Can anybody other than Goran Dragic run an offense?
RH:
The short answer: no. The Rockets lost the game in Phoenix when
Goran Dragic
went to the bench early in the first half with foul trouble.
Courtney Lee
has taken on the bulk of the backup playmaking duties but he isn't a point guard.
Courtney Fortson
--signed to a 10-day contract--has been horrific in limited minutes. When Dragic sits, the Rockets fall apart. They need Lowry back as soon as possible if they want to remain this race.
LO'L: If Martin can't play, where do you expect Houston's points to come from, particularly with Lowry (another scorer) also sidelined?
RH:
Even when in the lineup, Martin wasn't giving the team much in recent weeks, so his loss isn't the issue - it's losing Lowry that has hurt. The Rockets score the same way they have all year: through running the break and misdirection motion sets in the halfcourt. They've looked to
Patrick Patterson
in the post much more of late and I wouldn't be surprised to see that continue against LA.
January, 3, 2012
1/03/12
10:15
PM PT
And with that, the Lakers are back above .500 again. Here are five takeaways from the win:
1
) Kobe Bryant shot the ball a lot again, but with considerably improved selection
Predictably, Kobe's 6-for-28 disaster in Denver generated the talk typical of games where The Mamba hoists a fair amount of shots to ill-effect. Specifically, people obsessed over the shot count, and whether, in this particular case, "28" represents too many. Among the questions asked... what's the "right" amount for Kobe, especially in a game where
Andrew Bynum
and
Pau Gasol
(among others are hitting shots)... Will
Mike Brown
call him out... Will Kobe come out the next game "aggressive" (code for "hucking like there's no tomorrow") or facilitating (code for "allowing others to touch the ball")?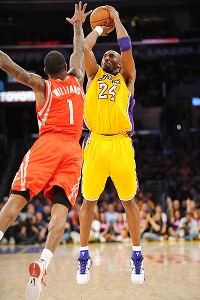 Andrew D. Bernstein/NBAE/Getty Images
Kobe took more shots against Houston than Denver, but controversy won't likely follow.
But largely lost in the conversation was the true issue, which was the shot selection itself. For a natural scorer like Kobe capable of hitting from anywhere on the court, it's not necessarily
how many
shots go up, but
where
and
how
they're launched. Against the Nuggets, Kobe was reckless, launching without conscious, discretion or regard for the consequences. As a result, several possessions ended on empty notes, and the Laker D was constantly on its heels in transition.
But against Houston, Kobe was sensible and methodical about where he chose to let fly. More often than not, Bryant went to work down low, posting up the smaller likes of
Kyle Lowry
,
Kevin Martin
and other Rockets absolutely mismatched against his superior size. Whether taking it to the rim or turning around to pop a J before the double arrived, this was a controlled, relaxed scoring display. Yes, it took some time to get cooking, and Bryant finished the first half 5-14 with 15 points, but
the shot chart was considerably more pleasing to the eye
.
(As an added bonus, Kobe operating like this also meant fewer opportunities to get stripped in space or on an attempt to split a double. Thus, the ball was turned over only twice (against six assists), a decided improvement over Sunday's six gaffes.)
During the second half, Bryant caught heat. And down the stretch, we saw Kobe what's made him a legend: Make difficult shots to close out a game. But again, these monster buckets were generally set up and executed better, with Kobe backing down defenders and making quick, decisive moves, rather than jab-stepping himself to death in isolation. He ended the evening with a reasonably efficient 14-29 clip, but had he missed a few more, I wouldn't have had too many complaints (save one below), because it was generally difficult to find fault with the shots themselves.
All in all, Bryant's 37 points provided a great reminder about how the story isn't found in raw numbers. Context means everything.
January, 3, 2012
1/03/12
11:32
AM PT

By Brian Kamenetzky
ESPNLosAngeles.com
Archive
Tuesday night, the
Lakers face a Houston Rockets squad
that always seems to give them fits. While a few roles have been recast in Houston, starting with the coach --
Rick Adelman
out,
Kevin McHale
in --
the basics of this year's team are similar. The Rockets remain an efficient offensive group with sneaky good weapons inside and out. At the point,
Kyle Lowry
(13.3 points, 11.5 assists, 6.3 rebounds, 2.5 steals) has been spectacular, and with
Luis Scola
(15.5 points) and
Kevin Martin
(19.3 points, 42 percent from beyond the arc), the Rockets are considered a potential playoff team out West, if things break in their direction.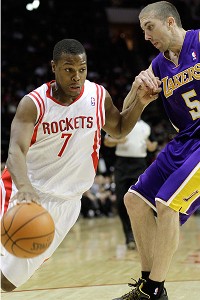 AP Photo/Pat Sullivan
Through four games, Kyle Lowry has been a special kind of good.
"They're extremely talented, and they're young and athletic,"
Mike Brown
said Monday. "They're going to be tough. Lowry right now, is in my opinion the catalyst for them. Defensively he's the head of the snake, and then offensively he's got to be averaging something close to 12 assists a game. They're tough, from top to bottom."
On the other hand, Houston lost its two road games by nine (Orlando) and 20 (Memphis), so they haven't quite figured out that end of things, yet.
For a little more insight into the Rockets, we hit up
Rahat Huq of TrueHoop's Red94
with some questions ...
1. What is different for the Rockets under Kevin McHale?
Hut: Terrence Williams is getting a chance but the biggest difference is the result of Chuck Hayes' departure. Without Hayes' passing, the Rockets aren't initiating their offense as much from the high post and instead are running a more traditional guard-facilitated offense. The outcome is Kyle Lowry's sparkling statistics.
2. Kyle Lowry has been great in the early going. Where does he fit in on the list of high-end NBA point guards?
Hut: Behind Chris Paul, Deron Williams, Derrick Rose and Rajon Rondo for sure. After that, I put him in the mix with anybody. The assist numbers speak for themselves, but beyond that, he defends and rebounds as well as any guard. Lowry's only major weakness is that he can't really create much for himself off the dribble in the way someone like Rose can. Because of that, his upside is capped from true elite status.
February, 1, 2011
2/01/11
11:03
AM PT
When this current five game home stand began, today's contest was pegged as the fourth easiest behind the cream puff Kings. A relative breather between Boston and San Antonio. Of course, that was before the Lakers actually lost to Sacto, much less Boston. For the time being, all bets feel decidedly off. Still, the Rockets are a team dealing with their own struggles these days, most notably the injury bug's vendetta. As usual,
Yao Ming
remains at the center of these health problems.
I tracked down
Rahat Huq
from
True Hoop's Red94 blog
for some thoughts on the Rockets, then added a thought of my own to each point. Here's what to keep an eye on when the ball is jumped: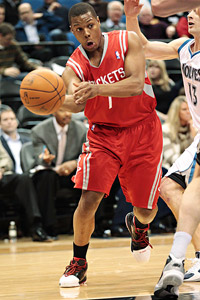 Jesse Johnson/US Presswire
Lowry does a good job involving teammates.
Andy Kamenetzky:
The Lakers haven't faced the Rockets this season with
Aaron Brooks
as a sixth man of sorts. How much different are the first and second units with
Kyle Lowry
(
one of the NBA's most underrated role players, IMHO
) and Brooks swapped spots? And where is Brooks physically?
Rahat Huq:
To say that Aaron Brooks has been struggling would be an understatement. After the injury, he simply has not been the same player and has also had difficulty adjusting to his new role. Much of this can be attributed to his hampered physical condition but some have wondered if his uncertain contract status has played a role.
With the first unit, Lowry and Martin want to attack and draw fouls. Off the bench,
Courtney Lee
handles a lot of the ball-handling duties allowing Aaron Brooks to attack for himself off the dribble. While thus far unsuccessful, the latter has assumed the "
Vinnie Johnson
" role for this team.
AK's thoughts: Truth be told, Brooks' "Microwave" reinvention (or regression, depending on your outlook) strikes me as inevitable. As tough a cover and dynamic a player as Brooks can be, his point guard skills have never impressed me. What's going on in Houston reminds me of the situation in Detroit, where they've clearly decided Rodney Stuckey may be a part of their future, but as a two guard. Brook's move to be bench may not be successful yet, as Huq notes, but it does feel logical.
As for Lowry, his 33.41 assist rate among point guards playing 25+ minutes sandwiches him between Chris Paul and John Wall, which is pretty good company. He's a smart player. Not to mention tough and strong, a bulldog in the vein of Derek Fisher. Clearly, his place in the starting lineup isn't translating to wins, but underestimating the B-List name at the one for Houston would be a mistake. He racked 10 dimes against the Lakers in a Dec. 1 loss, and is capable of damage.
October, 26, 2010
10/26/10
12:17
PM PT
Tom Petty
noted back in '81 how
the waiting is the hardest part
. Nearly 30 years have passed, and science has yet to discover a cure for the anxiousness during the countdown to an epic event. Like, say, the quest for a third consecutive NBA title. Thankfully, pins and needles can go the way of the T-Rex, because the season is officially on like Donkey Kong!
The two-time defending champion Los Angeles Lakers will do battle tonight at Staples Center against Houston Rockets. Just seeing their boys back in action would be enough for the Laker nation, but against a team capable of a compelling contest? Bonus! Here are a few items worth watching:
Pau Gasol vs. Yao Ming
This marks the Chinese icon's first meaningful NBA minutes since suffering a devastating foot injury during the 2009 playoffs (coincidentally enough, against the Lakers en route to the first of consecutive championships). Yao will be competing on the roundball equivalent of a pitch count, capped at what's been routinely described as a strictly monitored 24-minute mark.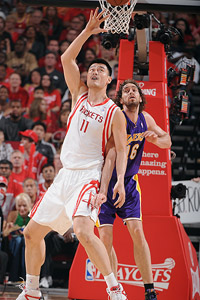 Andrew D. Bernstein/NBAE/Getty Images

The last time these two tangled also marks the last time Yao tangled, period.


While this limit
obviously affects Rick Adelman's substitutions and options
, Yao is nonetheless present, accounted for, and able to play hard. His presence alone, much less his enviable all-around skills, drastically change the complexion of Tuesday's opponents (who still toughed out a 42-40 record last season minus the services of a true star).
Gasol, charged with the task of slowing Yao, knows this:
"It's always a test to play against Yao. Such a big presence inside. So many moves also. So it's always a challenge. So you have to give your best effort against him if you want to be successful against him."
The meaty task is quite possibly a blessing in disguise for Gasol. As ESPNLA.com's
Dave McMenamin
notes, El Spaniard's coaches
haven't been especially pleased with his exhibition season gusto
, and even the player has admitted getting psyched for meaningless October games can be tough after the thrill of back-to-back titles. In fairness, Gasol is hardly the first decorated veteran to feel this way, nor will he be the last. But
with Kobe Bryant still on the mend
,
Andrew Bynum
unavailable, and key players still learning the triangular ropes (see below), the early leg of the season isn't just an opportunity for Gasol to further boost his credentials as a player capable of carrying a team through stretches. It's being counted on.
Playtime now over, Gasol can start taking the challenge to heart.
September, 13, 2010
9/13/10
9:35
AM PT

By Brian Kamenetzky
ESPNLosAngeles.com
Archive
With training camp around the corner, we asked a group of local and national roundball experts to weigh in on some of the big Lakers questions heading into the 2010-2011 season. Call it a preseason prognosticationpallooza.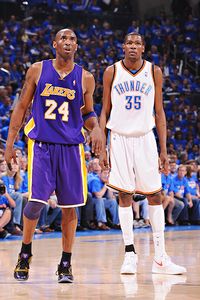 Andrew D. Bernstein/Getty Images
It's a close call, but the majority of our experts panel see Kevin Durant and the Thunder as the team most capable of knocking off the Lakers in a seven-game series.
Our panel:
Andy and Brian Kamenetzky (ESPNLA.com Land O'Lakers Blog),
Elliott Teaford
(L.A. Daily News),
Kevin Ding
(O.C. Register),
Kevin Arnovitz
(ESPN TrueHoop),
Eric Pincus
(Hoopsworld),
Chris Clark
(Silver Screen and Roll), J.A. Adande (ESPN.com),
Darius Soriano
(Forum Blue and Gold),
Kurt Helin
(ProBasketballTalk.com),
Mark Medina
(L.A. Times.com), Arash Markazi (ESPNLA.com), and Dave McMenamin (ESPNLA.com),
Today's question:
Which Western Conference team has the best chance to beat the Lakers in a seven-game series?
The Results:

Oklahoma City
- 5.5 votes
Portland
- 3.5 votes
Dallas
- 2 votes
Houston
- 1 vote, but a lot of love as a serious dark horse

Nobody
- 1 vote
My Take:
Two teams -- Oklahoma City and Portland -- stand out. Both have the ability to make life difficult for the Lakers. A healthy Blazers team has backcourt strength (
Brandon Roy
), a stong wing defender (
Nicolas Batum
) and frontcourt depth (
Greg Oden, LaMarcus Aldridge, Marcus Camby
, plus
Joel Przybilla
, if he recovers from knee surgery). We saw last season what OKC was capable of, and if the Thunder get decent play from
Cole Aldrich
and more development from
Serge Ibaka
(thus beefing up the frontcourt), I'll give them the slightest of edges over Portland, probably because it's hard for me to picture a healthy Portland team.
The wild card? Houston, with
Yao Ming
,
Kevin Martin
,
Aaron Brooks
, and the standard dose of Houston grit, would be no picnic to face.
Other responses: