Los Angeles Lakers:

Klay Thompson
November, 9, 2012
11/09/12
1:27
PM PT
After the
early upheaval today
, there's still a game to be played tonight.
For more insight on the Warriors, I sent some questions to J.M. Poulard, who covers the team for the True Hoop network's
Warrior's World
. Below are his responses.
Andy Kamenetzky:
Five games into the season, how would you describe the Warriors' style of play? What type of matchup do you think they present for the Lakers?
J.M. Poulard:
The 20-minute cap on Andrew Bogut's minutes coupled with Stephen Curry's struggles to effectively run the offense make it as such that the Warriors have a small identity crisis. They have been surprisingly good with Jarrett Jack on the court -- even when paired with Curry in the backcourt -- which would have you think that they are a good small-ball team. But they actually stick to traditional positions for the most part. That's essentially a long-winded way of saying they are a selective, fast-breaking team that tries to masquerade itself as a good half-court team … for now.
As for the matchup, it stands to reason the Warriors will attack the trapping Pau Gasol in the pick-and-roll, then try to generate shots from 3-point range as a result of the action. They'll also progressively attack the interior to take advantage of a backpedaling Dwight Howard.
April, 18, 2012
4/18/12
10:16
PM PT
Anti-climactic, as well as this should have been against a team missing nearly every player of notable talent. Tension can make for a fun basketball game, but against a bottom feeder, it's mostly frustrating. Thankfully, the Lakers just beat the snot out of their hapless hosts from start to finish. Here are three takeaways from the game.

1) The Lakers used size to their advantage

Even at full strength with David Lee and Andris Biedrins, the Warriors are ill-equipped up front to properly slow Andrew Bynum and Pau Gasol. Rolling out the likes of Mickell Gladness, Jeremy Tyler and Mikki Moore (Yep, that Mikki Moore!), the odds become microscopic. The Lakers wisely recognized this advantage, and appeared determined to milk every facet of it.

Bynum took over the scoring reins for a ridiculously dominant performance. He drained the Lakers' second basket after slipping a screen and getting fed by Gasol, and never looked back. Whether on jump hooks, bulldozing spins to the rim, or shots off glass, the only way the Warriors "stopped" Drew was by fouling him. 23 first half points were notched on 9-for-11 shooting and five freebies drained in as many attempts. Little time passed after intermission before Bynum had thrown down another dunk, a reminder of how easily everything came all night. The night ended with 31 points on just 14 shots, a dozen of which dropped. It's like Bynum was playing against the UConn kids he bypassed the opportunity to make his teammates back in 2005.

In the meantime, Gasol may have scored the Lakers' first bucket on a dump off at the rim from Metta World Peace, but even with a solid 22 points, Golden State's inability to check Pau was manipulated first and foremost to grease the offense. From all spots on the floor high and low, back-to-the-basket or faced up, Gasol picked apart the Warriors' defense with surgical precision. Teammates who remembered to move were generously rewarded by a power forward who seemed to have eyes on the back of his head. Even under duress, his temperature remained cool and his mind active. Early in the third quarter, under the pressure of a double team, Gasol lost his balance and fell backwards. But before his keister hit the court, the ball was shuttled to a cutting Devin Ebanks, who glassed the layup for an easy bucket.

It was just one of those nights where everything was coming up "El Spaniard," and this all-around excellence was commemorated in the form of a triple-double. By halftime Gasol notched 12/6/5, and the way he continued to overwhelm the Warriors, it became not an issue of "if" Pau would hit the trip-dub milestone, but rather "when." Every player relishes adding this particular notch to his belt, and early in the fourth quarter, likely aware of having accumulated double figures in scoring and assists, Gasol moved rather quickly to collect a missed 17-footer from Klay Thompson for rebound #10. I think he may have even boxed out Steve Blake in the process.

It's about as selfish as Pau ever plays, and I doubt anybody begrudged him.


April, 18, 2012
4/18/12
6:43
AM PT
After sprinting through 62 games, including Tuesday's
disappointing loss to San Antonio at Staples
, in what feels like 32 days, the Lakers are in Oakland tonight for a date with a bad Golden State squad. It's the sort of game that, even in this crazy year, should be a cakewalk. Particularly given the question of whether Golden State, having traded or shut down almost all of its high-end talent, is doing whatever it can to lose down the stretch, preserving a first-round pick ticketed for Utah should it fall outside the top seven.


Still, the Lakers would be wise not to take any chances. With guys like
Dorell Wright
,
Nate Robinson
and
Klay Thompson
, at the very least the Warriors will want to get up and down, drawing the Lakers out of their Happy Tempo Zone into something a little too fast.
Kobe Bryant
will likely miss the game, the
last trip to Oracle wasn't exactly satisfying
and the Pacific Division is still up for grabs.
More than incentive to stay focused and bury the Dubs, which, given a season-long tendency to play down to the competition, would actually constitute a genuinely positive evening's work. To help gain a little more insight into the team upon which the Lakers should toss an abundance of dirt, we hit up J.M. Poulard of the
always entertaining Warriorsworld.net
.
1. So word is the Warriors are tanking. True? If so, how's it going?
The Golden State Warriors have lost 17 of their past 22 games, which coincides with the
Monta Ellis
trade to Milwaukee (for
Andrew Bogut
). Mind you, it's one thing to tank and not give the fans anything to cheer about -- yes, Charlotte, I'm looking at you -- but it's something completely different when the team is able to get the young guys a look, get them to play hard and remain competitive for most of the game and then finally fall to a more talented team late.
The Warriors have been tanking since early March but the fans have had the chance to cheer for their team given their effort. So in short, it's been a resounding success!
March, 27, 2012
3/27/12
9:05
AM PT
2012 has been a season chock full of uncertainty for the Warriors. Uncertainty about what the future holds for a roster in perpetual turnover. (The latest rebuilding phase features a nucleus of
David Lee,
perpetually-injured-but-undoubtedly talented
Steph Curry
and
Andrew Bogut
, plus promising rookie
Klay Thompson
.) Uncertainty about the long term prospects of rookie head coach
Mark Jackson
. And uncertainty about how much further the patience of a historically faithful fan base can be tested. It was a shame to see
Chris Mullins' jersey retirement ceremony drown in a sea of boos
directed at owner
Joe Lacob
.
But as Bill Simmons recently (and convincingly) illustrated
, the reaction was a long work in progress. And now 3-6 since
Monta Ellis
was dealt to Milwaukee, it appears more darkness will persist before any light finally shines on Warriors fans.
For a deeper look at the Warriors, we contacted
Jordan Ramirez
from Warriorsworld of the True Hoop network. Below are his thoughts on a few questions, plus one of my own.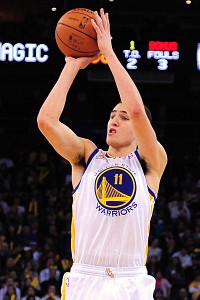 Kyle Terada/US Presswire
Klay Thompson can shoot the lights out, but is still learning the NBA game.
Land O' Lakers: The Ellis trade opened up more playing time for Klay Thompson. How has he responded, and what are his strengths and weaknesses, particularly areas that could be critical one way or the other against the Lakers?
Jordan Ramirez: Klay Thompson
has responded well since replacing the Bay Area legend and fan favorite Monta Ellis. His strength will always be his shooting touch. Whether it's spotting up from the corner or coming off quick screens, Thompson has shown the ability to shoot the rock. But he still could improve on his drive and slash ability. He'll never be an Ellis-type slasher, but he should focus on improving his ability to get to the line (with his 89% FT shooting). If Thompson adds the ability to get to the hole with his shooting skills, his offensive successes will be endless.
Defensively, Thompson plays much like an NBA rookie would normally play: silly fouls, biting on pump fakes and getting burned on a semi-regular basis. Do I think these will be chronic problems? No, but against the Lakers – and
Kobe Bryant
– Thompson will have his hands full, to say the least. With a healthy Curry and Bogut next season it will be interesting to see the progress Thompson will made since his rookie campaign. The Warriors front office will have their hands full if he doesn't.