Los Angeles Lakers:

knee injury
June, 19, 2012
6/19/12
8:10
AM PT
By The Kamenetzky brothers
ESPNLosAngeles.com
Archive
With
Brandon Roy looking to make a comeback
, we've naturally been hit with questions on the blog, Twitter and weekly chat about whether the Lakers should take a flier on the former All-Star. Along with
Arash Markazi
, we break down the pluses and minuses.
October, 1, 2011
10/01/11
9:33
PM PT

By Brian Kamenetzky
ESPNLosAngeles.com
Archive
Interesting stuff from ESPN The Magazine's Shawn Asseal,
regarding the knee procedure Kobe Bryant underwent in Germany
. Though it was widely described as PRP treatment -- the effectiveness of which is
questioned, at least in some medical circles
-- apparently Kobe, as he often does, went a step beyond:
"... Bryant traveled to Dusseldorf, Germany, in June for treatment, as previously reported. ESPN The Magazine has learned that he was treated by Dr. Peter Wehling, an influential but little-known molecular orthopedist who insists he's having breakthrough success repairing aging joints by manipulating his patients' blood.

According to a source familiar with Bryant's treatment, his blood was treated to isolate growth factors that attack inflammation, and then cultured with chemicals to increase their potency before being injected into his arthritic right knee. Wehling declined to confirm or deny that he treated Bryant. But in a rare interview about his work, he told ESPN The Magazine, "I am the only one to have found a way to cure arthritis..."

... Although Wehling's procedure shares some similarity to traditional platelet-rich plasma (PRP) therapy, the physician says he's achieved a nearly 90 percent success rate by genetically screening his patients to personalize their treatments."
Asseal reports Bryant was introduced to Wehling through
Tracy McGrady
, and for anyone concerned about the doc's bona fides, Wehling also at one point treated
Pope John Paul II
. I suspect they don't just hand popes over to whatever doctor pops up in the yellow pages.
Dr. Wehling's basic concept is
described on the website for a company he co-founded called Orthogen
. The truly ambitious can take a look at this page, pointing toward
scientific publications regarding Wehling's work
.
And now, because it better fits my level of medical expertise, I'm going back
to playing this
.
May, 15, 2011
5/15/11
9:39
AM PT

By Andy Kamenetzky
ESPNLosAngeles.com
Archive
We continue our series of Lakers' report cards. Next up, the reserve forwards of note (which means no report cards for the sparingly used
Derrick Caracter
,
Devin Ebanks
,
Joe Smith
and
Luke Walton
).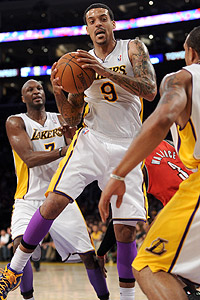 Harry How/Getty Images
Before getting injured, Barnes was always in the middle of the action.
Matt Barnes
was, for me, a prototypical case of expectations turned on their head. Before this season, memories that stood out included Barnes operating like a lunatic during the Golden State Warriors' upset of the No. 1 seed Dallas Mavericks in 2007. Or his
ball fake at Kobe Bryant's face last season
-- a hilarious, ridiculous bit of bravado.
Or this "screen" set on Rafer Alston
. Factor in how a player of his caliber had been unable to stick anywhere, and my perception of Barnes the person wasn't too favorable.
As it turns out, that was just Barnes' fire on the court. Away from the hardwood, the guy is almost jarringly soft spoken.
Similarly, I never realized the scope of Barnes' skill set until watching him on a regular basis. From the outset,
I thought his ability to move without the ball and hit the offensive glass would fit well into the Lakers' system
. But perhaps because he's always been labeled an "energy player," I figured his contributions would be more "hustle" oriented than anything tangible. Barnes revealed far more ability as a ball handler and play-maker than I ever would have guessed.
With all that in mind, it's only fitting he'd end up the biggest surprise of the season.
December, 23, 2009
12/23/09
9:08
AM PT

By Brian Kamenetzky
ESPNLosAngeles.com
Archive