Los Angeles Lakers:

Kyle Lowry
June, 13, 2012
6/13/12
8:38
AM PT
By The Kamenetzky Brothers
ESPNLosAngeles.com
Archive
As I expected, lotta questions about potential offseason moves.
Pau Gasol
?
Andrew Bynum
?
Steve Blake
? Could all these guys be relocated?
Click here
to relive the discussion.
June, 13, 2012
6/13/12
8:32
AM PT
The Lakers want to make big offseason changes, but limited trade assets and no cap space makes "how" the $1,000,000 question. I break down potential approaches with Kevin Arnovitz and Dave McMenamin.
June, 2, 2012
6/02/12
12:12
PM PT
By the Kamenetzky Brothers
ESPNLosAngeles.com
Archive
Once the Lakers were eliminated from the playoffs, it took about 16 seconds for the
Pau Gasol
trade rumors to once again start swirling. A report
stating Gasol's desire to land in Chicago
-- one
he denied
-- was the first in what surely will be a flurry of "Pau-to-________" chatter this summer.
We start the show talking about this rumor
(3:00)
, and how fans should look at every one of these reports with a critical eye. Information is rarely put out by "sources" without a reason.



Next, we talk about a
recent piece from ESPN The Magazine's Chris Broussard
(Insider required), tossing out some hypothetical blockbusters, three of which involve Gasol or
Andrew Bynum
and returning stars from New Jersey, Atlanta, and Houston.
(8:00)
Are there big shakeups out there able to be realistically executed and also improving the team?
Finally,
the Hornets won the NBA Draft Lottery
Wednesday evening, and that means the conspiracy theorists who flock to the NBA like bees to flowers have something new to chew on. Is it possible the NBA rigged the outcome?
(22:00)
April, 6, 2012
4/06/12
8:49
AM PT
After a few weeks of middling and even disinterested looking performances, Wednesday's victory over the Clippers felt like just what the doctor ordered. The Lakers were dialed in for 48 minutes, often executed with precision, and seemed unwilling to accept anything but a win. In theory, that showing should provide fans with a good feeling heading into tonight's contest with the Rockets. In reality, however, it could be meaningless as an indicator of what lies ahead.
As I've maintained all season, the Lakers can only be counted on to perform well against teams they genuinely dislike. In my estimation, those squads are the Clippers, Mavericks, Celtics . . . and disappointingly few else.
Maybe
the Suns qualify, since the Lakers often go as Kobe goes and he admittedly hasn't gotten past Phoenix bouncing his teams in 2006 and 2007. (Or he's just lashing out at anybody who reminds him sharing a backcourt with
Smush Parker
.) And if you're feeling generous,
maybe
a hard-fought win at Staples over the Heat means they've developed a distaste for LeBron and the gang. But to the best of my knowledge, the Lakers have nothing against the Rockets, and without tangible evidence of animosity -- or inherent professionalism -- it remains difficult to bank on the Lakers showing up. However, I'm willing to see my theory disproved, and tonight's as good a time to start as any.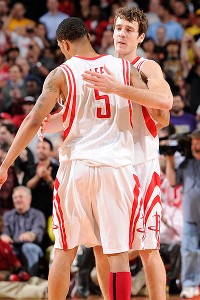 Bill Baptist/NBAE/Getty Images
Dragic and Lee are just two among many keeping the Rox in the playoff hunt.
For more knowledge about the Rockets, we called upon
Rahat Huq
from the True Hoop network's
Red94
blog. Below are his thoughts on four questions about Houston's squad.
LO'L: The Rockets have managed to stay afloat despite prolonged absences from Kyle Lowry and Kevin Martin. Who/what has allowed this to happen?
Rahat Huq:
It's been a collective effort.
Goran Dragic
and
Courtney Lee
have played even better as a duo than the men they replaced.
Chandler Parsons
has evolved into a new-and-improved
Shane Battier
, doing a little bit of everything from defending the opposition's best player to spacing the court on the perimeter.
Luis Scola
has regained his touch and rebounding form.
Chase Budinger
has hit big shots in timely moments.
Marcus Camby
has filled the lineup's previous sole true hole.
Early Boykins
has stood tall. Everyone has chipped in to an outcome in the standings which, from any vantage point, is truly remarkable.
They won't win the title but the fact that the Rockets are alive is a great story.
March, 20, 2012
3/20/12
8:37
AM PT
With the Western Conference tighter than
James Brown's rhythm section back in the day
, every game counts for the Lakers. Which, by definition, made Sunday's debacle against a short-handed Jazz squad an opportunity gone irresponsibly wasted. And which, by further definition, raises the stakes of this two-game road trip even more. The Lakers have been unpredictable all season away from Staples, but could be catching Houston at just the right time. Point guard
Kyle Lowry
, who's been playing at an All-Star-ish level, is out with a bacterial infection. Scorer
Kevin Martin
is day-to-day with a strained shoulder, and hasn't played since March 13. In theory, this sets up nicely for a game the Lakers really need to win.
Then again, the same felt true about a game in L.A. against the Jazz, down
Al Jefferson
and
Earl Watson
. The Lakers played like a team expecting to win, which could explain the lack of focus resulting in 24 turnovers and some rather porous defense. Better to enter the Toyota Center
expecting a bar fight
and being pleasantly surprised.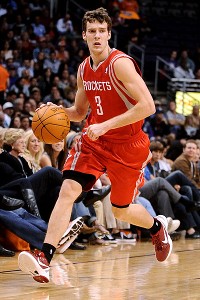 Jennifer Stewart/US Presswire
There's a lot of pressure on Dragic at the moment.
For further insight on the Rockets, we called up
Rahat Huq
from the True Hoop network's
Red94
blog. Below are his thoughts on four questions about Houston's squad, plus one item I'll be curious about.
Land O' Lakers: How does Lowry 's absence affect the way the Rockets operate? Can anybody other than Goran Dragic run an offense?
RH:
The short answer: no. The Rockets lost the game in Phoenix when
Goran Dragic
went to the bench early in the first half with foul trouble.
Courtney Lee
has taken on the bulk of the backup playmaking duties but he isn't a point guard.
Courtney Fortson
--signed to a 10-day contract--has been horrific in limited minutes. When Dragic sits, the Rockets fall apart. They need Lowry back as soon as possible if they want to remain this race.
LO'L: If Martin can't play, where do you expect Houston's points to come from, particularly with Lowry (another scorer) also sidelined?
RH:
Even when in the lineup, Martin wasn't giving the team much in recent weeks, so his loss isn't the issue - it's losing Lowry that has hurt. The Rockets score the same way they have all year: through running the break and misdirection motion sets in the halfcourt. They've looked to
Patrick Patterson
in the post much more of late and I wouldn't be surprised to see that continue against LA.
January, 3, 2012
1/03/12
11:13
PM PT
There was much to like about Tuesday's
108-99 win over the Rockets at Staples Center
, and because we're positive fellows, we focused on those things following the game.
The "Big Three" topics...
Kobe Bryant. He overcame a slow start to post a stellar line of 37 points, eight rebounds, and six assists, against only two turnovers. His shot total was again high-- 29 FGA's, with 14 finding cord-- but the distribution was totally different. After the game, Mike Brown talked about how they did a much better job putting Bryant in his comfort zones, as opposed to leaving him on an island at the top of the floor. Clearly he reads the blog. Would a little more balance be nice? Sure. But there was a night and day difference between Sunday's game and Tuesday's.

Andrew Bynum notched his first career 20/20 game, with three blocks tossed in for good measure. We break down his game, and play a couple interesting clips indicating growth in Bynum as a player and professional.
Point guards. Asked if Steve Blake was officially his fourth quarter PG, Brown hedged, noting how pleased he was with both Blake and Derek Fisher. While it will never be a strength, are there reasons to think the Lakers might actually get more production at the point than people expect?
Postgame videos inside the show include Brown on Kobe, Blake, and Fisher, and Bynum on another strong game.
More video below, from Brown and Bynum....
January, 3, 2012
1/03/12
10:15
PM PT
And with that, the Lakers are back above .500 again. Here are five takeaways from the win:
1
) Kobe Bryant shot the ball a lot again, but with considerably improved selection
Predictably, Kobe's 6-for-28 disaster in Denver generated the talk typical of games where The Mamba hoists a fair amount of shots to ill-effect. Specifically, people obsessed over the shot count, and whether, in this particular case, "28" represents too many. Among the questions asked... what's the "right" amount for Kobe, especially in a game where
Andrew Bynum
and
Pau Gasol
(among others are hitting shots)... Will
Mike Brown
call him out... Will Kobe come out the next game "aggressive" (code for "hucking like there's no tomorrow") or facilitating (code for "allowing others to touch the ball")?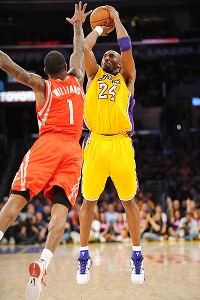 Andrew D. Bernstein/NBAE/Getty Images
Kobe took more shots against Houston than Denver, but controversy won't likely follow.
But largely lost in the conversation was the true issue, which was the shot selection itself. For a natural scorer like Kobe capable of hitting from anywhere on the court, it's not necessarily
how many
shots go up, but
where
and
how
they're launched. Against the Nuggets, Kobe was reckless, launching without conscious, discretion or regard for the consequences. As a result, several possessions ended on empty notes, and the Laker D was constantly on its heels in transition.
But against Houston, Kobe was sensible and methodical about where he chose to let fly. More often than not, Bryant went to work down low, posting up the smaller likes of
Kyle Lowry
,
Kevin Martin
and other Rockets absolutely mismatched against his superior size. Whether taking it to the rim or turning around to pop a J before the double arrived, this was a controlled, relaxed scoring display. Yes, it took some time to get cooking, and Bryant finished the first half 5-14 with 15 points, but
the shot chart was considerably more pleasing to the eye
.
(As an added bonus, Kobe operating like this also meant fewer opportunities to get stripped in space or on an attempt to split a double. Thus, the ball was turned over only twice (against six assists), a decided improvement over Sunday's six gaffes.)
During the second half, Bryant caught heat. And down the stretch, we saw Kobe what's made him a legend: Make difficult shots to close out a game. But again, these monster buckets were generally set up and executed better, with Kobe backing down defenders and making quick, decisive moves, rather than jab-stepping himself to death in isolation. He ended the evening with a reasonably efficient 14-29 clip, but had he missed a few more, I wouldn't have had too many complaints (save one below), because it was generally difficult to find fault with the shots themselves.
All in all, Bryant's 37 points provided a great reminder about how the story isn't found in raw numbers. Context means everything.
January, 3, 2012
1/03/12
11:32
AM PT
Tuesday night, the
Lakers face a Houston Rockets squad
that always seems to give them fits. While a few roles have been recast in Houston, starting with the coach --
Rick Adelman
out,
Kevin McHale
in --
the basics of this year's team are similar. The Rockets remain an efficient offensive group with sneaky good weapons inside and out. At the point,
Kyle Lowry
(13.3 points, 11.5 assists, 6.3 rebounds, 2.5 steals) has been spectacular, and with
Luis Scola
(15.5 points) and
Kevin Martin
(19.3 points, 42 percent from beyond the arc), the Rockets are considered a potential playoff team out West, if things break in their direction.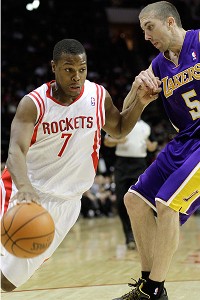 AP Photo/Pat Sullivan
Through four games, Kyle Lowry has been a special kind of good.
"They're extremely talented, and they're young and athletic,"
Mike Brown
said Monday. "They're going to be tough. Lowry right now, is in my opinion the catalyst for them. Defensively he's the head of the snake, and then offensively he's got to be averaging something close to 12 assists a game. They're tough, from top to bottom."
On the other hand, Houston lost its two road games by nine (Orlando) and 20 (Memphis), so they haven't quite figured out that end of things, yet.
For a little more insight into the Rockets, we hit up
Rahat Huq of TrueHoop's Red94
with some questions ...
1. What is different for the Rockets under Kevin McHale?
Hut: Terrence Williams is getting a chance but the biggest difference is the result of Chuck Hayes' departure. Without Hayes' passing, the Rockets aren't initiating their offense as much from the high post and instead are running a more traditional guard-facilitated offense. The outcome is Kyle Lowry's sparkling statistics.
2. Kyle Lowry has been great in the early going. Where does he fit in on the list of high-end NBA point guards?
Hut: Behind Chris Paul, Deron Williams, Derrick Rose and Rajon Rondo for sure. After that, I put him in the mix with anybody. The assist numbers speak for themselves, but beyond that, he defends and rebounds as well as any guard. Lowry's only major weakness is that he can't really create much for himself off the dribble in the way someone like Rose can. Because of that, his upside is capped from true elite status.
February, 1, 2011
2/01/11
11:03
AM PT
When this current five game home stand began, today's contest was pegged as the fourth easiest behind the cream puff Kings. A relative breather between Boston and San Antonio. Of course, that was before the Lakers actually lost to Sacto, much less Boston. For the time being, all bets feel decidedly off. Still, the Rockets are a team dealing with their own struggles these days, most notably the injury bug's vendetta. As usual,
Yao Ming
remains at the center of these health problems.
I tracked down
Rahat Huq
from
True Hoop's Red94 blog
for some thoughts on the Rockets, then added a thought of my own to each point. Here's what to keep an eye on when the ball is jumped: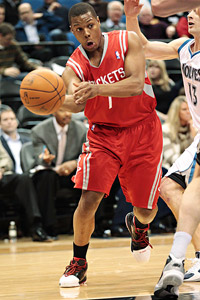 Jesse Johnson/US Presswire
Lowry does a good job involving teammates.
Andy Kamenetzky:
The Lakers haven't faced the Rockets this season with
Aaron Brooks
as a sixth man of sorts. How much different are the first and second units with
Kyle Lowry
(
one of the NBA's most underrated role players, IMHO
) and Brooks swapped spots? And where is Brooks physically?
Rahat Huq:
To say that Aaron Brooks has been struggling would be an understatement. After the injury, he simply has not been the same player and has also had difficulty adjusting to his new role. Much of this can be attributed to his hampered physical condition but some have wondered if his uncertain contract status has played a role.
With the first unit, Lowry and Martin want to attack and draw fouls. Off the bench,
Courtney Lee
handles a lot of the ball-handling duties allowing Aaron Brooks to attack for himself off the dribble. While thus far unsuccessful, the latter has assumed the "
Vinnie Johnson
" role for this team.
AK's thoughts: Truth be told, Brooks' "Microwave" reinvention (or regression, depending on your outlook) strikes me as inevitable. As tough a cover and dynamic a player as Brooks can be, his point guard skills have never impressed me. What's going on in Houston reminds me of the situation in Detroit, where they've clearly decided Rodney Stuckey may be a part of their future, but as a two guard. Brook's move to be bench may not be successful yet, as Huq notes, but it does feel logical.
As for Lowry, his 33.41 assist rate among point guards playing 25+ minutes sandwiches him between Chris Paul and John Wall, which is pretty good company. He's a smart player. Not to mention tough and strong, a bulldog in the vein of Derek Fisher. Clearly, his place in the starting lineup isn't translating to wins, but underestimating the B-List name at the one for Houston would be a mistake. He racked 10 dimes against the Lakers in a Dec. 1 loss, and is capable of damage.
December, 1, 2010
12/01/10
12:51
PM PT
For the second time since
Pau Gasol
swapped places with
Kwame Brown
, the Lakers have dropped three consecutive games. It's hardly the sign of a falling sky. Frankly, most franchises would kill for these kind of "problems." But it's nonetheless indicative of a team not playing to their established high standards. Even worse, the losses have evolved from "good play overall, but somebody had to win" (Utah) to "bad overall play, and they didn't deserve to win" (Memphis).
Thankfully, Houston also isn't playing like a contender at the moment (all season, really), so there's a legit chance to right the ship. Unfortunately, there's also a chance to keep snowballing in the wrong direction, should a few issues remain unaddressed. Here are a few items to be mindful of once the ball is jumped:
Kobe Bryant's decisions and shot count against Shane Battier
Notice, I didn't say "Kobe Bryant vs.
Shane Battier
," because the showdown isn't the whole story now. Sure,
as mentioned during the Week In Preview
, these guys squaring off is among the best matchups NBA roundball offers. Beyond the "all-time great scorer meets an elite wing defender" angle, you've got two of the league's smartest cats butting heads. Measuring acumen on both sides of the ball, an argument could be made Kobe is the brainiest dude in the league.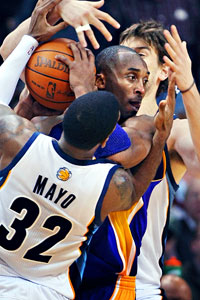 AP Photo
Not giving up the ball enough can lead to situations like this one.
Unfortunately, Kobe is also the most stubborn dude in the league when he puts those same brains to it, and
Tuesday's loss to Memphis was an example of doggedness gone bad
. Throughout the game, Kobe was in permanent "head down, iso-centric, rock-pounding, I don't care if it works, I'm gonna keep on doing it" mode, despite the lack of hay being made. As a result, Bryant's wasn't just missing shots -- 10 straight at one point between the second and third quarters, plus three turnovers -- his approach threw the Lakers' offense out of whack. Teammates appeared unsure of their role as Kobe did work, and nobody developed a steady rhythm.
This comes on the heels of
a performance from Kobe that wasn't entirely "bad,"
but shared the same ball-dominant characteristics. The same ending was also shared, one where the Lakers didn't win. Should Bryant replicate this approach against Battier, a defender capable of preventing the sweet spots on the floor from being reached, the first four-game losing streak of the Pau era doesn't feel far-fetched.
As Brian mentioned in his earlier post
, it's not purely the number of shots Kobe fires that matters most, but the quality of shots while creating that figure. I agree with that philosophy, but the situation nonetheless can't be entirely boiled down so simply.
In the five games where Kobe's taken his highest number of shots (between 25-33), the Lakers are 2-3
, and both wins came against the Minnesota Timberwolves, who don't exactly constitute high competition.
Debate all you want about what prompted that high volume, but at the end of the day, it doesn't change the fact the more Kobe shoots, the less effective the Lakers tend to be. This trend has been in effect for quite some time, in large part because it reduces Kobe's considerable talents. He's the NBA's most complete player, so it makes no sense, unless absolutely necessary, to forgo those considerable play-making skills to embark on a single-minded mission of scoring. He's likely to fill a bucket in any event, regardless of the process, so why not operate as a better-rounded conduit for points?
Against Indiana and (especially) Memphis, the Lakers haven't resembled themselves offensively. Too little ball movement. Too little action created inside by Pau,
Lamar Odom
or even Kobe at times. Too little group mind. It's important the Lakers make a concerted effort to function as a purposeful unit, and honestly speaking, this typically begins with Kobe. This squad has always taken cues from Bryant, and more often than not, that's a good thing. During the last two games, however, they've had no choice but to follow his lead. The more Kobe dominates the ball, the greater the onus to do good things with it.
January, 5, 2010
1/05/10
1:35
PM PT
Andrew D. Bernstein/NBAE via Getty Images
Andrew Bynum is tall. The Rockets are not. Please throw him the ball.
The Lakers may have experienced a
mini-revival Sunday night
, but it's fair to say the Rockets have been a major pain in the proverbial tush, dating back to last season's unnecessarily competitive seven-game Western Conference Semi-Finals.
Maybe it's just the matchups,
maybe the Rockets just get geeked when they see purple and gold
. Whatever the case, here are five things to watch for
in tonight's game
:
In Houston's 101-91 win over the Lakers at Staples back on Nov. 15, it's easy to forget the home team started the game on a 16-2 run over the first five minutes-plus. Pessimists might note the Rockets then outscored L.A. by 24 the rest of the way, but I'm a sunny sort and would rather look at how they built the lead to blow. Andrew Bynum worked hard to get good early position on Chuck Hayes. The Lakers pounded the post with Bynum, Kobe, and Ron Artest, drawing fouls down low, effectively used their length to create turnovers and push the pace, but didn't rush possessions. Defensively, they laid off Hayes, allowing Bynum to aggressively try and cut off dribble penetration, and worked to get the right guys (meaning not Aaron Brooks) putting the ball on the floor.