November, 18, 2012
11/18/12
11:40
PM PT
Jayne Kamin-Oncea/US PresswireKobe Bryant's triple-double was key for the Lakers, but so was the way he teamed with Dwight Howard.
LOS ANGELES --
Kobe Bryant
registered just the 18th triple-double of his 17-year career Sunday in the
Los Angeles Lakers
' 119-108 win over the
Houston Rockets
, but as rare as triple-dips have come for Bryant, the more remarkable sight was how in sync his game operated along with
Dwight Howard
.
Several of Bryant's game-high 11 assists were delivered to Howard, who scored 28 points to Bryant's 22. One of Bryant's assists to Howard came after Kobe drove to the basket and dumped it off to the big man at the last second, gift wrapping a wide-open dunk. Another came with Bryant holding the ball at the top of the key and making eye contact with Howard to signal an alley-oop lob was on its way, and the two executed the play to perfection.
"We're almost there," Howard said. "We're almost on the same page. I just tell Kobe, he's always going to attack but always just attack the basket and I'll try to clean up if you miss. We're just learning each other's game. It's going to take some time but we're doing the best we can."
Howard had the same amount of shots as Bryant (18) and it was the fourth time in the Lakers' 10 games this season that he outscored Bryant, who happened to be the league's leading scorer coming into Sunday. The Lakers' are 3-1 in those games.
"We just have to learn how to work together," Howard said. "Both of us want to score and dominate our opponents and we just have to find a way to do it together to throw the defense off, play games with them and we're getting better at it. We've only been together for a couple months, so, once we have this system down pat and the way we want to play with each other, we'll be fine."
Howard is correct to point out the relative newness of his partnership with Bryant. Lest we forget how icy their relationship became last season when Bryant suggested Howard come to L.A. and be third in command behind him and
Pau Gasol
to get a ring. That never appealed to Howard, who is smack dab in the middle of his prime as a nine-year veteran about to turn 27 next month.
Yet, here they are working together without a hitch, with their 1-2 combo actually being one of the few things that has gone pretty smoothly through the Lakers' 5-5 start.
November, 4, 2012
11/04/12
11:35
PM PT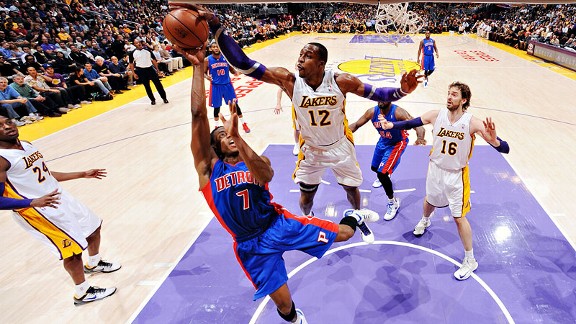 Andrew D. Bernstein/Getty ImagesDwight Howard was dominant and showed his leadership side as the Lakers won for the first time.
LOS ANGELES -- It was a familiar quote that came out of
Dwight Howard
's mouth when he was surrounded by the media after the
Los Angeles Lakers
' game against the
Detroit Pistons
on Sunday night.
"This is a process," Howard said.
The p-word has been Lakers coach Mike Brown's mantra as the season got off to a rocky start with an 0-3 record coming on the heels of an 0-8 exhibition slate.
This time the process Howard referred to was the routine of first putting on his black button-down shirt, then his tie, then his sweater and finally finishing off the ensemble with a tie clip.
No, there was no talk of becoming familiar with the Princeton-style offense or developing team cohesion on this night. The Lakers finally put things together with a 108-79 win over the Pistons and the mood in the locker room afterward was far more jovial, with no need for players to be delivering yet another state of the team address after yet another Lakers loss.
Heck, Brown even started his postgame news conference by getting up to hug a reporter who used to cover him during his Cleveland days.
What a difference a win makes, right?
This group was together 35 days since the start of training camp before they finally got their breakthrough moment, leading by as many as 36 points Sunday.
"Obviously, we needed a win," Brown said. "You look at the points some of these guys had, and I'm sure they'll tell you, they scored probably easier than any other time they've played the game because they got it within the system. It gives us a little belief, and every win that we get gives us a little bit more belief on both ends of the floor."
You had to believe in the Lakers' offense after seeing them score a season-high 108 points while shooting 51.9 percent from the field, 45.5 percent on 3-pointers and committing only nine turnovers through the first three quarters as they built a 30-plus point lead.
Suddenly it's OK to look at the bright side at what might be beginning for this Lakers team.
Kobe Bryant
continued to be his efficient self, making it four games in a row that he has shot 50 percent or better from the field thanks to his 15 points on 5-of-10 shooting. This after shooting an abysmal 43 percent last year.
"The [offense] opens the floor up a little bit more," said Bryant, who told Brown earlier in the day that the 40 points he had Friday was one of the easiest 40-point games of his career because of the opportunities the offense affords him. "I have the ball and move a little bit more. The other part of that, I've been healthy all summer and have been able to get in phenomenal shape. I feel very strong, despite the ankle. I'm shooting the ball very well."
October, 31, 2012
10/31/12
11:10
AM PT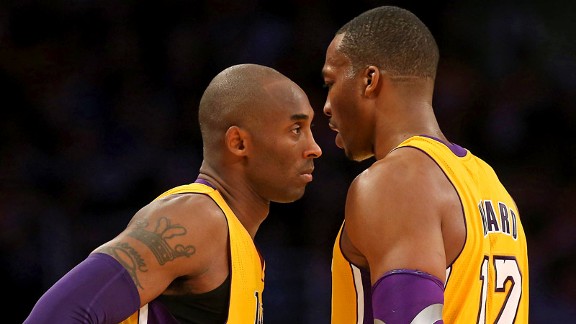 Stephen Dunn/Getty Images
Mike Brown and the Lakers have worked hard to manage expectations early. They might be reloaded with Dwight Howard and Steve Nash, but the implementation of a new Princeton-style offense means they also acquired some lag time for it to kick in.
Before
Tuesday's 99-91 season-opening loss to the Dallas Mavericks
, the coach used his pregame remarks to try to measure the media's presumptions of the All-Star-laden Lakers looking like a juggernaut from the start.
"I hope that come after Christmas sometime -- January, before All-Star break -- we're clicking a little bit, so now we go away for the All-Star break and come back and take another week or so to figure it out and then take off from there," Brown said. "I don't know, this is an intelligent team, it might happen sooner than later or it may not."
The Lakers have taken Brown's lead throughout training camp, echoing the same buzz words like "process," "journey" and "growth period" to describe the learning curve they're stuck in while trying to keep the critics at bay.
Save for Kobe Bryant's minor moment of pregame hubris Tuesday, when he announced to the crowd over the P.A. system that the Lakers were going to "try to bring another championship back home to where it belongs in Los Angeles" and then punctuated the statement by saying, "Let's get this party started, enjoy the show," the Lakers have publicly focused on the process of winning rather than the end goal.
Judging by their 0-8 record in the preseason and their disappointing start to the regular season against the Mavs, no one would argue they still have plenty to work on. But what exactly needs to be worked on and how long will it take to be worked out?
"We're spending a lot of time with it, but it's a
big
offense," Pau Gasol said after the game. "There's so many options. There's so many counters. There's so many automatics. There's a lot of stuff, and it's not like set plays, most of them."
Even though the Lakers looked better on offense than they did for most of the preseason (they shot 49.4 percent from the field as a team, assisted on 24 of 38 baskets and cut their turnovers down to a digestible 14), it still wasn't natural.
October, 29, 2012
10/29/12
11:22
PM PT
The
Los Angeles Lakers
have five former All-Stars in their starting lineup this season, meaning some, if not all, of them will have to make sacrifices in their individual offensive games for the betterment of the unit as a whole.
The question is, who will be the one willing to take a back seat?
Kobe Bryant
is the fifth-leading scorer in NBA history and was second in the league in scoring average just last season.
Dwight Howard
is in the prime of his career and was brought over from the
Orlando Magic
to become the next face of the franchise.
Pau Gasol
and
Metta World Peace
are coming off seasons during which they averaged career lows and seemed poised for bounce-back campaigns.
Looks like man with the hipster hairdo is the person in line to have his scoring get a trim.
Steve Nash
averaged just 5.8 points per game during the preseason while taking a mere 4.9 shot attempts per contest. While Nash shot an efficient 48.7 percent from the field, he hardly looked for his offense personally. He scored in double digits just once (13 points against the
Portland Trail Blazers
) while never reaching double-digit shot attempts (nine field goals attempted in that same game against the Blazers).
There was certainly a list of factors contributing to his low exhibition scoring totals, including:
1. He played just 22.1 minutes per game.
2. He was learning the Lakers' new, Princeton-style offense for himself as a scorer.
3. He also was learning the Lakers' new, Princeton-style offense for himself as a point guard, looking to set up his teammates.
But could the preseason have been an indicator the 38-year-old Nash's numbers are set to take a dip this year? Is it possible that with all the talent around him, his points per game average could drop to single digits for the first time since 1999-2000, when he was only a part-time starter with the
Dallas Mavericks
?
"It would surprise me a little bit if he averaged single-digit points," Lakers coach
Mike Brown
said. "Is it a bad thing if he did? No. He's just such a good shooter and playmaker that, with all the other guys we have on the floor, if he's just out there with them, he should get six to eight points alone by somebody getting double-teamed or somebody over-helping on somebody else and now the ball gets kicked to him. ... And then he can go get his shot three to four times a game, and that should put him right at that 10- to 12-point range with a few free throws here or there."
Nash averaged 12.5 points per game for the
Phoenix Suns
last year, his 16th season, while playing 31.6 minutes per game. Brown has indicated that he'd like Nash's minutes to stay around that level this season, so court time shouldn't be a problem. But what about opportunities?
Nash averaged 8.9 shots last season, partly because the ball was always flowing through his hands on offense. So looks just happen that way ... and partly because the Suns had inferior talent than the Lakers do this year and Nash was needed to score a lot of time to keep the Phoenix in the game.
Nash said he is still feeling his way out there.
"I don't know what's going to happen yet," Nash said. "But I think, if anything, I was a little less aggressive in the preseason just because I was trying to figure out the offense and trying to be in the right spot and take responsibility for getting everyone in their right positions."
While everyone in the Lakers organization would choose Nash's assists per game staying in double-digits over his scoring (last season Nash was second in the league to Boston's
Rajon Rondo
with 10.7 assists per game), it's too early to write Nash off as a scoring threat.
"He's trying to figure out where his holes and stuff like that are going to be within the offense," Brown said. "And so, as a point guard you're not just figuring out only where your stuff is, but you got to figure out where everybody else's stuff is going to lay, too. How is Dwight going to get his touches? How is Kobe going to get his touches? How is Metta going to get his touches? How is Pau going to get his touches?
"So," said the coach, "it was a lot more thought process going into that point guard spot than what Kobe has to think about or Dwight or anything like that because, for the most part, they don't have to really worry about anybody else's spot. They just go ahead and execute the offense, and when they get their opportunity within the offense, go ahead and look to score. Whereas Nash has got to kind of keep everybody happy, and then, on top of it, look for his. So, I think in time he'll figure out where he can be more aggressive."
Dave McMenamin covers the Lakers for ESPNLosAngeles.com. Follow him on Twitter.
ESPNLA has launched a Sweet 16, Los Angeles-style. The most beloved figures in L.A. sports history. As you can imagine, there are one or six Lakers in the bracket. Make sure you drop by and vote.
Vote here:
The Most Beloved.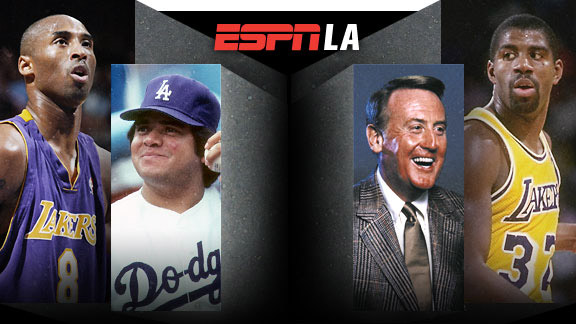 ESPN.com Illustration