Los Angeles Lakers:

Lakers free agency
January, 30, 2012
1/30/12
9:52
AM PT

By Brian Kamenetzky
ESPNLosAngeles.com
Archive
ESPN.com's Chris Broussard reports
the Lakers are considering Gilbert Arenas
.
No signing, he says, is imminent. Or imminent adjacent. The Lakers would still need to schedule a workout (sound strategy), maybe two, and an interview as well, meaning it's a little early to get that jersey made up with his name on the back. Still, that the Lakers would even throw the idea around the war room is an admission the roster isn't championship caliber, and as long as he's out there, the Lakers are thin at guard, and struggle to score, The Gilbert Question remains.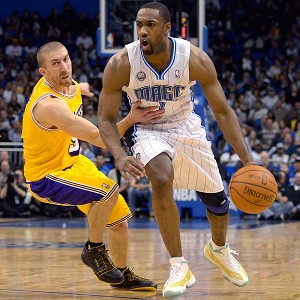 AP Photo/Phelan M. Ebanhack
Is the former Agent Zero a good match for the Lakers?
So is it a good idea?
The Lakers lack ball handling, shot creators, perimeter shooting, and reliable bench scoring. In theory, at least, Arenas ticks all four boxes. He'll be cheap (all the Lakers can give him is a prorated veteran's minimum) and can be cut at the first sign of trouble. Sounds like the classic no harm, no foul scenario, right?
Yes, on the surface. Scratch a little and there are good reasons to say no. Here are three:
1. Signing Arenas means cutting a player.
Not necessarily tragic, but still a consideration. My guess is
Derrick Caracter
would get the axe. (None of the guards could be released, because if Arenas didn't work out they'd need the dudes they already have. Some fans would want
Luke Walton
to go, but actually doing it would be a massive waste. They'd still have to pay him anyway, and would then lose the chance to include him in a trade next season when his expiring contract might have value.) Is it worth losing the rights to a young player with at least some potential for a flier on Arenas?
2. Signing Arenas means integrating Arenas
. Integrating Arenas takes time. The Lakers are already a third of the way through the compressed season. If they're only now considering the concept of Arenas, kicking the tires on the actual Arenas is still days away, at least. At the earliest, he's in signed in maybe a week? Ten days? The guy hasn't played since the end of last season, so he'll be knocking off a ton of rust while the Lakers attempt to integrate him into the rotation. Any quick injection of scoring punch is highly unlikely.
He's a high-usage, high-volume player. It's pointless to bring in Arenas without legitimately featuring him in one form or another. There's an investment involved. If Arenas doesn't work out, the swaths of playing time and already scarce practice reps devoted to him won't have gone to the guys remaining when the experiment ends, stunting whatever growth the Lakers can muster over the course of the year. The circumstances for developing continuity this year are already difficult.
Leading me to ...