Los Angeles Lakers:

Lakers History
July, 5, 2012
7/05/12
10:24
AM PT
Asked how the Lakers will perform following their trade for
Steve Nash
Wednesday afternoon, the first thing out of virtually everyone's mouth, mine included, was something like this:
"Well, it will be interesting to see, because
Kobe Bryant
has never played with a point guard like Nash." We all said basically the same thing when the Lakers acquired
Ramon Sessions
at last year's trade deadline. And while I like Ramon Sessions, there are some rungs on the ladder between him and Nash.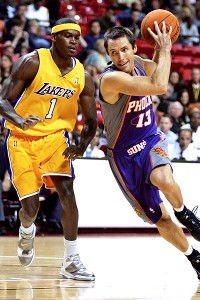 Ethan Martin/Getty Images
"Ummmmm, I'll take the one on the right. Sincerely, Kobe Bryant"
Thing is, it's not a cliched talking point. Using
Basketball-Reference
as a guide, I compiled a list of every PG Bryant has shared time with on a roster, if only for a few games, from more "true" points to stretch-the-definition-played-it-in-a-pinch types
*
:
Actual-to-quasi point guards:
Derek Fisher
Rumeal Robinson
Nick Van Exel
Derek Harper
Tyronn Lue
Ron Harper
John Celestand
Brian Shaw
Mike Penberthy
Joe Crispin
Lindsey Hunter
Jannero Pargo
Gary Payton
Chucky Atkins
Tierre Brown
Aaron McKie
Sasha Vujacic
Smush Parker
Jordan Farmar
Shammond Williams
Javaris Crittenton
Coby Karl
Sun Yue
Steve Blake
Trey Johnson
Darius Morris
Andrew Goudelock
Ramon Sessions
Largely because he spent so much time in a system de-emphasizing traditional point guard play, mitigating the need for an elite one, in terms of "classic" point guards Bryant basically goes from Van Exel at the start of his career to a few weeks of Sessions at the end, with little in between. (I now expect an angry email from Farmar, for what it's worth.)
So it really will be new ground for Bryant. Nash as well. He's played with plenty of talented teammates, though never a backcourt partner of Kobe's caliber. But assuming everyone is on board and willing to give (including
Mike Brown
, who will have to loosen up the offense) -- and there's absolutely no reason to believe otherwise -- the Lakers should be able to work through any natural growing pains and produce some killer offensive basketball.
February, 2, 2012
2/02/12
7:16
PM PT
Watching
Kobe Bryant
on a day in, day out basis, it's easy to become desensitized to how good he is, because he's been doing it so well for so long. Kobe drops 34? Been there, done that.
Days like today, though, tend to drive both points home.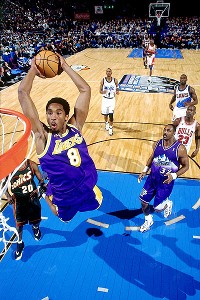 Andrew D. Bernstein/NBAE/Getty Images
Kobe Bryant tossed down this dunk in the 1998 All-Star Game, his first. This year will be his 14th straight appearance.
The NBA announced the results of this year's All-Star fan balloting, and once again Bryant racked up votes like a fourth grade candidate for class president running on a platform of less math, more recess, and cookies for all (over 1.55 million in total).
It's Bryant's 14th consecutive All-Star appearance
, tying
Jerry West
and
Shaquille O'Nea
l for the all-time NBA mark, one Kobe will almost surely break next season. Put in perspective, at Bryant's inaugural go round (1998 at Madison Square Garden), he represented the franchise not just with Shaq, but
Nick Van Exel
and
Eddie Jones
.
George Karl
was his team's coach, representing the Seattle SuperSonics.
Grant Hill
repped the Pistons, and
Glen Rice
the
Charlotte
Hornets.
Now he'll be running with guys like
Andrew Bynum
,
Kevin Durant
, and
Blake Griffin
, all of whom probably weren't allowed to stay up very late after watching that game on TV, because they had school the next morning.
Elementary school.
It's a remarkable streak, and ironically explains in large part why the
bigger news today at practice Thursday was Bynum's first bid
, or why the news wasn't considered significant enough to have Kobe speak to the media before the Lakers left for Denver. Bryant making the NBA's midsummer classic is no different than the sun rising in the east or setting in the west. It's expected, if not assumed. The next time the game takes place without him?
That'll
be big news.
Few players in any sport can honestly boast that out of relentless repetition they've managed to make All-Star bids feel less important. Kobe can, and it's one of the best indicators of how transcendent a figure he's been over the course of his 16 year career.
November, 13, 2010
11/13/10
11:53
PM PT
One fun part about sports, and having a dedicated space like this one, is the ability to follow through on somewhat random, totally insignificant thoughts/bits of trivia on any given night, just 'cause.
I always have fun looking through the
Lakers uniform number register at Basketball Reference
, if only for some of the random names you'll find and to once again confirm
D.J. Mbenga
is unquestionably the best Laker to ever wear 28. Tonight, I wondered what the best team the Lakers could assemble using only the numbers of guys currently on the roster.
Or, if you prefer, "The All 2, 3, 4, 5, 7, 9, 12, 15, 16, 17, 18, 24, 45, 50 Team."
2
Kenny Carr 1978-1979
Rory Sparrow 1992-1992
Anthony Miller 1995-1996
Derek Fisher 1997-2011
Aaron McKie 2006-2007
This one's easy. No disrespect to
Pig Miller
, but Fish has this one wrapped up. Though without McKie, the Lakers may never get
Pau Gasol
, a far more significant contribution than the 29 points he scored in purple and gold.
3
Elmore Smith 1974-1975
Jeff Lamp 1988-1989
Jay Vincent 1990-1990
Sedale Threatt 1992-1996
Devean George 2000-2006
Shammond Williams 2007-2007
Trevor Ariza 2008-2009
Devin Ebanks 2011-2011
Not the strongest number in LAL history.
George
won some hardware, but barely played in those playoff runs.
Threatt
was actually a pretty productive player, but during a particularly unproductive time for the franchise. That leaves Ariza, who went to a Finals, won a ring, and might still be here if not for some lousy work from his agent.
June, 3, 2010
6/03/10
10:18
AM PT
A few days back, we
ran a series of poll questions on the blog
, just to help get people get into a Finals mood and take the temperature of Lakers fans on a few important issues. One question read as follows: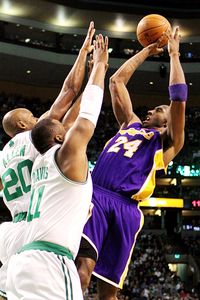 Jim Rogash/Getty Images
Beating the Celtics in the Finals is tough, but something Kobe must do to be the G.L.O.A.T., so say Lakers fans. Or the kind who answer poll questions, at least.
"To be considered the Greatest Laker of All Time (G.L.O.A.T) does
Kobe
need a title over Boston?"
About 15 percent said he's already the G.L.O.A.T, another eight percent have decided he'll never pass (insert ultimate Laker here), and six percent said no. That leaves a full 71 percent of those responding- and given our demographic I presume we're talking predominantly Lakers fans- believing yes, he does. For all his accomplishments already banked and those yet to come, now that he'll have had two cracks at the Celtics for a title, if Kobe wants to stick his flag at the summit of Mt. Purple and Gold, he have to vanquish The Green.
I'll admit, I found that number surprising.
Growing up in St. Louis through the 80's, I assumed the Lakers and Celtics played about seven thousand times a year, because those are the only two teams I remember seeing on TV. Even with my semi-casual relationship to basketball and the NBA, I was able to develop an understanding of the rivalry's importance. But I don't have that visceral hatred for the Celtics running through the veins of die-hards and native Angelinos. It's the sort of thing that changes fans on a molecular level, like being bitten by
an irradiated spider
or
exposed to gamma radiation
. I get that.
At the same time, even if the Lakers don't win a second straight title this month, the window doesn't close on Kobe. He could certainly add a couple more rings, giving him a larger jewelry collection than
Magic
or
Kareem
(with the Lakers, at least). In terms of Lakers records, Kobe owns a ton of them now, and by the time he's done will be
near or at the top of just about every counting stat available
, in some cases by a mile or six. The resume is already impressive, putting him in rarefied air. As ESPNLA.com's
Dave McMenamin notes in his feature on Bryant, there aren't all that many mountains for him to climb
.
So my question, and the
Question of the Day
, is this:
If you think Kobe has to knock off the Celtics to be the G.L.O.A.T., why? If you don't, why not?
Is it a major consideration? More of a tiebreaker?
Icing on an already impressive cake?
May, 28, 2010
5/28/10
6:46
AM PT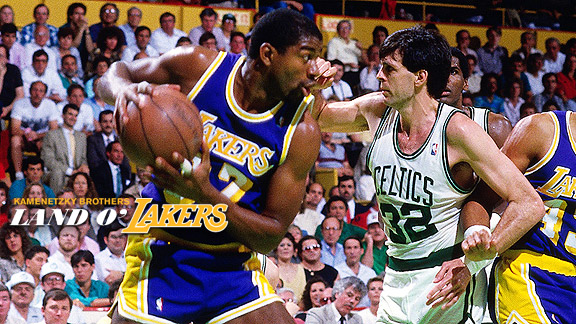 Dick Raphael/NBAE/Getty Images
The Celtics may have imagined a hook shot beating them in Game 4 of the '87 Finals... but likely not from Magic Johnson.
You can probably still hear the call from Chick Hearn.
Up two games to one against the Boston Celtics in the NBA Finals, the Lakers trailed 106-105 in Game 4 at the Garden with only seven seconds remaining. Kareem Abdul-Jabbar had just missed the second of two free throws, but Mychal Thompson knocked the rebound from the hands of, as Hearn put it, "a crying Kevin McHale." L.A. would have one more shot to win.
"Cooper takes the ball out of bounds, baseline. Kareem and Worthy to the left. Worthy comes right, to the left goes Magic..."
May, 24, 2010
5/24/10
10:43
AM PT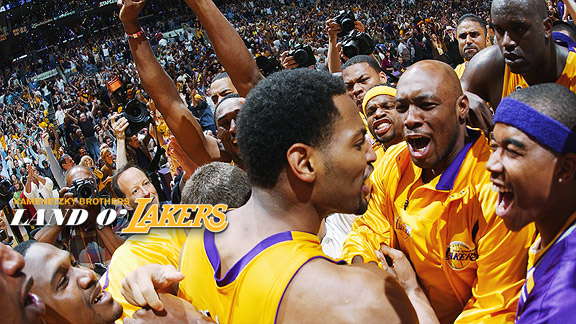 Catherine Steenkeste
Man of the Hour: Robert Horry saved the day for the Lakers in Game 4 of the Western Conference Finals against the Kings with a buzzer-beating triple. The Lakers would win the series in seven. May 26, 2002.
Rick Fox
stood on the right sideline, waiting to be handed the ball by the official. The Lakers were 11.8 seconds away from falling down three-games-to-one in the Western Conference finals against the Sacramento Kings.
Fox inbounded to
Shaq
near the right wing. O'Neal dished left to
Robert Horry
, who quickly gave it up to
Kobe Bryant
with about nine seconds remaining. Bryant faced up on Sacto's
Doug Christie
, then put the ball on the floor, beating him off the dribble with the right hand. He missed a floater in the paint. Shaq, coming off the weak side, grabbed the rebound, but missed what seemed like a near-gimmie at the rim. With time melting away, former Laker
Vlade Divac
slapped the rock out of the paint.
"I thought the time was going to run out," Divac would later explain.
It didn't.
Instead, Divac unwittingly executed a perfect bounce pass to Horry, who was hanging out at the top of the arc. With a lack of hurry perhaps drawn from his roots in molasses-paced Alabama, Horry reached for the ball, stepped into the shot, rose and launched. "It'll count if it goes,"
Chick Hearn
said over the radio. The roar from the Staples Center crowd left no doubt.
"I wanted the three all the way," Horry, who scored 18 points and added 14 rebounds and five assists, said later. "I stayed right where I could get it. When it came rolling out, it was like, "Oh, look what I got."
Indeed. And look what the Lakers got, too.When Horry's shot fell, it preserved any realistic chance the Lakers had to beat the Kings and advance to the Finals. If he misses, the Lakers face three elimination games. They almost assuredly lose one, and Sacramento advances. The purple and gold never steamroll New Jersey one round later, and the historic, dynastic Threepeat is an impressive- but not iconic- back-to-back.
So indelible was the shot, it was recently
voted the top moment in Staples Center history
.
"Thank God for Robert Horry," Shaq said. "And thank God his father met his mother, too."
ESPNLA.com and Land O' Lakers are counting down the ten greatest playoff moments in Laker history. Upon completion, fans will be asked to vote on the single greatest moment of all.
Previous moments include:
-Shaquille O'Neal's near quadruple-double in the 2001 NBA Finals, Game 2
-The Logo's steal in 1962

-Elgin goes for 61 in '62

-Worthy's Game 7 Trip-Dub in 1988
-Kareem's sky hook marks the end of Boston's dominance over L.A.
May, 16, 2010
5/16/10
11:34
AM PT
30 years ago,
Magic Johnson
, then a 20-year old rookie, took the floor for Game 6 of the NBA Finals against the 76ers at the Spectrum in Philly.
Kareem Abdul-Jabbar
, laid up with a bum ankle, remained in Los Angeles.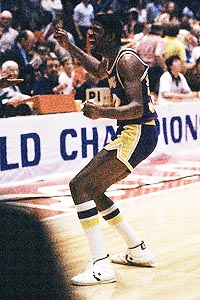 Jim Cummins/NBAE via Getty Images
42/15/7 had Magic Johnson celebrating in Game 6. A title had the city celebrating with him.
Out of options, coach
Paul Westhead
asked Johnson to take the opening tip at center. Caldwell Jones met him for Philly, and incredulously asked, "You gotta be joking, right?" Jones won the tip, but from there, Magic won everything else, playing every position on the floor, scoring
42 points and adding 15 rebounds, seven dimes, three steals and a block as the Lakers knocked off Philly for the title.
It remains one of the greatest games in NBA playoff history, some would argue the greatest ever. Earlier in the week, we asked for your memories of a game. Among the responses was
ESPNLA.com's own Jon Weisman, host of Dodger Thoughts
:
"I was as passionate about the Lakers then as I am about the Dodgers now. But the weekend of Game 6, we were going on a family trip. I was able to set the family's brand-new, first-ever VCR (which had been baptized just a few months earlier with the Miracle on Ice game) to record one game, and with Kareem out for Game 6 (Friday) but possible for Game 7 (Sunday), I set it for the latter. At LAX that Friday, we heard that the Lakers were winning at halftime, and I was beside myself. And when we found out the final score after landing, we couldn't believe we had missed the game. And then when we found out what Magic had done ...

I saved the Los Angeles Times and Sports Illustrated coverage of the game - still have those issues. SI had that classic picture of Magic with the trophy on the cover. The Times had a great headline that incorporated as a kicker the lyrics from a Doris Day song: "How else can I explain those rainbows when there isn't rain? IT'S MAGIC!" But I didn't get to see the game itself for about 15 years, when I caught an ESPN Classic broadcast. And I recorded it, for keeps.
Unbelievable."
For more of responses, click below...
May, 11, 2010
5/11/10
10:43
PM PT
It's one of the most iconic moments in NBA Playoff lore, let alone Lakers history. On May 16, 1980, with
Kareem Abdul-Jabbar
laid up with an ankle injury and Spencer Haywood suspended,
Magic Johnson was asked to take the opening jump at center in Game 6 of the NBA Finals against the Philadelphia 76ers
.
Magic went on to play every position on the floor. He scored 42 points, snagged 15 boards, and handed out seven assists. Dude was flat out incredible as the Lakers downed the Sixers 123-107 and clinched a title.
Sunday marks the 30th anniversary of that historic moment, and we want to hear from you. What was your experience with the game? It was in Philly, but were you there? Did you watch on TV? What are your memories of it? Was it part of your video collection growing up? We'll take stories, pictures, whatever. Contact us
through our mailbag
, the
Land O'Lakers Twitter account
, the comments section below, or at espnlandolakers@gmail.com.