Los Angeles Lakers:

Lakers needs
July, 23, 2012
7/23/12
9:28
AM PT

By Brian Kamenetzky
ESPNLosAngeles.com
Archive
Early last month, I looked at some
pressing needs for the Lakers heading into the summer's draft/free-agency period
, noting similarities to the list from the summer of 2011. Now the collegians and internationals have all been selected. Players, including most of the significant ones, have flown around the NBA in a flurry of trades and signings.
Dwight
Watch! is in full swing (though reviews indicate viewers believe the plot is moving too slowly for their tastes).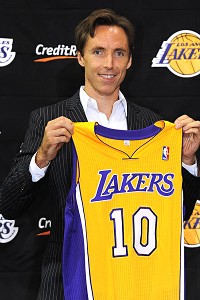 Andrew Bernstein/NBAE/Getty Images
Steve Nash didn't solve every problem for the Lakers, but he sure helps in a lot of areas.
There is still business to do and some help remains on the market, but after
agreeing to terms with Jordan Hill on a two-year deal
on Friday, it's as good a time as any for a progress check for the Lakers. Below are five areas of need faced by the purple and gold entering the summer, as well as thoughts on how they've been addressed.
Fair to say I'm a lot more optimistic about the 2012-13 season than I was before.
1. Outside shooting.
The problem:
"[In 2011-12] the Lakers again fell short from the perimeter in the playoffs, hitting only 28.2 percent of their 3-pointers against the Thunder. Disappointing, but unfortunately not far off their 32.6 regular-season mark, meaning nothing about the way L.A. shot against OKC was fluky. Throughout the year, the Lakers had little floor-stretching capability, limiting space inside for their high end post game or lanes for dribble penetration. Help defenders could collapse on the ball whenever it entered the paint, comfortable nobody on the perimeter would make them pay."
The address:
The Lakers still could use a classic floor-spreading spot-up shooter -- a
Steve Novak
type could put up video-game numbers surrounded by L.A.'s Big Four -- but certainly addressed the need with the acquisition of
Steve Nash
. While his primary value will come in doing point guard stuff, Nash will also be a major weapon on the perimeter. Last year's 39 percent mark from downtown was his worst in more than a decade, but would have pushed for the lead among regularly used Lakers. And while it was Nash's second straight sub-40 percent season, the slippage was more likely because of the decline of the roster around him than his actual shooting skills. Joined now with great post players and an elite wing in
Kobe Bryant
, there is every reason to expect Nash's percentages to rise back into the 40's.
If so, it's a huge boost to the offense. Plus, Nash's skills at the point should help improve the flagging percentages of his teammates.
The addition of Antawn Jamison
brings another potential perimeter weapon (he's averaged no fewer than 4.1 3-point attempts in any of the last three seasons), though not necessarily a deadeye.
A career .346 3-point shooter
, Jamison has averaged 34.1 to 35.1 percent from downtown in every season since 2008-09. Not bad, but not remarkably efficient either.
July, 10, 2012
7/10/12
9:56
AM PT

By Brian Kamenetzky
ESPNLosAngeles.com
Archive
"Hey
Mitch
, hey
Jim
. So the
Steve Nash
thing was sweet. Great move. But seriously, it's so last week. Literally. It's Tuesday morning. What have you done for us
lately
?"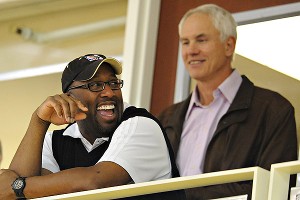 Andrew D. Bernstein/Getty Images
Adding Steve Nash put a smile on Mike Brown's face, but to make the deal pay off, Mitch Kupchak needs to find a few more players.
OK, maybe that's just a little unfair -- though
this guy doesn't think so
-- but after last Wednesday's Fourth of July acquisition of Nash granted the Lakers independence from slow decline, Lakers fans want to know what's next. It's not a question of greed (or not entirely of greed) from an entitled fan base, either. The driving force is more laudable: People are excited again, justifiably confident this season's Lakers squad can enter the season part of the title conversation. Not that they'll necessarily be favorites, because even sound moves going forward don't likely get L.A. that high up the preseason ladder, but no longer does the hope of a deep playoff run require the same suspension of disbelief taught to drama majors in college.
While the cast certainly could change, the team's top-end infrastructure with
Kobe Bryant
, Nash,
Andrew Bynum
and
Pau Gasol
, is excellent, rich with skill, size, scoring and smarts (and alliteration, apparently). In Nash, they've added an elite-level player without giving up a lick of talent in the process. Bradford Doolittle of Basketball Prospectus writes here that in computer projections of the 2012-13 season,
Nash's inclusion adds more than eight wins to L.A.'s total, from just under 46 to 54 on the nose
.
Quibble about the first number if you'd like, but the larger point -- Nash is very good, and improves the Lakers significantly -- is clear.
Still, fans aren't naive. Last year, the Lakers were a house of beautiful features built with poor structural support. The gap between the best and the rest of their rotation was simply too large, particularly in the playoffs. To avoid becoming a souped-up version of the '11-'12 team, the Lakers need more stuff, but don't have a heap of tools available to get it. The trade exception used in spectacular fashion was one of the team's few genuinely appealing trade assets. They still have Bynum (for now at least) and Gasol, as well. But the Lakers basically jettisoned about every pick the law allows, and their cap/tax situation means only a mini-midlevel contract worth about $3 million next season and veteran's minimum deals can be offered in free agency.
Let's assume for a minute another home run isn't in the cards. What comes next?