Los Angeles Lakers:

Lakers Progress Report
January, 27, 2012
1/27/12
6:52
AM PT

By Brian Kamenetzky
ESPNLosAngeles.com
Archive
Wednesday night, the Lakers
knocked off the Clippers
in what was their 19th game of a lockout-shortened 66-game campaign. For those not doing the math at home, one month in the Lakers have already completed 29 percent of their schedule.
A lot of time? No, but by this season's standard not a bad sample size, either.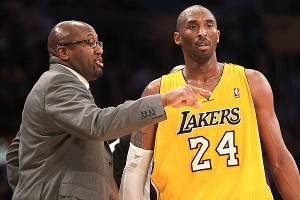 Jayne Kamin-Oncea/US Presswire
Kobe Bryant and Mike Brown have been like peas and carrots.
From a scheduling standpoint, Wednesday also marked a natural dividing line between the home-heavy start and what amounts to a national tour for the purple and gold, as 11 of their next 16 games come away from Staples Center. Put together, it makes for a natural moment to stop and assess what we know about this season's Lakers. When the lockout (tentatively) ended back on Nov. 26,
we published a list of 34 questions facing the team this year
in the wake of last spring's playoff disaster.
Why 34? Because 20 isn't enough when the league lets you sit around all summer thinking about stuff. Below is that list, each with some answers.
Strap in, people. We've got a lot of ground to cover.
1. Who wins the battle between the well-rested knee of Kobe Bryant (and his ankle, back, finger and general skeletal structure) and a compressed schedule?
Knee? What knee? I thought we were worried about his wrist. (Which, by the way, we're increasingly less worried about.) Meaning 19 games in,
the answer is Bryant in a walk
. He
leads the league in scoring
(30.2), a nearly five-point improvement over last season, while maintaining a solid shooting percentage (45 percent). Asked to carry an almost comical burden in the Lakers offense, at least as measured by his league-leading usage rate (35.9), Bryant has been outstanding. And spry. Very, very spry.
Basically, the man is a running, leaping billboard for German medical engineering.
2. Who wins the battle between the well-rested will of Bryant and the authority of Mike Brown?
The relationship between Kobe and Brown has been a success. Bryant has expressed nothing but admiration for his new coach, praising on multiple occasions Brown's work ethic and emphasis on defense, noting the team wants to win for him because they see how much Brown wants to win, too. They know he puts in the work.
Doesn't mean the questions about Bryant's shot selection, balance, or how he's used offensively have stopped, but those would be asked whether the coach was Brown,
Phil Jackson
,
Brian Shaw
or
Rick Adelman
. They are, in sports terms at least, eternal.
To this point, though, one major concern -- Brown's ability to "manage" Kobe, has been a non-issue.
3. What will Brown's system look like, and how quickly will the Lakers be able to pick it up?
Not totally sure, and not very.