Los Angeles Lakers:

Lakers statistics
February, 28, 2012
2/28/12
1:18
PM PT
Among the Generally Accepted Truths produced by the first 34 games of the 2011-12 Lakers season are these two:
1) The Lakers can't score.
2) The Lakers are vastly improved defensively.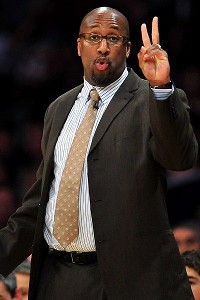 Gary A. Vasquez/US Presswire
Mike Brown has preached defense, but how much have the Lakers actually improved this year?
The first is hard to argue. Efficiency-wise, the Lakers are down over seven points per 100 possessions, from 107.9 to 100.6. True shooting percentage (54.5 vs. 52.2), effective field goal percentage (50.2 vs. 48.1), old fashioned field goal percentage (46.3 vs. 44.9), 3-point percentage (35.2 vs. 30.4), free throw percentage (77.9 vs. 74.2), points (101.5 vs. 93.1), and aesthetics (occasionally beautiful and generally decent enough vs. poke your eyes out with a fork) have fallen as well.
About the only thing going up are turnovers (13.1 vs. 15.1).
Since offense is down across the NBA (league average in team scoring has dropped by 4.6 points heading into Tuesday's games) some loss in punch is to be expected. But the Lakers have generally fallen, in some cases a great deal, relative to the competition, too. The stats confirm what the eyes tell us, when not obscured by tears or forced shut by the brain: Points are hard to come by.
What about the other end? It certainly feels like the defense has improved and the Lakers have had some fairly heroic efforts on their own end of the floor -- how many teams can say they scored 73 points in a win? -- but what do the numbers say?
February, 14, 2012
2/14/12
11:53
AM PT
The Lakers are back from their six-game swing, finishing 3-3 after
squeaking out a win over the Raptors on Sunday afternoon
.
Kobe Bryant
was the catalyst in the final minute, hitting a 3-pointer and picking up a critical steal before nailing the game-winner on a sweet, arcing jumper along the right baseline.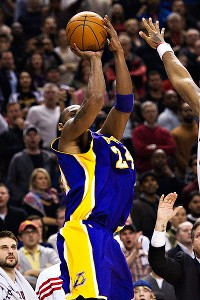 AP Photo/Nathan Denette
Kobe nailed this jumper to beat Toronto on Sunday, but overall struggled in fourth quarters on the trip.
Bryant's late-moment heroics rescued what had up to that point been a horrible fourth quarter. At one point, Kobe missed six straight shots, fueling a big run for the Raptors. Sunday he turned the tables, but for Kobe, at least in regards to the Grammy trip, excellence at the end was the exception, not the rule. The final 12 minutes did not treat him well.
Overall, in the six games Kobe made 54 of his 141 shots, a less-than-stellar 38.2 percent. Only once (11-for-24 in Boston) was he over 40 percent. The raw number, though, is a little misleading. In quarters one through three, Bryant's mark was a more presentable 42.5 percent. Dragging him down was his performance during the fourth: 14-of-47, or 29.8 percent. Not surprisingly, Bryant's struggles negatively influenced the Lakers in the final quarter. As a team, they shot 43.1 percent through the first three quarters, and 36.4 percent in the fourth and overtime, averaging just over a point less (21.5 points vs. 22.7).
The object here isn't to reignite the fairly tired debate of Kobe's clutch-osity or to get bogged down in the balance question, though clearly the Lakers need more of it. (In those six fourth quarters,
Andrew Bynum
and
Pau Gasol
hoisted 31 shots combined. Sixteen fewer than Bryant. It's not a healthy ratio, but like the team's fourth quarter struggles generally,
it's also not a new issue
.)
More concerning are issues of workload and weariness. Bryant
still leads the NBA in usage rate by a mile
, and trails only 23-year-old
Kevin Love
in minutes per game at 38.4. It's hard to quantify exactly how his full plate impacts Bryant's fourth quarters, but spry as Kobe has been this year from a health standpoint, he's still in his 16th season. The increased burden can't help. (Nor does what feels like a tendency to thin out the playbook late. I'm still looking for specific figures but the eye test -- keeping in mind eyes can lie -- says the Lakers run a lot more off-ball action for Bryant early in games, before settling on a more predictable series of pick-and-rolls or isolations in the final minutes. Kobe becomes easier to defend at a point in the game where he needs more support, not less. Setting him up to take harder shots isn't a great game plan.**)
Questions of fatigue and its impact don't end with Bryant.
December, 29, 2010
12/29/10
8:23
AM PT
This represents, using the metrics at HoopData.com,
the number of times over the last 17 games the Lakers have exceeded their average of 108.6 points per 100 possessions.
Five becomes zero if only games against teams at or above .500 are included.
Tuesday night in San Antonio
, the Lakers became the 16th team in the shot clock era (which kicked off back in '54, lest you think it a recent invention) to lose three straight by 15-plus, while failing to score 85 points in any of the three games, via Elias. An odd stat, but a) bad games for title teams bring weird numbers, and b) reflective of how bad the offense/team has been.
As a side note, Elias reports only one team-
the '77-'78 Washington Bullets
, who finished only six games over .500 in the regular season before a fairly shocking playoff run- has lost three straight by such a margin, and won a title. Another fact of questionable long term relevance, perhaps, but unsettling nonetheless.