Los Angeles Lakers:

Lakers Summer League
July, 11, 2012
7/11/12
9:05
PM PT

By Brian Kamenetzky
ESPNLosAngeles.com
Archive
The Lakers released the roster for their 2012 Summer League squad in Vegas this afternoon, and it doesn't contain all that many surprises. The headliners (as it were) are the
freshly re-signed Devin Ebanks
and
Darius Morris
, along with
Andrew Goudelock
and
Christian Eyenga
. From there, eyes will be on this year's draftees, guard
Darius Johnson-Odom
and center
Robert Sacre
.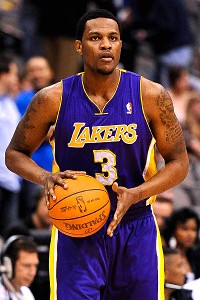 Jerome Miron/US Presswire
Devin Ebanks may or may not get more burn in 2012-13, but he'll play a lot in Summer League.
The roster also sports two names Lakers fans might remember in
Chinemelu Elonu
and
Ater Majok
, former second rounders (Elonu in '09, Majok in '11) whose rights are still owned by the Lakers. UCLA devotees might enjoy watching controversial former Bruins forward
Reeves Nelson
get a little run with the quasi-Lakers, as well.
Other members of the team -- i.e. people who, aren't going to be Lakers in the fall, and in reality are playing as much for a shot at an NBA training camp or gigs overseas or in the D-League -- include guards
Gary Flowers
,
Toure Murry
, and
Kevin Palmer
, along with forward
Lawrence Hill
, and center
Julian Khazzouh
. The group will be coached by
Chuck Person
, assisted by
Darvin Ham
and
Phil Handy
.
Ebanks, who could be in line for bigger minutes this year, should put up some numbers. I'd bet on Goudelock having at least a couple of big scoring games. Morris will have an opportunity to run point and show his skills without being completely overmatched, as he (understandably) was in limited run last year. Because the Lakers paid half a million dollars to acquire Johnson-Odom with the 55th pick, he's a strong candidate to make the team next year. Sacre is, until free agency changes things at least, in line for a reserve role in the frontcourt. He can certainly help his chances of making the big team with a strong showing, particularly defensively. (Sacre was the West Coast Conference's DPOY last year.) Very limited playing time in three NBA seasons combined with phenomenal athleticism and very raw skills makes Eyenga a curiosity, but given how thin the Lakers are at small forward, any signs of potential are welcome.
It's always great to see players who could/will be on the roster blow up in Vegas, but Summer League play can be incredibly sloppy and the quality of players on the floor varies widely from game to game, and even quarter to quarter. One reason a great truism says not to give the games much stock, at least on the upside. Great performances aren't generally a harbinger of things to come, only something to whet the appetite a little. (Bad play, however, tends to be more revealing.)
One key is for these guys to use the time wisely, working to add elements in full speed game play they may have been developing in workouts. Watch to see, for example, if Goudelock can finish with a couple lefty floaters, something he was working on last season and hoped to develop going forward. Coaches aren't necessarily looking for raw numbers.
The Lakers
open their Summer League season Friday at 5 pm
against the (sort of) Golden State Warriors, and play four more times over the following week.
July, 13, 2010
7/13/10
10:58
PM PT

By Andy Kamenetzky
ESPNLosAngeles.com
Archive
There's a limit to how much relevant information about a player's potential can truly be taken away from Summer League performances. The competition isn't consistently high level, and good performances in July don't always translate once the real season begins. In other words, grains of salt must be always be taken.

Tuesday's 90-84 loss to the Sacramento Kings, however, presented a reasonably noteworthy afternoon for second round picks Derrick Caracter and Devin Ebanks. Sacto's Vegas squad features particularly interesting matchups for the Laker youngsters looking to make their bones. For Caracter, it was a showdown against fifth overall pick DeMarcus Cousins (a center considered by many to be as talented as anybody in the draft). For his part, Ebanks shadowed honest-to-goodness NBA players Omri Casspi and Donte Greene at small forward.

These are as tough of assignments as either could expect this summer, and in my estimation, both acquitted themselves rather nicely.

July, 9, 2010
7/09/10
9:41
AM PT

By Brian Kamenetzky
ESPNLosAngeles.com
Archive
Friday evening, the Lakers kick off their Summer League season in Las Vegas.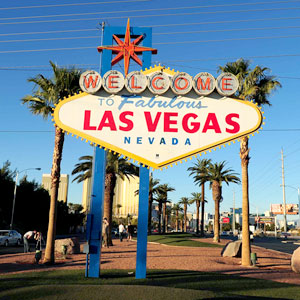 Kyle Terada/US Presswire
It's Summer League time! This year, it's actually worth paying attention to what the Lakers do there.
Because it would be virtually impossible to be otherwise, this year's squad will be more interesting than last season's edition, which included
Adam Morrison
and a bunch of guys obscure enough to make Google pull a hammy. The 2010 roster, however, includes both of this year's second rounders in
Devin Ebanks
and
Derrick Caracter
, at least one of which (Ebanks) seems likely to make the team. With a good showing in Vegas and again in training camp, both certainly could be around opening night.
In short, where last year there were none, this summer roster spots are potentially for grabs.
After Ebanks and Caracter, some interesting names will suit up for the sort-of-purple and gold, the most recognizable being
Gerald Green
and
D.J. Strawberry
. Drafted out of high school with the 18th pick by the Celtics in '05, Green impressed with his raw athleticism but was nonetheless shipped to Minnesota in the
Kevin Garnett
deal and has since been hampered by underdeveloped basketball skills and attitude issues (other than that, Mrs. Lincoln...). Strawberry, son of former MLB star
Darryl Strawberry
, was a second round pick of the Suns back in '07, but rarely played before eventually being released.
He's since popped up in the D-League and in Italy.