Los Angeles Lakers:

Lakers vs. Heat
March, 3, 2012
3/03/12
5:52
PM PT

By Brian Kamenetzky
ESPNLosAngeles.com
Archive
Earlier this week,
Matt Barnes
declared
Metta World Peace
the
Lakers' enforcer, and himself the enforcer's sidekick.
If that's the case, then
Andrew Bynum
is the guy who just got out on parole and has to stay out of trouble.
I anticipate Sunday's game against Miami will be hard nosed and physical, but don't believe there will be any shenanigans in connection to the hard foul put on
Kobe Bryant
by
Dwyane Wade
in last weekend's All-Star Game. If I'm wrong, though, it likely won't be Bynum delivering the blow. As ESPNLA's Dave McMenamin reports,
L.A.'s young center knows the NBA is watching this game -- and him -- closely:
"I can't do anything about (it)," Bynum said after the Lakers' shootaround on Saturday. "If I do anything, they're going to definitely hit me (with punishment). It sucks. It's not good. It's just unfortunate and something we got to deal with." By "they," Bynum was referring to the league office that suspended the 24-year-old two games last season and four games to start this season for hard fouls on the Minnesota Timberwolves' Michael Beasley and J.J. Barea, then with the Dallas Mavericks. "I got two (targets on me)," Bynum said. "I got Beasley, I got Barea and people blame me for the Gerald Wallace incident, but I didn't do anything in that particular one."
Barnes and World Peace are also under the microscope, Bynum said (Leaving, who,
Andrew Goudelock
to lay down the law?). Still, he said today the extra attention doesn't impact his play. "I still play hard. If I have to foul, I have to foul. That's part of the game... I can't do anything extra, obviously. No elbows. Nothing that looks crazy."
On the other hand, "You got to be conscious of it at this point, I mean, $750,000!"
That would be the amount of money (give or take) he's lost in salary thanks to suspension.
December, 25, 2010
12/25/10
5:19
PM PT

By Brian Kamenetzky
ESPNLosAngeles.com
Archive
Fans didn't exactly enjoy it the first time around, but for the Lakers it was the game so nice, they apparently decided to play it twice.
Last Christmas, the Lakers walked into Staples Center for a holiday game against
LeBron James
and Co. (in this case, the Cleveland Cavaliers), meeting the massive hype of the day by laying a serious egg, losing
102-87 in a game
that wasn't nearly that close. This season, the Lakers again hosted James, now with the Miami Heat (in case you missed it) in a game garnering even more hype and anticipation, and once again managed to throw masses of coal in the collective stockings of Lakers fans.
Final score: Heat 96, Lakers 80
. And, as it was a year ago, it didn't feel that close.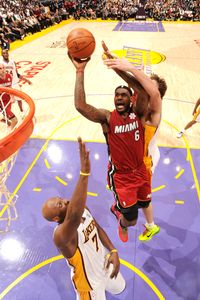 Andrew D. Bernstein/Getty Images
For the second straight season (in his second uniform) LeBron James soared over the Lakers on Christmas, this time earning a triple double.

Perhaps those lime green Christmas shoes
Kobe Bryant
busted out, meant to evoke images of the
Grinch Who Stole Christmas
, were applied too literally?
Here's how it broke down, with the bad news appropriately noted first...
Three Down:
1. The First Quarter.
The Lakers have spent most of the season illustrating the value of fast starts. Before Saturday, they'd averaged 27.9 points in the first quarter, and a hefty +4.8 differential. Not much changes the context of a game faster than pulling ahead in a hurry. Of course, the opposite also holds true, as the Lakers saw against the Heat.The problem wasn't defense, but offense. Kobe and
Pau Gasol
were a combined 0-11 (seven of the bricks belonging to Pau). The rest of the gang was six-of-14, meaning as a group they shot a less-than-robust 24.6 percent.
In (misleading) good news, those hoping the Lakers would force the issue inside were pleased L.A. scored 77 percent of their points in the paint.
Unfortunately, it took 18 shots to get there, and only amounted to 10 points in total as the Lakers scored 13 over the first 12 minutes.
Lamar Odom
led the way with a grand total of five points.
Andrew Bynum
hit both the shots he took. Beyond that...
...yikes.
Give credit to Miami's defense, but generally speaking the offense didn't do enough, continuing a trend developing over the last couple weeks. 80 points, including only 15 free throws on your home floor, isn't going to get it done. Expecting the Lakers to roll up 110 on a stout defensive group like the Heat isn't reasonable either, but a middle ground has to exist somewhere.
2. Pick and Roll Defense.
In the early going, the Lakers were very effective against Miami's attack, despite effectively doing nothing against the Heat over the first 12 minutes (you may remember a few sentences ago when I noted L.A's 13 point output in Q1...). From there, the Heat grew increasingly more effective, throwing a variety of pick and rolls at the Lakers to great success. For the most part,
Erik Spoelstra
kept the ball in the hands of
Dwyane Wade
and
LeBron James
, allowing them to penetrate and create. The pair accounted for 45 points and 16 assists, so it's fair to say they used their chances wisely.