Los Angeles Lakers:

LaMarcus Aldridge
October, 31, 2012
10/31/12
11:08
AM PT
No rest for the winless. Upon wrapping up
a disappointing debut against the Dallas Mavericks
, the Lakers hopped a plane to the great Northwest for a date with the Portland Trail Blazers. For the past decade or so, the Rose Garden has served as purple-and-gold Kryptonite. Blame it on the energy from a rabid fan base, a typically solid roster
or the rain
, but whatever the reason, Portland's been a tough place to score a road victory, even during championship seasons. However, the Blazers are in the midst of a post-Brandon Roy/Greg Oden/Nate McMillan facelift, and the results aren't expected by most to be immediately pretty.
Will this developmental stage equal an easier road in the Rose City and the first Lakers' win of the season? For more perspective, I conducted an IM discussion with Andrew Tonry of the True Hoop network's
Portland Roundball Society
. Below is the transcript
:

Andy Kamenetzky:
Like the Lakers, the Blazers have undergone a lot of roster changes. What's your general impression of this team?
Andrew Tonry
: I hate to say it, but the forecast for the season looks a lot like the Portland weather: cold, dark and grey. The team is rebuilding. (As a Laker follower, you may forget how that works.) While there are pieces to be excited about -- rookie point guard Damian Lillard, for example -- Portland simply lacks talent. Perhaps half of their roster is true NBA-level players, and the top -- LaMarcus Aldridge and Nicolas Batum -- have yet to prove themselves as guys truly capable of leading a playoff-bound squad.
AK
: What are Portland's strengths and weaknesses so far?
AT:
New Blazers coach Terry Stotts gets a lot of credit for Dallas' offensive schemes over the last few seasons. He's come to Portland with a plan to open things up with more movement and dynamism. The Blazers leaders -- Aldridge and Batum -- are guys who've shown the most promise on the offensive end. Defense, however, will be the sticking point. Nobody on Portland's roster is particularly known for defense, especially around the rim, where the Blazers will start J.J. Hickson, a natural power-forward, at center.
Even more than defensive deficiencies, the Blazers will be hurt by a wafer-thin bench. As I mentioned earlier, most of the guys in the second unit are players who lucked their way onto the roster because bodies were needed.
AK:
As a natural forward playing center, how do you anticipate Hickson handling the matchup against Howard?
AT:
I anticipate Hickson getting manhandled. I also anticipate rookie Meyers Leonard getting some minutes, and for what it's worth, he's a true 7-footer, one of the few players in the NBA with the size, strength and quickness to match Howard's. But it's too early to expect much. Leonard has a lot to learn, including how to stay out of foul trouble.
The Lakers starters haven't had much time together. How long do you expect it'll be until they become a cohesive unit? And until their potential is reached?
February, 9, 2012
2/09/12
5:36
PM PT
Kobe Bryant's
consecutive All-Star Game streak reached a record-tying 14 last week when the Western Conference starters were announced, but another Laker saw his streak end.
Pau Gasol's
more modest run of
three straight mid-winter classics has come to an end
.
It's not shocking news. Gasol's performance this season hasn't been nearly as bad as unhappy Lakers fans might lead you to believe --
16.4 points, 10.1 rebounds, 3.0 assists, and a PER of 20.58 is hardly awful
-- and is actually comparable statistically to a few guys in the mix for a trip to Orlando, Fla. Still, he hasn't met the lofty standard to which he should be held, and certainly doesn't have the feel of an All-Star. Not locally, at least.
Looking at the list of reserves,
Kevin Love
, and
LaMarcus Aldridge
are without question more deserving. Based on this season's performance I'd definitely give Pau the nod over
Dirk Nowitzki
, but Utah's
Paul Millsap
, who like Gasol will be watching on television, deserves a bid over both. There's just no way to conclude Gasol's omission is a crime of basketball.
The news isn't all bad. La Familia Gasol will still be represented in Orlando, as lil' brother
Marc
was named as the squad's backup center, filling that last "big man" slot. If only one can go, I suspect seeing his brother earn his first berth excites Pau a lot more than getting to go again himself.
January, 5, 2012
1/05/12
10:41
PM PT
Whatever it is about that Portland water, the Lakers can't seem to drink some, then win a game in the Rose Garden.
This was a disappointing loss
, one that exposed some recurring weaknesses while offering some fresh new concerns. Among the talking points:
Matt Barnes, Devin Ebanks and Metta World Peace joined forces at small forward to offer absolutely nothing on either side of the ball. (On a related note, Blazer small forward Gerald Wallace enjoyed a monster game.) For that matter, nobody not named "Kobe," "Andrew," or "Pau" brought much to the table.
The defensive issues, whether in transition or preventing the likes of Ray Felton from splitting double teams on pick and roll coverage. Plus, that Jamal Crawford fella sure got hot in the fourth quarter.
The offensive slippage over the second half, and the difficulties creating shots along the perimeter. Is there a way to address this from within the roster?
Um... oh-fer from downtown?
January, 5, 2012
1/05/12
10:32
PM PT
For the third time this season, the Los Angeles Lakers ventured out on the road, and for the third time they came home empty-handed. Thursday, after a strong start in the Rose Garden, a place where, put mildly, they've struggled, Portland used a red-hot third quarter to give them an advantage they wouldn't surrender.
Final score, 107-96. Here are six takeaways...
1. What they're doing with Kobe inside the offense needs to continue.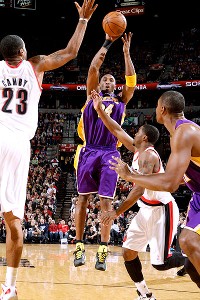 Sam Forencich
As it was against the Rockets, Kobe Bryant got the ball in great position early, but the Lakers couldn't sustain the momentum.
Following the loss in Denver,
Mike Brown
said he and Bryant re-examined how Kobe was getting the ball. The result was a host of mid- and low-post touches against Houston, and more of the same against Portland. Kobe consistently made catches in all his sweet spots, from the free-throw line extended to lower on the block. Perimeter jumpers came on catch-and-shoot opportunities, with off-ball action helping spring him. Only by accident it seemed was Bryant put in stationary isolation.
The results were incredibly strong early. Particularly with the starters on the floor, the Lakers sustained an effective offensive rhythm. The ball moved, players moved, shots for L.A.'s big three were clean and plentiful. Combined, Bryant,
Andrew Bynum
and
Pau Gasol
hit 13 of their 15 attempts, and while the percentage is a little fluky, none of the shots were the type you'd expect any of the three to miss.
Then the wheels fell off. Later in the game, as the Lakers tried to eat up Portland's lead, the flow wasn't as smooth. Kobe was more often in isolation, and the shots got harder. The Lakers still lack a secondary shot creator to take pressure off Bryant, but the template for Bryant in the offense is there if the Lakers can access it consistently.
He finished with 30 points on 13-of-24 from the floor, plus eight rebounds and three assists. High-end work.
2. The bench, it struggled.
Five points in the first half, nine in the second. As a group, they were 5-of-24 from the floor, and given the total lack of production it's not surprising the Blazers used their collective presence to great advantage. This won't be a refrigerator door box score for Metta World Peace, who finished with more turnovers (three) than field goals (zero). Matchups and ineffectiveness gave
Devin Ebanks
his first burn since losing the starting small forward gig to
Matt Barnes
, but he didn't exactly capitalize.
3. The Lakers miss Josh McRoberts.
Troy Murphy
was, and will likely continue to be, $1.3 million well spent. Against a team like the Blazers -- who don't have much heft up front but sport plenty of active, mobile players -- there aren't many natural matchups for him. As a result, not only did Murphy struggle to do the things he does well (hit the glass, spot up outside), but he picked up fouls like a lint roller does cat hair. There's no way to hide him defensively. McRoberts, on the other hand, provides the sort of mobility and athleticism that comes in handy given the matchups
Nate McMillan's
crew can force. L.A.'s depth is still a fragile thing on good nights, and the Lakers don't have anyone on the bench who can replicate McRoberts' skill set at his size.
4. The Lakers aren't yet equipped to go dry like they did in the third.
January, 5, 2012
1/05/12
11:23
AM PT
The Lakers are still seeking their first road victory, and tonight's venue -- Portland, Oregon -- hasn't been an easy place for the Lakers over the last decade. Still, there's been recent headway,
with road series split
over the last two seasons, despite
playing without Kobe Bryant and (save nine minutes and 33 seconds of pre-injury run) Andrew Bynum in 2010
. Perhaps the Lakers can carry that momentum and ruin the Blazers' unblemished home record during this young season.
For some perspective on the Blazers, I tracked down
Andrew Tonry
of
Portland Roundball Societ
y (True Hoop Network). Below are some thoughts from the Blazer blogger, along with a few of my own. And for those interested,
here are my responses to his questions about the Lakers
.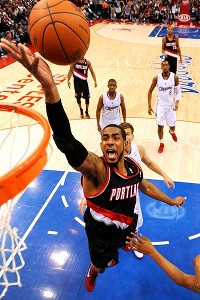 Andrew D. Bernstein/NBAE/Getty Images
The Blazers are now "LaMarcus Aldridge's team," whether ready or not.
Land O' Lakers: With Brandon Roy retired, the Blazers are truly now built LaMarcus Aldridge. His progress last season was pretty marked. Does he appear to be moving along the same path? Do you see him as a suitable centerpiece for a contending team?
Andrew Tonry:
Right now LaMarcus Aldridge can be The Man on a team counted on to make the first round of the playoffs. He has yet to become, or even flash hints, that he'll be the best player on a team capable of winning the NBA Championship. As far as his progress is concerned, it's too early to say. Aldridge, because of a heart procedure during of training camp, is still rounding into game shape. Also, he's learning to work with a new point guard in
Raymond Felton
. Aldridge has said that his relationship with former Blazers guard
Andre Miller
was profound, and that Miller taught him as much as anyone.
(
AK's note:
True Hoop's
Kevin Arnovitz
recently wrote
a nice piece about Aldridge-Miller relationship
, for those interested.)
LO'L: How has Jamal Crawford fit in with the Blazers? Between him and Aldridge, who do the Blazers tend to go through for scoring down the stretch, acknowledging the sample size is small.
At the end of games both are getting shots. That part of Portland's offense hasn't quite solidified yet, for a number of reasons. First, there haven't been a lot of close games. Second, Crawford's shot has been rather cold. Still, it's just too early to say.
April, 8, 2011
4/08/11
11:03
AM PT
Since the All-Star break, the Lakers and Blazers have played two very tight games, one at the
Rose Garden requiring overtime
, the
other at Staples
, both Lakers wins but decided by a total of nine points. Factor in a deep and versatile roster, a decent amount of playoff experience, a little bit of star power (
LaMarcus Aldridge
has
slowed from his absurd February pace
, but is still playing very well), and the Lakers' well-documented struggles playing in Oregon, and it's easy to see why Portland is generally seen as the most dangerous of the three teams L.A. could see in the first round.
(For the record, Portland is winning the unofficial "first round playoff cities the media would prefer to visit," followed by New Orleans and in a distant third, Memphis.)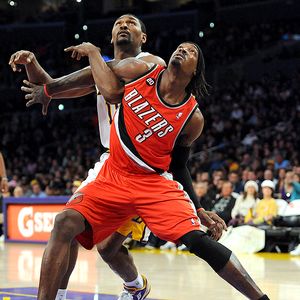 Jayne Kamin-Oncea/US Presswire
Gerald Wallace, still finding his way with the Blazers the last time these teams met, has found a groove recently.

Technically if the playoffs opened today the Lakers would draw New Orleans- though tied in the loss column, the Blazers have one more win than the Hornets- but Portland is still very much a possibility. Particularly if the Lakers come out of tonight's visit to the great northwest with a win. So aside from the practical implications, from L.A.'s efforts to stay in front of Miami and Boston (the latter becoming a little easier after the C's were eviscerated by Chicago Thursday night) to Portland's preference to win as many games as possible and avoid the Lakers in the first round, Friday's game becomes one of those classic "message" games ahead of the playoffs.
Not that a loss leaves the Lakers wondering if they can beat Portland over a seven game series- the Blazers could shut out the Lakers without impacting L.A.'s overall confidence- but the Blazers have a chance to earn some on their end, making them that much tougher an out. Or, should they sweep the season series, the Lakers can add that much more doubt into Portland's collective mind.
Statistically speaking, the Blazers are an interesting bunch, and in some ways very similar to the Lakers. For example:
They are the league's slowest team, at only 88 possessions per 48 minutes, a number they've hit only four times in their last 12 games. (Congress looks at Nate McMillan's crew and thinks they're inert.) The Lakers, meanwhile, sport the NBA's 10th slowest pace and have slowed down considerably as the season as progressed.
Portland is careful with the ball, sporting the league's fifth best turnover percentage at 12.6 (L.A. is currently second at 12.3, despite staging their own Turnoverpallooza during their three game losing streak).
Portland is fifth, one spot behind the Lakers, in offensive rebounding percentage. Like the Lakers, they are in the league's bottom third in defensive rebounding percentage.
Both teams are above league median in three point attempts, but below in three point percentage.
Not to say the Blazers are truly Lakers Lite. L.A. is a measurably better team in all sorts of areas, but if there's one spot the Lakers might run into a little trouble, it's here: Portland is by percentage the league's second best team forcing turnovers. For the Lakers, this shouldn't be a problem, but the aforementioned 57 turnovers over the last three games says a little extra attention to detail would serve them well tonight.
For more insight into the Blazers, I hit up- at the very last moment, making him a prince of a man for coming through-
Matt Calkins of The Columbian
with some questions:
1. How much would a win boost the Blazers heading into a possible first round matchup with the Lakers? Players always say this sort of thing doesn't matter, but in this case, does it?
Calkins:
A win tonight would "boost" the Blazers only because it would lessen the odds of them meeting the Lakers in the first round. No player or coach in Portland will admit it, but an opening-round series with L.A. is the closest thing the Blazers have to a guaranteed early exit. Portland needs to hold on to that sixth seed in the West in hopes of meeting Dallas in the first round, and capitalizing on matchup advantages.
March, 20, 2011
3/20/11
9:25
PM PT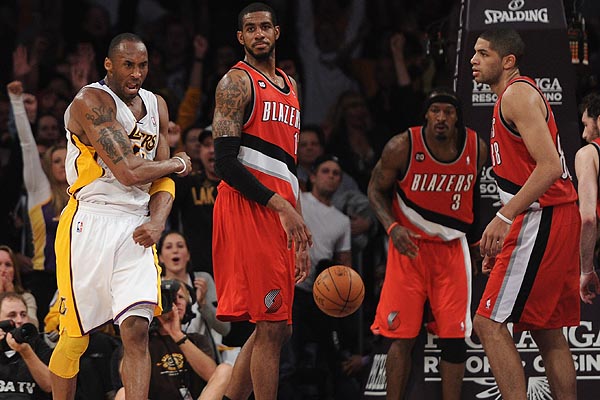 Harry How/Getty Images
Kobe Bryant busted out of a mini-slump in the last four minutes of Sunday's game, pushing the Lakers to a big win and busting out some playoff-caliber emotion in the process.
For the second time since the All-Star break, the Lakers and Blazers engaged in a tight, tense game. And for the second time, the Lakers came out ahead. Without the
suspended Andrew Bynum in the lineup
, the Lakers were off-kilter for much of the night, but still managed to rally late for a key win Sunday night at Staples.
Tonight's game again indicated why a potential first round series between Portland and the Lakers would be a lot of fun to watch, and could have Lakers fans biting their nails a little. Ironically, by beating the Blazers, L.A. made it more likely they'll actually see them when the postseason kicks off next month.
Here's how it broke down...
Highlights
1. Defense.
Take away the first half problems securing the glass, and the Lakers did a nice job against the Blazers. Portland was limited to 38.6 percent shooting on the night, in three of the four quarters failed to score more than 20 points, and only notched only 32 in the second half. Once
Nicolas Batum
, who went off for 19 points on eight-for-10 shooting in the first half, cooled off, Portland didn't have any viable options.
LaMarcus Aldridge
, playing as well as any big in the league over the last few months, had 18 points on 17 shots, as the Lakers limited him to only three trips to the line.
Andre Miller
,
Brandon Roy
, and
Rudy Fernandez
were a combined nine-for-36.
More importantly, the fourth quarter comeback, just as it was in their
OT victory in Portland last month
, was fueled on the defensive side of the ball- Kobe pokes the ball away from Miller with just over two minutes remaining, earning him a dunk at the other end, followed immediately by a steal from
Derek Fisher
, who finished with a layup (because most of the dunk footage with Fish is grainy at this point). Four points in a minute, helping raise a flagging offense.
Lamar Odom
followed with a steal off
Gerald Wallace
, after Portland grabbed a rare second half ORB, helping eliminate a chance for the Blazers to score. Without Bynum out of the lineup, the Lakers stood up and delivered a strong game defensively.
2. Kobe Bryant (Last Five Minutes Version).
Like most writers, in an effort to deliver analysis as fast as possible, I'll write during the game. For most of this one, Kobe's performance landed him square in the lower half of this postgame wrap. After hitting three of his first four shots, Bryant went cold, missing nine of his next 11.
It looked like the general inefficiency of their stars-
Pau Gasol
finished was only 6-of-15 from the floor- would be L.A.'s undoing Sunday night. But over the last 4:19, Bryant straight up exploded. It started with a nice drive-and-finish off the right wing, and went from there. On the next trip, he drew the double off the high screen, then rifled a great pass to Gasol on the block for a layup, followed by the aforementioned steal-to-dunk off Miller. He added two more buckets, including a tough baseline fadeaway over Roy with 32 seconds remaining, putting L.A. up by five.
Moreover, Bryant wore his emotions on his sleeve, screaming and punching the air with each successful play. (Including a couple moments the folks responsible for cutting together video replays may want to avoid... NSFW. I suspect he REALLY wanted to clinch the Pacific Division tonight.) The last few games haven't been overly kind to Bryant, who hadn't shot better than 38 percent in any of his previous four games. In four minutes Sunday, he seemed to exorcise a lot of demons.
February, 23, 2011
2/23/11
11:18
AM PT
Tuesday night, the Lakers kicked off the stretch run with a
stellar win over the Hawks
at Staples.
Dominant on both sides of the ball
, they took an early hold on the game, and put it away by halftime. Exactly the prescription to wipe some of the post-Cleveland flavor from the collective mouths of the Lakers universe. Not that they'll get heaps of time to enjoy it. After the game, the Lakers headed to the airport and a flight to the
wet, cold
, hostile environs of Portland.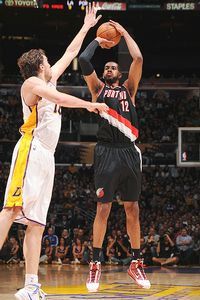 Noah Graham/NBAE/Getty Images
Stopping the red hot LaMarcus Aldridge will be key for the Lakers if they want a win Wednesday in Portland.
While the Lakers did managed to break the Rose Garden Curse last season, they've still lost 15 of 18 in the Pacific Northwest, with only one win in their last 10 tries. Tonight, with the Blazers riding a six-game winning streak and perhaps welcoming back injured guard
Brandon Roy
to the lineup (pending the results of their morning shootaround), the Lakers are in for another tough test.
Whether Roy plays or not, these days the Blazers are built around
LaMarcus Aldridge
, who has flat
gone off
over the last eight weeks or so. In January, Aldridge hit nearly 50 percent of his shots, and averaged 24.9 points and 10.4 rebounds. Strong stuff, enough to help him top the list of All-Star snubs.
In nine games this month
, though, Aldridge has upped the scoring to nearly 30 points a night (29.1) and the field goal percentage to 57.6.
Aldridge wasn't a major factor in the team's first meeting of the season, a
blowout win for the Lakers at Staples
(where they tend to dominate Portland) back in early November. That night, the Lakers owned the paint thanks to strong efforts from
Pau Gasol
and
Lamar Odom
. Can they do it again?
To gain a little more insight into the state of the Blazers, I hit up
Andrew Tonry of Portland Roundball Society
- a top shelf source for all things Blazers- who was kind enough to answer some questions:
1. Once again, the Blazers have responded very well despite a ton of injuries. What's been the formula this year?
"Let's start with the constants, the few who haven't been hurt: LaMarcus Aldridge,
Andre Miller
and
Nicolas Batum
. Then the guys who stepped up and filled holes admirably:
Wesley Matthews
and
Dante Cunningham
. Certainly Aldridge's emergence as a number one option has got to be the most consequential on the court. But the lion's share of the credit is certainly due to
Nate McMillan
, who's kept the team from packing it in when the sky fell (the two-week span
Brandon Roy
and
Greg Oden
went down). McMillan's kept these guys motivated, and his scrappy, grinding style has proved viable."
February, 21, 2011
2/21/11
11:58
AM PT
The break, she has ended. And for the players repping the two-time defending champs at the All-Star Game, it ended in positive fashion.
Kobe Bryant
ruled the roost during Sunday's main event,
nabbing MVP honors clearly coveted in a local venue
.
Pau Gasol
also
did his city proud
with 17 points, seven boards, two dimes and two swats. Mamba and El Spaniard were so good, they managed to make Lakers fans forget about the Cleveland loss and the struggles heading into the festivities.
OK, that's a lie, but who wants to be the buzz kill after a fun weekend?
It's back to business for the Lakers, and as you can see from the slate of contests on this week's docket, business will be challenging.
Game of the week
Tuesday vs. Hawks, 7:30 p.m.

Under normal circumstances, this game would qualify as one to keep an eye on.
Al Horford
is an All-Star with a mid-range game and long arms enabling him to average double-digit rebounds, attributes making him quite the cover for
Andrew Bynum
. The consensus opinion has
Joe Johnson
overpaid, but he's still a five-time All-Star -- including last weekend -- and among the more versatile two-way players in the league. As for
Josh Smith,
his February numbers would have qualified him for the All-Star game: 20.3 points on 57.3 percent shooting. Nine rebounds. A shade over three dimes. A block for good measure. The freakish athlete can be a blast to watch (unless you're
Gasol or
Lamar Odom
, who'll be charged with checking him.)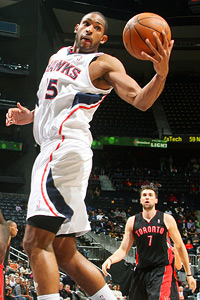 Scott Cunningham/NBAE/Getty Images
Al Horford is among the best big men in the league.
Throw in Sixth Man of the year candidate/scoring machine
Jamal Crawford
,
Mike Bibby's
scorching 44.7 percentage from deep, and a solid contributor in
Marvin Williams
, and the Hawks present a formidable "second half" kick off.
But ultimately, Atlanta gets top honors because it's the first game immediately following the All-Star Break and a three-game skid low-lighted by an unthinkable loss to the Cavaliers. Lakers fans, not to mention the Lakers themselves, will be looking for quick signs the ship has been righted. No better time than the first opportunity to begin easing minds. The longer the wait, the worse it gets for all involved. The time for identity rediscovery is long past "nigh."
On a more enjoyable note,
Josh Powell
will complete the cycle of ex-Lakers receiving bling. (
Adam Morrison
, out of the league, was mailed his.) He's playing more in Atlanta, but as a Laker, JP busted his butt in practice for very little PT. Brian and I --
not to mention Kobe -- grew to admire Powell's work ethic
, so it'll be nice to see him receive some appreciation.
September, 13, 2010
9/13/10
9:35
AM PT
With training camp around the corner, we asked a group of local and national roundball experts to weigh in on some of the big Lakers questions heading into the 2010-2011 season. Call it a preseason prognosticationpallooza.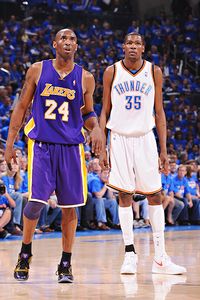 Andrew D. Bernstein/Getty Images
It's a close call, but the majority of our experts panel see Kevin Durant and the Thunder as the team most capable of knocking off the Lakers in a seven-game series.
Our panel:
Andy and Brian Kamenetzky (ESPNLA.com Land O'Lakers Blog),
Elliott Teaford
(L.A. Daily News),
Kevin Ding
(O.C. Register),
Kevin Arnovitz
(ESPN TrueHoop),
Eric Pincus
(Hoopsworld),
Chris Clark
(Silver Screen and Roll), J.A. Adande (ESPN.com),
Darius Soriano
(Forum Blue and Gold),
Kurt Helin
(ProBasketballTalk.com),
Mark Medina
(L.A. Times.com), Arash Markazi (ESPNLA.com), and Dave McMenamin (ESPNLA.com),
Today's question:
Which Western Conference team has the best chance to beat the Lakers in a seven-game series?
The Results:

Oklahoma City
- 5.5 votes
Portland
- 3.5 votes
Dallas
- 2 votes
Houston
- 1 vote, but a lot of love as a serious dark horse

Nobody
- 1 vote
My Take:
Two teams -- Oklahoma City and Portland -- stand out. Both have the ability to make life difficult for the Lakers. A healthy Blazers team has backcourt strength (
Brandon Roy
), a stong wing defender (
Nicolas Batum
) and frontcourt depth (
Greg Oden, LaMarcus Aldridge, Marcus Camby
, plus
Joel Przybilla
, if he recovers from knee surgery). We saw last season what OKC was capable of, and if the Thunder get decent play from
Cole Aldrich
and more development from
Serge Ibaka
(thus beefing up the frontcourt), I'll give them the slightest of edges over Portland, probably because it's hard for me to picture a healthy Portland team.
The wild card? Houston, with
Yao Ming
,
Kevin Martin
,
Aaron Brooks
, and the standard dose of Houston grit, would be no picnic to face.
Other responses:

February, 6, 2010
2/06/10
11:58
PM PT
There actually wasn't one, which was the best thing that could have happened for the Lakers.
Rick Bowmer/AP Photo
You're darn right Derek Fisher is pumping his fist after this win.
By definition, winning inside
the "Lakers ain't done it since the Jumaine Jones/Tierre Brown era" Rose Garden
will be difficult through the strength of a single moment.
Factor in Kobe Bryant on the inactive list with a bad ankle
-- an absence later compounded by
Andrew Bynum
missing the second half after
Juwan Howard's
early foul united AB17's hip and the hardwood-- and "a moment" simply won't do.
You're going to need "moments" and lots of folks stepping up to provide them.
That's exactly how the Lakers managed to snap the curse in Portland, and under the most unlikely of circumstances.
This was a victory created by hard play and contributions top to bottom. Often fantastic and scrappy group defense --Portland shot just 43.7 percent from the floor and a paltry 27.8 percent from downtown-- combined with a cavalcade of individuals bringing boatloads to the table.
January, 8, 2010
1/08/10
6:32
PM PT
PODCAST
In the wake of Wednesday's loss to the Clippers, Andy and Brian diagnose what ails the sluggish Lakers and look ahead to Portland and Milwaukee this weekend. Plus talk of Gilbert and guns, and a breakdown of Sean Connery's filmography.
Podcast

Some listening pleasure before tonight's brouhaha in the rainy Northwest. Brian and I begin with a large chunk of time off the grid, discussing what the Commodores' sound with
Phil Jackson
as lead singer, plugging
AwkwardFamilyPhotos.com
, and dissecting
Sean Connery's surprisingly unimpressive filmography
. Then some roundball...
-(12:12 mark, because as I said, a decent chunk of time off the grid): We talk about the Lakers' recent malaise, a run of unimpressive games with the blowout victory over Dallas the "blip in an otherwise steady downward trajectory." Is the issue recent injuries and subsequent rotational scrambles? The absence of
Pau Gasol
?
Luke Walton
not there to up the ball movement? The bench? The starters? Seriously, what gives?
-(21:00 mark): A look at tonight's game against Portland, where the Lakers have snakebit since 2005. But the Blazers have injury issues that are absurd. Does something need to give?
-(21:46 mark): We discuss the mess that is
Gilbert Arenas, Javaris Crittenton
, guns, common sense and the timing of suspensions. I wrote more about it this afternoon, comparing how differently Arenas and
Kobe Bryant
circa 2003-2004
handled their respective issues
.
January, 8, 2010
1/08/10
9:01
AM PT
On the night when last the Lakers defeated the Portland TrailBlazers up in Portland,
Tierre Brown was L.A.'s second leading scorer
. That should give a hint as to how long it's been since the purple and gold last tasted victory in the verdant expanses of the great northwest. The actual date- Feb. 23, 2005- should give an even
bigger
hint.
The Lakers have lost eight straight visiting Portland since that Dear Diary day. Whether it was something they said or something they did, their play hasn't come out right. Yes, it's fair to say for the Lakers (wait for it...)
this Rose (Garden) has been filled with thorns
. (Sigh...)
Friday night, though, the Lakers have a great chance to reverse the trend
(7 pm PT, KCAL). On paper, the Blazers roster presents all sorts of matchup problems for the Lakers, except for practical purposes paper is currently the only place Portland's roster still exists. They've been ravaged by injuries, and while
Brandon Roy
and
LaMarcus Aldridge
should play despite nagging ailments,
Portland won't have
Steve Blake, Nicolas Batum, Rudy Fernandez, Travis Outlaw, Greg Oden,
and
Joel Przybilla
, the latter two leaving them seriously short on frontcourt depth,
something that worries the fine folks at Blazersedge.
Moreover, they'll likely add another to DNP list tonight- The Oregonian
reports Andre Miller is "questionable, if not doubtful" with a sore back
. (Not that it kept the notoriously surly PG from
shouting at coach Nate McMillan for a half hour at practice Thursday afternoon...
)
The Lakers, as expected,
won't have Pau Gasol in the lineup
, but
Phil Jackson
expressed hope his PF/C might return as soon as next week
, perhaps even Sunday against Milwaukee if things break just right. Even without El Spaniard, the Lakers still have an advantage in depth (though their team's shorthanded status should have Portland's rabid, Laker-hating fans doing their best sixth man act). All told, this probably constitutes L.A.'s best chance to break the streak as any they'll ever find. So will it happen?