Los Angeles Lakers:

Larry Bird
July, 28, 2012
7/28/12
9:28
AM PT

By Andy Kamenetzky
ESPNLosAngeles.com
Archive
At long last, a string of legitimate offseason basketball topics that don't include the words "
Dwight
" or "
Howard
!" Huzzah!!! It's enough to make a pair of podcasters giddy with glee. The show can be heard by clicking on the module, and a list of talking points can be found below.



- (4:45):
After establishing why Brian drinks stray, half-opened bottles of water, we discuss
the news that NBA jerseys will soon feature advertising
. Neither of us reallly mind -- the league has long passed the point of no return with commercialization, anyway -- but care must be taken to avoid poorly matched teams and products.
- (10:00):
Thursday, we offered
a quick reaction to the Lakers' newly released schedule
. Now we dig deeper, breaking down some roadies and 16 back-to-back sets. All in all, it's a fairly favorable slate. Not many stretches with one powerhouse team after another, and even the Grammy Trip isn't too hairy. Obviously, there will be tough games, because that's just the nature of the NBA, but the schedule-makers certainly didn't act with vengeance towards the purple and gold.
- (19:00):
Brian senses palpable hysteria and dread from fans at the prospect of Team USA failing to grab the Gold in London. Frankly, it's a little over the top. Yes, America boasts the rightfully favored squad and it would be anticlimactic seeing them fall short. But this also isn't 1992, when The Dream Team ran roughshod over a bunch of countries well behind the basketball curve. The level of global competition has grown significantly, which means the U.S. is vulnerable for a loss. It's inevitable at some point, and it's not a travesty.
- (26:30):
A combination of human drama and kitsch value drives Brian's interest in the Olympics.
- (29:00):
Kobe Bryant
recently declared
as long as he's a Laker, Pau Gasol will also be one
. It's the latest example of a relationship that's sometimes complicated and frustrating for both players, but ultimately based in mutual respect and appreciation.
- (32:05):
Friday's
theft of the "Wally the Green Monster" costume from Fenway
is yet another example why the Lakers don't have a mascot.
November, 8, 2011
11/08/11
10:00
PM PT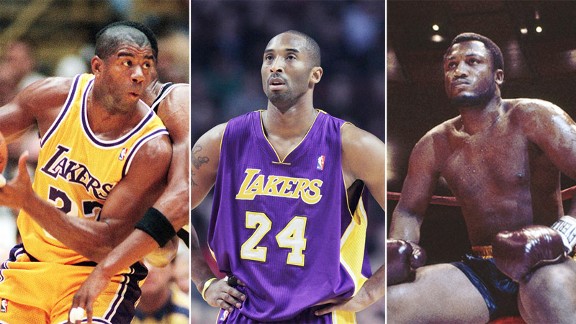 AP Photo
All three are legends, but only two boast a true rival.
The death of heavyweight legend
Joe Frazier
has
naturally prompted considerable conversation about Muhammad Ali
. Intense rivals, the two fought on three occasions, the first a victory for Frazier, and each match is regarded as a classic. The barbs Ali tossed at Frazier were outside the lines and below the belt. Ali's presence overshadowed Frazier's, but ultimately help create a foundation for the latter's legacy. They are permanently intertwined.
Monday also marked
the 20th anniversary of Magic Johnson's HIV press conference,
and while the remembrance of this milestone obviously didn't center around a rivalry with
Larry Bird
, that chapter of Magic's life also wasn't ignored. We've been reminded of how Magic selected few friends to learn about his situation from him rather than the media, Bird among them. Plus, HIV prompted his retirement, which in turn prompted reflection, and it's impossible to remember Magic's career without Bird entering the picture. The two are synonymous, which added a wonderful layer to an already iconic story.
Thinking about Frazier/Ali and Magic/Bird, I was reminded of how
Kobe Bryant
, despite 15 unforgettable seasons under his belt, never really enjoyed a legitimate rivalry. Unless you count the one with
Shaq
, but that hardly qualifies in this context. As teammates, their quarrels were depressing and counterproductive, even acknowledging the championships. As ex-teammates, the war of words has largely been one-sided, with Shaq dragging himself through the mud by refusing to let go. Either way, it's hardly been inspirational.
From there, it's hard to peg exactly who Kobe's rival would be.
August, 31, 2011
8/31/11
1:43
PM PT

By Brian Kamenetzky
ESPNLosAngeles.com
Archive
Tuesday afternoon, I was fortunate to spend some time talking with Lakers great
Michael Cooper
, an integral part of five championships with the Showtime Lakers, and now coach of the
women's basketball team at USC
. Long and lean-- very, very lean-- Cooper was nonetheless a fierce competitor, earning All-Defensive Team honors eight times, and the DOPY Award in 1987.
Larry Bird
called him the toughest defender he ever faced. Praise doesn't come much higher.
PODCAST
Brian welcomes Lakers legend Michael Cooper, now head coach of the USC women's hoops squad. Coop talks about defending Larry Bird, the best of his five title teams, Magic's influence beyond the NBA, and why he wore his socks so high.

Podcast

Over the course of about 30 minutes, we had a chance to touch on a wide range of subjects, from where he developed his intensity to the magic of
Magic
, both on and off the court. Among the highlights:
*Why he developed such a strong defensive mindset in L.A.:
"You had to find a niche [with the Lakers]. When I met coach
[Jack] McKinney
, he said, "Coop, we need a player who is going to play some defense. We need a lock down defender at the 1,2, and 3 positions. That was kind of my calling card. I reverted back to all my fundamentals, and my aggressiveness as far as defense goes ... This was my niche to make it on the Lakers team. Everyone likes to score, but I felt that it was how I was going to be able to not only make that team, but stick around. And lo and behold, that worked out well for me."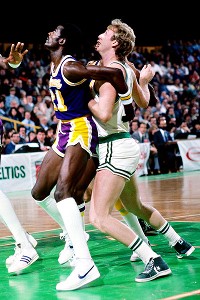 Dick Raphael/NBAE/Getty Images
Larry Bird called Michael Cooper the toughest defender he ever faced.
*On defending Larry Bird:
"I used to study games of his. It would be a month before we would play the Celtics, but I was getting ready for him. Watching him play. What did he do on out of bounds passes? What did he do going around picks? ... Larry was naturally born left-handed, and taught himself how to shoot right handed. He was very ambidextrous so you couldn't force him one way or the other, because he was just as good going to his left as he was to his right. The only tendencies I had [available from film] to pick up with him was how he came off of picks. How he set you up to come off a pick."
*Best of the five title teams on which he played:
I thought our
'84 team
was very good, even though we came up short [against Boston in the Finals]. We had all the necessary parts to win a championship. Of the championships that we won, I'd have to say our
'85 championship
was about as good as we were going to get. Everybody was hitting on all cylinders.
James Worthy
was was just coming into being the type of player he'd eventually become, a Hall of Famer. That team had it all. We had a bench, we could play defense, we could run, we could rebound with you. We could get big, and even became "Riley's Runts," because we could get small. That '85 team was probably our best team, per player, and the camaraderie and the chemistry was very good.
*Coop explained the challenge
of not just beating Boston, but overcoming the mystique they had in big moments.