Los Angeles Lakers:

Larry Brown
May, 11, 2014
5/11/14
12:30
PM PT

By Dave McMenamin
ESPNLosAngeles.com
Archive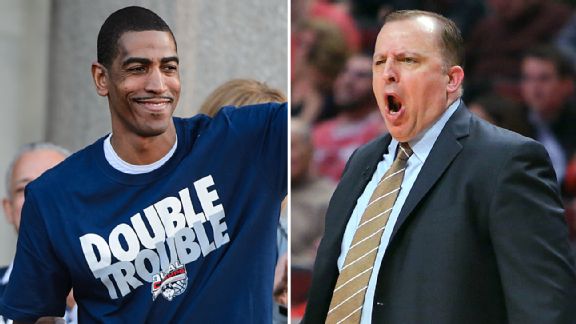 AP ImagesKevin Ollie might fit a rebuilding Lakers squad; a reloaded team needs a Tom Thibodeau.
The
Los Angeles Lakers
are in the market to hire the 25th head coach in franchise history, and now, several weeks after the job became available, it seems as if there are 25 candidates to fill the position.
The Lakers have still not reached out to any of the names they are considering, according to a team source familiar with the coaching search. They are expected to commence a preliminary round of phone interviews soon, but will not schedule any sit-down sessions until later in the month.
As the clock keeps ticking since Mike D'Antoni resigned April 30, three pertinent questions spring to mind:
1. What should the Lakers be looking for in their next coach?
2. Who are the Lakers considering?
3. What is taking so long?
We'll start in reverse order.
While it's natural to assume the Lakers should have a sense of urgency about finding their coach -- particularly as other jobs open up around the league (Golden State, New York, Utah, Minnesota and, presumably, Detroit) -- the Lakers are in something resembling a high-stakes game of Texas hold 'em.
They know what cards they're holding: two aging future Hall of Famers in
Kobe Bryant
and
Steve Nash
under contract for close to $34 million for next season; a significant chunk of cap space beyond that; and, of course, the intangible asset of calling Southern California home -- plus a prestigious résumé as one of the most storied franchises in the league.
The draft lottery

What they're waiting for is the flop. In this case, the information that will determine how they play their hand will come May 20, when the NBA conducts the draft lottery in Times Square.

The Lakers' 27-55 record was sixth worst in the league this season, thus giving them a 43.9 percent chance of ending up with the No. 6 pick. But in the lottery system, it's a crapshoot. The Lakers have a 6.3 percent chance of ending up with the No. 1 pick and a 21.5 percent chance of ending up in the top three. Then again, they have a 34.6 percent chance of picking somewhere in the Nos. 7-9 range, worse than their finishing slot.

In a New York minute, everything can change, as they say. The Lakers are hoping for a little luck on their side when they send the last No. 1 overall pick in team history, James Worthy, to New York to represent them for the night.

Whichever draft tier they ultimately find themselves in -- picks Nos. 1-3, standing pat at No. 6 (they are ineligible to move up to 4-5 in the current system) or falling to 7-9 -- could lead the franchise in drastically different directions on its coaching quest.

Let's say they luck out and catapult into the top three. The Lakers will find themselves in a win-win situation. On one side of this coin, they believe that one of the top prospects -- Joel Embiid, Andrew Wiggins, Jabari Parker, etc. -- will be an immediate franchise-changer, a player they can bring into the program to learn from Bryant for a couple of seasons before he takes the reins alongside whichever max-level free agent they bring in over the next two summers. On the other, they find another team that believes there is transformative talent available at the top of this draft and trade the pick.

Both are enviable positions for the Lakers to find themselves in, but they are the starting points for vastly divergent paths. If they use their top pick on a player they think can lead the team for years, then the coaching hire will surely be expected to cater to that prospect's strengths as his top priority. While the sun and moon in the Lakers' universe have revolved around Bryant for nearly the past two decades, developing that young player would suddenly become an even more important task for the franchise than protecting Bryant's legacy as he plays out the final two years of his contract for $48.5 million.

If the Lakers trade the pick for an established veteran such as Minnesota's Kevin Love, for instance, it puts the franchise on a totally different trajectory. Suddenly, by pairing Bryant with another star in his prime, the Lakers are theoretically back to being a factor right away, even in the stacked Western Conference.

Let's say the pick ends up being worse than they were hoping for, in the Nos. 7-9 range. Maybe they fall in love with a prospect and take him at that spot, but maybe the pick is expendable. And while a selection that late in the draft surely wouldn't be enough to land a vet like Love, it might be enough to convince the Chicago Bulls to let Tom Thibodeau out of his contract to coach the Lakers.


The opt-out options

If the draft lotto is the flop, then seeing which players choose to opt out of their current contracts and test free agency come July 1 represents the turn in this big poker game.

Why hire a coach in June if it develops come July that LeBron James is looking to leave Miami? Why commit prematurely to a coach -- and, subsequently, a certain style of play -- and potentially shut yourself out from consideration by James, Carmelo Anthony, Chris Bosh and others when it comes time to decide on their futures?

That's another major variable the Lakers are weighing. When it comes to landing a marquee free agent, you want any edge you can garner over the other teams competing for his services. The Lakers could be in a position where they can tell James or whomever else they target, "Not only do we want you, but we want you so much we'll let you help pick who is going to be your coach." For some players, that could be a major incentive.

With all that in mind, it should offer some clarity as to why the Lakers' candidate pool is so deep at this point.

They have different coaches in mind who would be specific fits for every different direction they could end up heading in.

If they are going to be a rebuilding team, why not take a chance on a younger coach who can grow with those young players? It worked in Phoenix this season with first-time head coach Jeff Hornacek. Why not hire Kevin Ollie, fresh off taking Connecticut to a surprise NCAA title, to lead that transition and cut his teeth in the league without the pressure to win every night? Or maybe Atlanta Hawks assistant coach Quin Snyder becomes that guy. Or Derek Fisher should he retire from playing after the Oklahoma City Thunder finish their current playoff run.


[+] Enlarge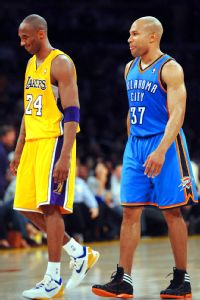 Kamin-Oncea/USA TODAY Sports Kobe Bryant and Derek Fisher came into the league together with the Lakers -- and that kind of relationship is not inconsequential.
If the Lakers are going to get a couple of big names this summer and find themselves back in win-now mode, the candidates they'll consider -- as well as the candidates who will consider them -- will shift.
Veteran coaches who are looking for work, like Lionel Hollins, George Karl and Mike Dunleavy, have all expressed interest, but they are at points where they have little leverage. They would take the Lakers job whether they end up with the No. 1 pick or the No. 9 pick; whether Los Angeles signed a big-name free agent or held onto its cap space for the summer of 2015; whether Nash and Bryant were healthy or they were going to continue to struggle with injuries.
But making moves to become a more veteran-laden squad could coax Jeff Van Gundy or Stan Van Gundy to leave their broadcast jobs. Equipping their team to be competitive right away next season could get Thibodeau to tell Chicago to listen to the Lakers' pitch. Bringing in guys who already know how to win could convince Mark Jackson to come on board. Going that route could get John Calipari to consider leaving his ready-made gig at Kentucky. It might even get Steve Kerr, who seems to have his pick between the Knicks and the Warriors at the moment, to want to don the purple and gold.
All of the names mentioned above have surely already been bandied about by the Lakers' front office. Throw in Byron Scott, Kurt Rambis, Ettore Messina, Roy Williams and Larry Brown. There are others, undoubtedly.
The Lakers just don't have enough information at this point to start eliminating any, nor do they really have enough to rank names properly, either.
Which brings us back to the first question: What should the Lakers be looking for in their next head coach?
There are three job requirements that he must be able to handle, no matter what happens in the lottery or in free agency. First and foremost, he must have a clear vision defensively. Seeing the video-game-like numbers opponents put up against the Lakers this season -- including that terrible stretch when they gave up an unthinkable 408 points over three non-overtime games -- convinced Lakers execs they have to go back to a coach who will make it a priority.
The Kobe factor

Second, the coach must be able to coexist with Bryant. The Bryant-D'Antoni relationship deteriorated to the point where the pair barely spoke by the end of their tenure together. Even in D'Antoni's first season in L.A., when the Lakers still managed to win 28 of their final 40 games to make the playoffs, there was conflict.

Bryant would often use the Lakers' shootaround time to receive treatment in the training room. When D'Antoni thought this was causing a disconnect between Bryant and his teammates, the coach asked the star guard to change his routine, according to a league source. As a compromise, Bryant still often used shootaround for treatment, only he had the training table brought out next to the practice court so he was physically present, technically, during the sessions. After playing such a long time at an elite level, it was understandable for Bryant to need extra time to get his body ready, but it led to occasions on the court where the team would be executing one way based on adjustments made during shootaround that morning -- and Bryant would be executing another.

With the financial commitment the Lakers have made to Bryant and the clout he has in both the locker room -- several of Bryant's younger teammates grew up idolizing him the way that he grew up idolizing Michael Jordan -- and with the fans in Los Angeles, to whom he has helped deliver five championships, the coach must have a rapport with Bryant if the team is going to have any chance at real success.

Bryant won't necessarily be best friends with whomever gets put on the sidelines next to him -- he even famously clashed with Phil Jackson at times -- but will buy in if he is convinced the coach is capable.


[+] Enlarge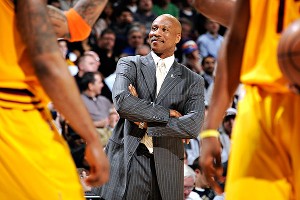 David Liam Kyle/Getty ImagesMight Byron Scott be able to convince a big-name star -- Kyrie Irving? -- to follow him to L.A.?
"Honestly, it's not really about whether the players like the coach or not," Bryant said as a guest on "Jimmy Kimmel Live" last week. "It's really about getting results. Liking somebody and those results don't necessarily go hand in hand."
So the fact that Bryant, as a rookie, was teammates with Scott and has been in contact with him in recent weeks, according to Chris Broussard of ESPN the Magazine, cannot be understated. Then again, he has relationships with many of the other coaches mentioned above, from Thibodeau (who was an assistant with Philadelphia when a high school-aged Bryant used to practice with the 76ers) to Rambis, Snyder and Messina (who all have coached him in L.A.) to Fisher, of course, a fellow rookie on that 1996 Lakers squad.
Third, the coach had better be just as astute at recruiting as he is with X's and O's. With the restrictive nature of the NBA's collective bargaining agreement preventing the Lakers from going over the luxury tax as willingly as they did in the past, having a coach who attracts top talent can be a workaround. The best players in basketball generally go on to win championships. Teams like the 2010-11
Dallas Mavericks
or 2003-04
Detroit Pistons
that win as a collective are much more rare than James and the Heat, or Bryant and the Lakers, or
Tim Duncan
and the
San Antonio Spurs
stacking titles because they have the best individual talent on the court.
With that said, if whomever the Lakers choose arrives with the promise of getting one of those top-tier players to join him in L.A. down the line, it makes that candidate all the more attractive. Scott is a nice coach and all, but Scott plus
Kyrie Irving
is a pretty package. Same goes for Calipari if he can leverage his relationship with James, or Ollie or Fisher if they can sway
Kevin Durant
to head West.
The chips are down in the Lakers' coaching search. The stakes are high. But don't expect to spot any tell signs until the draft lottery May 20. And even at that point, there could still be a lot more poker to play before the hand is decided.
August, 6, 2010
8/06/10
8:13
AM PT

By Andy Kamenetzky
ESPNLosAngeles.com
Archive
According to Elias Sports Bureau, since the 1998 season, there is only one player who's won two or more NBA titles without logging even one second of court time during a Finals game. It's the same player, by the way, who led the nation in scoring (28.1 ppg) just four years ago as a junior in college, a campaign among the more compelling in recent memory.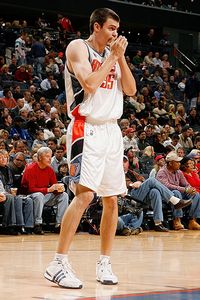 Brock Williams-Smith/NBAE/Getty Images
It's never fun getting picked by Michael Jordan.
Adam Morrison
.
Since entering the nation's consciousness, Morrison has been described in many ways. A scoring machine. A long haired, mustachioed flake. Diabetes conqueror. A can't miss NBA prospect. An NBA failure waiting to happen. The next
Larry Bird
. The next
Kwame Brown.
An enigma. A scrub. An expiring contract.
Jimmy Kimmel's favorite target
.
He is most concerned, however, about his current label: Unemployed.
"It's tough mentally to try to stay positive," admitted the small forward when I spoke to him in July. Morrison entered last season with the mindset of a guy facing the prospect of falling out the league. It has remained on his brain all season, and his Laker teammates made a point of picking up his spirits. "Adam is hard on himself," noted
Lamar Odom
shortly before the regular season ended. "I don't think he's fighting to stay in the league... His time will come. Everybody here knows what he can do.
"He is one of the best scorers in the league, even though he hasn't been playing a lot."
Morrison's agent reassures him of interest around the league, and the client says his rep has never misled him. Still, proof comes with a dotted line for the self-described pessimist. "I don't believe it until I sign with somebody," he insists.
This difficult time mirrors Morrison's entire career, four seasons worth of choppy sailing. He underachieved in Charlotte, whether measured against a bar elevated beyond his grasp, or simply his own standards. He encountered rotten luck after a devastating knee injury during the 2008 preseason -- ironically, against the Lakers -- stole his entire sophomore campaign, plus much of the athleticism he could hardly afford to spare in the first place. (Morrison says he no longer feels the effects of the ACL tear, save the occasional soreness standard for any athlete.) He became a 13th man with the Lakers after a 2009 midseason trade,
appearing in just 49 games for a grand total of 285 minutes
.
His career has also invoked its share of irony, reminders of how elusive balance can be.
February, 11, 2010
2/11/10
3:36
PM PT

By Andrew Kamenetzky
ESPNLosAngeles.com
Archive
For all the talk about
Shannon Brown's
hops, springiness making him a YouTube fixture, asking others about him inevitably leads to mention of his hands.
Sam Forencich/NBAE via Getty Images
This has become a familiar sight for Lakers fans.
"He's got big hands. Extremely big hands," marvels former Charlotte Bobcats teammate
Raymond Felton,
who played against Brown in the 2005 Final Four.
"He's blessed with great hands," praises Bobcats assistant coach
Jeff Capel,
who grew close with Brown during the guard's half-season with Charlotte.
"I wish I had those hands," says Nuggets guard
J.R. Smith
, former dunk contestant (and sick athlete in his own right) who's known Brown since their AAU days. "If you get a set of mitts like that, it's hard to stop."
"They're pretty big," admits Brown with a chuckle as he sits on a medicine ball after Lakers practice in El Segundo.
In a nutshell, dude's hands are ginormous.
Combined with elevation capable of making a trampoline jealous, they're a Godsend for dunking a basketball, a skill Brown will be showing off at the Slam Dunk Contest during the All-Star Weekend. But during Brown's time as a professional, those same hands weren't just used to smother a Spalding. They were gripping onto an NBA life, and just barely at times.